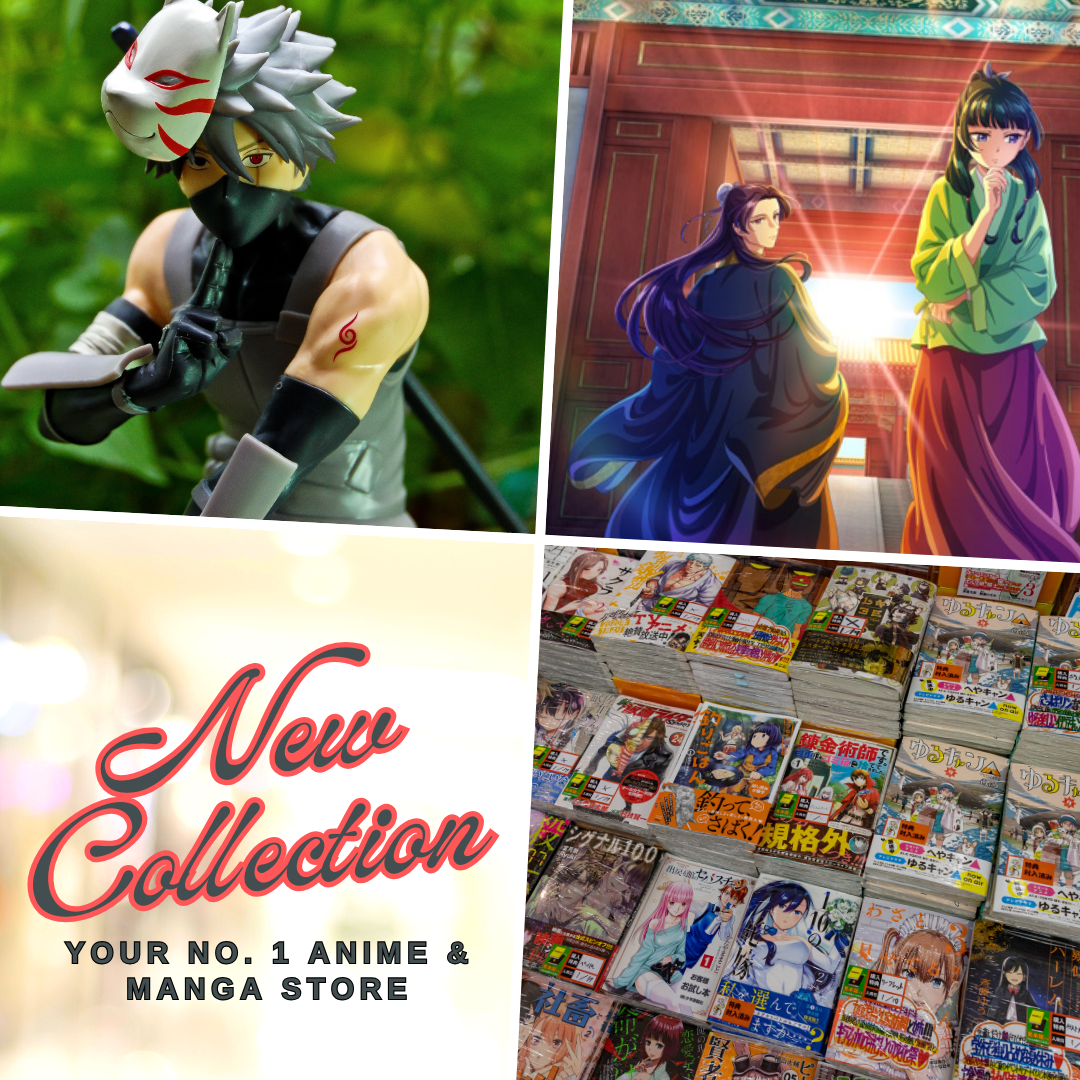 Chinese animation had been on the rise this past few years, all thanks to the mainstream popularity of The King's Avatar which took the anime industry by storm last 2017. Last year, I have written a post about the top action Chinese anime that you should watch, as well as a list of the top 10 Chinese anime, I have to say that those older posts might be a little bit outdated and I am proud to present an even more updated list for those topics.
I have been binge-watching Chinese animation since 2018 ranging from the different genres as I believe that there are so many precious gems hidden among its archives and some of them could be a great experience to watch. In 2019, China was able to produce a record-breaking Chinese animation project which is NeZha – the highest-grossing animated movie from the Eastern hemisphere even surpassing Japan's Spirited Away and Your Name. Obviously, the Japanese anime market had been an established one and it is not fair to compare it with the rising Chinese anime industry, however, the latter had been rising rapidly and that's quite a feat that definitely deserves praise.
In this post, I will discuss the best action martial arts anime from China that I definitely enjoyed. The list had been divided into two (2) categories as follows:
Top 2D Martial Arts-Cultivation Chinese Anime
I will first discuss 2D Chinese anime as it is very similar to traditional Japanese animation in style and fashion. Furthermore, the medium where anime could be literally defined. Therefore, I have here some of the best martial arts, and cultivation Chinese anime that you should add to your watchlist.
First on our list is the Grandmaster of Demonic Cultivation (Mo Dao Zu Shi) or also known as The Founder of Diabolism. It is Yu Alexius' best Chinese anime of 2018, and actually one of the most solid Chinese animations that I had seen so far.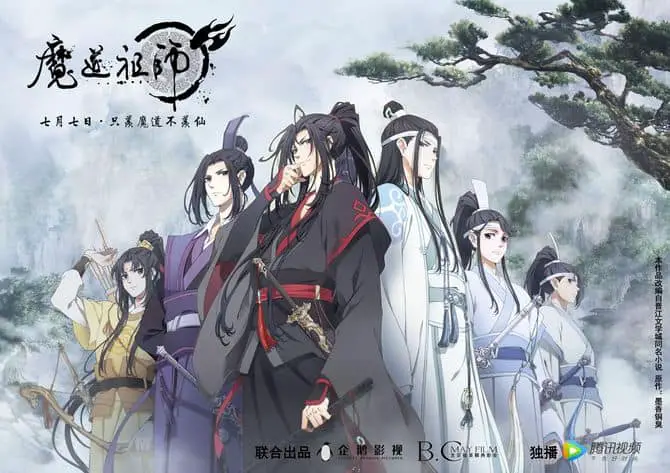 The Grandmaster of Demonic Cultivation released 2 seasons already since it first aired in July 2018 which run for 15 episodes with astounding and beautiful animation, dazzling visuals, and awesome fight scenes. The anime's 2nd season premiered in August 2019 and run for a total of 8 episodes, mainly focusing on putting a conclusion on the flashback chapters of the story. In 2021, the donghua's 3rd and final season was released which concludes the short yet spectacular ride of Wei Wuxian and Lan Wangji on unraveling the truth of the cultivation world and bringing it all to light amidst all the conspiracies and betrayal.
A little bit of warning – the anime is based on a popular Chinese BL (boys-love) novel, though the BL factor is quite limited in the anime and mostly focuses on the drama, actions, and investigation cliches. Currently, Grandmaster of Demonic Cultivation sits at 2nd place in my list of top 10 Chinese anime of all time.
Related Post: The Best Donghua and Anime Like Mo Dao Zu Shi
This anime is an upcoming project from Samsara Studio and Nice Boat Animation. Cuchallain from Donghua Reviews once dubbed Fog Hill of the Five Elements as the biggest Chinese anime of 2019 during his video discussion about the Top Chinese Anime of Summer 2019. Looking at the available trailers and teasers, I believe it's legit to say that Fog Hill of the Five Elements is a beast in the making. The animation quality could even challenge some of the best-animated work from Japan; nonetheless, it is not safe to jump to a conclusion as it is still subject to everyone's opinion when it officially premieres.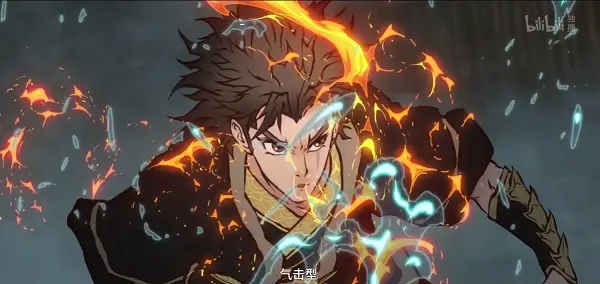 The Fog Hill of the Five Elements is a 2020 donghua that had been in the making since 2017. It took this long for the Chinese anime to be released due to the fact that it was originally worked by a small number of people, and it's a good thing that Nice Boat Animation (which recently released their anime series: White Cat Legend last April 10).
Psychic Princess or Tong Ling Fei is a 2018-2019 shoujo Chinese anime that invaded the donghua community with its addicting opening theme and interesting story. It is more like a romantic-comedy series but there are fight scenes in the anime that falls into the martial-arts genre and these scenes were really done pretty well.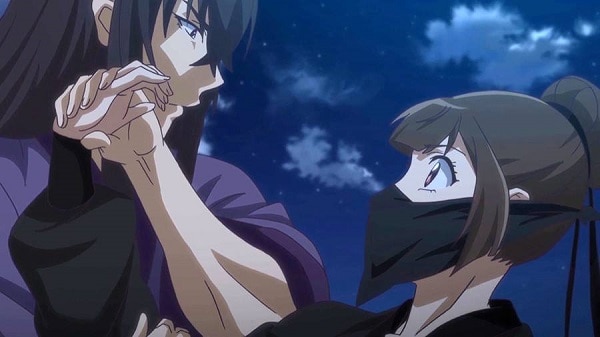 The romance donghua is in the boundary of action, comedy, romance, satire, and parody which makes the entire journey of watching it entertaining. It runs for a total of 16 episodes so far, although fans are expecting Psychic Princess Season 2 to be green-lit soon, especially since its 16th episode (finale) is such a big cliffhanger.
Related Post: Top Chinese Anime Similar to Psychic Princess
The Grand Lord (The Great Ruler)
If you're looking for an anime like Soul Land or Battle Through the Heavens but in 2D style, then The Grand Lord is a must-watch for you. It is the final installment of the novel trilogy on which Battle Through the Heavens, and Martial Universe were based from. The Grand Lord is inspired by the novel The Great Ruler and the anime premiered on August 8, 2019. As of writing, I am actually at the 8th episode of The Grand Lord and I could say that it has been a fun ride with good animation quality, solid fight scenes, and interesting Chinese anime cultivation cliché.
The Grand Lord is the only 2D anime in the trilogy as the other two (2) – Battle through the Heavens and Martial Universe were both made in 3DCG format. Nonetheless, it literally offers great fight scenes and beautiful scenery. I think my only complaint about The Grand Lord is the poor writing at some point in the show, as it feels like a rip-off of Lion King in some instances. Furthermore, some cliché was poorly written which I believed somehow affected the overall story implementation in the latter part of the anime.
Nevertheless, The Grand Lord will be rebooted and is scheduled to get a 3D donghua adaptation in 2022 under its original title, The Great Ruler. It'll be animated by Motion Magic, the same studio behind Battle Through the Heavens and Martial Universe; and will be produced by iQIYI as unveiled during their May 13, 2021 Conference.
Another shoujo anime in our list, it's the closest anime that I could compare with the Psychic Princess and it is so hard to separate these two Chinese anime since they also aired in almost exactly the same time frame. The twist with The Demonic King Chases His Wife is that it's an isekai anime, yes the isekai cliché which is very rampant in the Japanese animation industry. It's a story about a professional assassin who traveled back in time or has been brought to another world after she was betrayed and stabbed by her then-lover. There, she experienced the life of another person, with respect to this plot; this actually reminds me of Soul Land and Battle Through the Heavens.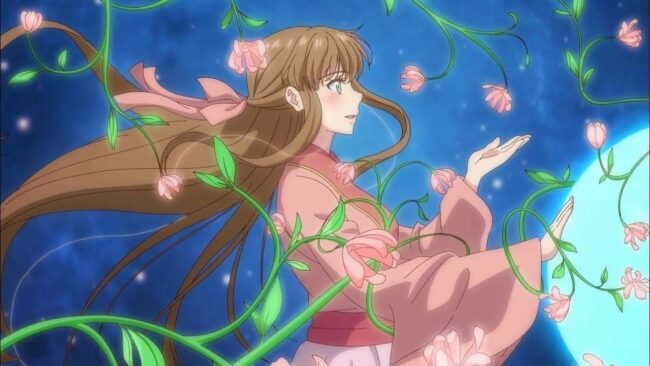 The Demonic King Chases His Wife is listed by our team as one of the best Chinese anime from the Winter 2019 lineup. One of its redeeming factors is the fact that its main heroine is an assassin and she's not a damsel in distress – this plot though is very similar to the main heroine from Psychic Princess. The fight scenes in this anime are a little bit better compared to Psychic Princess but its story is quite weaker or has less substance than the latter.
Related Post: Top Recommended Anime Like The Demonic King Who Chases His Wife
Journal of Mysterious Creatures
Supernatural creatures in one boarding house? That is what we get from the Chinese anime Journal of Mysterious Creatures which is adapted from a manhua titled The Record of Unusual Creatures. The anime project is a combined work by both Japanese and Chinese animation companies and this could be seen easily in the animation quality of the series.
The Journal of Mysterious Creatures may not really be listed as martial arts or cultivation anime but I would like to include it in this list as the fight scenes are truly worth watching. Aside from the action, the anime also thrive in its entertaining humor and cliché supernatural plot which seems random and simple, and fun to follow.
The Legend of the Condor Hero
Here we have a real classic on our list. The anime is adapted from one of the most popular novels of the 20th century which had been adapted in so many versions in the last 4 decades. It was based on The Return of the Condor Heroes – the 2nd part of the Cordor Hero trilogy by author Jin Yong. During the Tencent 2021 Conference, the company unveiled that another Jin Yong novel is getting a Chinese anime adaptation and that is The Smiling, Proud Wanderer.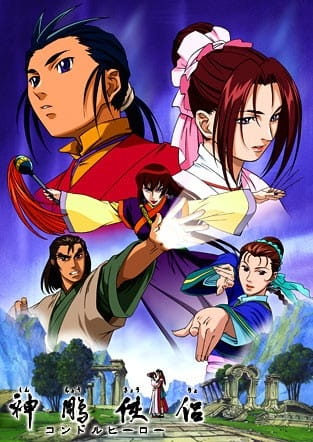 I have first watched this around 2012 or 2013 and I am quite disappointed at some point or maybe because I just did have some expectations since the 2006 live-drama of the novel is a favorite of mine. Nonetheless, The Legend of the Condor Hero offers a good look at the 2000s era of Chinese animation when it comes to style and production, and it is a pretty decent anime to follow with so many Chinese traditions and cultures embedded in it.
Hitori no Shita: The Outcast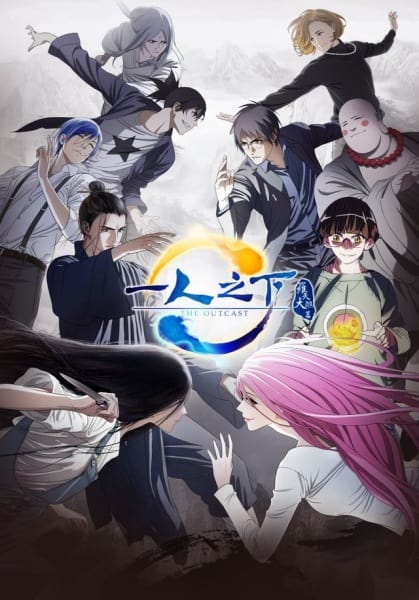 One of the Chinese anime that is quite popular among viewers of Japanese animation. Hitori no Shita or simply known as The Outcast is a fantastic ride filled with great fight scenes, martial arts, and hilarious humor. I must say, this is one of my personal favorites when it comes to comedy anime from China as well as 2D martial arts.
Related Post: Check Out The Best Fight Scenes from Hitori no Shita
Way of Choices / Fighter of the Destiny
I have come to learn about this Chinese anime because of its live-action adaptation. Ze Tian Ji or Way of Choices is an action-fantasy donghua from Shanghai Foch Film Culture Investment that aired in 2015.
Spare Me, Great Lord!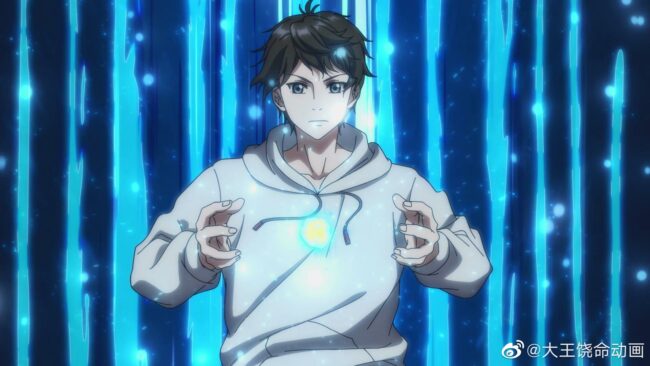 Introducing our next entry on the list of top Chinese martial arts and cultivation anime: Spare Me, Great Lord! Prepare to be captivated by this donghua that revolves around an immensely powerful protagonist who draws strength from the negative emotions of those around him, often resulting in his intentional provocation of others.
3DCGI Martial Arts & Cultivation Donghua
Alright, so we are done with the 2D Chinese anime, let's proceed with the martial arts/cultivation donghua in 3DCG format. In this section, I will share some of the most popular and best Chinese martial arts cultivation anime that you will surely enjoy if you're looking for fantastic fight scenes and pretty solid animation.
Qin's Moon: Nine Songs of the Moving Heavens
At the top of my 3DCG list of Chinese action anime is Qin's Moon: Nine Songs of the Moving Heavens – a spin-off series to the donghua classic The Legend of Qin, however, it is also independent of it as the story took place several years prior to the start of the main series. Personally, Nine Songs of the Moving Heavens is one of the biggest surprises for me as I never thought that it could be this good when I first watch it. The fight scenes were among the best that I had seen from a Chinese anime, the visuals and characters' designs were both exemplary with a heavy emphasis on politics and ancient Chinese history.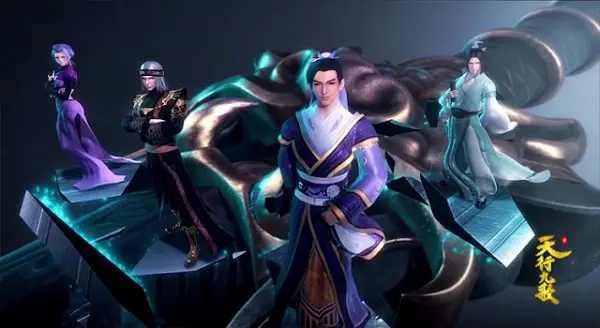 The anime had a very powerful lineup of strong Chinese anime characters that are worth following and watching as they go on fighting against each other for the sake of pleasure, politics, or one's principles. It's a series filled with so many political intrigues that even match how awesome its fight scenes are. The combination of Chinese martial arts, swordplay, and magic in the Nine Songs of the Moving Heavens made the entire experience of watching the anime an interesting and entertaining one.
Here we have Martial Universe (Wu Dong Qian Kun), along with Battle Through the Heavens and The Great Ruler – they made up a trilogy and were all written by the same author. I am not a big fan of the story of Martial Universe; however, its anime adaptation is a solid one and definitely deserves praise. The anime had been released in January 2019 and run for a total of 12 episodes.
Martial Universe is a great cultivation anime and it is really amazing to see that Chinese animation has stories of the main protagonist from the beginning until they become an overwhelming entity. This scenario actually reminds me of Naruto, Luffy from One Piece, and several protagonists from mainstream Shounen anime from Japan. However, Martial Universe is among the best Chinese anime that I had seen in 2019, plus its soundtrack was literally amazing and enthralling. If you want to know more about the Martial Universe, you may check our in-depth review about it here: Martial Universe anime season 1 final impression review.
Stellar Transformation
Stellar Transformation or The Legend of Immortals is another cultivation anime that really worth checking out. It may follow the same cliché as Martial Universe, The Grand Lord, Soul Land, and Battle Through the Heavens but it somehow offers a different approach to the same plot.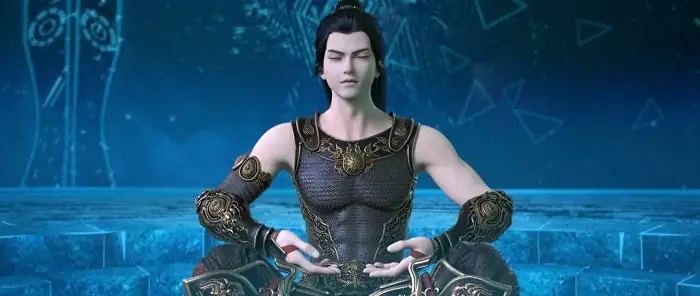 I was quite skeptical when I first watch the anime last December 2018, however, it turns out to be a pretty decent ride with an obviously handsome main character (cough cough) which is also the same case with almost all the anime I had mentioned in the previous paragraph. Stellar Transformation, along with Battle Through the Heavens, and Martial Universe shared the same cliché of achieving enormous strength from the help of external power and later on assimilating it within themselves.
Read more: Stellar Transformations season 2 had been scheduled to premiere on May 3, 2020, as part of Tencent's 2020 Chinese anime lineup, and had returned for its 3rd season on September 5, 2021.
Soul Land or Douluo Dalu is among my first Chinese anime series and it is an amazing one to watch especially the fight scenes and the world-setting of the anime as a whole. So far, only Soul Land and Battle Through the Heavens had entered deeper into my system and captured me with their interesting world and how everything works in it.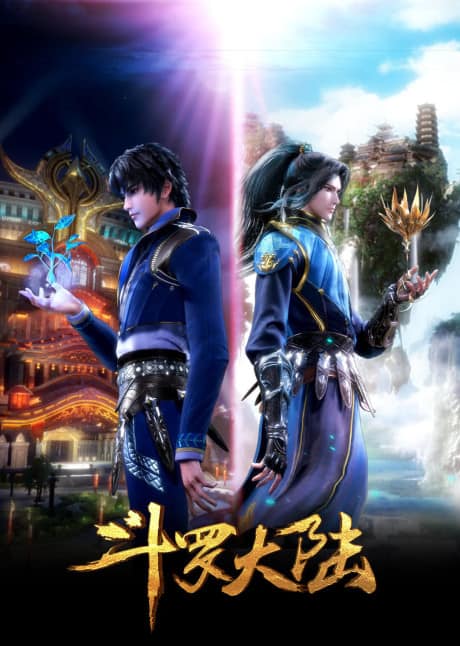 Soul Land has the arena tournament feature in its story which makes the experience of watching it truly entertaining and exciting. We have the main protagonists and his friends set on a battle in the arena to gain battle experience while slowly building their reputations as spiritualists. In this aspect, this reminds me of the classic Dragon Ball cliché, and the duo anime Yu Yu Hakusho and The Flame of Recca which I truly enjoyed from my childhood days.
I think the only part of Soul Land that I am not really interested in is romance – a factor that I think is quite too much. Nonetheless, looking at the whole series in general, it is a great adventure anime that highlights friendship, family and surpasses one's limit. In 2020, Soul Land is slated to release a live-action drama series starring Chinese actor Xiao Zhan as Tang San.
Battle Through the Heavens
We have here one of my personal favorites. Battle Through the Heavens is based on a novel with the same title and it is the first Chinese web novel that I had finished reading. It's a great ride I may say and if the anime will continue to cover the entire novel, I won't have any complaint as long as they could give justice to it.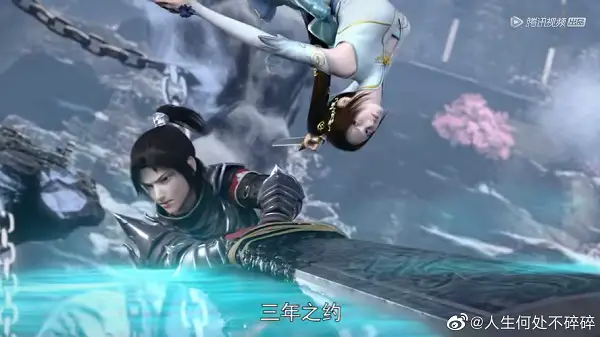 The anime of Battle Through The Heavens have a total of 3 seasons in its league with the first season being quite a disappointment but did a good job of introducing its world-setting. The 2nd season had been a leap and gave us a satisfying show. Meanwhile, the 3rd season of the anime aired on July 21, 2019, and the increase in the animation quality is definitely noticeable. If you could survive the first season of this anime, I could definitely assure you that you'll have a good treat to an amazing cultivation anime with Battle Through the Heavens.
The Legend and the Hero
Here we have an anime that I have to admit but didn't watch yet, but why am I recommending it? Kind of easy since I have this friend who is quite addicted to shounen anime and The Legend and the Hero is among his most hyped and recommended anime to me. I actually have it on my watchlist but don't have some spare time to watch it yet. However, based on available teasers and videos of the anime – this anime is a good one if we will simply talk about fight scenes. And since I am recommending martial arts and cultivation anime, I am strongly confident to recommend The Legend and the Hero because I am quite hyped to watch it too very soon.
Tales of Demons and Gods
If you're looking for a long and exciting Chinese anime binge-watching mode, Tales of Demons and Gods is a highly recommended piece to everyone. It is an amazing cultivation anime and actually has the same vibes as the other donghua that I have mentioned above. At some point, I felt like having some problem liking or connecting with the main protagonists but I think it's just a matter of personal preferences its story is a fantastic one filled with actions, drama, and more. For more recommendations, you may also check our post: Top Chinese Anime Similar to Tales of Demons and Gods.
The Legend of Qin (Qin's Moon)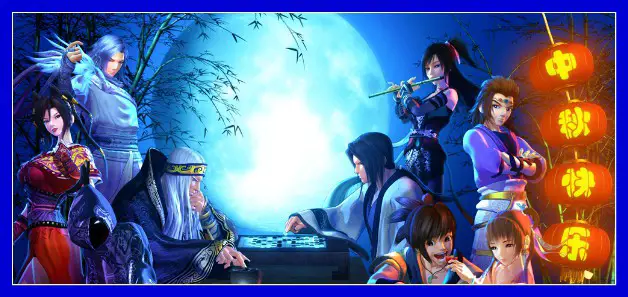 A real classic in the Chinese animation industry, The Legend of Qin had been a great influence on many new Chinese anime shows especially those in the historical-action genres. The Legend of Qin has a total of 5 seasons and the journey of following it had been a great one. The fight scenes were pretty sharp and it really feels great to see some of the characters from Nine Songs of the Moving Heavens present in the current timeline of the main series.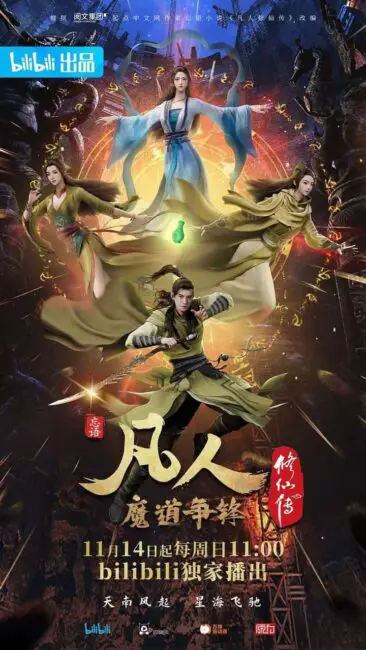 This donghua is one of bilibili's production in 2020, A Record of a Mortal's Journey to Immortality is a fun and action-filled xianxia story where the protagonist, despite all odds pursue his way towards his goal and which is to become an immortal cultivator. This Chinese anime boasts fantastic and realistic character designs which were inspired by the appearance of several Chinese actors.
Related Post: 10 Chinese Anime Similar to The Mortal's Journey to Immortality
A Will Eternal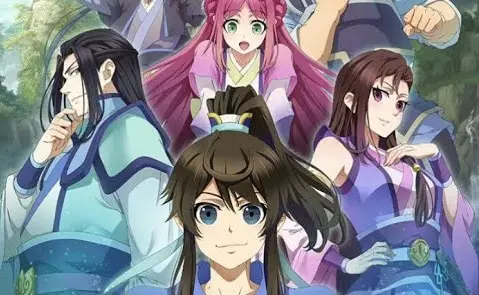 Here's another beautiful cultivation Chinese anime that fans of Mo Dao Zu Shill will enjoy. A Will Eternal anime adaptation is based on the novel of Er Gen who is popular for writing I Shall Seal the Heavens. This donghua is a fun combination of action and humor in a cultivation world, and our main protagonist is afraid to die, thus, he will do everything to avoid death at all costs. B.CMAY Pictures is animating this series, therefore, you'll notice a lot of similarities in the visual designs with their popular work Mo Dao Zu Shi.
Related Post: A Will Eternal Season 2 had been announced by Tencent for 2022
Lord of the Universe
Wanjie Shenzhu or also known as The Lord of No Boundary is an adventure-fantasy Chinese anime from Ruo Hong Culture. As of writing, it has a total of 3 seasons and follows an exciting adventure of vengeance and returning back to the peak of the cultivation world.
Wonderland / Wonderland of Ten Thousands
Wanjie Xianzong also known as Fairy Legends is an action-adventure fantasy donghua with a touch of romance. It is another cultivation of Chinese anime from the studio Ruo Hong Culture.
The God of War Dominates
Wushen Zhuzai is another donghua from Ruo Hong Culture. With a total of 80 episodes, it'll be among the longest-running cultivation donghua which was released in 2020. 
Related Post: Top 10 Chinese Anime Like Martial Master
Chronicles of Everlasting Wind and Sword Rain
Xian Feng Jian Yu Lu was one of the donghua from the summer 2020 Chinese anime lineup. Animated by Ruo Hong Culture, it is slated to have 70 episodes and features a story set in a fantasy world.
Spirit Sword Sovereign
Ling Jian Zun is a martial arts anime from studio Soyep. It premiered in 2019 and runs for a total of 30 episodes. As of 2021, its 4th season currently airs and continues the exciting story and quest for vengeance of our OP MC.
Related Post: 10 Donghua Similar to Spirit Sword Sovereign
Perfect World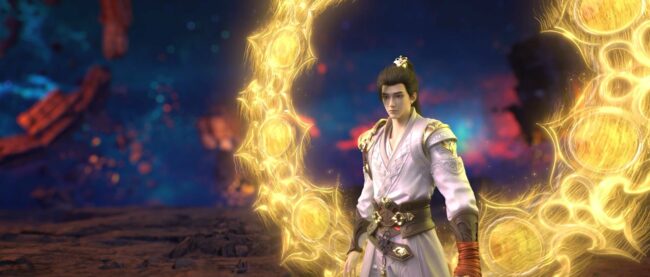 Wanmei Shijie is one of the Chinese anime similar to Soul Land that we don't know we needed this 2021. It's a cultivation story that revolves around spirits and beasts, and a quest for reclaiming what was stolen – family and glory. It is animated by FOCH and currently has 2 seasons that aired continuously this year. This action-packed cultivation anime from China had became one of the most popular donghua in recent years, even surpassing the likes of Stellar Transformations and Martial Universe.
Spirit Guardians
Dou Hun Wei Zhi Xuan Yue Qi Yuan is an adventure fantasy Chinese anime from Yi Chen Animation that premiered last 2018.
Alright, this ends my list of recommended Chinese anime about good martial arts and cultivation aspects in its story. In the end, it always depends on how someone perceives the entertainment value of every anime series that they saw and if we simply based on the criteria about martial arts or cultivation anime, I am confident that everyone will surely enjoy this list of Chinese anime series.
Further Recommendations & Updates
Here are some more donghua as well as new releases from the xinxia category that fans might want to check as follows:
Against the Sky Supreme (Ni Tian Zhizun)
Thousand Autumns (Shan He Jian Xin)
Full-Time Magister (Quanzhi Fashi)
Swallowed Star (Tunshi Xingkong)
Zhen Dao Ge
The Westward (Xixing Ji)
Chivalrous Hero Shen Jianxin (JX3 Online Anime)
Proud Swordsman
Scumbag System
Lord Xue Ying (Xue Ying Lingzhu)
Painting Rivers and Lakes (Hua Jianghua: Buliang Ren)
Peerless Martial Spirit (Jueshi Wuhun)
Scissor Seven (Cike Wu Liuqi)
Great Journey of Teenagers (Shaonian Ge Xing)
The Chronicle of Heroic Knight (Youxia Zhanji)
Mad Demon Lord (KuangShen Mo Zun)
Carp reborn (Yuan Long)
I Upset Millions of Cultivators (Wo Qi Ku Le Baiwan Xiulianzhe)
Supreme Galaxy (Xinghe Zhizun)
Supreme God Emperor (Wu Shang Shen Di)
Forty Millenniums of Cultivation
Ten Thousand Worlds (Wan Jie Du Zun)
Tian Huang Zhan Shen
Wei Wo Du Shen
I Am A Great God (Wo Shi Da Shenxian)
Immortality (Yong Sheng)
Song of the Broadsword (Zhen Dao Ge)
Dragon's Disciple
Soul of the Soldier Master
Jade Dynasty
Word of Honor
I Picked An Attribute
Soul of Light
Fallen Master
The Great Ruler
Five Elements God of War
For more recommendations and similar Chinese anime, you may check our post: List of 3D Chinese Anime That You Should Watch. Meanwhile, if you're looking for the best martial arts anime that can be found in Japan, we've got you covered in this recommendation list: 10 of the Best Martial Arts Anime That You Should Check.
Get updated about Chinese anime shows from us, subscribe now to our newsletter, and let us know which of the Chinese anime I mentioned above is your favorite if you had seen them already.
Last Updated on July 14, 2023 by Yu Alexius