Legendary Twins donghua adaptation had been finally unveiled, for many fans of the wuxia genre, this is a must-watch series as it is based on a 1966 novel by Gu Long. I have come to learn about the novel through its Chinese drama adaptation The Legendary Siblings from Taiwan which stars Jimmy Lin and Alec Su in 1999; the drama was aired in my country the Philippines under the title of The Outstanding Twins. As someone who had seen the drama, and knows how the story unfolds based on its plot, this is an interesting and rather an old school wuxia story that many Chinese anime fans will love, especially the fans of xinxia series such as Tales of Demons and Gods, Perfect World, and A Will Eternal.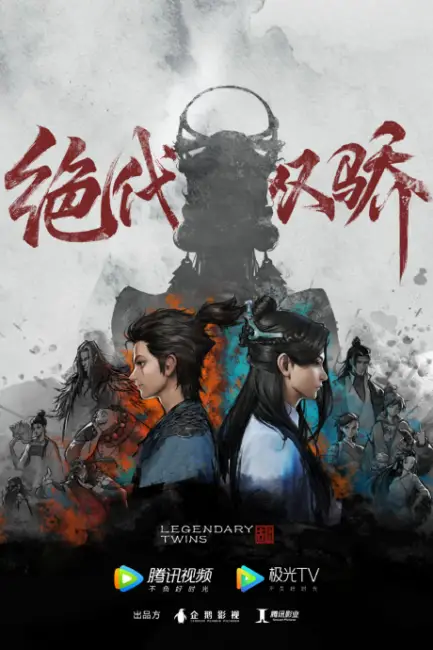 Legendary Twins Donghua Announcement
During the Tencent Video Animation 2021 Conference on August 8, the Chinese giant company unveiled Legendary Twins or Juedai Shuang Jiao as one of their new titles for their adapted works of Chinese anime lineup for 2021-2022.
The series will adapt the 1966 classic wuxia novel Juedai Shuang Jiao (The Peerless Proud Twins) by author Gu Long who is famous for writing popular martial arts novels in the 1960s and 1970s. The novel had inspired four films and eight TV series adaptations. The novel was also known for other titles such as Twin Heroes, Legendary Twins, and Handsome Siblings.
Plot
The follows a pair of twin brothers who, because of a feud between two formidable martial artists, were separated at birth and raised on opposing sides.
Animation Studio & Release Date
Legendary Twins will be animated by BYMENT, the studio that gave us the donghua adaptation of the Xi Xing Ji (The Westward) series, and it'll be produced by Tencent Penguin Pictures and Tencent Pictures. In the latest announcement on its official Weibo page, it was revealed that Legendary Twins' release date is scheduled on July 25, 2022 at 10:00 AM timeslot on Tencent Video, it was accompanied by a new PV as shown below. Unfortunately, the original release schedule of The Legendary Twins donghua was postponed, thankfully, Tencent has unveiled that it was rescheduled for release on October 3, 2022 as part of their fall lineup.
Trailer & PVs
Here, we've got the first look at the Legendary Twins anime which features the concept arts, models, visuals, and designs for several characters in the story as shown below.
In the latest post in the Weibo page of Legendary Twins on April 10, they revealed the first-ever trailer for the donghua which highlights the two main characters of the story as shown below:
Legendary Twins Image Stills
We also have here the first set of image stills from the recently release trailer which highlights the siblings and their different upbringings.
Where to Watch Legendary Twins Donghua Online?
The series is produced by Tencent and will be streamed on their platforms. Since it hasn't been released yet, we can only give you their official Weibo account that you can check for direct updates here: 绝代双骄官微
We shall keep you posted whenever Tencent had opened an official page on their platform for the series. Nevertheless, I am pretty excited for this new donghua that will give us a total adventure filled with action and the typical Chinese humor. This is one of Tencent's upcoming donghua which had been inspired by a classic novel from several decades ago along with Jin Yong's The Smiling, Proud Wanderer.
Last Updated on September 28, 2022 by Yu Alexius