I know many of you are looking for new Chinese anime to add to your watchlist and I am pretty sure that you had already heard some of the most famous recommendations out there. However, if you want to discover some gems in Chinese animation, I urge you to check on 3D donghua. Unlike Japanese animation, 3D is widely used and common as a format in Chinese anime both in series and movies.
Therefore, I would like to share some of the underrated yet precious gems among 3D Chinese anime. While some of these titles may sound familiar to you as I will also include 3D donghua that made a name for itself, just to present that CG animated donghua could also face off against 2D. In fact, the majority of series and movies in Chinese animation nowadays are made in 3DCG, although they don't get that much attention outside of China compared to the likes of The King's Avatar, Mo Dao Zu Shi, and many more.
Alright, without further ado, let's check our list of 3D Chinese anime that donghua fans must add to their watchlist:
Qin Shi Ming Yue (Qin's Moon)
If you're into 3D Chinese anime, Qin's Moon or The Legend of Qin is a donghua that you shouldn't miss. It has been the standard for 3D animation in China in recent years ever since it premiered in 2007. Animated by Sparkly Key Animation (the same studio behind Soul Land and Legend of Tang and one of the best Chinese anime studios nowadays), its animation quality just keeps on getting better with each passing year. With over hundreds of episodes, Qin's Moon is a fantastic journey to follow filled with action, interesting characters, contemporary Chinese values and philosophies, and enthralling music.
I would like to flex here one of my earliest Chinese anime influences, Battle Through The Heavens is a fun donghua to watch with good fight scenes and convincing drama. The first season was quite mediocre at best, but it gets better once you reached the 2nd season of this donghua. In terms of story, it's quite generic but I can vouch for that as its source material is one of my favorite Chinese web novels of all time
NeZha Zhi Mo Tong Jiang Shi (Nezha: The Devil's Birth)
Next on our list is the highest-grossing animated film in China so far. With whooping blockbuster earnings of over $700 million,  broke various box office records in China last 2019. It's a dramatic and convincing narrative of a classic Chinese legend adorned with beautiful animation, fantastic fight scenes, heartfelt dialogue, and an enchanting soundtrack. We had previously listed NeZha as one of our Chinese Anime Movies for Starters in the donghua community. We shouldn't get this confused with another film that is titled Nezha Reborn which was released in 2021 by Nice Boat Animation and was even streamed on Netflix.
Bai She: Yuan Qi (White Snake: The Origin)
Here's another Chinese 3D anime film from 2019, White Snake: The Origin is the retelling of the popular Chinese folktale White Snake, despite being a demon, she fell in love with a human; the story of these star-crossed lovers had been retold many times but the 2019's animated film is a spectacular and enthralling experience. With gorgeous animation, visually stunning graphics, a beautiful soundtrack, and effective storytelling of a generic romance, White Snake: The Origin is a must-watch for every donghua fan out there.
Qin Shi Ming Yue: Tian Xing Jie Ge (Nine Songs of the Moving Heavens)
A personal favorite of mine, Nine Songs of the Moving Heavens is a spin-off and prequel to Qin's Moon, and I actually like this one more than the main series. With political warfare and court intrigues, beautiful characters, and mesmerizing fight scenes; Nine Songs of the Moving Heavens is a spectacular experience for fans who are looking for absolutely stunning 3D donghua.
Similar to Battle Through The Heavens, Martial Universe is another cultivation Chinese anime that people will enjoy. Pretty decent background story, progressive character development, and Martial Universe had all the formula that every action 3D donghua out there must have.
Tian Bao Fu Yao Lu (Legend of Tang)
One of the most popular 2020 donghua from bilibili, Legend of Tang is a gorgeous 3D donghua from Sparkly Key Animation. Based on a favorite boys-love novel, Legend of Tang offered beautifully designed male characters who will capture your heart and the fight scenes are pretty decent too. It's currently streamed by bilibili on their YouTube channel: Anime by bilibili
Wu Geng Ji (The Legend and the Hero)
Wu Geng Ji, another popular 3D Chinese anime from Sparkly Key Animation that premiered several years ago. It's one of the leading cultivator and martial arts anime from China in recent years. This is one of the donghua that I highly recommend to people who also like Soul Land.
Ling Long: INCARNATION (Spirit Cage: INCARNATION)
Hold on, we had a Chinese sci-fi anime on our list too, and here we have Ling Long: INCARNATION. I know that most of the 3D Chinese animation out there is cultivation or martial arts in the genre but we also had plenty of sci-fi in this format and Ling Long: Incarnation is one of the most ambitious. Known as one of the most expensive Chinese anime of 2019, it revolved around a post-apocalyptic setup with tons of action and drama unfolding in every scene.
Xixing Ji (Journey to the West)
I know you guys are quite familiar with Journey to the West, it's a story that had been adapted into many mediums and retold several times, but Xixing Ji, a 2018 Chinese anime in 3D format gives a different twist to this classic story. I must say, this is a must-watch for donghua who loves to see action, comedy, and martial arts.
Xixing Ji: Zaijian Wu Kong (The Westward)
If you had finished the first 2 seasons of the Xixing Ji donghua series, I would also like to recommend its prequel movie Xixing Ji: Zaijian Wu Kong or also known as The Westward. Tencent Video added it to their archive last May 2020.
Feng Yu Zhou (The Wind Guardians)
The Wind Guardians is a 2018 3D Chinese anime film that will give delight to many donghua fans who seek adventure.
Meng Ta: Xue Mi Cheng (Dream Tower)
Here's another action-packed Chinese 3D anime that premiered in 2018, I actually enjoyed the gunfights in this donghua. Plus, the character designs were beautiful.
Shao Nian Ge Xing (Juvenile Song)
Also known as the Great Journey of a Teenager which I think sounds peculiar, Shao Nian Ge Xing follows a story filled with action, drama, romance, and many more.
One of the best and pure xianxia Chinese anime out there, Stellar Transformations or also known as The Legend of Immortal is a fantastic cultivation donghua. There are only 2 seasons so far, however, it is scheduled to return for its 3rdseason and is among the most highly anticipated Chinese anime of 2021.
Wanjie Xianzong (Wonderland)
Wonderland is another astounding 3D Chinese anime to follow for fans of the cultivation and martial arts genre. It has the same plot as any other donghua in this list but also offers a diverse story. Wonderland has 4 seasons in total and is great for binge-watcher.
Yao Shen Ji (Tales of Demons and Gods)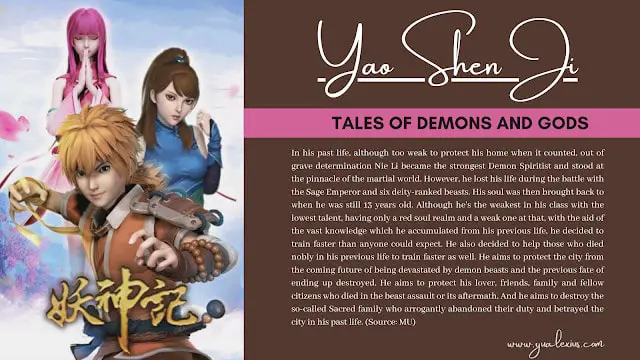 Another martial art and cultivation donghua in this list are Tales of Demons and Gods which spans over 4 seasons and has over a hundred episodes available out there. Resembling an isekai story but this time, the main character had returned to his youthful days and must embark on a journey to live his life anew.
Wanjie Shenzhu (Lord of the Universe)
Lord of the Universe is a Chinese anime featuring an OP main character and is one of my favorites with this setup. It follows a story of an ancient god who fell from grace but finds his way into a new world where he became an enormous entity. There, his authority will be challenged as his past comes to haunt him again.
Here's a Chinese anime from bilibili's 2020 lineup. It premiered last July as part of the summer 2020 donghua lineup alongside Fog Hill of Five Elements, and The Legend of Tang. A Mortal's Journey to Immortality is another cultivation donghua that tells the story of a young man who aims to reach the peak of the cultivator world despite having fewer talents compared to his peers.
Wushen Zhuzai (Martial Master)
Wushen Zhuzai or Martial Master reminds me of Mo Dao Zu Shi because just like Wei Wuxian, the main character in this Chinese 3D anime was betrayed by his friends and persecuted to death, and return to life hundreds of years after. This is a story of bloody vengeance and legendary cultivation experience.
This is where I shall end this list of 3D Chinese anime that people should watch. I will update this list every once in a while once the new donghua was announced and I also broaden my knowledge on this aspect of Chinese animation. If you wish to add some suggestions to this list, please let us know by leaving your comments below and we'll definitely check it out.
You might also like:
Last Updated on October 18, 2022 by Yu Alexius