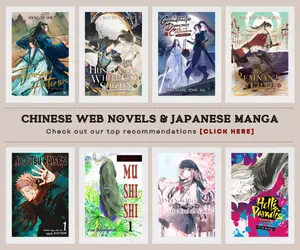 Whenever our favorite anime series or movies are adapted into different mediums such as live-action, comics, manga, etc; we always had that desire to check it out and find out whether it's a good adaptation or not. As an anime enthusiast, this has always been my habit whenever my favorite anime is getting a live-action, unfortunately, much to my own dismay, I seldom get satisfied or maybe I just expected too much. Albeit, I have always accepted the fact that it is quite hard to adapt a story with an anime counterpart as the expectations of the fans are usually high, and production-wise, there are some limitations to what the staff can do.
However, there's I saw a silver lining in donghua that gets a live-action series. Donghua is what we called to Chinese animation, and unlike Japanese anime, donghua adaptation to live-action seems pretty tolerable and sometimes, even better. As someone who had been addicted to Chinese anime in the last three (3) years, I had been amazed whenever I saw my favorite donghua gets a decent live-action counterpart.
In this post, I would like to share some Chinese anime with a live-action adaptation that you guys may want to check out. Especially if you had heard or seen the donghua version, then I believed checking out the live-action might be a worthwhile experience.
Chinese Anime Series with Live-Action Adaptations
Here, I have prepared 10 Chinese anime and their live-action counterpart respectively as follows:
The King's Avatar / Full-Time Master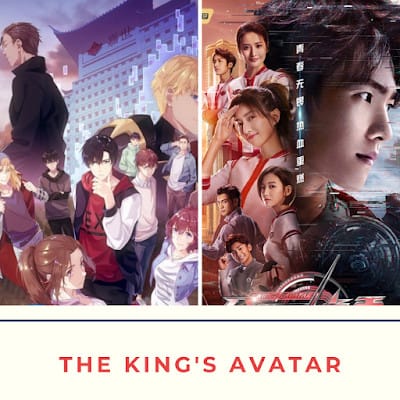 First on our list is a personal favorite of mine and that is The King's Avatar which has been my gateway donghua to Chinese animation way back in 2017. The popular Chinese anime is adapted from the best-selling e-sports novel Quan Zhi Gao Shou also known as The King's Avatar or Full-Time Master. To many anime fans, The King's Avatar had been our Chinese anime introductory title. In 2019, The King's Avatar live-action adaptation was released top-billed by Chinese actor Yang Yang. 
Over a year after the live-action's released and with The King's Avatar anime season 2 currently airing, the debate of which one is better, The King's Avatar anime vs live-action is still ongoing among its fans. In my own opinion, both series have their own perks – the donghua excels in giving us a great experience in the gaming world of the story with highlights in battles, dungeons, quests, PK, and the professional competition. Meanwhile, The King's Avatar live-action thrives in its character-driven story showcasing a more human and emotional side of the characters from the novel. I love the character development in the series, and whether you like it or not, the live-action is a grand ensemble of handsome actors and beautiful actresses, which makes the series appeal to many Chinese drama fans.
Rakshasa Street / Requiem Street
Adapted from the manhua of the same title by author and illustrator Xu Chen, Rakshasa Street or also known as Requiem Street released its anime and live-action series in 2016 and 2017 respectively. The anime was produced by Lu HengYu and animated by L2 studio. This action-supernatural series was one of the most popular donghua before the emergence of The King's Avatar. On the other hand, the Rakshasa Street TV series was led by one of my favorite Asian actors Jiro Wang along with An Yue Xi.
Related Post: Rakshasa Street Anime Season 2 Had Been Rescheduled for Release in 2021
Mo Dao Zu Shi / The Untamed
Next on our list is definitely the biggest name here and that is Mo Dao Zu Shi also known as The Founder of Diabolism or the Grandmaster of Demonic Cultivation. The Chinese anime adaptation was released in 2018 and has been the best anime of that year for many donghua fans. It was adapted from a danmei novel by author MXTX.
In 2019, Mo Dao Zu Shi gets a live-action adaptation titled The Untamed and had been the face of Chinese boys-love drama to many fans and won accolades throughout and after its run. Two of China's most promising actors take the lead for The Untamed – Xiao Zhan portraying Wei Wuxian, and Wang Yibo as Lan Wangjie.
Related Post: Mo Dao Zu Shi 3: The Final Season Anime to Conclude the Entire Series in 2021
Way of Choices / Fighter of Destiny
Adapted from Way of Choices novel by Mao Ni, the anime first aired in 2015 and currently have a total of 5 seasons released. It's one of the longest-running donghua in recent years and had been a decent experience for anime fans with its interesting fusion of romance and action. Its live-action adaptation was released in 2017 and quite deviate from the original story but was able to become one of the most-watched Chinese dramas of all time, amassing a total of 30 billion views on various online streaming platforms. It's one of the most popular Chinese dramas too and top-billed by Chinese singer and actor LuHan, a former member of boyband EXO.
Battle Through the Heavens / Fights Break Sphere
Here's one of my personal favorite Chinese anime of all time and one of my earliest anime influences along with The King's Avatar and Soul Land. Battle Through The Heavens donghua first aired in 2017 and was adapted from the novel by author Heavenly Silkworm Potato. Battle Through The Heavens is one of the 3D Chinese anime that I would like to recommend to donghua fans and it just keeps on getting better in every season. On the other hand, its live-action adaptation called Fights Break Sphere was released in 2018 with Chinese actor Leo Wu taking on the lead role of Xiao Yan.
Martial Universe
Psychic Princess / Tong Ling Fei
Adapted from the adorable romance-comedy historical manhua of the same title, Tong Ling Fei or also known as Psychic Princess released its donghua adaptation before 2018 ended and had become one of the most popular shoujo among Chinese anime series. In fact, almost 2 years after its season 1 finale, fans are still eagerly waiting for Psychic Princess Season 2 albeit no official announcement has been made yet by its animation studio Haoliners Animation League. Not long after the finale of Psychic Princess Season 1, it received a short live-action series that can be finished in one (1)-sitting. Psychic Princess short-drama had its first season run for a total length of almost an hour with around 2-3 minutes long per episode. It returns for its 2nd season last July 2020.
The Legend Condor Hero / Return of the Condor Heroes
A Chinese classic is next on our list. The Legend Condor Hero animated series was first released in 2001 and it was based on the literary work Return of the Condor Hero by Chinese novelist Louis Cha. The Return of the Condor Heroes is the second series from his Condor trilogy. While the animated series was released in 2001, the live-action drama series for The Return of the Condor Heroes had been aired multiple times through various adaptations. The entire trilogy had been adapted to live-drama series on several occasions, and on my end, my favorite adaptation is the 2006 version of Return of the Condor Heroes starring Huang Xiaoming and Liu Yifei.
Soul Land / Douluo Continent
Here we have Soul Land, the most-watched Chinese anime of all time, and is currently one of the best Chinese anime donghua action for beginners in the donghua community. Soul Land is adapted from the novel Douluo Dalu and first aired in 2018. In the last 2 years, Soul Land released over a hundred episodes and dominated the donghua chart for the most number of views for several months. To further intensify its popularity to Chinese drama fans, it's getting live-action series titled Douluo Continent with The Untamed star Xiao Zhan taking on the role of the protagonist Tang San. Douluo Continent release is slated for February 2021.
Qin's Moon / The Legend of Qin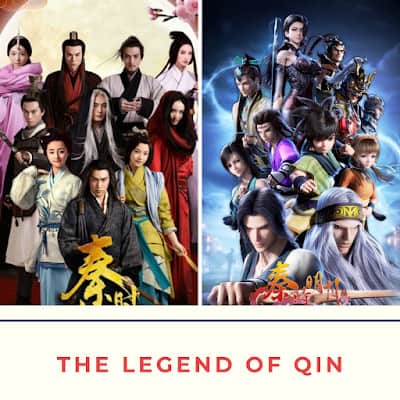 I would like to end this list with a legendary Chinese animation series, Qin's Moon or also known as The Legend of Qin was one of the earliest donghua influences to many fans of Chinese animation. It first premiered in 2007 and currently had a total of 6 seasons with various spin-offs. It's the series that showed us the evolution of Chinese animation through the years and it's an interesting story of adventure that many shounen fans will enjoy.
It received a live-action adaptation in 2015 and stars Michelle Chen, Yi Lu, Bingqing Hu, Jinfu Jiang, and many more.
Further Recommendations
Aside from the 10 titles that we had mentioned above, here are some more series that had been adapted in both Chinese anime and live-action drama that you might want to check too.
Heaven Official's Blessing (an upcoming live-action adaption of the popular BL novel by MXTX)
Thousand Autumns
The Great Ruler
Take My Brother Away
Ling Cage: Incarnation
White Cat Legend
Cinderella Chef
No Choice But to Betray Earth
White Snake: The Origin
Last Updated on June 5, 2023 by Yu Alexius