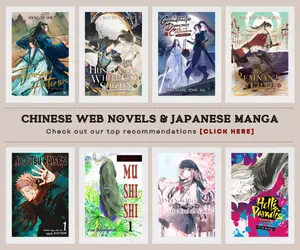 As the Chinese animation industry and community keeps on rising, knowing various donghua or guoman (Chinese anime) titles are not enough. Sometimes, we need to delve a bit deeper from the surface and learn about the production team, the studio, and the people behind them. As a Chinese anime enthusiast, it has been a habit of mind to give my first impression about an upcoming title based on its production team and animation studio. This is also my method of preparing my watchlist even for Japanese animation works. For example, once I saw that WIT Studio or ufotable is animating an upcoming anime, I am quite confident that the quality will be pretty decent. I believed I am not the only one who had this kind of mental process when it comes to choosing their anime watchlist.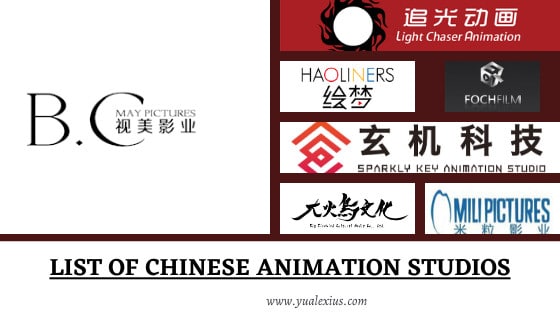 Even in Chinese animation, it's amazing to learn about various animation studios and their works as a future reference for any upcoming titles. In line with this, I would like to share some of the most popular Chinese anime studios and their works for everyone. I am quite surprised to see that some of my favorite Chinese anime was animated by the same studio. So, let's take a look at some of the biggest players in the Chinese animation industry and find out if you'd seen their works before.
Chinese Anime Studios and Their Works
B.C MAY PICTURES
Let me start our list with one of the most popular Chinese anime studios out there nowadays, all thanks to some of their biggest works such as The King's Avatar Season 1 and the Grandmaster of Demonic Cultivation. These two projects alone had played an important role in the resurgence of Chinese anime popularity in the global arena. Aside from these two, B.C May Pictures also gave us some familiar titles such as Cupid's Chocolates, How to Steal 55 Kisses, Nuwa's Diary, and the 2020 Chinese anime The Chronologist which is adapted from the novel Huangli Shi or Chinese Almanac Master. 
B.C May Pictures had been in the business for several years and has been affiliated with Tencent Holdings and is based in Beijing, China. Their works are funded and produced by Tencent and are available for streaming at Tencent's streaming services. 
The following are some of the works of B.C May Pictures (also known as G.C May Animation & Film):
The King's Avatar Season 1 / Quanzhi Gaoshou (2017)
Grandmaster of Demonic Cultivation / Mo Dao Zu Shi (2018)
The Chronologist / Huanglishi (2020)
Scum Villain's Self-Saving System (2020)
Occult Investigator's Strange Record (2020)
A Will Eternal (2020)
Cupid's Chocolates / Aishen Qiaokeli Jinxingshi (2015)
Twin Spirit Detectives / Shuangsheng Lingtan (2016)
How to Steal 55 Kisses / Guomin Laogong Dai Huijia (2016)
Nuwa's Diary / Nuwa Chengzhang Riji (2016)
The Running Heroes / Ku Pao Ying Xiong (2017)
Zinba (2013)
Balala the Fairies series / Ba La La Xiao Mo Xian Zhi (2013)
Nana Moon (2012)
HAOLINERS ANIMATION LEAGUE
Next in our list is a big one and one that we're quite familiar with since most of their works were a collaboration with the Japanese anime industry and were released in Japan too. Haoliners Animation League had produced and animated some of the most popular Chinese anime which were also dubbed in Japanese such as the famous Hitori no Shita: The Outcast, Flavors of Youth, Psychic Princess, Spiritpact, Reikenzan, and Berryl & Sapphire. In the 2020 Chinese anime lineup of bilibili, Haoliners Animation League is animated some of its biggest titles such as The Manual of Hundred Demons, The Daily Life of Immortal King, Heaven Official's Blessing, and God of Deception. 
The studio also has subsidiary companies in Japan and South Korea, thus supporting the fact that Haoliners Animation League's target market is outside of mainland China. It was founded in 2013 and is based in Shanghai, China. 
Among its most popular works are as follows:
Hitori no Shita: The Outcast Season 1 & 2 (2016)
Fox Spirit Matchmaker / Huyao Xiao Hongniang (2015)
Beryl & Sapphire / Xiao Lu He Xiao Lan (2018)
Psychic Princess / Tong Ling Fei (2018)
Flavors of Youth / Shikioriori (2018)
Spiritpact / Ling Qi (2016)
Lu's Time / Lu Shidai (2013)
The Daily Life of Immortal King (2020)
Heaven Official's Blessing (2020)
Everlasting Immortal Firmament (2017)
Gin no Guardian (2017)
Evil or Live (2017)
Cheating Craft (2016)
To be Hero (2016)
To be Heroine (2018)
My Holy Weapon (2018)
Spirit Realm Season 1-5
Ace Censorate / Wangpai Yushi (2014)
Monster List / Yaoguai Mingdan (2014)
I am Bai Xiaofei / Wo Jiao Bai Xiaofei (2015)
The Furious Yama / Da Wang Bu Gaoxing (2020)
God of Deception / Shi Huang Zhi Shen (2020)
Chinese Mystery Man / Zhongguo Jingqi Xiansheng (2014)
SPARKLY KEY ANIMATION STUDIO
Here's a major player in the Chinese 3D animation industry. I am a fan of this studio since they made two of my personal favorites Chinese anime of all time and that's The Legend of Qin and its spin-off series Nine Songs of the Moving Heavens. Sparkly Key's specialty is 3D animation on which it dominated for several years and they animated some of the most popular Chinese anime which includes The Legend and the Hero (Wu Geng Ji) and Soul Land (Douluo Dalu) which was the most streamed anime Chinese anime globally. 
If you're into 3D animation, then I am sure that checking out the following works of Sparkly Key will delight you:
Soul Land / Douluo Dalu (2018)
The Legend and the Hero / Wu Geng Ji (2016)
The Legend of Qin series / Qin Shi Ming Yue (2007)
Qin's Moon: Nine Songs of the Moving Heavens / Qin Shi Ming Yue: Tian Xing Jiu Ge (2016)
Revelation Online / Tian Yu (2017)
Legend of Exorcism / Tian Bao Fuyao Lu (2020)
Star Devourer (2020)
You may also want to check The Legend of Qin's several OVAs out there which gives us a glimpse at the backstory of some characters from the series.
SHANGHAI FOCH FILM CULTURE INVESTMENT
I have quite complex thoughts about this studio but it produced one of the most popular Chinese anime in recent years and that is Full-Time Magister (Quanzhi Fashi) which went toe to toe with The King's Avatar's popularity in 2017. It is one of my earliest Chinese anime experiences, and despite its mediocre animation, the series became popular. I am relieved to learn though that its animation quality went better in every succeeding season, Full-Time Magister 4thseason was released last May 24. Shanghai Foch Film Culture Investment also has some more decent titles in their league such as the famous cultivation Chinese anime Stellar Transformations (Xing Chen Bian). 
Their most famous works are as follows:
Battle Through The Heavens Season 1 / Doupo Cangqiong (2017)
Stellar Transformations / Xing Chen Bian (2018)
Order Designer / Si Ling Bianma: Zhi Shijie Caozong Zhe (2013)
Full-Time Magister / Quanzhi Fashi (2016)
CMFU Academy series / CMFU Xueyuan (2016)
Way of Choices / Fighter of the Destiny / Ze Tian Ji (2015)
Spiritual Domain / Spirit Realm / Ling Yu Season 6
The Grand Lord (2019)
Music Up 2 (2020)
COLORED-PENCIL ANIMATION DESIGN
Unlike to the other studios I had mentioned above, Colored-Pencil Animation had few titles under their belt but they could pack a punch since they animated The King's Avatar 2018 Specials, as well as The King's Avatar: For the Glory, the series' prequel movie which was released last August 2019. Colored-Pencil Animation is also the studio working in the highly anticipated season 2 of The King's Avatar anime adaptation. If you wish to watch some more Chinese anime from this studio, you'd better look for the following:
The King's Avatar Specials (2018)
The King's Avatar: For the Glory (2019)
Lan Mo's Flower / Lan Mo de Hua (2017)
Kaifeng Strange Tales: This Lord Bao is Not that Great (2017)
The King's Avatar Season 2 (2020)
Fantasy x Hunter (2021)
SAYE (Warm Sun)
Blades of the Guardians / Biao Ren
SHANGHAI MOTION MAGIC DIGITAL ENTERTAINMENT INC.
In terms of Chinese 3D anime, Shanghai Motion Magic had some of my favorites. The company is based in Shanghai, China, and was founded in 2000. I am sincerely amazed by their work on the anime adaptation of Martial Universe (one of the works of author Heavenly Silkworm Potato)
Battle Through the Heavens / Doupo Cangqiong Season 2-3 (2018-2019)
Martial Universe / Wu Dong Qian Kun (2019)
The Great Ruler / Da Zhu Zai (2022)
Thousand Autumns / Shan He Jian Xin (2020)
WAWAYU ANIMATION
Wawayu was founded in 2008, and an animated Adorable Food Goddess, one of the most visually aesthetic Chinese anime out there. They also animated The Leader, which is a government-funded project featuring the life and works of Karl Marx.
Adorable Food Goddess / Meng Qi Shi Shen (2018)
Black and White Warriors / Heibai Wushang Season 1 & 2 (2015)
The Leader / Ling Feng Zhe (2019)
How to Steal 55 Kisses Season 3 & 4 (2017)
LIGHT CHASER ANIMATION STUDIO
Light Chaser Animation Studio had produced one of my favorites Chinese anime films of all time and that is White Snake which is based on the classic Chinese folktale of the same title. The company was founded in 2013 and is based in Beijing, China. They only have 5 anime films so far under their belt but most of them were good and beautiful. The following are among their works:
White Snake (Bai She: Yuan Qi) 2019
Little Door Gods (Xiao Men Shen) 2016
Cats and Peachtopia (Mao Yu Tao Hua Yuan) 2018
Little Yeyos (Xiao Yeyou) 2014
Tea Pets (A Tang Qi Yu) 2017
New Gods: Nezha Reborn (upcoming 2020)
NICE BOAT ANIMATION
Here's one of my personal favorites Chinese animation studio, Nice Boat Animation had given us quality works. Among their most famous work is the 2017 Chinese animated fantasy film Dahufa which is controversial and widely praised. Another one is the 2020 Chinese anime series White Cat Legend (Da Li Si Rizhi) which premiered last April and had been one of the most popular series this year in bilibili.
SAMSARA ANIMATION STUDIO
A relatively new studio whose sole purpose is to produced Wu Shan Wu Xing aka Fog Hill of Five Elements – an ambitious Chinese anime project which has been in the making since 2017. The studio is only comprised of few people but based on the available trailers for their sole project; Samsara Animation Studio did put an utmost effort to animated Fog Hill of Five Elements.
SHANGHAI ANIMATION FILM STUDIO
One of the oldest Chinese animation companies which was founded in 1957, and had been a pioneer in the industry. Shanghai Animation Film Studio produced over 500 films and covered 80% of China's domestic animation production.
1955 The Magic Paint-brush
1956 The Proud General
1958 Piggy (Zhubajie) Eats the Watermelon (Zhubajie Chi Xi Gua)
1960 Where is Mama
1961,1964 Havoc in Heaven
1963 Buffalo Boy and the Flute
1963 A Clever Duckling
1964 Red Army Bridge
1964 The Cock Crows at Midnight
1964 Two Heroic Sisters of the Grasslands
1973 The little Balu
1979 Prince Nezha's Triumph Against Dragon King
1981 Monkeys Fish the Moon
1983 The Fight Between the Snipe and the Clam
1984 Black Cat Detective
1985 Monkey King Conquers the Demon (San Da Baigujing)
1986 Calabash Brothers (TV series)
1999 Lotus Lantern
2001 Music Up
MILI PICTURES WORLDWIDE
The company is based in Shanghai, China. Its first animated film is Dragon Nest: Warrior's Dawn and was based on the online game Dragon Nest.
Dragon Nest: Warriors' Dawn (2014)
The Three Little Pigs and the Lamp (2015)
Throne of Elves (2016)
The Legend of Ancient Soul / Shen Qi Huan Qi Tan (2017)
Snow Eagle Lord / Lord Xue Ying / Xue Ying Lingzhu  (2019)
Ping Pong Rabbit (2019)
VASOON ANIMATION
The Flying Monkid (1995)
Transparent Shield (1999)
Scholar Cat (1997 – 2001)
The Guardian (2000)
Seven and a Half (2001)
Trees (2002)
The Bird (2003)
Spring Mood (2004)
Red Scarf (2011)
Kuiba (2011)
Kuiba 2 (2013)
Kuiba 3 (2014)
Kuiba 4 (2020)
PUZZLE ANIMATION STUDIO
This animation studio is based in Shenzhen, China and was founded in 2005. Most of their creative and production works are feature the common Chinese themes and characteristics.
Master Q: Incredible Pet Detective (2003)
Old Master Q – Fantasy Zone Battle (2005)
Old Master Q – Fantasy Zone Battle II (2006)
Old Master Series 3 (2006)
Master Q Color Comics (2006)
Gu Yu Xin Shuo (2006)
Hong Kong Mother (2006)
The Diary of Xiao Dong Zi (2007)
Paula & Friends (2007)
Sparkling Red Star (2007)
Storm Rider Clash of the Evils (2008)
Ji Ling Xiao Zhi Zhe / Zen Shuo (200?)
AI Football GGO (2010)
Ori-Princess (2011)
World Peacekeepers (2014)
ASK ANIMATION STUDIO
A Chinese animation studio based in Beijing, China and funded by iQiyi, Ask Animation Studio had produced the 2ndand 3rd season of Everlasting Immortal Firmament, one of the funniest Chinese anime series of all time. The company was founded in 2003 and the upcoming Chinese anime The Last Summoner (Zui Hou De Zhao HuanShi) is among their latest works.
The Last Summoner / Zui Hou De Zhao Huan Shi (2020)
Everlasting Immortal Firmament Season 2 (2018)
Everlasting Immortal Firmament Season 3 (2019)
Start to be a star today / Jintian Kaishi Zuo Mingxing (2019)
YHKT ENTERTAINMENT
Another Chinese anime studio that specializes in 3D animation is YHKT Entertainment. Most of their works are on the sci-fi genre and in 2019, Ling Long: Incarnation has been dubbed as the most expensive Chinese anime production at that time. In 2021, their biggest project Three-Body Problems is scheduled for released and it was based on a popular Chinese novel of the same title.
Ling Long: Incarnation (2019)
Feng Wei Ying Xiong (2015)
Beyond Worlds / Huan Jing Nuo De Lin (2017)
Three-Body Problems (2021)
BIG FIREBIRD CULTURAL MEDIA
A dynamic animation studio from China, Big Firebird Cultural Media had animated the popular 2019 romance comedy isekai anime The Demonic King Chases His Wife. They also animated the well-received Hitori no Shita: The Outcast season 3while the highly anticipated anime adaptation of Hero Return was listed as one of their upcoming projects.
Planting Manual / Yaojing Zhongzhi Shouce (2020)
Hitori no Shita: The Outcast Season 3 (2020)
Hero Return / Yingxiong Zailin  (2020)
The Demonic King Chases His Wife / Xie Wang Zhui Qi (2019)
My Cultivator Girlfriend / Wo De Tian Jie Nu You (2017)
Girls' Frontline (2019)
Spare Me, Great Lord (Da Wang Rao Ming)
SEVEN STONE ENTERTAINMENT
Seven Stone Entertainment usually collaborate with Japanese animation companies. Among their works, The Emperor's Strategy is a favorite of mine. I love the character designs and development while the animation was quite average. Among their known works: The Emperor's Strategy and Antidote are both listed as danmei or boys-love.
The Emperor's Strategy / Diwang Gonglue (2018)
Antidote / Jieyao  (2020)
Wu Xian Shao Nu 48: Infinite (2020)
Jue Ding
FENZ
Here's the studio that animated two of the most adorable Chinese anime series – Non-Human and All Saint Street. If you're looking for good vibes, these 2 donghua will surely lighten your mood.
Non-Human Season 1-3 / Fei Ren Zai (2018-present)
All Saints Street (2020)
THUNDRAY
Uncharted Walker / Mi Yu Xing Zhe (2018)
Onmyouji: Heian Monogatari / Yin Yang Shi: Ping An Wu Yu (2018)
Cooking with the Valkyries (2019)
Mahjong King / Ma Shen (2016)
Chu Feng: SOE / School Shock: Son Of Eden (2020)
Release That Witch (2022)
ALPHA ANIMATION
Established in 1993, Alpha Animation is among the oldest player in the Chinese anime industry.
Armor Hero Emperor (2010)
Balala the Fairies: the Movie (2013)
Meet the Pegasus (2014)
Armor Hero Atlas (2014)
Paris Holiday (2015)
Amazing Pleasant Goat (2015)
The Revenant (2015) (partial financing)
Armor Hero Captor King (2016)
Assassin's Creed (2016) (partial financing)
Backkom Bear: Agent 008 (2017)
CREATIVE POWER ENTERTAINING
Pleasant Goat and Big Big Wolf (喜羊羊与灰太狼)
Happy Family
Cookie Master (小宋当家)
Planet of 7 Colors (七色战记)
Legendary Soccer Kid (宋代足球小将)
Further Listing
Here are some more donghua (Chinese anime) studios that we haven't been able to mentioned above but are worth checking out with:
2:10 Animation (known for I'm Joybo, The Country of Rare Treasure)
L2 Studio (known for Rakshasa Street, Silent Reading)
These were only some of the big players and popular Chinese animation studios that brought our favorite Chinese anime to life. Which one is your favorite? Which studio animated most of your favorite Chinese anime? On my end, Sparkly Key Animation Studio and B.C May Pictures produced some of the best Chinese anime series and movies for me.
Last Updated on September 25, 2022 by Yu Alexius