Hey guys, it's me, Yu and I would like to share some updates about the upcoming Chinese anime Huangli Shi (Chinese Almanac Master) which had been given the new title of The Chronologist. Many fans had been eagerly waiting for Huangli Shi anime adaptation to air since 2019 but the project had been delayed for almost a year and now, Tencent finally unveiled that they added the title to their lineup for May 2020. Yes, the Huangli Shi anime release is coming this May 7, 2020. But before that, let's take a short glimpse at Huangli Shi in this brief overview.
The Chronologist (formerly known as Huangli Shi) is an upcoming Chinese anime from Tencent Penguin Pictures & B.CMay Pictures which was based on a novel series titled Secret Archives of Unscientific Materialism (不科学唯物主义秘密档案) by author Shitou Yang (石头羊) which was later renamed Huangli Shi on 2018. If you wish to read the novel, you may visit its page at Novel Updates: Chinese Almanac Master.
Huangli Shi is translated as Chinese Almanac Master, but several before the anime release, Tencent renamed the anime into The Chronologist.
Huangli Shi Synopsis
Huangli Shi, according to legends, refers to a Fangshi who can alter the effects of seasonal solstices, solar terms, and festivals, and can predict each day's fortune. Xiao Nanzhu, an unemployed young man, decided to take on his usual job that has been passed down for generations, after being inspired by his childhood friend. Now he just wants to call 110. Chuxi: What are you looking at? You don't want to live past New Year's Eve? Chuba: Today's fortune is terrible; nothing's going to turn out right. I'm afraid there might be a… bloody disaster. [Source: Novel Updates]
Huangli Shi Characters
There are two main characters in Huangli Shi on which its story will revolve and they are Xiao Nanzhu and Chu Xi. However, there are plenty of other characters who will make the experience even more exciting.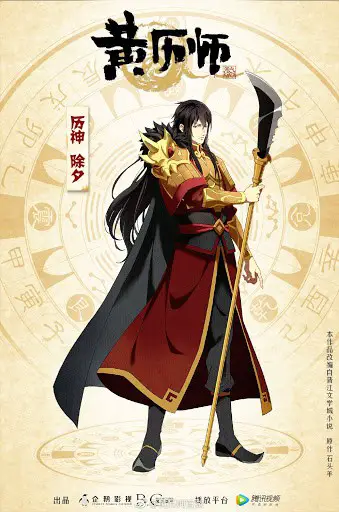 Huangli Shi Release Date
Huangli Shi anime will premiere on May 7, 2020, at Tencent Video. Now, people may also ask other questions like where to watch Huangli Shi anime other than Tencent Video? Directly, fans could watch the anime on Tencent Video, as well as the other Chinese anime from the spring 2020 lineup under Tencent like All Saints Street, Tales of Demons & Gods Season 4, Everlasting Immortal Firmament, Hitori no Shita Season 3, and the recently premiered StellarTransformations Season 2.
To give you guys a teaser or a sneak peek at the Huangli Shi anime adaptation, we have here the latest Huangli Shi anime trailer which was released by B.CMay a few days ago.
Related Post: Top Chinese Anime from B.CMAY Pictures Animation Studio 
As shown in the trailer, it seems like Huangli Shi is not just pure action and mystery but will also have some mild drama. Furthermore, Huangli Shi is also a BL story, thus we can expect some good adaptation here if B.CMAY Pictures could apply the same quality as what they did to the infamous Mo Dao Zu Shi (Grandmaster of Demonic Cultivation) which is my best Chinese anime of all time right after The King's Avatar. Mo Dao Zu Shi is also BL and B.CMay did a great job with its various elements without really imposing the BL aspect to the viewers.
Where to Watch Huangli Shi or Li Shi Online?
Well, here's the question that I believed each of us shares and that is where to watch Huangli Shi or The Chronologist online? The Chinese anime is listed under the lineup of Tencent, it has been streamed legally on its official page on Tencent Video: 历师
This has been a busy week for Tencent Video as aside from Huangli Shi, other donghua had been added to its lineup this week including the 2019 movie The Westward Journey. If you wish to watch more Chinese anime, you may check the following post for our 2020 Chinese anime list:
Last Updated on November 26, 2021 by Yu Alexius