New Gods: Nezha Reborn (Xin Shen Bang: Nezha Chonsheng) | After the successful stint of Nezha: The Devil's Birth at the Chinese box office in 2020, we are getting donghua film inspired by The Investiture of the Gods novel and it is New Gods: Nezha Reborn from White Snake: The Origin studio Light Chaser Animation and its director Zhao Ji.
As a Chinese anime fan, this is one of the donghua releasing this 2021 that makes me excited. I have seen White Snake: The Origin and I have been astonished by the quality of its animation, and seeing the trailer of New Gods: Nezha Reborn, I can expect that it won't be inferior in any sense. Light Chaser Animation had been consistent in producing continuous and progressive Chinese animation through all these years.
Here we have a set of trailers and promotional video for New Gods: Nezha Reborn which had been released this past few months.
For more updates and promotional videos, you may check its official page on Tencent Video here.
Release Date
The film's release date is scheduled for February 12, 2021, with a slated runtime of 1 hour and 50 minutes and will be distributed by Alibaba Pictures. Netflix also added New Gods: Nezha Reborn in their archive and viewers can watch it at https://www.netflix.com/ph/title/81418302
In December 2020, the production team announced that they tied up with giant screen system IMAX for a special 3D version upon its release across 690 IMAX cinemas on February 12, which is the first day of the 2021 Spring Festival in China. [Source: china.org.cn]
Synopsis
3000 years after the boy-god Nezha conquers the Dragon King then disappears in mythological times, he returns as an ordinary man to find his path to becoming a true hero. [Source: Asian Film Fans]
In the film, Nezha was re-imagined as a young motorcycle rider named Li Yunxiang who must face off against his foe, the King of East Sea, and his third son, both are also reborn in the fictional city of Donghai.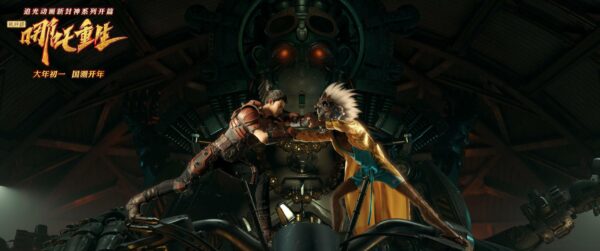 In 2020, China Film Insider reported that New Gods: Nezha Reborn has been chosen as the sole Chinese animation film to compete in the WIP (working-in-progress) unit by Annecy International Animation Film Festival.
New Gods: Nezha Reborn must not be confused with 2019's smash-hit Chinese anime movie Nezha: The Demon's Rebirth which has become China's highest-grossing animated film of all time earning over $700 million from Coloroom Animation.
While the 2019 film told a classic retelling of the original folklore with astounding animation and heartfelt dramatic narrative, Light Chaser Animation's Nezha film will bring the demon child in a story set in a high-tech future with the rebellious titular protagonist in his motorbike.
New Gods: Nezha Reborn is the fifth film from Light Chaser Animation, following their earlier works such as Little Door Gods, Tea Pets, Cats and Peachtopia, and White Snake: The Origin.
Now that the release date is set in stone on February 12, 2021, after it has been delayed due to Covid-19 last year, many Chinese anime fans should add the film to their plan-to-watch list this year. And obviously, a donghua that we should watch out for on the big screen.