Qin Yu is coming back in the highly anticipated Stellar Transformations Season 2which will be release this May as part of the spring 2020 Chinese anime lineup. Stellar Transformations or also known as Legend of Immortal is one of the biggest Chinese anime of 2020 due to the fact that its first season which aired last 2018 had been well-received and considered as the best 3DCG donghua with the theme of traditional xianxia.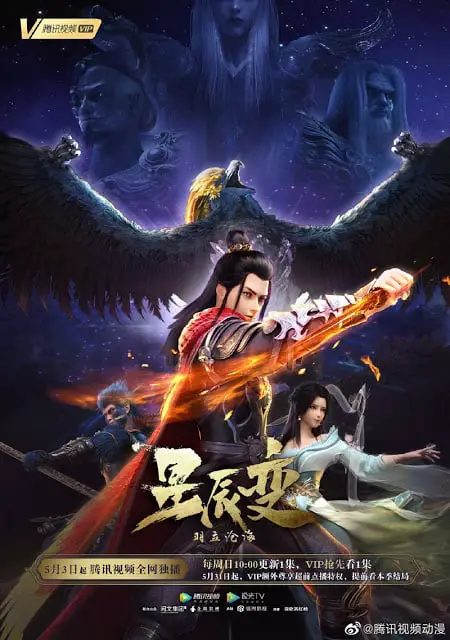 Stellar Transformations Anime Season 2 Poster
Stellar Transformations Season 2 Release Date
Stellar Transformations anime season 2 release schedule
Furthermore, those who will pay for early release on demand will have special privilege as they will be able to finish the 2nd season of the anime by end of May (as seen in the mentioned schedule above). Meanwhile, regular viewers can follow the series in weekly releases until it end on July 19, 2020.
Stellar Transformations Season 2 Trailer
The newly released trailer for Stellar Transformations season 2 showed us that Qin Yu had finally mastered his own form of cultivation as he paved his own path to become an immortal in his own right. In fact, the trailer also revealed that the war that had been built up from the previous season will be the highlight of this season. It's amazing to see this happen especially that the first season had been a slow yet detailed chronicle of Qin Yu's journey for immortality and the all the sacrifices and challenges that he encountered. So, we will definitely see a huge progress in the journey of Qin Yu in the upcoming Stellar Transformations season 2.
On April 30, 2020 – Just few more days before Stellar Transformations anime season 2 release on May 3, it unveiled a new trailer giving us a decent look at Qin Yu once again and what we should expect to see his upcoming return as seen in the video below.
Brief Overview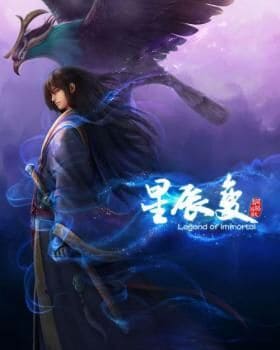 The Stellar Transformations anime (Xing Chen Bian) or Legend of Immortal is based on a popular Xianxia (fantasy/kung fu) novel of the same title. It is written by author Wochixihongshi (I Eat Tomatoes).
In a galaxy far away, there is a kid without innate ability to practice internal techniques. So, in order to gain the respect of his father, he resolutely chooses to follow the more difficult and painful path of practicing external techniques. As the years go by, eh grows up, but what really changes his life is a mysterious meteoric crystal stone – the Meteoric Tear. This stone fuses with the young man's body unnoticed, and he seems to undergo drastic transformations as a result. After that, everything is changed. Eventually his father knows that the son for whom hasn't really shown a lot of consideration possesses astonishing abilities. And there's a lot more to come. (Source: Novel Updates)
If you wish to read the novel, you may check the following sites for your reference:
The anime adaptation was first released on October 5, 2018 as part of the fall 2018 anime lineup. It has a total of 12 episodes which run until December 14, 2018 under the production of Tencent Penguin Pictures, and China Literature Limited. It's animated by Shanghai Foch Film Culture Investment (the studio that gave us Battle Through the Heavens season 1, Full-Time Magister Season 1-4, and Spirit Realm). If you're looking for similar Chinese anime shows, you may check our list of martial arts and cultivation Chinese anime which you may find some hidden gems to your own liking.
Where to watch Stellar Transformations?
If you want to watch Stellar Transformations season 1, the anime is available on YouTube. You can  also check it and other good Chinese anime series at Guodong Subs in the link below:
Asclepius (YouTube playlist for Stellar Transformations)
For official and legal viewing of the anime, the first to go is Tencent Videowhere you can watch it regularly or on premium membership that provide advanced streaming services.
Meanwhile, let's hope that a decent subbing group will provide an English subtitle for Stellar Transformations season 2. In fact, I hope Guodong Subs will add it on their works for 2020. Nonetheless, people can watch Stellar Transformations season 2 on Kurina Official as I expect that it will be added there as soon as the anime was released. We can also directly search it in YouTube, as I noticed that there are various new channels adding Chinese anime series in their archives, so hopefully Stellar Transformations anime season 2 will be added there too.
Alright, the best that we can do right now is to mark our calendar on May 3, 2020 as Stellar Transformations officially returns for its 2nd season. I am just hoping that it'll be receive by fans positively too just like its previous season. Nonetheless, I am confident that the upcoming anime will be an amazing experience especially for people who love cultivation and martial arts anime.
Last Updated on April 9, 2021 by Yu Alexius