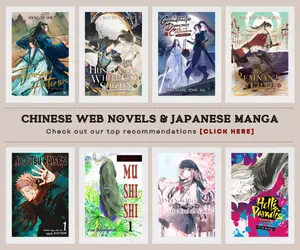 It is the time of the year again that we are all excited for, the Bilibli Chinese anime 2022 lineup had been unveiled during their annual conference that took place on November 20, 2021, along with their remaining shows that are soon to be released in the last quarter of 2021.
We have many reasons to celebrate this event as bilibili had become one of the major avenues for donghua fans outside of China to watch and discover Chinese animation. The company had been producing and distributing donghua (Chinese anime) in recent years and we just couldn't get enough of all the great titles that had been delivered to us in the last 3 years.
Now, Tencent 2022 Chinese anime lineup had been already revealed last August, which was also followed by an announcement by all the upcoming projects from YOUKU and iQIYI, fans can only get excited and anticipate now what bilibili has in store for all of us next year.
Bilibili Chinese Anime 2022 Lineup
Therefore, I will be highlighting all the bilibili Chinese anime 2022 lineup which had been revealed from their annual event. As usual, this will be divided into 4 major categories – Sequels (returning series), Adapted Works, Original Works, and The Leftovers. This is also how I presented their donghua lineup for 2020. In fact, some of the titles that had been revealed from last year haven't been released yet but that's alright as we received new updates about them during the event.
Sequels
These are all the donghua from bilibili that are returning for their sequels in 2022, that includes the continuation of some of the biggest titles that we had from them such as LINK CLICK which is arguably the best Chinese anime of 2021, and the much-awaited Heaven Official's Blessing Season 2 to continue the heartwarming and dramatic journey of our favorite donghua bl couple – Xie Lian and Hua Cheng.
The full list is as follows:
Hong Huang 2 (R.E.D. Season 2)
Wo Jia Da Shixiong Youdian Kaopu / Season 3 (My Big Brother Is A Bit Reliable)
Li Linke De Xiao Guaner (The Dining of Link Lee Season 2)
Han Hua Ri Ji (God Troubles Me Season 3)
Shaonian Ge Xing: Feng Hua Xue Yue Pian Part 2 (The Great Journey of Teenager Season 2 Part 2)
Chang Jian Fengyun 2 (Long Swords Season 2)
Adapted Works
Now, here's one of the creams of the crop. These are the upcoming donghua from bilibili in 2022 that had been based or adapted from established works. These works may include widely-acclaimed novels or accessible and popular web novels. Some might have been based on a manhua (most of the time, fantasy donghua are adapted from these Chinese manhuas). Another source material to consider is video games, I have seen bilibili producing plenty of donghua that had been based on video games albeit they are more of a parody in nature.
Among the popular adapted works from bilibili in recent years are Heaven Official's Blessing, Legend of Exorcism, The Manual of Hundred Demons, The Daily Life of the Immortal King, and Ling Cage: Incarnation to name a few. Well, which one do you think shall be the most successful among the new set of adapted works from bilibili in 2022? Take your picks from the following titles:
Da Yuzhou Shidai (The Age of Cosmos Exploration)
Di Yi Xu Lie (The First Order)
Xi Ling Di Guo (Xyrin Empire)
San Ti (The Three-Body Problems)
Zhui De Zha Huan Shi (The Last Summoner) | Release Date: April 26, 2022
Qian Cong Shou | Release Date: January 20, 2022
Huo Feng Liao Yuan (The Ravages of Time)
Tou Xing Jiu Yue Tian (Star-Stealing Girl)
Shi Kong Zhi Xi (Time and Space)
Ban Shou Shao Nian (Pipe Wrench Boy)
Hei Men (SWARM)
Wu Xian Shijie (The Infinitors)
Shi Cao Lao Long Bei Guanyi E Long Zhi Ming (The 5000-year-old Herbivorous Dragon)
Zhan Guo Qian Nian (Warring States Of A Millenia)
Hua Kaizhang Meili (Flowers Bloom Beautifully)
Jun You Yun
Da Xiang Wu Xing (Elephant invisible)
Wo Xiu De Ke Neng Shi Jia Xian (I Might Be a Fake Cultivator)
Xian Jian Qi Xia Chuan Si 4 (Chinese Paladin 4)
Xiao Motou Baolu La! (Busted! Darlord) | Release Date: January 15, 2022
Thrud Kongzhong Nuwushen (THRUD)
Zhui Xu (My Heroic Husband)
Bu Xing Si: Yuan Qi (Blader Soul)
Long She Yanyi (Dragon's Disciple)
Zhongguo Qi Tan (Chinese Qi Tan)
Huang Yan (Face on Lie)
You Shou Yan (Fabulous Beasts)
Adapted Works (with no trailer & poster revealed)
Here are some more adapted works that have been revealed from the event. These are all based on Chinese manhua but no trailer and promo poster had been officially released for these titles, thus, we still lack some details about them. Except for selected concept art from its source materials as shown below:
Yao Wen Lu
Xing Star
Xiaolong De Suishen Kongjian
Xia Jia Lingyi Lu
Wo You Tebie De Yan Yi Jiqiao
Suo Long
Shen Zhiyi Jiao (Super Xiang)
Shang Shan
Qiu Niang
Miaoshou Xiandan
Lan Chi (Blue Wings)
Hu x He Yao Shi Lu (Tiger x Crane Record of the Demon Master)
Fanpai Chushihua (Villain Initialization / The Reversal)
Wu Nao Monü (Brainless Witch)
Original Works
Alright, so here's the category that produced the most popular and well-received donghua of 2021, LINK CLICK. Just like what its name suggests, bilibili is also producing original works in collaboration with several Chinese anime studios, most especially with Haoliners Animation League which they acquired last year.
Who would ever expect that LINK CLICK will be successful upon its official announcement? Although, the donghua itself has been promising ever since bilibili has unveiled its official art and promotional videos which makes it on par with some of the best Japanese anime works in recent years, paired with an absolutely thrilling and appealing story.
Other famous original works that had been released on bilibili are Fog Hill of Five Elements (which is also returning for their 2022 lineup), Cat's Album, The Gerent Saga, and The Dining of Link Lee. Though there are still several titles from their lineup last year that hasn't been released yet and they had been included in the full list of upcoming original works from bilibili for next year as follows:
Huoxing Xi Lu 7 Hao (7 Mars West Road)
Mingyun Quan Tai (Ringing Destiny)
Yong Sheng (Immortality) | Release Date: January 29, 2022
Yinhe Zhi Xin (FORERDINATI)
Sou Xuan Lu Zhi Chen Ling Ji (The Gerent Saga)
Xian Shan Liaoluan / Shan Hai Jue Lun (Fairy Mountain)
Wo De Yi Jie Zhi Lu (My Journey to Another World)
Wulin Buer Zhoukan (Wu Lin Fuji Weekly)
Xing Yuan Zhi Zhu (Master of Star Origin)
Zanting! Rang Wo Cha Gonglüe (Pause)
Zhingqi 2069 (Zhongqi 2069)
Jiaonang Jihua (Capsules)
Jifeng Jingsu (Wind Racing)
Bing Zhu Qi Hun (The Soul of Soldier Master) | Release Date: January 4, 2022
Leftovers
Alright, so this category is intended for some of the donghua that is supposed to air this year but due to delays or some reasons haven't been able to premiere. Therefore, most of the titles that had been previously revealed from last year will be categorized in this group and we have plenty of them as shown below:
Mao Zhi Ming (Cat's Tea)
A Mortal's Journey to Immortality Season 2
Movies
Here's an additional group on our list, the movies. Yeah, we often get a small number of Chinese anime films, unlike its Japanese counterparts. However, we sure had some interesting Chinese animated movies this 2021 such as New Gods: Nezha Reborn, and White Snake 2: The Tribulation of Green Snake. So, here are also some more movies that we should also watch out for from bilibili next year.
Xin Shen Bang: Yang Jian (New God List: Yang Jian)
Alright, these are all the titles that we should look forward to watching next year from the bilibili Chinese anime 2022 lineup. I believed we might even get some more exciting news next year and some series or movies might be added to this list. Nonetheless, these are all enough to make us all excited and keep an eye on 2022 as it sure will deliver fill our craving for some of the most anticipated donghua in recent years.
Last Updated on September 26, 2022 by Yu Alexius