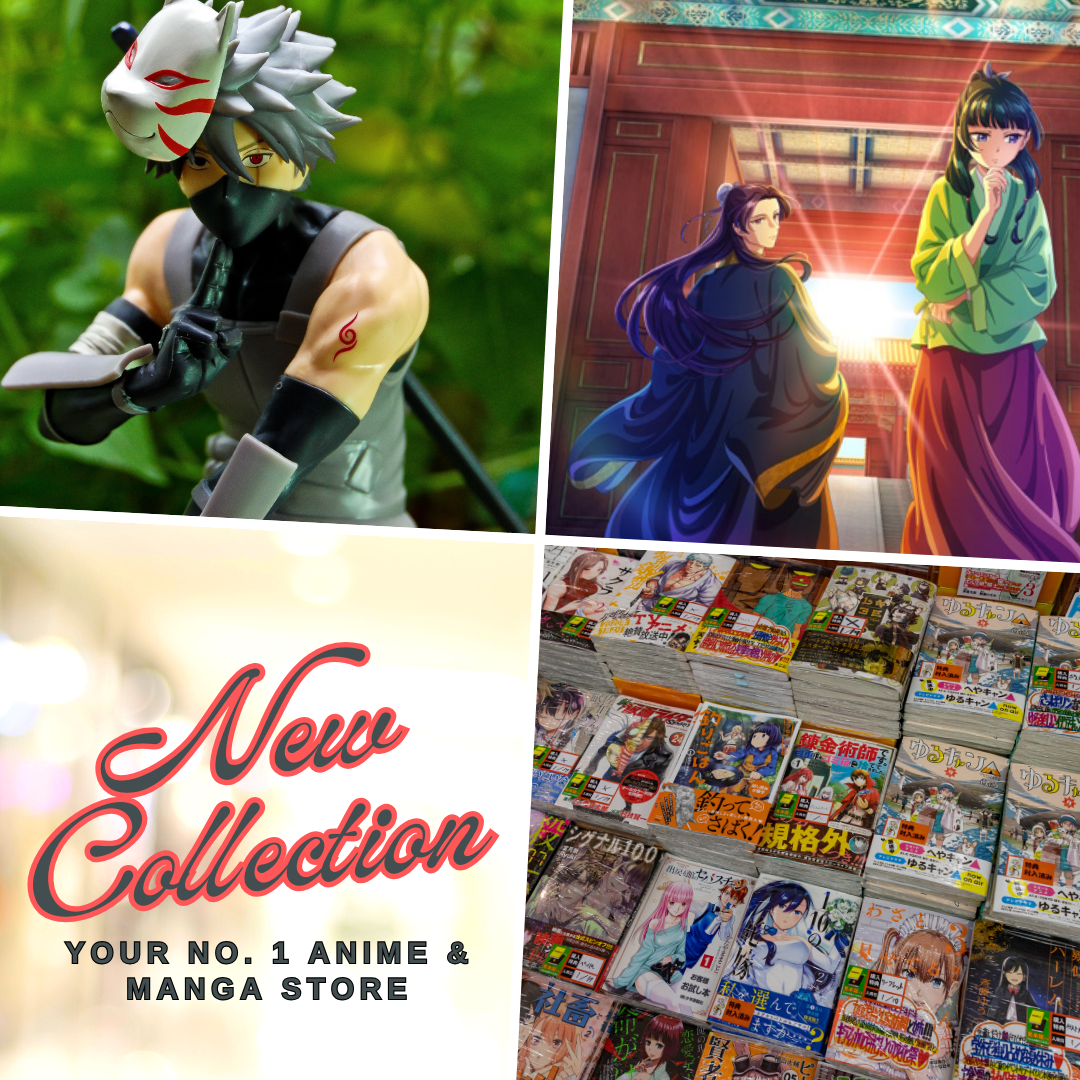 The spring 2021 season has officially started for donghua, and all the new Chinese anime set for release in April 2021 had been revealed one by one. Officially, the spring lineup for donghua had started in March with the release of some popular titles such as The Lord of the Universe Season 3, Fox Spirit Matchmaker Season 10, and Battle Through the Heavens Season 4. However, it is just the beginning as April has many more donghua in store for everybody and they're some of the most anticipated sequels and new series that we are eagerly waiting for.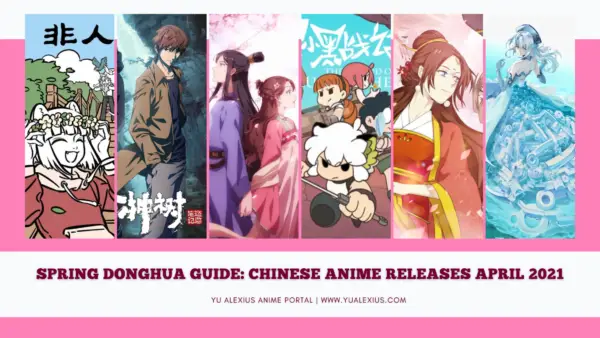 In this post, I will share the list of Chinese anime or donghua releasing in April 2021 both from various production companies like Tencent Penguin Pictures, bilibili, and many more. Some of these donghua are sequels to beloved series before, and some have new and original stories that will further add colors in the archives of the growing donghua industry and community.
Chinese Anime Releases in April 2021
Without further ado, let's start our list as follows:
The Grave Robbers: Qinling Sacred Tree
Other Titles: Daomu Biji: Zhi Qinling Shen Shu, The Lost Tomb: Qinling Sacred Tree
Release Date: April 4, 2021
Studio: Qiyuan Yinghua
Official Streaming Site: 盗墓笔记之秦岭神树
Synopsis
50 years ago, a group of Changsha grave robbers dug out manuscripts of the location of treasures from Warring states, but an encounter with an undead rendered almost the whole group dead. In the present, the young grandchild of the sole survivor, Wu Xie, discovers a secret within his grandfather's notes. Together with his third uncle, Wu Sanxing, and a few other experienced tomb robbers, to search for the treasure.

But what no one expected to find the intriguing mysteries that accompanied their tomb-robbing adventure – just who was the owner of that tomb? Will they be able to find the real coffin? And just where will these puzzles lead the group?

Embarking on eight-volume's worth of adventures, as Wu Xie slowly unravels millennium-old mysteries, he sees the deterioration of his naive world as he discovers the people around him are not what they seem and that he could trust no one in this tomb robbing world of deceit and lies. [Source: Wikipedia]
This is a perfect donghua for adventure-seeking fans who loves tomb raiding cliche and story. If you had seen donghua like Qin Xia and the Bureau of Paranormal Investigation, then The Grave Robbers donghua adaptation is a fitted series for you. It is based on a popular Chinese novel The Grave Robbers Chronicles by author Xu Lei.
Non-Human Season 4
Other Titles: Fei Ren Zai 4
Release Date: April 7, 2021
Studio: FENZ
Official Streaming Site: 非人哉 第四季
Synopsis
The hilarious everyday lives of ancient deities and mythical creatures in the modern world.
One of the most beloved donghua in China is returning for its 4th season on April 7. A funny and hilarious story about ancient gods and creatures that lives in the modern world in a unique troupe that makes this donghua thrive through all these years paired with its adorable story-telling and cute character designs. In 2020, the previous seasons of Non-Human were among the 10 most-watched Chinese anime by the local audiences garnering billions of playbacks.
The Memory of Chang An Season 2
Other Titles: Shi Yi Chang An: Mingyue Jishi You Er, The Recollection of Chang An Season 2, Prince Don't Do This Season 2
Release Date: April 15, 2021
Studio: Lingsanwu Animation
Official Streaming Site: 拾忆长安·明月几时有 第二季
Synopsis
Princess Mingyue and Li Qiang, the emperor's ninth prince, are forced to marry to keep the peace in their kingdoms. As the princess finally seems to be getting used to her new life in Chang'An (an ancient Chinese capital), plots are hovering against her and the royal family.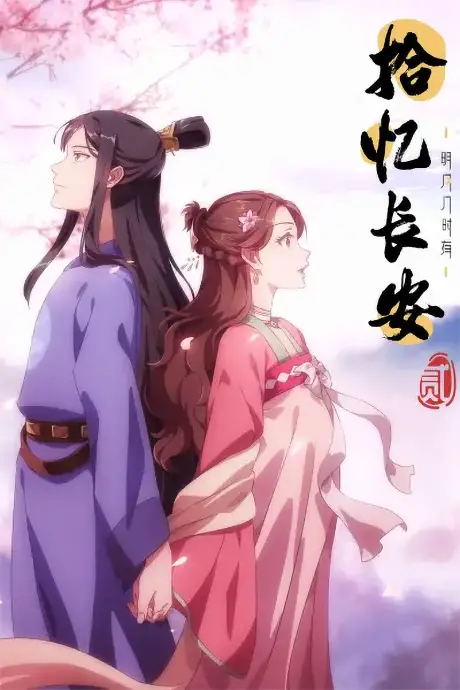 The recently concluded Chinese historical romance anime The Memory of Chang An is returning immediately for its second season just almost 3 months after its first season's finale which left us all in such a huge cliffhanger. With its beautiful animation and gorgeous graphics and designs, paired with a perfect blend of romantic scenes, humor, and political intrigue in the imperial court of Ancient China, this donghua is a must for fans of the romance genre.
Related Post: Top Recommended Donghua Like The Memory of Chang'an
The Country of Rare Treasure
Other Titles: Mi Bao Zhi Guo
Release Date: April 16, 2021
Studio: 2:10 Animation
Official Streaming Site: 秘宝之国
Synopsis
In the multiverse called the data world, everything corresponding to the real world is stored. Within it, the data from relics of human culture gained self-awareness, and a secret group of spirits established an alliance: The Country of Rare Treasure. The restorers, while investigating their own origins, lead the secret spirits against the forgotten viruses that will devour everything. (Source: bilibili, translated)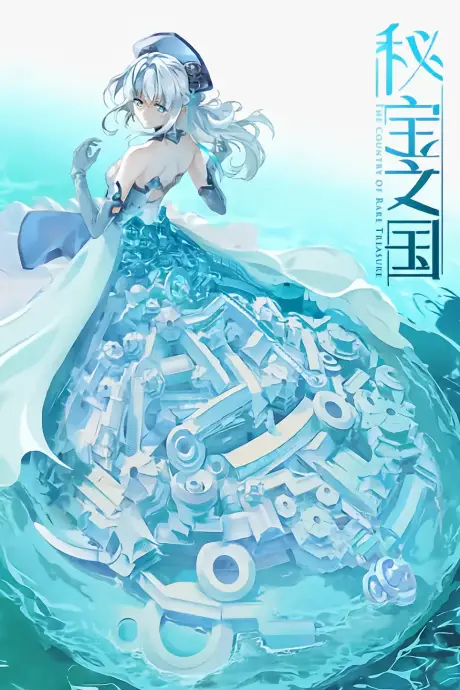 One of my most anticipated Chinese anime from bilibili this 2021 is The Country of Rare Treasure which reminded me of the 2019 anime film Hello World. This donghua is supposed to be released in 2020 but was delayed until 2021 and now, I am anxiously excited for it and what it has to offer to the sci-fi fans in the donghua community.
No Doubt in Us
Other Titles: Liang Bu Yi
Release Date: April 21, 2021
Studio: Paper Plane Animation
Official Streaming Site: 两不疑
Synopsis
A handsome emperor gets too close to an embarrassed queen, resulting in them falling into a pool together. Then they swap their bodies. The way to swap back is unknown. The most important thing is that the emperor is quite angry now!! Before everything comes back to normal, the emperor has to deal with his mean imperial concubines that he never knows and the queen has to mediate between those ministries… (Source: Webcomics)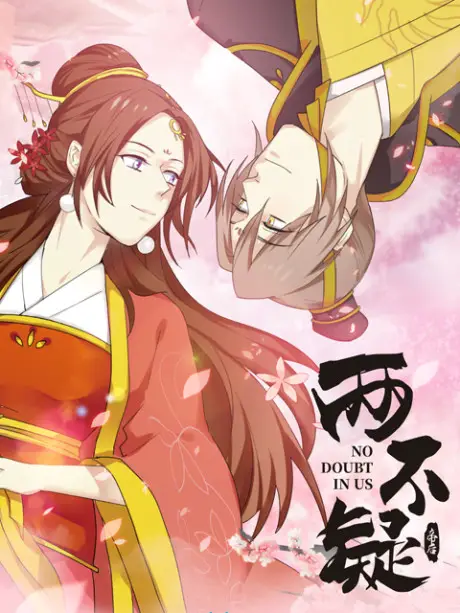 Have you ever been a fan of the gender-switching story? I know this has been around for quite some time but I think this is the first time I'll see this in a donghua. So, we have an Emperor and his Empress who changed their roles due to an unexpected accident, and they have to come to terms with each other's struggles and duties despite how rough their original situation is. I must say that this is an exciting story to follow especially for fans of the romance genre, the fans of the manhua had been eagerly waiting for this moment to come and it seems we're getting a lot of adorable moments from the donghua too.
Related Post: No Doubt In Us Season 2 Unveiled by Bilibili
Perfect World
Other Titles: Wanmei Shijie
Release Date: April 23, 2021
Studio: FOCH
Official Streaming Site: 完美世界
Synopsis
Born into a unique world where villages fight to gain power and control, the main character, Shi Hao, is a genius blessed by the heavens born under the poorest conditions. His clan, however, has a mysterious past. To rise and become the genius he is meant to be, the clan goes through every effort to aid his cultivation as they battle through fanatical monsters and engage in power struggles with other clans. His journey will bring him through unknown lands until he can become a person that can truly shake the world. [Source: Novel Updates]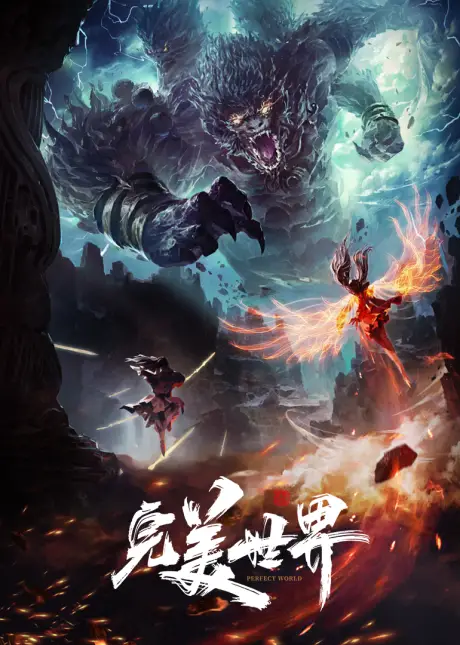 Based on a xianxia novel, Perfect World or Wanmei Shijie is another cultivation donghua that everyone should add to their watchlist. This reminds me of a lot of other cultivation donghua such as Battle Through the Heavens, Martial Universel, Stellar Transformations, and A Mortal's Journey to Immortality. Now, this alone had made me excited for the series.
The Legend of Luo Xiao Hei
Other Titles: Luo Xiaohei Zhan Ji: Zhongsheng Zhi Men
Release Date: April 24, 2021
Studio: HMCH
Official Streaming Site: 罗小黑战记 众生之门
Synopsis
The story begins on a rainy night when a homeless little black cat is brought home by a young girl Luo Xiaobai. She names the cat Luo Xiaohei. However, Luo Xiaohei is no ordinary cat: he is a supernatural entity that hosts several small creatures called Heixiu. As Luo Xiaohei's new life is soon threatened by the mysterious Diting, who commands three-winged wolves. (Source: asiatvforum.com, edited)
One of China's most beloved web series is coming back for its sequel and we are simply happy to see this happen as it will be another dosage of fun, hilarious and fluffy experience for donghua viewers. After the successful stint of its prequel movie; The Legend of Hei last 2019, it's amazing to see the gang back and promises an even better animation quality and designs. Now, this is the donghua in this list that I'd like to recommend to everyone the most.
Legend of Tang Season 2
Other Titles: Tian Bao Fuyao Lu Season 2, Legend of Exorcism Season 2
Release Date: April 25, 2021
Studio: Sparkly Key Animation
Official Streaming Site: 天宝伏妖录 第二季
Synopsis
Tianbao Period. Kong Hongjun, a young man who was ignorant of worldly affairs, came to Chang'an with three important tasks and entered the Great Tang's Exorcist Department. Inside the department, he led a ragtag group of Yao-vanquishing experts together with Li Jinglong, commander of the Longwu Army. And this is the story of how they wrote out the Great Tang's Yao-vanquishing Records. (Source: Chrysanthemum Garden)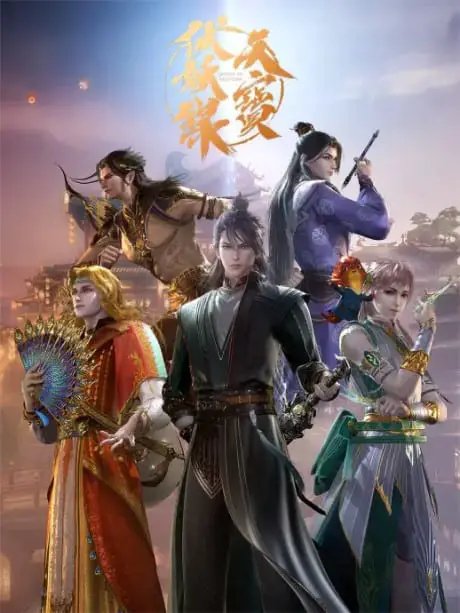 The imperial conspiracy set in Ancient China is coming back this year and we are all happy to see it after it left us with a huge cliffhanger. Just like The Memory of Chang An, this donghua is also set in the historical ancient capital of China, that is Changán from the Tianbao Period. What's even more amazing is that this series is eye-candy for danmei (boys-love) fans. Yes, you had read it right, this is a boys-love donghua and it has the perfect combination of humor, a bit of romance, and action which reminds me of Nine Songs of the Moving Heavens, a comparison I can't ignore since both are animated by the amazing Sparkly Key Animation Studio.
Related Post: Tian Bao Fuyao Lu will return for season 3 in 2022
Li Linke's Little Restaurant
Other Titles: Li Linke De Xiao Guan Er, The Dining Room of Li Linke
Release Date: April 27, 2021
Studio: Delight Animation
Official Streaming Site: 李林克的小馆儿
Synopsis
We follow the everyday lives of Li Lin Ke, a young man running a small restaurant outside Beijing.
No more action but pure foodgasm and a slice of life drama that will capture our hearts over and over again. This donghua will give us the collision of drama and food in a beautifully narrated story and drool-inducing animation.
Time Agents (CLICK)
Other Titles: Shiguang Daili Ren
Release Date: April 30, 2021
Studio: Haoliners Animation League, Studio LAN
Official Streaming Site: 时光代理人
Synopsis
At a corner of a prosperous city, a small shop called "Time Photo Studio" is open as usual. Although the entrance looks abandoned, it's run by two men with special abilities: Cheng Xiaoshi and Lu Guang. To fulfill customers' requests, Lu Guang and Cheng Xiaoshi work together and use their special abilities to enter photos. However, things don't go as planned… (Source: bilibili, translated)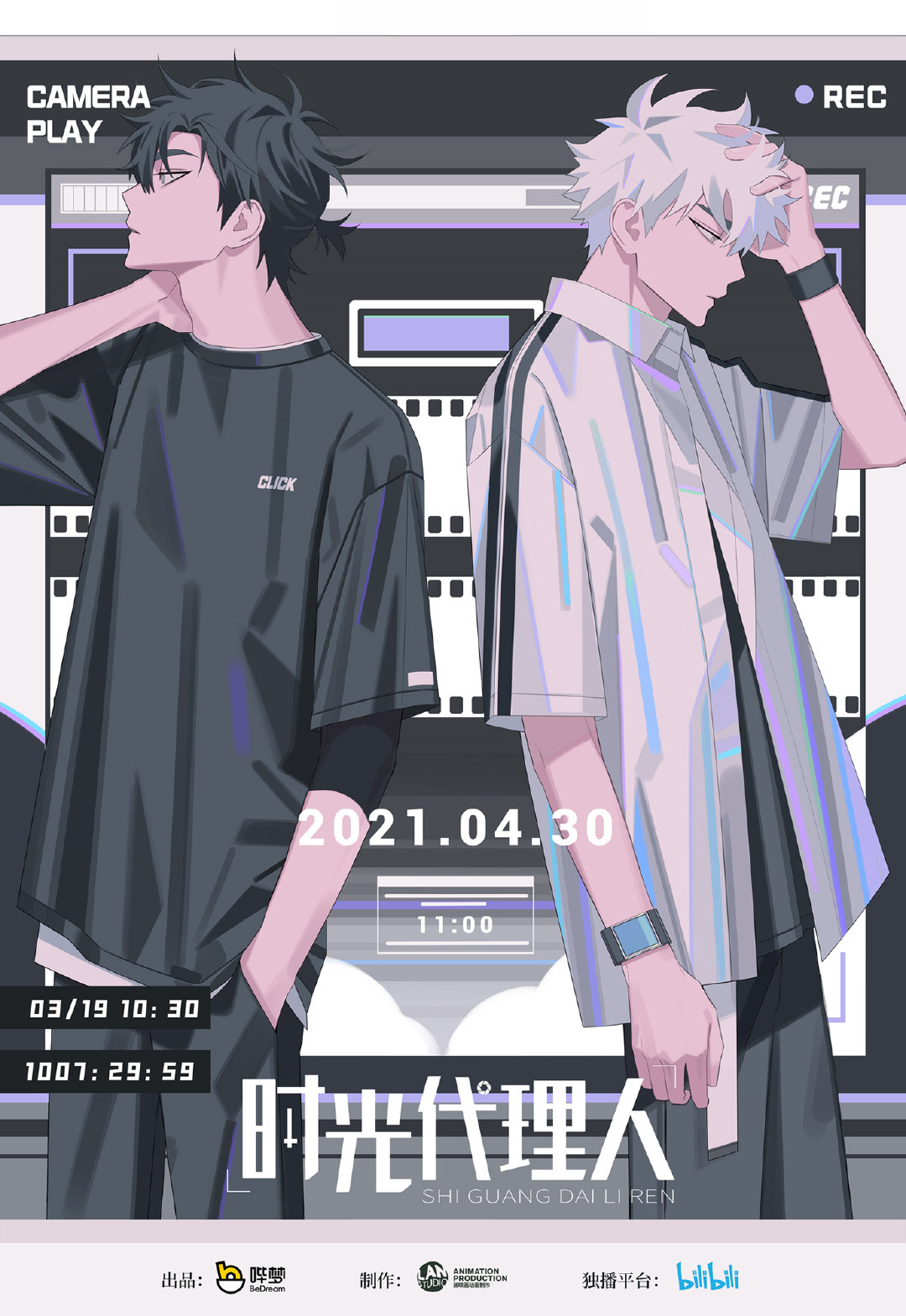 After the Legend of Luo Xiao Hei, this donghua is my next favorite and highly anticipated title on this list. Time Agents or what bilibili had retitled as CLICK is one of their original donghua lineups for 2021 and it is from the same studio that gave us our favorite 2020 series The Daily Life of the Immortal King.
Painting Rivers and Lakes Season 4
Release Date: April 29, 2021
Studio: Ruo Hong Culture
One of the most prominent 3D xinxia Chinese anime is back this 2021 for its 4th season. This series had established a fandom on itself already and I believed that almost every xinxia fans should try to check out this fantastic show.
Related Post: Painting Rivers and Lakes Season 5 Unveiled by Tencent
Wan Jie Du Zun
Release Date: April 6, 2021
On this day, Lin Feng was gathering his martial soul in the Lin Mansion. He didn't want to. He had just cultivated the sword martial soul into a rudimentary form. His fiancee Ji Manyao took the opportunity to take his martial soul, and he almost vomited blood and died. At the same time, Lin Feng's spirit entered the land of the burial of the gods. The mysterious woman in the land of the burials told Lin Feng that he could gain enormous martial arts power and knowledge by obliterating the ancient gods buried here. In the real world, Lin Feng, who was originally the young master of the Lin family, is no longer respected by the servants because he lost his sword martial spirit. They targeted Lin Feng everywhere. Even if Lin Feng's sister Lin Xianger was sick, they were unwilling to help. It wasn't until Lin Feng used the power he obtained from the land of the burial gods to defeat the powerhouse of the Huangjie martial arts——Lin Yuhong, the people of the Lin family changed their attitude towards Lin Feng. On the other side, because Lin Feng failed to control the newly acquired power well, he killed Qin Xiao who was fighting with him. Qin Xiao is the grandson of the elder of the Qin family, and has always been favored by the elders. Now that Qin Xiao is killed, the Qin family is always unwilling. They ran to the Lin family mansion in a rage and asked the Lin family to offer Lin Feng both hands.
Call Star / Wo Zhen de Meiyong Mie?
Release Date: April 19, 2021
Studio: Making Animation
Jie Li Yao Sheng (Demon God)
Release Date: April 30, 2021
Studio: Chuanqi Studio / Xiao Ming Taiji (Hubei)
This anime is adapted from manhua that features a lot of historical xinxia cliche and a whole lot of comedic reliefs and actions.
Where to watch them?
Now, that we had the list of Chinese anime airing this April 2021, let's talk about where you can watch these donghua. Here I have listed Chinese anime sites and apps where fans can watch them online as follows:
WeTV App (Tencent Video's international platform)
Anime Made by bilibili (YouTube Channel)
iq.com (iQIYI's international platform)
Guodong Subs (they are in-charge of The Legend of Luo Xiao Hei's official translation)
izfanmade
Mundo Donghua
Kurina Official
Alright, so far these are the new Chinese anime series that are slated to premiere this April, albeit it will be joined by ongoing series from last year and the winter lineup. Which of these donghua is your favorite and makes you excited the most? Drop your comment below and let us know what are your expectations from them.
Last Updated on November 9, 2022 by Yu Alexius