Hey guys, we're now entering the spring 2021 lineup for Chinese animation, and The Lost Tomb: Qinling Sacred Tree is one of the donghua that we highly anticipate this season. The series was first announced during the Tencent Video Animation 2020 Conference where they unveiled their Chinese anime lineup for 2021. The Lost Tomb: Qinling Sacred Tree or Daomu Biji: Qinling Shen Shu was among those titles along with several popular donghua from Tencent and new adaptation.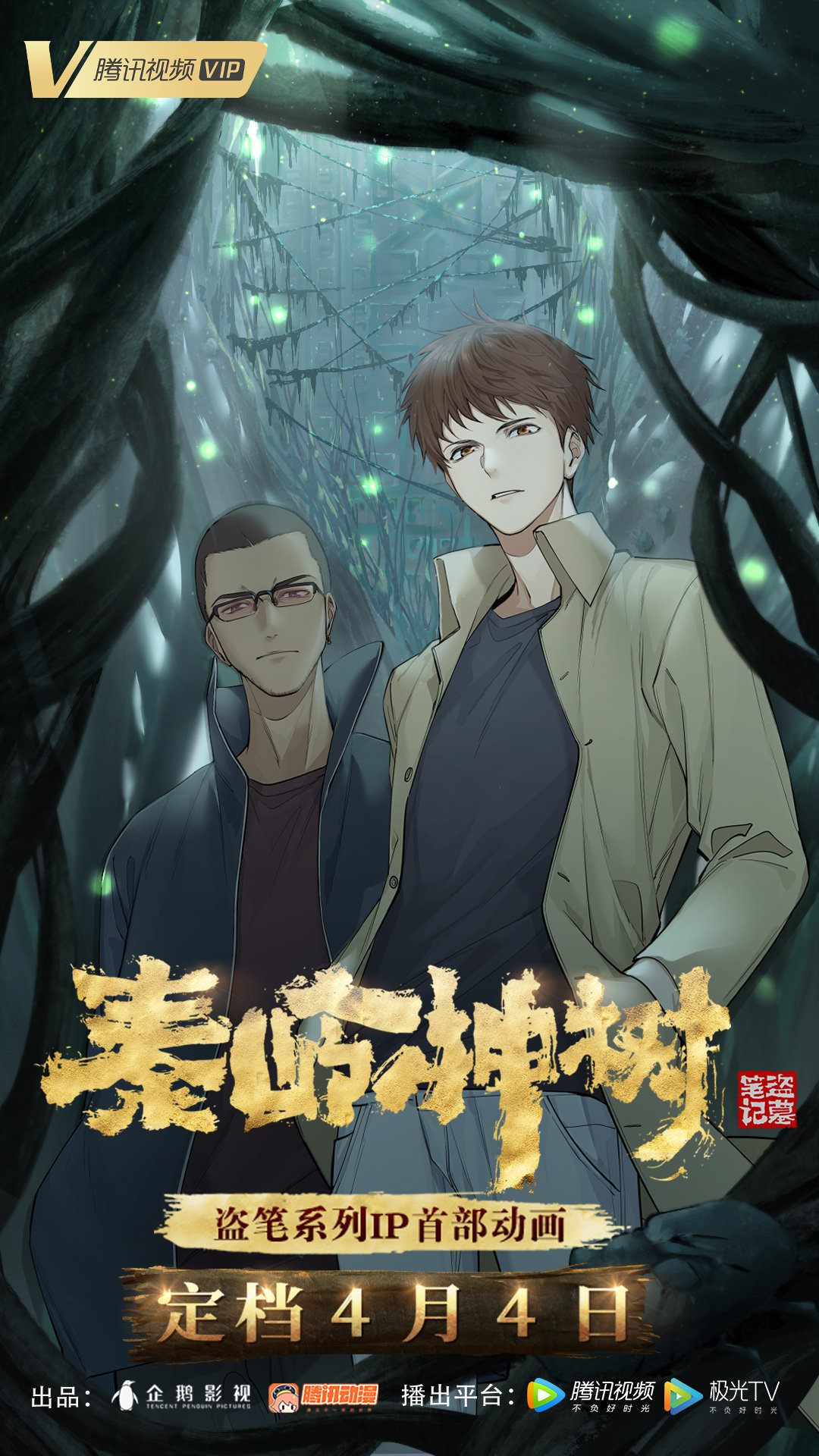 The Lost Tomb: Qinling Sacred Tree Release Date
In the latest announcement by Tencent, the series is scheduled to premiere on April 4, 2021. The announcement was accompanied by a new trailer for the upcoming donghua as shown below. Simply known by other names such as The Lost Tomb anime, Daomu Biji anime, we are all craving to watch this donghua on Tencent and other streaming service providers such as the fansubbers izfanmade, AnixLife, and Kurina Official.
Overview
The Lost Tomb: Qinling Sacred Tree is inspired by a novel titled The Grave Robber's Chronicles by author Xu Lei and it sounds like what its title suggests. The novel also inspired a Chinese TV series with the title The Lost Tomb in 2015.
The novel series is among the most famous historical sci-fi in China since 2007 with over 20 million copies sold. The story follows the grave-robbing adventures of Wu Xie, a young man hailing from a family that had been tomb-raiders for centuries. It has been among the driving force in the popularity of grave-robbing stories with supernatural themes in China in recent years.
The novel also inspired a manhua in 2011 which was drawn by Dongdong and Yuelu. However, its serialization ended prematurely after an argument with the manhua artist and the author of The Lost Tomb.
Plot
50 years ago, a group of Changsha grave robbers dug out manuscripts of the location of treasures from Warring states, but an encounter with an undead rendered almost the whole group dead. In the present, the young grandchild of the sole survivor, Wu Xie, discovers a secret within his grandfather's notes. Together with his third uncle, Wu Sanxing, and a few other experienced tomb robbers, to search for the treasure.

But what no one expected to find the intriguing mysteries that accompanied their tomb-robbing adventure – just who was the owner of that tomb? Will they be able to find the real coffin? And just where will these puzzles lead the group? Embarking on eight-volume's worth of adventures, as Wu Xie slowly unravels millennium-old mysteries, he sees the deterioration of his naive world as he discovers the people around him are not what they seem and that he could trust no one in this tomb robbing world of deceit and lies. [Source: Wikipedia]
Donghua Adaptation
The Lost Tomb: Qinling Sacred Tree donghua adaptation was announced by Tencent last August 8, 2020. Also known as The Grave Robbers: Qinling Sacred Tree, the donghua will touch various themes like action and supernatural on top of the grave-robbing plot.
Animation Studio & Production Committee
The upcoming donghua is animated by Qiyuan Yinghua (known for another grave-robbing donghua titled Qin Xia) and produced by Tencent Penguin Pictures, and Tencent Animation & Comics.
Official Trailer
Below is the first trailer that we had for The Lost Tomb: Qinling Sacred Tree from Tencent.
Now, we just need to wait for a few more weeks before its release on April 4. While we are patiently waiting for it, we can also check for updates from its official Weibo page here: The Lost Tomb: Qinling Sacred Tree or bookmark its official page on Tencent, so we can watch the donghua upon its release date there. If you wish to read the novel, you may also check it at Novel Updates.
Alright, if you're excited about The Lost Tomb: Qinling Sacred Tree premiere, please let us know your thoughts about it and if you'll be watching it. Drop your thoughts in the comment section below and don't forget to subscribe to our newsletter to get the latest updates about your favorite donghua.
Code name: Yu Alexius is an ambiguous entity who loves to talk about anime and Chinese animation in general. An insatiable soul from the Pearl of the Orient, a frustrated writer and a Houtarou Oreki wanna-be. He is a piece of a lunatic and everything crazy.