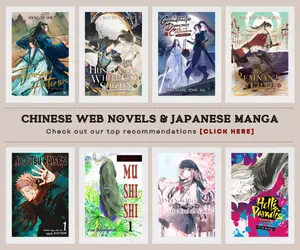 It seems that we will be treated to a delightful historical romantic-comedy anime from China in 2021 as the popular manhwa Liang Bu Yi or also known as "No Doubt In Us" is getting a donghua adaptation. Imagine an empress and emperor had body-switched and eventually have to do the task of each other. This upcoming donghua which was originally scheduled as a 2020 Chinese anime reminds me of Psychic Princess at some point but with a different twist. Now, we're getting it in the spring lineup as it will premiere on April 21, 2021.
Overview & Synopsis
No Doubt In Us is based on a popular manhwa (Chinese manga) called Liang Bu Yi from Young Dream. The anime is listed as among the 2020 donghua lineup for Bilibili as revealed in their event Made by Bilibili.
The anime will cover topics such as love, gender-bend, marriage, and politics which really sounds interesting and if added with effective humor, it could be an amazing hell of a ride with so much enjoyment to savor.
The popular manhwa was first released in 2016 and had won several annual awards for 3 consecutive years. It is among the most well-loved comics in China and had been read more than 1.36 billion, more than 47 million likes, and more than 3 million subscriptions. It was also included in the Top 30 of the Shanghai International Film and Television Festival's "2018 Top 100 IPs" list.
No Doubt In Us Release Date
Although listed for the 2020 release, the No Doubt in Us anime release date has been slated on April 21, 2021 despite being originally planned for release last October. The announcement of its release date was made along with a new trailer for the donghua as shown below.
No Doubt In Us Anime Countdown Posters
Related Post: Psychic Princess – the funniest shoujo Chinese anime of 2019
Trailer & Poster
A promotional video for No Doubt In Us had been revealed in Made by Bilibili event last November 17, 2019, as seen in the video below.
No Doubt In Us Anime Opening Theme: No Dout
No Doubt In Us Ending Theme: Get it Over With
Related Post: No Doubt In Us Season 2 Unveiled by Bilibili for 2022
Staff & Cast
No Doubt In Us anime adaptation will be animated by Paper Plane Animation Studio and will be broadcast as part of the Bilibili 2020 Chinese anime lineup. The entire anime production is handled by Bilibili and manmanmanhua. Among the listed and most popular cast for the upcoming anime is Zhang Jie who will voice the character of the general. He previously played at some of the most well-known Chinese anime characters such as Ye Xu/Ye Qiu from The King's Avatar, and Wei Wuxian from The Grandmaster of Demonic Cultivation.
Here's the full list of its cast and characters as follows:
Jiaqi Xu as Yu Xu
Ajie as Jinyun Xiao
Shimeng Li as Guifei
Chen Qian as Jieyu Tao
Xiaoyu Liu as Wangfei San
Zhongyang Baomu as Huangshu San
Shuang Zhao as Meiren Qin
Shanqing Su as Jinming Xiao
Tianxiang Yang as Jun Xu
Cong Liu as Yuanshuai Xu
Xian Jin as Guoshi
Haoran Guo as Zheng Xu
Yitong Zhao as Taihou
Zhankun Zhang as Shao Qing, Zhuru, Jiangjun Chen, Wuguan
Lisheng Luan as Xu Shangshu, Luo Taiyi, Chengxiang, Tao Jieyu Fuqin, Wechen
Jingyang Wang as Hubu Shilang
Laogui Yinxia as Zong Guan
Yajie as Yangbo Yun
Cheng Ma as Yangbo Yun Furen
Jiaqi Xu as Mudan
Feng Gao as Zhenbei Hou
Mingzhou Zhao as Tianshi Zhang
Haiting Cai as Liuli
Lulu Sun as Jinle Xiao
Xiying Nie as Meiren
Jiangshan Gu as Yuanzheng Jiang
Biyu Zhang as Nuo Hu
Sijia Qi as Abuhun
Chao Xing as Jiji
Related Post: No Doubt In Us Season 2 Part 2 Release Date Unveiled
Where to Watch No Doubt in Us?
The donghua was listed as part of the bilibili lineup, thus we can watch it on its official page on bilibili: Liang Bu Yi (2021) or various subbing groups and anime streaming sites upon its release. The Chinese company also started uploading PVs for No Doubt In Us on their YouTube Channel: Anime Made by Bilibili on which they are publishing their produced donghua for international viewers.
Last Updated on January 10, 2023 by Yu Alexius