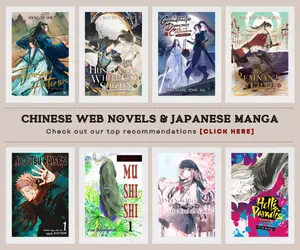 Did you know that Wei Wuxian from the Grandmaster of Demonic Cultivation and Ye Xiu from The King's Avatar shared the same voice actor? Zhang Jie or simply known as A Jie lend his voice to two of the most popular Chinese anime main characters and they are both OP.
The Chinese animation fever had started for me way back in 2017 with the phenomenal The King's Avatar catching the attention of Japanese anime viewers, it doesn't simply stop there as Mo Dao Zu Shi (Grandmaster of Demonic Cultivation) aired the year after which further popularized the rising Chinese animation industry which seems to undergo a renaissance period in recent years. These two donghua featured strong and overwhelming main characters, they are at their peak until their sudden downfall due to betrayal of people they trusted. Now, the story follows their journey as they return to the top.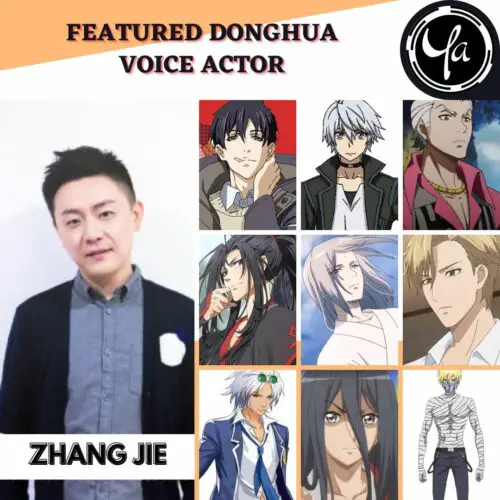 Wei Wuxian and Ye Xiu captured the hearts of many Chinese anime fans, and one of the reasons why both characters had so much charisma is the voice that gave soul to them. Zhang Jie's voice can give that playful yet serious tone as if he's some kind of god toying with the viewers but still filled with so much passion and sincerity. He has mastery over his voice, he can get into characters in a way that can capture the interest of the viewers. His real deep voice that fans can notice in interviews blends well with some of the characters he portrayed and he can still give a nice touch and light to the voice of characters like Wei Wuxian.
In line with this, let's take a look at Wei Wuxian and Ye Xiu's voice actor from a different perspective. Let's get to know Zhang Jie and his other works that I believed you guys might be quite familiar with too.
Donghua Voice Actor: Zhang Jie
Chinese voice actor Zhang Jie is also known as Jet and Ketsu, or A Jie. He was born on November 27, 1978. He is known for his Chinese dubbing works in many TV series, films, animation, online games, stand-alone game, webcast drama, Network animation, COS dubbing, and web drama. He is also an accomplished singer.
Zhang Dubbing Works
Here, we had listed some of Zhang Jie's most popular dubbing works from various projects. You might be quite familiar with similar of these titles.
Animation
Zhang Jie's voice acting ranges from giving life to the characters from Chinese-made animation (donghua), and those from Japan which were dubbed for the local viewers in China.
Case Closed: The Flower of the Fire (Kudo Shinichi, Kaitou Kid)
Detective Conan: 15 minutes of silence (Kudo Shinichi, Ryuhara Winter Horse)
Detective Conan: The Dark Tracker (Kudo Shinichi)
Disney Channel's Peter Pan animation (Peter Pan)
The King's Avatar (Ye Xiu/Ye Qiu)
Grandmaster of Demonic Cultivation (Wei Wuxian/Mo Xuanyu)
The Romance of the Three Kingdoms (Zhao Yun, Wei Yan, Li Su, Liu Zen)
Hitori no Shita: The Outcast (Zhang Ling Yu)
Arad (Daba)
Cheating Craft (Zhou Lun Yu)
Take My Brother Away (Wan Sui)
Bloodivores (Mi Liu)
The Silver Guardian (Silicon)
Yuechu Dongfang (Fox Spirit Matchmaker)
Xiao Jian (Spicy Girl)
Tianyuo Lu (Rakshasa Street)'
Bureau of Paranormal Investigation (Wu Rendi)
No Doubt In Us (Emperor Jinyun Xiao)
My Senior Martial Brother Has a Pit on His Brain (Dongfang Xianyun)
One Lesson One Fight (Zhou Lun Yu)
Kaifeng Strange Tales: This Lord Bao is Not That Great (Bai Juhua)
Those Years When I Owned a Zoo (Three-legged Golden Crow)
Love & Producer: Queen's Choice (Gavin)
LINK CLICK (Xiao Chen Ba)
Non-Human (Yang Jian)
True Cooking Masterboy (Kaiyu)
Great Journey of Teenager (Wuxin)
My Holy Weapon (Xiaobai)
Juushinki Pandora (Wu Ron)
White and Black Warriors (Zhou Kui)
Kuroko's Basketball (Seijuro Akashi)
Big Fish and Begonia (Chisongzi)
One-Punch Man (Sonic)
Fairy Tail (Jellal Fernandes)
TV & Films
Meanwhile, here are selected works by Zhang Jie's Chinese dubs from the TV and films category as follows:
Love and Redemption
Never Gone
The Legend of the White Snake
Untouchable Lovers
Under the Power
Eternal Love
Soul Street
Old Nine Gates
A Beauty in Troubled Times
Women of the Tang Dynasty
Melody of Youth
Sealed with a Kiss
Too Late to Say Loving You
A Thousand Drops of Tears
Pirates of the Caribbean 3
The Adventures of the Heroes
Atlantis Empire
Brave Bollywood
Carpenter's Story
Angel's Egg
Renewed Beauty
Gone with the Wind DVD
Max Payne DVD
2012
Terminator 4
Alice in Wonderland
High School Musical 3
Raisins under the Sun
Angels and Demons DVD
Alright, so this is the first post from my featured donghua voice actor section in this blog. Which of these characters that Zhang Jie lent his voice are your favorites? Which one do you think suits his voice and sounds natural? Which one do you think he put his soul so much that he reflects on the character's personality. Share your thoughts by leaving a comment below and watch out for our next featured donghua seiyuu soon.
References: