Mi Bao Zhi Guo or The Country of Rare Treasure is one of bilibili's Chinese anime lineup for 2020 but was later rescheduled for 2021. In the latest announcement from its production team, the highly anticipated donghua had been confirmed for release on April 16, 2021.
Release Date
Finally, we had the release date, my fellow donghua fans feel like we've been waiting for ages for this, it's amazing that we will finally have a glimpse at this awesome series. The announcement of The Country of Rare Treasure's release date for April 16, 2021 was made a few days ago and it was accompanied by a new key visual for the project.
New Key Visual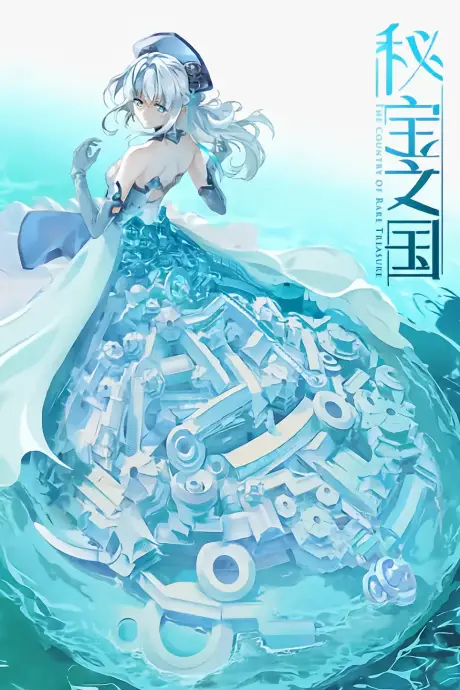 The Country of Rare Treasure Overview
This Chinese anime with an original story will give the fans a science fiction adventure that may seem a bit similar to the earlier plot of the anime movie Hello World! However, there's more to its story than what meets the eye. The Country of Rare Treasure is a fantasy-adventure story that will bring action and mystery altogether to execute a satisfying and mind-boggling experience for its viewers.
Synopsis
In the multiverse called the data world, everything corresponding to the real world is stored. Within it, the data from relics of human culture gained self-awareness, and a secret group of spirits established an alliance: The Country of Rare Treasure. The restorers, while investigating their own origins, lead the secret spirits against the forgotten viruses that will devour everything. [Source: bilibili, translated via Anilist]
The Country of Rare Treasure or Mi Bao Zhi Guo is animated by 2:10 Animation which gave us some decent series such as the tragic-drama I'm Joybo (one of my all-time favorites), Zhan Guo Fan, and the upcoming 2021 donghua: Yueqiu Shou, and Li Xin Zhan Ji. The studio also animated one of 2019's best donghua Ju Bing Chang Cheng Zhuan (The Great Warrior Wall).
Trailer
Here are the available trailers for the donghua as follows:
Where to watch The Country of Rare Treasure?
Since the series is part of bilibili's 2021 Chinese anime lineup, it'll be streamed on its official website: [Mi Bao Zhi Guo]. They might also add the donghua on their YouTube Channel: Anime Made by Bilibili.
Various subbing groups may add the series to their work archives this year, and most of the time they uploaded their translated works on YouTube. Meanwhile, other sites where donghua are typically listed are Kurina Official, Mundo Donghua, and izfanmade which you can check directly.
Now, this is only one of the Chinese anime coming over in April 2021, there are many more that we should look forward such as The Legend of Tang Season 2, The Legend of Luo Xiao Hei, and bilibili's original series Time Agents or Click.
Let us know which upcoming donghua makes you excited the most? Let us know your answer in the comment section below and share your thoughts about The Country of Rare Treasure too.
Code name: Yu Alexius is an ambiguous entity who loves to talk about anime and Chinese animation in general. An insatiable soul from the Pearl of the Orient, a frustrated writer and a Houtarou Oreki wanna-be. He is a piece of a lunatic and everything crazy.