The spring 2022 donghua lineup is already here and while Bilibili had already set the ride this April by releasing some of its highly-anticipated series this season such as Rift (Shikong Zhi Xi), Face on Lie (Huang Yan), and The Last Summoner; Tencent hasn't fully unveiled its list of scheduled donghua this season aside from some teaser announcement.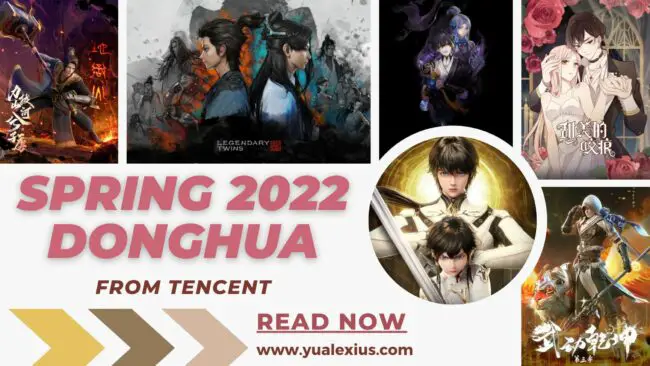 This is possible because the majority of Tencent's donghua from the Winter lineup are still airing such as Stellar Transformations Season 4, All Saint's Street Season 3, and many more along with some of its series such as Soul Land and Perfect World which are airing continuously since last year.
Tencent Spring 2022 Donghua Lineup
Thankfully, Tencent also unveiled its upcoming Chinese anime that are scheduled for release this spring albeit no specific release date yet had been unveiled so far except for the three of them. Now, let's take a look at them and find out which spring 2022 donghua lineup should not miss adding to your watchlist this season.
It Starts with a Mountain (Kaiju Yi Zuo Shan)
Kaiju Yi Zuo Shan donghua's adaptation is slated for release on April 15, 2022. This new series boasts to deliver a hilarious ride like no other to Chinese anime fans. It will combine the usual Chinese humor with isekai antics. It is animated by Qiyuan Yinghua, the studio behind Hitori no Shita: The Outcast Season 4, and is scheduled to have 12 episodes which will air until June 17, 2022.
Synopsis
Starting with a cottage, two populations (military division, groom), will build the strongest cottage. He traveled into troubled times and owned a cottage that was about to disband. In the face of this slaughter and turmoil, do you plan to rob money, food, and wife to become a king of Xiaoyao Mountain, or to pour out the blood of this man, fight against heroes in the world, and fight for a famous name in the past and present, and ask: princes and generals, would you rather have a seed!
Throne of Seal (Shen Yin Wangzuo)
Adapted from one of the most popular web novels from Tang Jia San Shao, Sealed Divine Throne, this new fantasy donghua is a must-watch for every Chinese anime fan. It will share similar tropes to its sisters Soul Land and The Magic Chef of Fire and Ice, however, it will also have its own flavor of exciting antics through its action-packed plot that narrates the adventure of Long Hao Chen against the dominating demon race. Throne of Seal release date is scheduled for April 28, 2022, and it is animated by Shenman Entertainment.
Synopsis
While the demons were rising, mankind was about to become extinct. Six temples rose and protected the last of mankind. A young boy joins the temple as a knight to save his mother. During his journey of wonders and mischief in the world of temples and demons, will he be able to ascend to become the strongest knight and inherit the throne?
Martial Universe Season 3 (Wu Dong Qian Kun)
With its new production committee from DC Impression Vision, Lin Dong is coming back in Martial Universe Season 3 which will premiere on May 1, 2022. It will continue where the story left us off from the previous season and will showcase Lin Dong's new journey as he gets stronger and cultivate his power in preparation for his fight against Lin Langtian to redeem the honor of his family.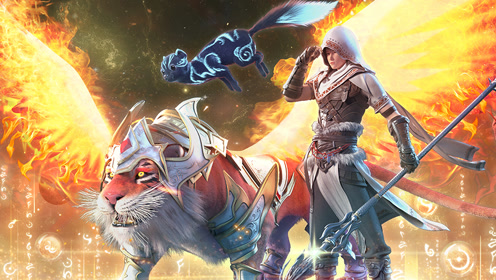 Synopsis
In order to become stronger and defeat Lin Langtian in the subsequent clan competition, Lin Dong Xiaodiao and Xiaoyan embarked on the road of cultivation together, and the journey was full of adventures. Under the guidance of Xiao Diao, Lin Dong finally came to the ancient monument of the Great Wilderness, successfully obtained the clue of devouring the ancestral talisman, and successfully obtained the martial arts of good fortune under the competition of Lin Langtian and many strong men, and the Great Wilderness Imprisoned Heaven Finger!
The Westward Season 4 (Xixing Ji)
The highly anticipated return of another journey to the West is coming this spring from Tencent. The Westward Season 4 is nowhere after the successful stint of its 3rd season last year. Studio BYMENT is coming back to handle its production along with several specials for the series.
Synopsis
"Journey to the West: Destiny" starts from the 39th episode of the feature film and tells the story of Tang Sanzang and others' journey to the west after the First World War in the South China Sea. Sun Wukong entered the underworld and reincarnated, while Ao Xue was sentenced to capital punishment by the Dragon Clan. At the same time, the westbound team met the Bull Demon King again and fought against the Bison family! Continuing the westward journey, the danger is full of dangers, and the dark soul will not return. Who can turn things around?
The Black Troop Season 3 (Xiong Bing Lian 3: Leiting Wan Jun)
One of the best Chinese sci-fi donghua is next on the list. While no release date yet had been unveiled, its official Weibo page had been actively posting some updates including promotional videos and images. Now, the exciting adventure continues in The Black Troop Season 3. Transcendence Picture is handling its production.
Legendary Twins (Juedai Shuang Jiao)
Adapted from the classic wuxia novel by Gu Long, Legendary Twins is one of the most anticipated Chinese martial arts anime this year. It is animated by studio BYMENT and its official Weibo page has started posting updates about it including its first full trailer albeit no release date yet had been unveiled except for the announcement that it is scheduled for this spring of 2022.
Sweet Bite Marks (Tianmei de Yaohen)
The long wait is over. Sweet Bite Marks is finally getting its release as part of the spring 2022 donghua lineup from Tencent. The donghua was first announced in 2020 but it was only until the 2021 annual conference of Tencent that we get updates about it. This new drama and romance donghua with vampire and supernatural antics is adapted from a manhua of the same title by Ruisi and Yikai.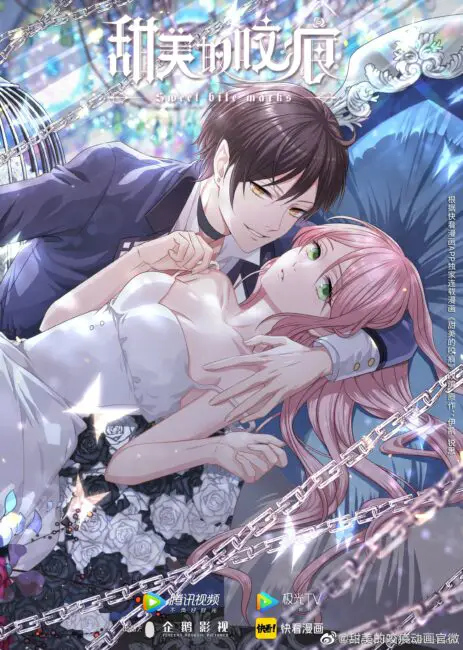 Synopsis
It tells the romantic love story of an independent and introverted human girl from hating to falling in love with a vampire prince in the era of vampire rule.
Huanmeng Shan Hai Yao
Originally scheduled for release as part of the Fall 2021 donghua lineup of Tencent, the Chinese fantasy anime Huanmeng Shan Hai Yao had been rescheduled for spring 2022. Studio Cloud Art is handling its production.
Fengyun Bian
Adapted from a manhua of the same title by Wing-shing Ma, Fengyun Bian is the new Chinese fantasy donghua that viewers should watch out for this year. It is animated by BlueArc Animation Studio.
Li Ba Shanhe Xi Zi Tang
We have another new Chinese fantasy donghua this year and that is Li Ba Shanhe Xi Zi Tang which was an original creation of Aba Liu. It is another gorgeous 3D donghua from Tencent Penguin Pictures and studio Aurora.
Synopsis
Dongsheng Zitang established the country with Wu, and Lu Xiaoyao, the pavilion owner of Penglai Pavilion, a small alliance on the southern border of the Song Dynasty, broke through the [Wujing·Nine Layers] created by the founding emperor of the Zitang Kingdom and reached the legendary [Wonderland· Huajie] Yu became an immortal. In the following year, Penglai Pavilion unified Nanluan and sealed the Eight Immortals to challenge the four-state hegemon, Dongshengzi Tang, to seize the four-state hegemon.
Make Money to be King (Wo Kao Chongzhi Dang Wudi)
Here's an exciting new donghua from studio Soyep and Tencent this year, Make Money to be King is going to be a long and amazing journey as it is scheduled to get 60 episodes starting this spring. In a new announcement, the donghua is scheduled for release on June 21, 2022.
Synopsis
The earth's energy is depleted, Lin Yi changed his fate and participated in the internal test of the "Spiritual Continent" game, but he lost his memory due to a system failure and was trapped in the game. The brutal plug-in, inexplicably embarked on the road of cultivation, the only fly in the ointment is that this system is a bit of a waste of spirit. Cultivation progress is too slow? The exercises are not powerful enough? Are weapons too weak? Simple, as long as there are enough spirit stones, any problem can be solved! In this way, relying on the blessing of the sky-defying system, Lin Yi crushed the whole way like a broken bamboo, several times in danger, rescued the mysterious girl Mo Baixue, broke through the army formation of armored soldiers, and defeated the huge boss who condensed the cold jade – guards the tomb. Beast, pass the test of demons… This continent seems peaceful, but in fact, it is full of dangers. Lin Yigeng met Zhou Buzheng, who wanted to be his younger brother in danger, and Ji Yunyu, the ice cube-faced who didn't know each other. The mysterious old man Shangguan Hong, who only served roast chicken, has a long way to go. When Lin Yi relies on the system to be invincible, he is kidnapped by the beautiful royal sister Wu Tian and goes deep into the underground tomb to explore…
So far, these are the only confirmed Chinese anime releases this spring of 2022 from Tencent as revealed in an announcement they posted on their Weibo page. They will air along with several Japanese anime that Tencent currently licensed for distribution in China such as Spy x Family, and Komi-san Can't Communicate.
Meanwhile, other donghua from Tencent this year such as Battle Through The Heavens: Origin and its 5th season has not revealed updates yet but since Martial Universe Season 3 is occupying the highly coveted Sunday timeslot, we'll have to wait until it is over to learn whether those two installments from Battle Through The Heavens is replacing it. Furthermore, A Will Eternal Season 2 had been already confirmed for release on August 17, 2022, as part of the summer lineup while fans are anxiously waiting for the announcement of Biao Ren: Blades of the Guardians release date after its official Weibo page ha started posting promotional videos which feature the characters from the series.
Last Updated on November 9, 2022 by Yu Alexius