Stellar Transformations Season 3 has just recently started airing but what's even more amazing is that fans can anticipate an upcoming sequel. Yes, Stellar Transformations Season 4 (Xing Chen Bian 4) had been officially unveiled by Tencent during their 2021 Conference that took place last August 8.
First of all, I would like to remind everyone that Stellar Transformations Season 3 is currently airing, it premiered on Tencent last September 5, 2021. Qin Yu continues his journey in the cultivation world under the sea as he faces the imminent danger after his big action from the 2nd season and it seems that the immortal cultivators that he had met from the Jiang clan will have to interfere.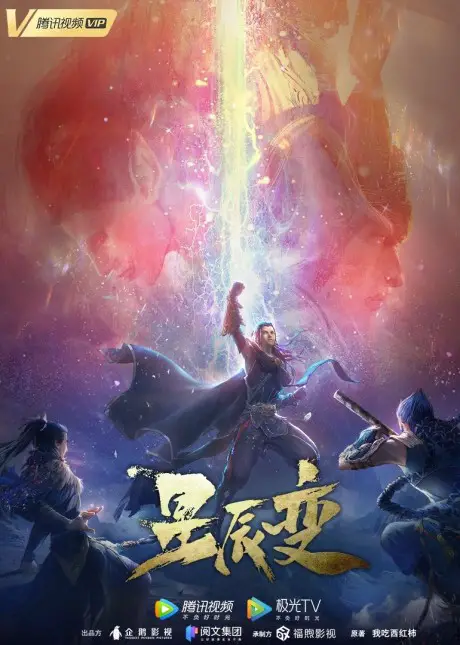 Stellar Transformations Season 4 Donghua Announcement
The announcement for popular Chinese cultivation anime (xinxia) had been made during the Tencent Video Animation Conference 2021 where Tencent had unveiled their list of upcoming animated projects for 2021-2022.
The series was one of the popular Chinese anime (donghua) in recent years, it first aired on October 5, 2018, and run for 12 episodes until December. It was animated by Shanghai Foch Film Studio and adapted from a popular xinxia novel of the same title by Wo Chi Xihongshi (I Eat Tomatoes).
Plot
In a galaxy far away, there is a kid without the innate ability to practice internal techniques. So, in order to gain the respect of his father, he resolutely chooses to follow the more difficult and painful path of practicing external techniques. As the years go by, he grows up, but what really changes his life is a mysterious meteoric crystal stone – the Meteoric Tear. This stone fuses with the young man's body unnoticed, and he seems to undergo drastic transformations as a result. After that, everything is changed. Eventually, his father knows that the son for whom he hasn't really shown a lot of consideration possesses astonishing abilities. And there's a lot more to come.
Animation Studio and Release Date
Foch Film is returning as the animation studio of the series with Tencent Penguin Pictures and China Literature as producers. What we have learned so far about Stellar Transformations Season 4 is the fact that it has been officially announced and confirmed by Tencent for their 2021-2022 donghua lineup. However, the exact release date hasn't been unveiled yet. But since it only recently started its 3rd season, fans might have to wait a little bit longer until next year until we'll get some more updates and announcements about it.
While we are still patiently waiting for it, I am reminding everyone to watch Stellar Transformations Season 3 which is currently airing on Tencent. I shall update this post for a new announcement as well as posters and promotional videos that the production team will be revealed. Furthermore, I will also add a short review of the 3rd season and will list what are the things and events that we should all look forward to in Stellar Transformations Season 4.