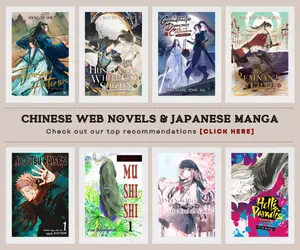 Battle Through The Heavens had been one of my earliest influences on Chinese animation and I believe many donghua fans out there also shared the same sentiments. It was based on a xinxia or cultivation novel by author Heavenly Silkworm Potato and was adapted into Chinese animation in 2017 by Shanghai Foch Film.
There's a total of 5 seasons and several special episodes that have been released for Battle Through the Heavens so far. While the first season was animated by Shanghai Foch Film, the succeeding seasons and specials were animated by Shanghai Motion Magic.
Related Post: Battle Through The Heavens Donghua Episode Guide
Chinese Anime Like Battle Through the Heavens (Dou Po Cangqiong)
While we are patiently and eagerly waiting for Battle Through The Heavens' upcoming sequels, why not check some more donghua with similar stories to Battle Through the Heavens? In fact, we have here 8 Chinese anime similar to Battle Through the Heavens that fans will surely enjoy as follows:
There are too many similarities between Martial Universe and Battle Through the Heavens and that can be explained easily by the fact that both donghua were based on the novel by the same author. Yes, Martial Universe and Battle Through the Heavens were both written by Heavenly Silkworm Potato with the latter being the first novel, then followed by Martial Universe.
Martial Universe follows the story of Lin Dong and his journey to become a powerful cultivator and surpass all the hurdles that come along his way. He was helped throughout his journey by Lord Marten, this demon is someone who teaches him about cultivation and sometimes, also served as his bodyguard. That's actually similar to the relationship between Yao Lao and Xiao Yan from Battle Through the Heavens. Here, we also have the female lead of the story who starts out as a stronger individual than the main character, just like how Xiao Yan's ladies are all stronger than him in the beginning especially Queen Medusa, Xun Er, and even the Little Fairy Doctor. In 2021, Martial Universe Season 3 is slated to air after the successful stint of its 2nd season last July 2020.
Related Post: 10 Chinese Anime Similar to Martial Universe (Wu Dong Qian Kun)
The Grand Lord
Also known as The Great Ruler, and the third novel by Heavenly Silkworm Potato following Battle Through the Heavens, and Martial Universe. Unlike the other two donghua, The Grand Lord was in 2D animation with few CGI animated scenes embedded in it. The Grand Lord also follows the same pattern as Martial Universe and Battle Through the Heavens with the main character being treated like trash by the people around him but doesn't show his real power. Just like Xiao Yan and Lin Dong, The Grand Lord's main character also possessed special items that let him grow stronger for a limited period. What's even more amazing is that The Grand Lord universe is the upper realm where Xiao Yan and Lin Dong eventually rose to prominence after their respective journeys in their own story. Therefore, all of Heavenly Silkworm Potato's main characters are in the same world in this donghua.
Stellar Transformations
This donghua first premiered in 2018 and has been one of my favorite xinxia stories ever since. It follows the journey of Qin Yu on becoming a true immortal cultivator as he overcomes all the hindrances along his way including the task of eliminating the enemies of his family. While Battle Through the Heavens showed Xiao Yan's perseverance to become stronger with the guidance of Yao Lao, Qin Yu went on the unorthodox method of cultivation and got stronger with his own instinct and the meteoric tear that he had found. Although, later on, he'll get some guidance from the original cultivator of Stellar Transformation. You can enjoy the first 2 seasons of the donghua which has been released since 2018 and Stellar Transformations Season 3 is also slated for release in 2021.
Related Post: 8 Chinese Anime Like Stellar Transformations
A Record of a Mortal's Journey to Immortality
Also known as the Mortal Cultivation, this 2020 Chinese anime from bilibili is a personal favorite of mine. In this donghua, we have Han Li who entered the cultivation world to help his family overcome poverty. With his innate talent and self-study, he became a real cultivator and embarked on a journey of becoming a true immortal. The story is like a chronicle as the future self of Han Li narrates his experience throughout his journey to immortality. This is one of my top 5 Chinese cultivation anime that I highly recommend to everyone.
A Will Eternal
One of B.CMay Pictures' biggest Chinese anime of 2020, if you're a fan of Mo Dao Zu Shi, you'll surely enjoy A Will Eternal and its funny shenanigans. We have our main character Bai Xiaochun who is afraid to die and will do anything to lengthen his life. However, things won't be easy for him as he'll attract haters and enemies throughout his journey who will threaten his life. Just like any other main character from other xinxia series, Bai Xiaochun is gifted with godlike luck and rare items that he had stumbled upon accidentally.
Related Post: 10 Chinese Anime Similar to A Will Eternal
Soul Land
Duoluo Dalu or Soul Land, is a title that I am sure many of you are quite familiar with. As one of the most popular Chinese anime in China in recent years, almost every donghua fan must have heard of it. While it is not like the conventional cultivation anime like Stellar Transformations or Battle Through the Heavens, Soul Land is still considered a cultivation story albeit one with more of a fantasy side and romance cliche. One thing is sure though, Soul Land offers some of the best fight scenes of any  Chinese 3D anime, and it is one of my first ever donghua along with Battle Through the Heavens, The King's Avatar, and Full-Time Magister.
Related Post: 10 of the Best Anime Similar to Soul Land
Tales of Demons and Gods
Here's another cultivation Chinese anime that people must be quite familiar with as the series had accumulated over a hundred episodes throughout its 4-season runs. The story is quite similar to other donghua that I mentioned above, albeit it will give you more satisfaction due to having more episodes than the other.
Related Post: Top 10 Chinese Anime Like Tales of Demons and Gods
The Legend and the Hero
This donghua has been one of the prominent Chinese 3D anime in recent years and I always have this listed most of the time along with Soul Land, and Tales of Demons and Gods. With a similar plot to the above-mentioned series, The Legend and the Hero promises a delightful experience for donghua viewers.
Further Recommendations
Here are some more Chinese anime like Battle Through The Heavens that fans of the series might also want to check for more exciting fantasy adventures:
Perfect World (Wanmei Shijie)
The Mirror: Twin Cities
Star Martial God Technique
Spirit Sword Sovereign
Martial Master
Supreme God Emperor
Against the Sky Supreme
The Great Ruler 3D
Spare Me, Great Lord!
Supreme Galaxy
Legend of Shou
Soul of the Soldier Master
Immortality
Dragon's Disciple
Dragon Prince Yuan
Apotheosis
Jade Dynasty
Alright, these are only a few of the Chinese anime with similar stories to Battle Through the Heavens. If there are other donghua that you would like to be added to this list, please let us know by dropping your comment below.
Last Updated on September 13, 2023 by Yu Alexius