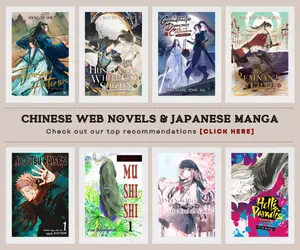 In this trying times that Covid-19 had struck and the whole world is at the edge fighting this pandemic and the most that we can do is to stay at home, for anime viewers like me; watching anime and related shows had been my refuge. If you had been an avid reader of my blog, you might have come here looking for Chinese anime recommendations since I've been talking non-stop about Chinese animations or donghua since 2017 when The King's Avatar had captivated me. As a means of helping my fellow anime fans of having additional anime titles to be added in their watchlist, I've come up with a short recommendation of Chinese anime series & movies that everyone may enjoy.
I have divided this recommended list of Chinese anime in two (2) parts. The first is for the Chinese anime series, and the second is for the Chinese anime movies. I have included almost all the donghua that I have seen so far in this recommendation since I do believe in the statement "the more, the merrier". However, I have only provided a short description of each Chinese anime in order not to spoil too much about its story. If you wish to read some detailed overview of some of them, you may check my post about the following:
I have provided a bit of a detailed overview of several Chinese anime that I have listed in those posts. And now, I would like to begin this list with my recommended Chinese anime series that viewers out there may enjoy.
The Grandmaster of Demonic Cultivation
Mo Dao Zu Shi – This may sound basic since the Grandmaster of Demonic Cultivation or The Founder of Diabolism is one of the most popular Chinese anime in recent years. This donghua had been listed as our best Chinese anime of 2018, and definitely among the best anime that I have ever seen on that year. If you love Chinese elements such as martial arts and its supernatural beliefs paired with a great screenplay and interesting characters, the Grandmaster of Demonic Cultivation is a must-watch for you.
The King's Avatar
Quan Zhi Gao Shou – I have here my favorite Chinese anime of all time, and it is the reason why I fell in love with Chinese animations. If you love anime such as Sword Art Online, Log Horizon, BOFURI, and similar online games anime series, you should add The King's Avatar to your watchlist. This is the most popular e-sports anime out there. Aside from the anime series, The King's Avatar was also adapted into a manhua, and live-action series starring Yang Yang. You may read our review of the live-drama here: The King's Avatar Live-Action Drama Series Review. The King's Avatar also received a prequel anime movie that was released last year titled The King's Avatar: For the Glory.
Soul Land
Douluo Dalu – We have here the most popular Chinese anime in the whole world as of writing. Soul Land is among the few Chinese animations that became popular in the west while also holding the title of the most-watched anime in the Tencent Video platform. One of my personal favorites, Soul Land is a 3DCG anime with isekai (transmigration to another world) elements with plenty of actions and romantic vibes in its story. Soul Land also gets a live-action drama called Douluo Continent in 2020 starring Chinese actor Xiao Zhan.
Psychic Princess
Tong Ling Fei – Oh, dear! Here's my favorite shoujo anime from China. Psychic Princess is both funny and romantic. There are also a considerable amount of actions in the anime since the Psychic Princess has supernatural elements. It's about an abandoned princess who was summoned to replace her sister as a wife of a ruthless prince. In the end, the crazy set up had turned to be a hilarious ride with our strong independent funny princess spreading so much positivity and laughter throughout the whole run of the anime.
The Demonic King Chases His Wife
Here's another Chinese shoujo anime and a contemporary of Psychic Princess. There are tons of similarities between this one and the Psychic Princess but some cliché had been added in its story which includes an isekai element. Yes, the main heroine is a world-class assassin from the modern world who got transmigrated into an unknown cultivation world where she possessed the body of a damsel in distress princess.
Spiritpact
For anime viewers who are fujoshi and love shounen-ai story, Spiritpact is a must-watch for you. Exciting and hilarious story with the typical Chinese supernatural elements, Spiritpact is a fun anime to follow especially if you love topics about exorcism and the corresponding humor that comes with it. Among the strongest points of Spiritpact is its amazing soundtrack that people will surely love.
Everlasting Immortal Firmament
The funniest Chinese anime series that I've seen so far and I'm sorry since this show is not for everyone. If you can handle absurdly hilarious jokes and below the belt parody, then Everlasting Immortal Firmament is a great donghua to be added to your watchlist.
Martial Universe
One of the best action Chinese anime that I have seen so far and one of the works of Heavenly Silkworm Potato that received a donghua adaptation – Martial Universe is in the boundary of xianxia and fantasy world-setting. It has one of the best 3DCG fight scenes of any Chinese anime nowadays with a notorious overwhelming lucky genius as its protagonist. You may check my review about it for more details: Martial Universe Anime Series Review.
Battle Through the Heavens
If you love Martial Universe, here's Battle Through the Heavens; another work of Heavenly Silkworm Potato and a special donghua to me since the novel where it was based had been the first Chinese web novel that I have finished reading. We have an amazing protagonist for this anime who had been in so many ups & downs. He is also a handsome loverboy with many female characters in its story becoming a member of his harem.
Rakshasa Street
Action and drama, Rakshasa Street had been among the most astounding Chinese anime in recent years. Its 2ndseason also aired last December as part of bilibili2020 Chinese anime lineup.
Stellar Transformations
Also known as Legend of Immortal, this anime is the most solid xianxia donghua nowadays with great animation quality and fight scenes. The character development is pretty decent and while the biggest turn on with Stellar Transformations is the action in it, anime viewers will also love our main protagonist Qin Yu. As of writing, Stellar Transformations anime season 2is currently airing at Tencent Video.
Adorable Food Goddess
A bit of action, a bit of romance, and a little more on foodgasm; the entire experience of Adorable Food Goddess is a real visual aesthetic. The animation quality is beautiful; it reminded me of Makoto Shinkai works, and those anime from Kyoto Animation such as Violet Evergarden. Story-wise, the Adorable Food Goddess is pretty decent.
The Legend of Qin / Qin's Moon
A real classic I must say, The Legend of Qin had been one of the revolutionary Chinese anime in the 21stcentury, being given as the defining anime of Chinese 3DCG from Sparkly Key Animation Studio. If you want a Chinese anime that runs deeper than the rest, The Legend of Qin is your first choice as it currently has 5 seasons and over hundreds of episodes out there. The story is set in the warring-states of Ancient China and a boy whose destiny is to challenge the power of the Qin Empire. Interesting and unique characters, great fight scenes, and god-tier music – this donghua is seriously on a league of its own.
Qin's Moon: Nine Songs of the Moving Heavens
This anime is a spin-off series to the main The Legend of Qin series. I have Nine Songs of the Moving Heavens as my 3rd favorite Chinese anime of all time, just behind The King's Avatar & Mo Dao Zu Shi. The story took place almost 10 years before The Legend of Qin's timeline took place in the Ancient Kingdom of Han and the growing tension between the other warring states. Some of the characters from The Legend of Qin appeared in Nine Songs of the Moving Heavens. Quicksand (the villain group from The Legend of Qin) is the main protagonist in this prequel series. There are tons of amazing and interesting characters; the fight scenes are absurdly beautiful, while the story is more on political and military intrigue as opposed to the carefree and adventurous vibes of The Legend of Qin.
Fox Spirit Matchmaker
One of the most popular and longest-running Chinese anime in recent years with over a hundred episodes in its belt – Fox Spirit Matchmaker is a delightful combination of drama, romance, and action with various themes and topics all weaved together. This Chinese anime is among the most famous work from the Haoliners Animation League which animated Spiritpact, Flavors of Youth, and Hundred Demon Manual.
Hitori no Shita: The Outcast
Originally a co-production between Chinese and Japanese animation companies, Hitori no Shita is a fun, hilarious and action-packed donghua. The most defining aspect of this anime is its amazing fight scenes. It currently has 3 seasons in its belt with Hitori no Shita anime season 3premiered last April.
The Legend of Luo Xiao Hei
The Legend of Luo Xiao He is an independent and one of the most beloved Chinese short anime web series in recent years. With its popularity among Chinese fans, it received a prequel movie titled The Legend of Hei which was released in China and Japan last 2019. If you love Studio Ghibli works, I am pretty sure that you'll find this donghua interesting and entertaining.
I'm Joybo
Listed among the personal favorites of all time, I'm Joybo is the mother of all plot twists when I am gradually falling in love with Chinese animation. The whole experience of watching this donghua had been intense and sentimental. The animation quality is quite mediocre but anybody can tolerate it. The background images are beautiful though. I sincerely believe that the most striking feature of I'm Joybo is the fact that it could soften the viewer's heart. It made me feel the pain, the drama, the heartbreak, the losses, etc. Furthermore, the soundtracks are pretty catchy.
Full-Time Magister
Quanzhi Fashi – Oh dear, who wouldn't fall in love with this one? Full-Time Magister aired almost in the same period as The King's Avatar and anime fans had it among their earliest Chinese anime when donghua is rapidly gaining attention in recent years. The animation quality is average but, the story is like any shounen anime out there that people will surely bite. I love our main character Mo Fan here and his gang. The story could've been better but, amazingly, the anime was able to build that great connection between the characters and the audience which I believe is commendable.
I would also like to recommend the following Chinese anime for your reference as I actually didn't watch or finish these titles yet. However, some of you may want to check it out so I have listed it as follows:
The Westward
The Legend and the Hero (this one is seriously good according to donghua fans)
Tales of Demons and Gods (I did have this in my watchlist but didn't start yet)
Eudemon Quest
My Holy Weapon (not fond of this but it's quite famous)
Snow Eagle Lord
The Grand Lord (Chinese anime adaptation of The Great Ruler novel)
Chinese Mystery Man
Lu's Time (this one is hilarious, it's a short parody of online game The League of Legends)
Lan Mo's Flower (I find this one romantic and cute)
The Beauty Blogger (isekai story with a twist)
My Cultivator Girlfriend
Spirit Realm
Nuwa's Diary
To Be Hero
To Be Heroine
Kaifeng Strange Tales: This Lord Bao is Not That Great
Please Take My Brother Away
How To Steal 55 Kisses
The Young Imperial Guards
The Uncharted Walker
Killer Seven / Scissor Seven
There's a Pit in My Senior Martial Brother's Brain
The Emperor's Strategy
Beryll & Sapphire
Bringing the Nation's Husband Home
Whited Nighttime
The Legend of Condor Hero
Music Up
Storm Rider: Clash of Evils (Wind and cloud)
100,000 Cold Jokes (this is one of the most hilarious Chinese anime out there)
Ace Censorate
Cerebrum
Black & White Warriors
Cupid's Chocolates
Chinese Anime 2020 Lineup
I also have here the 2020 Chinese Anime Lineup that you guys should also check out:
Planting Manual (beautiful and enchanting, I have written a short firstimpression review about it here)
The Daily Life of Immortal King (funny and ridiculously overwhelming)
The Furious Yama (hilarious and fun, I sincerely love this)
God of Deception (I have written here my first impression review)
The Manual of Hundred Demons (already one of my favorite donghua of 2020)
White Cat Legend (such quality, the animation is seriously great)
Those Years I Owned a Zoo
All Saints Street (this one is insanely good, funny and popular)
The Chronologist (formerly known as Huangli Shi)
Hero's Return
No Doubt in Us
Silent Reading
A Will Eternal
Scum Villain Self-Saving System
Heaven Official's Blessing
Deity Introspection
Chinese Anime Movies
I also have here my list of recommended Chinese anime movies to be added to your watchlist. I listed five (5) of these movies in my previous post: ChineseAnime Movies for Beginners! I'll keep it short and simple, so let's start our list with the 2019's box office record-breaker NeZha.
NeZha: Birth of the Demon Child
This is a heartfelt family story that tackles various issues but in a light manner. The whole experience of watching the 2019's NeZha film is superb: from its gorgeous animated background images, the beautiful and god-tier fight scenes, the heart-penetrating drama, and amazing soundtrack.
White Snake: The Origin
If you love romance stories with Chinese elements, White Snake is a must-watch for you. It's the 2019 anime movie adaptation of a classic Chinese folktale of the same title. I believe that its strongest point is the soundtrack and the absurdly amazing animation quality. The fight scenes were sick and the emotional maelstrom throughout its run was fantastic.
Big Fish & Begonia
My personal favorite among all the Chinese anime movies out there is Big Fish & Begonia. It is so special that I couldn't simply compare it with any other donghua. The animation quality is beautiful, the world-setting is fantastic, and the character development is heartbreaking. It feels like the plot is playing around with our sentimental heart. I love the character designs; they are all gorgeous; the characters are all interesting too.
Monkey King: Hero is Back
The most successful Chinese anime movies in the box office before NeZha took over its place last year. If you're familiar with the story of Journey to the West and the Monkey King, this film should be added to your watchlist.
Crystal Sky of Yesterday
This is the closest Chinese anime that we can visually compare to the works of Makoto Shinkai. The animation quality is beautiful and filled with life. The visuals are gorgeous and the characters are also interesting. I believe that it could've been better but the whole film is really good despite some noticeable weaknesses.
The Legend of Hei
This is the prequel anime film to the web series The Legend of Luo Xiao Hei. I love this film, the story is heartwarming, the characters are beautiful and relatable, and the animation quality is obnoxiously gorgeous. Among this list of Chinese anime, The Legend of Hei is the closest that I could compare to Japan's Studio Ghibli works such as Princess Mononoke, My Neighbor Totoro, Ponyo, and Spirited Away.
The King's Avatar: For the Glory
This is a prequel story to The King's Avatar main series. The movie took place before the main character became a professional e-sports player, detailing his journey when he started in the alliance, the heartbreaking and triumphant journey that he had to reach the top of Glory. You may want to check my full review of the anime film here: Chasing the Peak of Glory: The King's Avatar Prequel Movie Review.
This is where I shall end my recommendation list. I do hope that I was able to help you find some hidden gems among the various Chinese anime that we have nowadays. I am also glad if you guys could offer some suggestions that you may have. Please drop a comment below to share yours.
Last Updated on March 7, 2021 by Yu Alexius