The first quarter of 2022 is almost over and many donghua fans are quite excited for what this year has to offer especially since we have plenty of highly anticipated danmei (boys-love) series to look forward to which had been adapted from some of the most popular Chinese web novels in recent years.
I have previously published a list of upcoming donghua from the 2022 lineup of Tencent and bilibili which includes a whole lot of various titles from different genres. While most of them have cultivation (xinxia), wuxia (martial arts), and xuanhuan (Western fantasy) elements, one of the most popular donghua among viewers right now is definitely danmei or what we call boys-love anime.
In 2022, we have a handful of upcoming Chinese BL anime and while some of them are newly announced titles, some are also delayed projects which had been announced several years ago which left many fans anxious if it'll be released or not. Thankfully, their production committee has reassured the fans that these titles are still on their lineup of upcoming releases.
Top Upcoming Chinese BL Anime in 2022 and 2023
So, let's take a look at them once again and update your watchlist in case you haven't added some of them yet as these upcoming Chinese BL anime in 2022 will make your year exciting and heartwarming in many ways.
Warm Sun
Nuan Yang | Leading the pack and probably the most anticipated by many danmei fans is the Chinese anime adaptation of SAYE, a highly praise BL novel by Wu Zhe, the author of my favorite BL donghua Antidote (Jie Yao). It follows the story of two young boys who finds solace in the presence of one another despite how tormented or troubled their personal lives are. It is a heartfelt story of family drama, intimate friendship, and facing life's challenges knowing that there'll be someone beside you to cheer on you no matter what.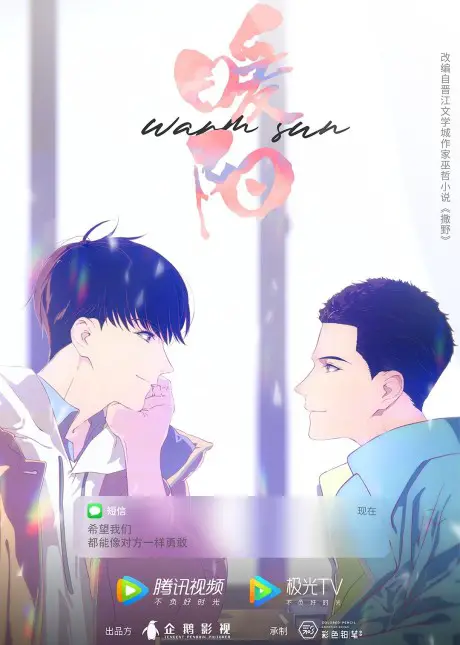 It's also an interesting coming-of-age story as we follow how their relationship unfolds and how they come into terms with it. One thing is sure though, Warm Sun anime adaptation promises a fantastic and dramatic ride. It'll be animated by Colored-Pencil Animation which is the studio behind The King's Avatar Season 2, and Fantasy x Hunter.
Defective Lovers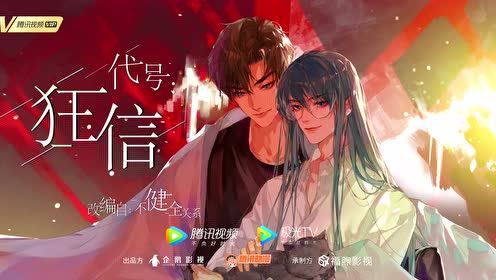 Daihao: Kuangxin | Adapted from the danmei novel Bu Jianquan Guanxi or also known as Unsound Relationship by Qiyan and Dengsha, this upcoming Chinese BL anime follows the same antics as some of the danmei that had been released earlier such as Drowning Sorrows in Raging Fire, Legend of Exorcism, and SpiritPact. It is a comedy and mystery donghua that involves two detectives with opposing nature tasked together to solve cases. Where do you think this teamwork leads? It can only be a hilarious story of cat and mouse fighting but still delivers interesting romantic cliches that danmei fans will surely enjoy.
Silent Reading
Mo Duzhe| This is what I have mentioned earlier that has been delayed for quite some time since it was first announced in 2020. Silent Reading is another BL anime adapted from a danmei novel by Priest and has quite a similar plot with Defective Lovers as it also involves elements of drama and mystery in its story. Our main characters are also detectives who are assigned together in solving various crimes and mysteries despite the fact that they also have different ways of handling circumstances.
Are You OK? Season 2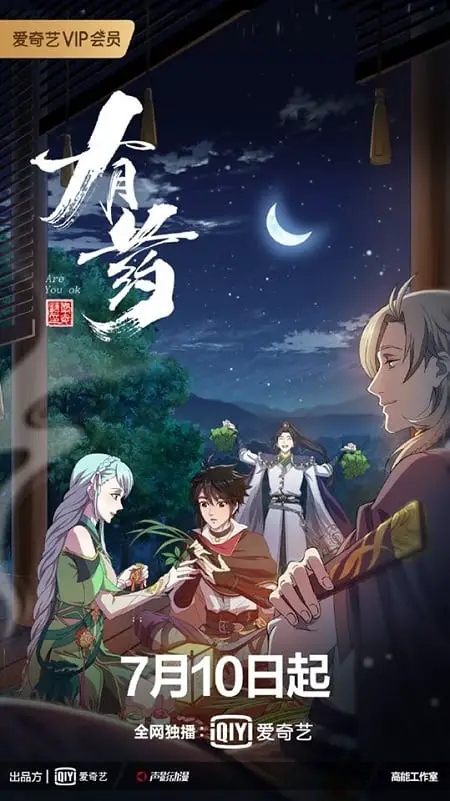 You Yao Season 2 | I don't generally treat this donghua a danmei but more of a comedy-isekai story but it has some BL elements that I think fans would consider it that way. This is the 2nd season of You Yao which was first released in 2020 and has set the bar quite high for a Chinese isekai anime due to its funny antics and well-written dialogues making it an entertaining ride from start until the end. Now, we're all excited for its upcoming return and donghua viewers should not miss adding this one to their watchlist.
Liu Yao: The Revitalization of Fuyao Sect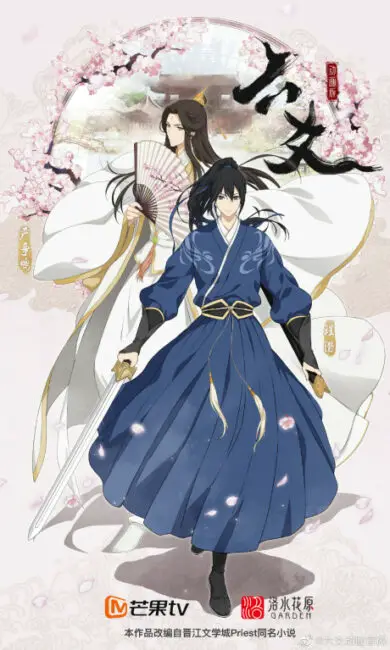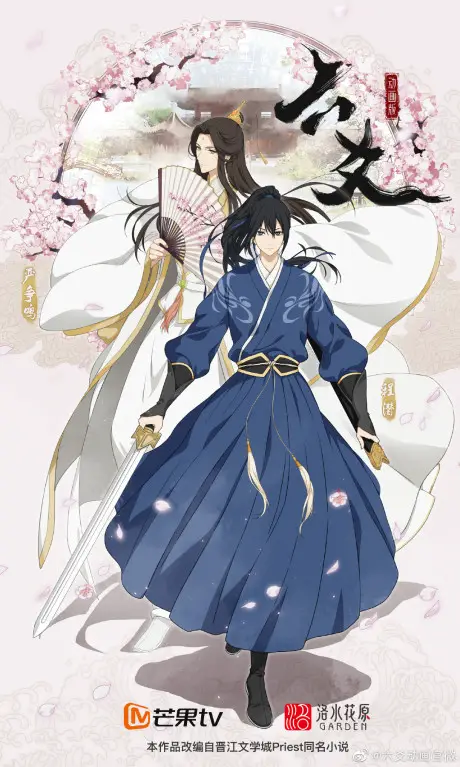 Liu Yao | Alright, so here's another upcoming BL donghua which is adapted from a novel written by Priest, who is one of China's most prolific authors of danmei novels. However, this one is set in Ancient China making it quite different from other works of Priest in this list. It follows a group of sworn brothers as they try to bring back their declining sect's rise in power once again but it won't be that easy.
Related Post: Chinese Boys-Love Anime "Liu Yao" Overview
Thousand Autumns Season 2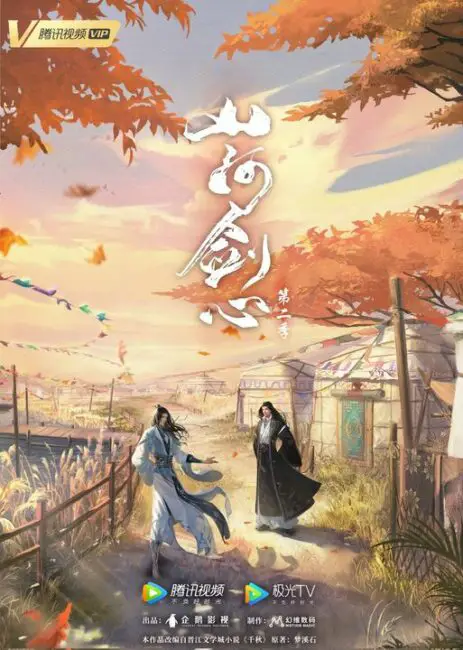 Shan He Jianxin Season 2 | Here's one of my most anticipated Chinese BL anime of 2022, Thousand Autumns Season 2 which will continue where the story left us off last year after giving us a fantastic ride following Yan Wushi and Shen Qiao's quite delicate relationship. Thousand Autumns is one of my best Chinese anime of 2021, thus, I am seriously excited and looking forward to its return after Tencent has listed it as part of their 2022-2023 lineup.
Related Post: Thousand Autumns Season 2 Announced by Tencent
Dragon in Distress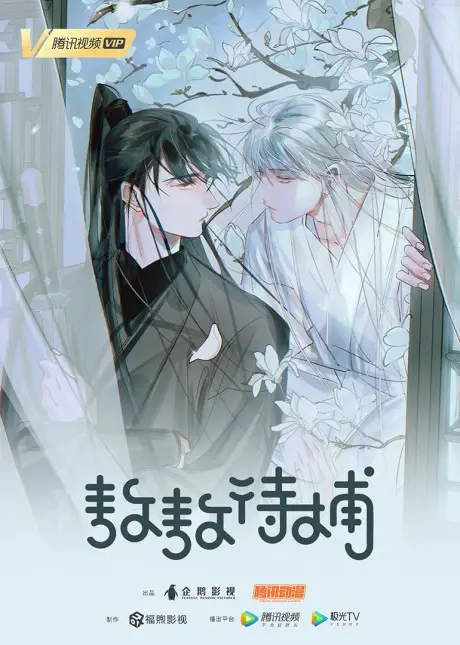 Aoao Dai Bu | The story of dragons falling in love with each other? That may sound absurd but believe me, Dragon in Distress is going to be an exciting slice of life and fantasy BL story to watch out for this 2022 from Studio Foch. Adapted from a Chinese manhua by Yaoyao and Si Wang Wenhua, this upcoming donghua is also known by titles such as AoAo Waiting to Be Eaten (Caught!!).
AWM PUBG Mobile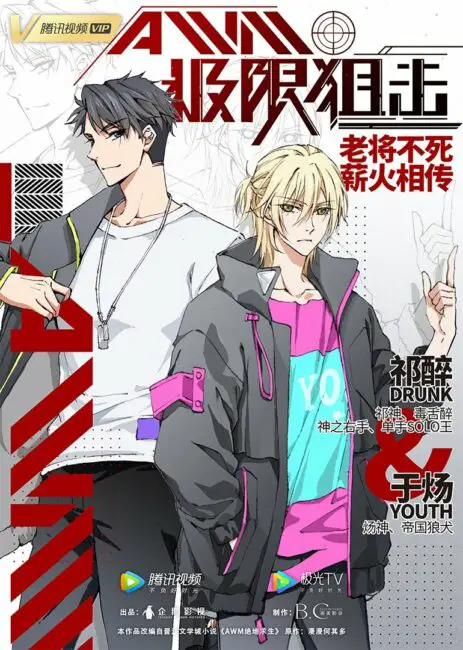 AWM Jixian Juji | When it comes to quality, this is the upcoming Chinese BL donghua that fans should add to their watchlist as it promises a lot. From B.CMAY Pictures, the studio behind Mo Dao Zu Shi, and The King's Avatar Season 1, AWM PUBG Mobile is another action and romance story to keep an eye on and have the e-sports antics that we all love. It is adapted from a Chinese web novel of the same title by Man Man He Qi Duo, and the directing the donghua is Ke Xiong, the director of Mo Dao Zu Shi.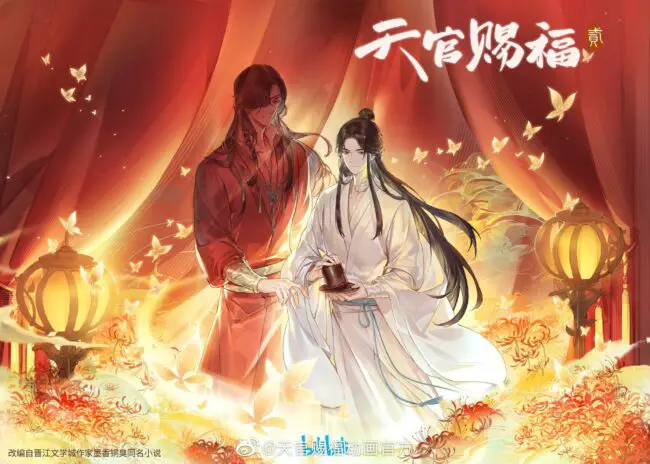 Tian Guan Ci Fu 2 | Oh, Xie Lian and Huan Cheng are coming back to continue the heartfelt and a bit heartbreaking story of their reunion in the highly anticipated Heaven Official's Blessing Season 2. The donghua had been Bilibili's biggest project in 2020 and many fans are anxiously waiting for its return including myself. Last year, it also gets a Japanese dubbed release, further cementing its value as one of the frontrunners among Chinese anime series.
These are only a few of the Chinese Bl anime in 2022 that we should all keep an eye on and we can only expect that we'll get more donghua in this category which hasn't been previously announced last year. So, those are some things that we should also look forward to this year.
Last Updated on September 9, 2022 by Yu Alexius