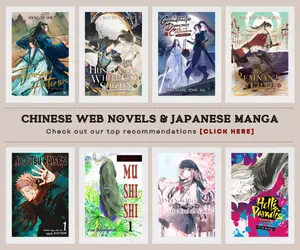 I had the pleasure of watching Heaven Official's Blessing on a marathon a few weeks ago after scolding myself for the fact that it took me a while to finally set my eyes on it. I have been following news and updates about this donghua but it is not my priority on my watchlist at that time, so I am quite late for this for several weeks. Thankfully, I finally got the urge and everything had been history when I started watching it. In the end, Heaven Official's Blessing had been one of my best Chinese anime of 2020 alongside Fog Hill of Five Elements.
First of all, let me say this straight, I am not a reader of the novel or the manhua albeit I have some knowledge about it because I have previously known Mo Dao Zu Shi (Grandmaster of Demonic Cultivation). After all, they are written by the same author. And since I haven't read the novel yet, it makes the experience of watching Heaven Official's Blessing an even more exciting ride. In this post, I would like to share my thoughts about it and what makes it an amazing series, especially to fans of the boys-love genre.
Heaven Official's Blessing Review
Before I proceed with my review of Heaven Official's Blessing donghua adaptation, let's take a look first at the novel where it was based off. The donghua is adapted from Mo Xiang Tong Xiu's boys-love novel Tian Guan Ci Fu or Heaven Official's Blessing. For many fans, we simply call the anime adaptation as TGCF donghua to simplify it.
Synopsis
Xie Lian, the crown prince of Xian Le Kingdom, successfully ascends to Heaven during his third trial in spite of successive demotions. However, he accidentally breaks the Gold Palace of heavenly officials. With no human worshiping him, Xie Lian has to descend to the secular world to exorcise ghosts, which may help him sustain his divinity. (Source: Funimation)
Heaven Official's Blessing is one of Mo Xiang Tong Xiu's boys-love trinity alongside the Grandmaster of Demonic Cultivation and the Scumbag System. The donghua premiered on October 31 as part of the fall 2020 Chinese anime lineup. It is animated by Haoliners Animation League and produced by bilibili. The series is among the new Chinese anime that fans can watch on Netflix this year along with The Legend of Exorcism and The Daily Life of the Immortal King. Furthermore, the series was also released on Funimation and Amazon Prime further proving its popularity.
Trailer
Animation and Graphics
I must say that this is one of the best animations that Haoliners had ever produced in years. It was solid and visually stunning. The fight scenes were decent, it reminds me of those martial arts fights that Haoliners did for Hitori no Shita: The Outcast, and some scenes from Fox Spirit Matchmaker.
What's even more amazing is the interaction of the characters, specifically between Xie Lian and Hua Cheng which was animated spectacularly. I did enjoy the close-ups of the two main characters as if every scene between them had been animated with an intimate approach. It highlights the bond that attached them and the emotions that we hope to see in those moments.
The graphics in the donghua were beautiful and perfectly match the vibes of the story. I enjoyed the scenery when Xie Lian descends into the mortal realm and start building a temple for himself. Those scenes were gorgeous. Albeit, the most spectacular scenery from the donghua is definitely when Xie Lian met Hua Cheng posing as San Lang when they are riding that cart in the woods.
Characters Designs and Development
Alright, among my favorite parts of Heaven Official's Blessing is the character designs. Almost all of them are drawn beautifully especially Hua Cheng who looks perfect smoking handsome and powerful. Xie Lian, on the other hand, looks beautiful, pure, and innocent – his design justifies his personality and there's nothing that I could complain about it.
I am a bit confused though with the appearance of various characters, especially with the generals due to their similarities in appearance albeit they're all pleasing in the eyes.
Xie Lian & Hua Cheng
Here we have the main characters from Heaven Official's Blessing: Xie Lian and Hua Cheng. The chemistry between these two is beyond perfect and among the works of Mo Xiang Tong Xiu, these two radiate the feeling of love and care towards each other. It feels like watching them in the donghua justifies that this series is a real boys-love story. I love the fact that they lived quite like a real couple in that shack.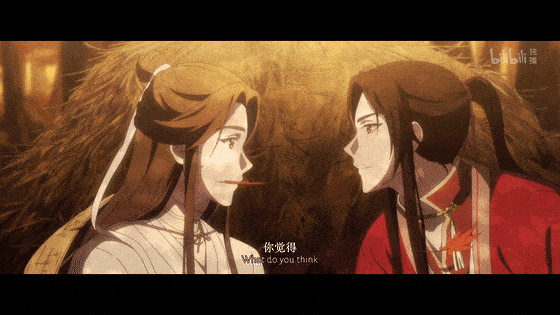 Xie Lian is a genuine pure-hearted character that shines so much, he is like the sun and the humble one. Hua Cheng on the other hand is the mysterious type and acts like the Knight in a Shining Armor which for sure captured the hearts of many ladies out there. We can all see that he genuinely cares for Xie Lian and it seems that there's more to him than meets the eye, and there's a certain thread that connects them in the past. I can't wait to see that in the upcoming Heaven Official's Blessing Season 2.
Fu Yao and Nan Feng
A breath of fresh air, it feels great to have these two beside Xie Lian and Hua Cheng. If I'll give an analogy here, they are like the children of the household. They seem to have an opposing nature which further adds fun to the story and their interaction as a whole. They give even more life and vibrance to Xie Lian's party and are also useful when it comes to a dire situation where Xie Lian needs a helping hand. Although, their presence is also among the source of comedic relief in the series.
There are plenty of characters that caught my attention too, especially Ban Yue, General Pei Jr., and the two ladies that appeared in the latter part of the story in season 1.
Music
We also have a heartwarming and powerful ballad as opening and ending theme songs for Heaven Official's Blessing. The song perfectly fits the mood of the story and it can draw out the emotions of the viewers.
The opening theme is titled Wu Bie and it was performed by Jeff Chang. While, there is 3 ending theme that played throughout the series: Yi Hua Yi Jian by Li Xinyi, Bu San by Isabelle Huang, and Hong Jue by Hu Xia. [Source: My Anime List]
Story
What we have seen so far from Heaven Official's Blessing donghua adaptation is the descend of Xie Lian in the mortal realm as he tries to gather worshipers for himself and avoid another imminent demotion. But before that, he was tasked to solve the cases with the missing brides that haunt a certain human village and it turns out that it was caused by a supernatural anomaly. This event has set the story in motion where he eventually met Hua Cheng, who saves him. That must have been one of the most magical and romantic scenes from the entirety of the series.
The story then followed his journey in the mortal realm as he tries to gain worshipers to avoid another demotion and stabilize himself as one of the gods. There, he once again met Hua Cheng who is posing himself as the enigmatic yet charming human named San Lang. From that, the story progress in a hilarious and interesting development where Xie Lian has to solve various issues that look supernatural and has something to do with the gods and demons. The search for the truth and unravel the conspiracy in front of them has begun.
There's a lot of philosophical ideas and principles that were highlighted in Heaven Official's Blessing. In the foreground, it shows that even gods can be sinners, even demons can have salvation. This is a complex world and this story that is set historically in Ancient China is filled with conspiracies that were driven by many factors. Here, we had seen gods committing sins, demons harming mortals, while some unknown entities can be ambiguous.
One thing I had realized is that in every action there is a drive, there is a reason. Even demons themselves have reasons behind their actions, these actions set the course of the story in motion and they had been driven by their respective desires. For example, one sought vengeance, some seek salvation, and others try to get rid of their misdeeds.
The story despite being posed as supernatural and mystery in nature deals with human emotions and how we see things from our perspective. It shows that anyone can be a victim by their fate, this sometimes leads to tragedy, and what happened beyond. It dares to present situations and questions to the viewers and let us justifies the actions of the characters by showing us their story and where they came from. In the end, it is always up to us, the viewers to judge whether this ending is right or wrong, as to each of our own, we have our respective interpretations of justice, punishment, and fate.
Heaven Official's Blessing Donghua Season 2
I know that it seems quite short to have 11 episodes only for its first season and that is why many of us are craving to see Heaven Official's Blessing Season 2. Albeit it may take a while for our new favorite donghua to return and according to some of my sources, it may come back in 2022. However, we will be having a Heaven Official's Blessing special episode which is set to air on February 16, 2021, at bilibili. So, you guys should check that out, at the very least this could satiate our craving for more intimate scenes between Xie Lian and Hua Cheng.
Last Updated on November 10, 2022 by Yu Alexius