We can all agree that Netflix had been growing in recent years and since 2019, it also touches the gradually rising Chinese animation. While plenty of anime that we can find on Netflix right now are those from Japan, there's a few Chinese anime on Netflix that fans should give a try.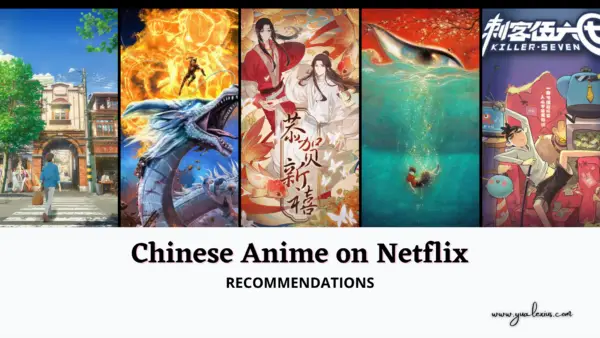 Alright, so I decided to write this post about Chinese anime on Netflix that fans can check because there's a recent announcement that two of bilibili's popular donghua from 2020 are coming on the streaming platform. While the options are only limited right now, it's amazing that non-Chinese streaming services are taking notice of the rising Chinese animation industry.
This is also a good opportunity for the donghua to expand its fandom since there are only a few legal and official outlets of Chinese anime outside of China and unfortunately, fans have to rely on illegal sites to learn about them. This is one way for the avid fans of Chinese anime to support their favorites legally as well as offer more options for the fans who prefer to watch anime the right way.
List of Chinese Anime on Netflix with English Sub
So, what I have here is a list of Chinese anime on Netflix that we can check right now as follows: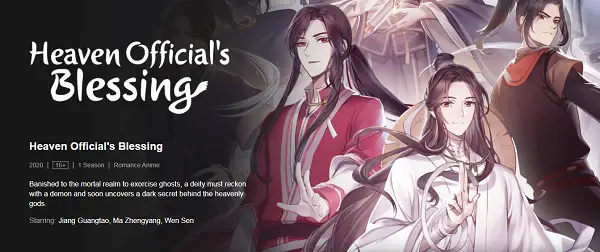 Heaven Official's Blessing
Tian Guan Ci Fu | This boys-love donghua had taken the Chinese anime fandom by storm last year. It's bilibili's most popular work from 2020 along with Carp Reborn. It is also the first Chinese anime to be licensed and streamed on Funimation and we do hope that this is just the beginning of more donghua getting licensed to non-Chinese streaming platforms like Funimation, Netflix, and Amazon Prime.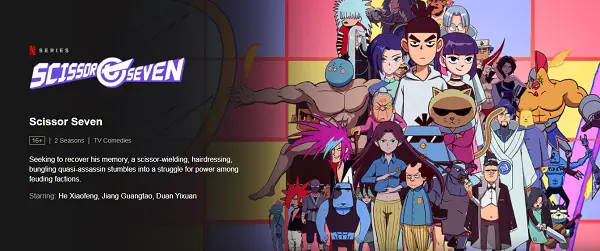 Scissor Seven
Cike Wu Liuqi | Scissor Seven had been one of the action-packed donghua out there. In 2019, it is among the earliest Chinese anime to be added on Netflix with the release of its 2nd season. Last January 28, 2021; Scissor Seven Season 3 officially premiered in China, and hopefully we'll have it too in Netflix soon.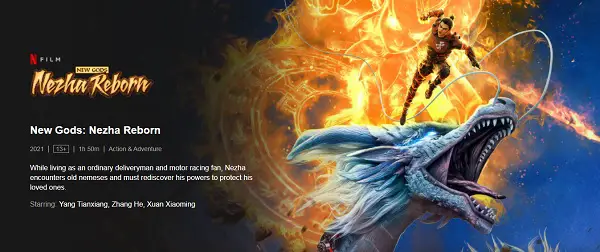 New Gods: Nezha Reborn
Xin Shen Bang: Nezha Chonsheng | A modern take on the Chinese classic story of Nezha from the Investiture of the Gods novel. We had seen Nezha adapted to various media before with the 2019's box office hit Nezha: The Devil's Birth as one of the most recent. However, in 2021, Light Chaser Animation gave us another treat featuring Nezha and that is this film, New Gods: Nezha Reborn which was released last February.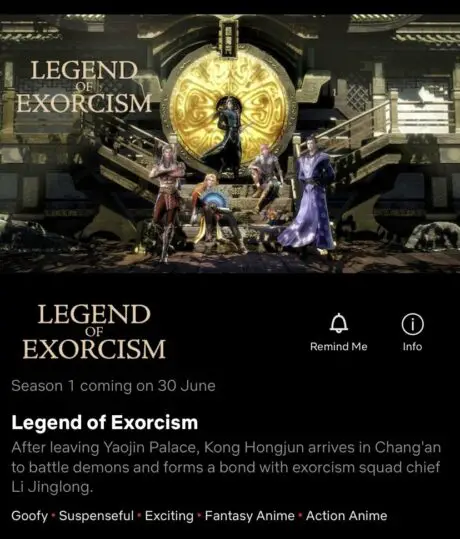 Legend of Exorcism
In an announcement a few days ago, many fans of Tianbao Fuyao Lu (Legend of Exorcism) had been excited because the donghua had been added to the upcoming animation lineup of Netflix. It is scheduled for a premiere on June 30, 2021.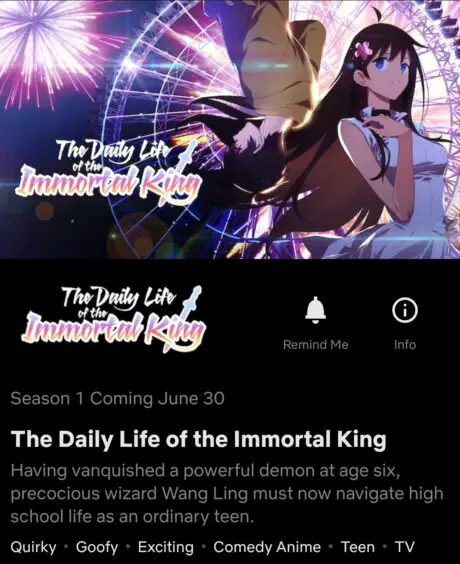 The Daily Life of the Immortal King
Just the right time to prepare for the upcoming The Daily Life of the Immortal King Season 2, the first season of the donghua had been revealed as one of the upcoming lineups on Netflix along with Legend of Exorcism and is also slated on June 30.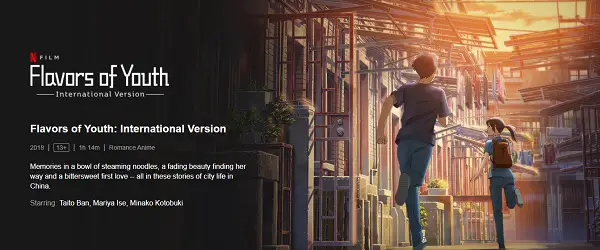 Flavors of Youth (International Version)
The international version of Flavors of Youth (in Japanese dubbed) is also available on Netflix. It is a collaboration project between Japan's CoMiX Waves Films (known for Your Name., and other movies of Makoto Shinkai), and China's Haoliners Animation League (the studio behind Heaven Official's Blessing)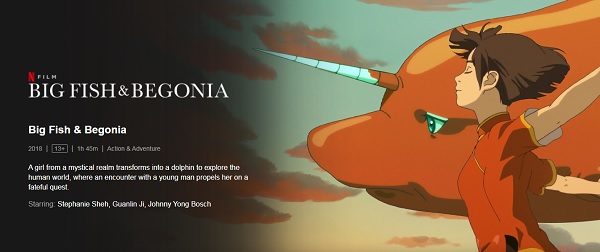 Big Fish and Begonia
Da Yu Hai Tang | Inspired by a classic Taoist tale, Big Fish and Begonia is my favorite Chinese anime movie of all time, and it's one of Netflix's titles on their action archives.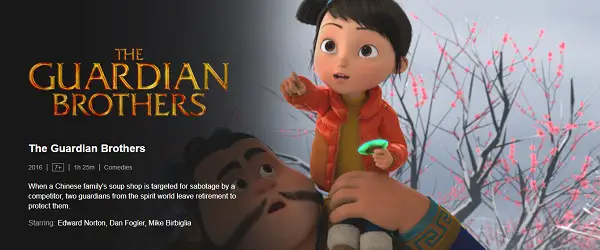 The Guardian Brothers
Xiao Men Shen | Also known as the Little Door Gods, this 2016's Chinese anime film is animated by Light Chaser Animation film, and it offers the usual story that you can found from a Chinese film yet with a heartwarming and fun atmosphere.
Hopefully, we will get more Chinese anime on Netflix in the near future. I shall update this list whenever new donghua were added to the streaming platform. For now, which of these donghua would you like to watch on Netflix? Share your thoughts with us in the comment section below.