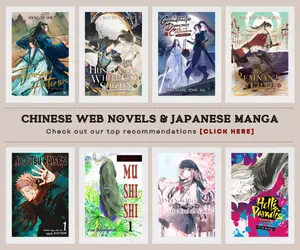 It seems that the boys-love story is thriving among Chinese anime in recent years. Another BL donghua called Mo Du Zhe or Silent Reading is coming this 2021 from the L2 studio. In the past few years, we have boys-love donghua like Mo Dao Zu Shi, Spiritpact, Scumbag System, Legend of Tang, and Heaven Official's Blessing. Upon checking the Chinese anime lineup of 2021, I have also noticed that there's plenty of upcoming donghua which had been based on various danmei novels such as Drowning Sorrows in Raging Fire, Dinghai Fusheng Records, and the highly anticipated Thousand Autumns.
Mo Du Zhe / Silent Reading Overview
In this post, I would like to share some updates about one of 2021's most-awaited Chinese anime and that is Mo Du Zhe or simply known as Silent Reading, a novel which was written by one of China's most prolific web novel authors nowadays, Priest.
Among the upcoming donghua Silent Reading and Drowning Sorrows in Raging Fire are among my most anticipated boys-love story because they are both based on a novel written by Priest and they both have a similar plot and lots of handsome characters which seems like many fujoshi out there will enjoy.
Synopsis
Childhood, upbringing, family background, social relations, traumatic experiences… We keep reviewing and seeking out the motives of criminals, exploring the subtlest emotions driving them. It's not to put ourselves in their shoes and sympathize, or even forgive them; it's not to find some reasons to exculpate their crimes; it's not to kneel down before the so-called "complexity of human nature"; nor to introspect social conflicts, much less to alienate ourselves into monsters. We just want to have a fair trial – for ourselves and for those who still have hope for the world. (Source: Novel Updates)
For reference, fans of Twin Spirit Detectives, Bureau of Paranormal Investigations, and Uncharted Walker will definitely enjoy Silent Reading.
Animation Studio and Release Date
Animating the Silent Reading donghua adaptation is L2 studio which may sound familiar to many fans of Chinese anime in their prior works on Rakshasa Street. L2 studio also animated one of the funniest donghua ever and that is God Troubles Me in 2019. Silent Reading is also produced by Tencent Penguin Pictures and is part of Tencent's 2021 Chinese anime lineup.
The release date of Silent Reading's donghua adaptation is not revealed yet, however, it is listed as part of the Chinese anime lineup from Tencent in 2021, therefore we can expect that it will be released by the first or second quarter of this year. After all, the series is originally slated for Fall 2020 release if it's not that L2 studio had some problem with its release of God Troubles Me Season 2 last year.
Trailer and Character Designs
We have here the official trailer for Silent Reading as well as its respective character trailer where we got a glimpse of the handsome characters that we will follow and the exciting mystery-psychological ride we can expect from it.
Promotional Video
Character trailer
Exhibition Live-Dubbing
The Characters
There are several characters from Silent Reading that we should keep an eye on. We have two main protagonists Luo Wenzhou and Fei Du.
Fei Du is our flirtatious and eccentric main character who is intelligent, bisexual, and a bit arrogant. While Luo Wenzhou is our usual husband-material, he is a confident gay, a bit shameless, and the leader of the criminal investigation unit.
We also have the supporting characters: Khu Tsyao, Syao Khayyan, and Ran Tao.
Together, they are the charming, arrogant, and interesting characters that will give us a fantastic dive into the world of Silent Reading and all the conspiracies awaiting us in this donghua filled with mysteries, crimes and schemes, secret organizations, and a whole lot more.
Where to Watch Mo Du Zhe / Silent Reading?
This is a question that we all share but definitely easy to answer. Wondering where to watch Silent Reading when it is finally released? It will be added to Tencent Video's archives so we can watch it directly on Tencent's official page. They will also release it on the WeTV app which is the streaming channel of Tencent for their viewers outside of China.
Last Updated on June 5, 2023 by Yu Alexius