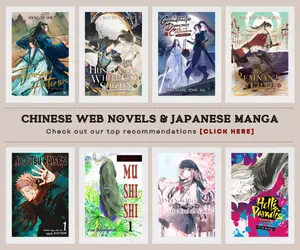 Chinese animation had been rising these past few years and it's amazing to see a new set of astounding anime titles getting the attention they deserve. As Chinese anime shows rise in popularity and if we take a look at the list of Chinese anime every year, we could see that there's a rapid increase in its volume starting 2016, it's always a good thing to have many options for the anime viewers. From a personal perspective, I'd been a fan of Chinese anime since 2017 ever since The King's Avatar captivated my heart and I've been binge-watching different donghua (Chinese animation) since then.
The Chinese animation industry may not be as large as the Japanese animation and its community; however, it also has wide arrays of interesting genre worth checking out. Though Martial-arts or cultivation anime had been the most popular as well as the romance-comedy series, these genres were among the most rampant in the Chinese anime community. Nowadays, cultivation anime was mostly based on popular Xianxia web novels or light novels which typically appeal to the viewers who like the shounen-genre. Another noteworthy genre that dominates Chinese animation these days is comedy and I really love how the traditional Chinese culture could be easily fitted with varying sense of humor from different generations.
In fact, there are plenty of funny Chinese anime with very effective humor no matter what the timeline of the story is – may it be a historical anime, or set in modern era, even those anime with story set in alternate universe or an isekai; comedy anime from China were efficient in injecting parodies too from different culture around the world.
In this list, I will share 5 of the best Chinese comedy anime that I had seen and I do hope that this donghua will also make you smile, and laugh – hoping it could take away a single ounce of stress from your system. Nonetheless, if you prepared yourself to embark on watching them, I highly advise you to be strong as comedy anime from China is seriously different from the other comedy anime that you might have seen before.
Best Comedy Anime from China
Everlasting Immortal Firmament
Wangu Xian Qiong – First on our list is a hilarious one and definitely among the most ridiculous and absurd anime series that I had seen so far. It is a parody, a kind of satire with utmost sarcasm – Everlasting Immortal Firmament could also be an isekai but quite a confusing one or maybe it's just me who cannot comprehend some of its underlying clichés. Although, Everlasting Immortal Firmament's humor is quite harsh and holds no bar as its jokes could be dirty and even fitted with heavy racism. However, if you wouldn't mind those aspects, I am sure that you'll have a great time having those hilarious smiles carved on your face while watching this Chinese anime.
Psychic Princess
Tong Ling Fei – Here we have a shoujo on our list as Psychic Princess is one of the best Chinese romantic comedy anime in existence. This Chinese anime is another historical drama but with a heroine who is quite ahead of her time and that's what makes this series interesting. Imagine having some crazy hilarious female protagonist who is not a damsel in distress and her prince charming – a tsundere prince who is always doubtful about his lady. I felt like he might be trying to compete against Seiya Ryuuguuin from Cautious Hero for being overly cautious and doubtful (haha, pun intended).
In the end, Psychic Princess had been a great ride filled with an amazing combination of romance, comedy, action, and absurd hilarious cliché. Although, I am sharing the same sentiments with almost everyone who had watched it that the anime ended as a cliffhanger – thus, we all need Psychic Princess Season 2 as soon as possible, and yes this is a psychotic order from its fans.
Related Post: Top Anime Like Psychic Princess (Tong Ling Fei)
100,000 Bad Jokes
Shi Wan Ge Leng Xiaohua – We have here a dangerous anime; yes a dangerous one because it can destroy some long-established impressions that we have about various topics from our childhood days. 100,000 Bad Jokes accumulated a total of 3 seasons of anime series and 2 side story films which simply proved that these anime have plenty of ways to entertain us in the most hilarious way. The short anime which runs for only 7-minute per episode is an outstanding comedy-parody series that brings different takes on various topics including classic literature, folktales, modern comics, and animations from different parts of the world.
Lu's Time
Lu Shidai – Also known as League of Legends the animation by some viewers – Lu's Time is an interesting take on online players of the game League of Legends (LOL). Although it inclines more in absurd humor and random cliché of teenagers' life, Lu's Time actually has good fight scenes at some point, especially inside the game – which reminds me of The King's Avatar although Lu's Time was released several years before phenomenal e-sports anime (The King's Avatar) bring the donghua industry into its new height in 2017.
I really enjoyed that the romance aspect was still able to insert into its story despite how chaotic most of its episodes were due to the heavy dosage of vulgar humor in it. Nonetheless, I truly enjoyed watching Lu's Time but I wouldn't dare to watch this in public since some of the humor here was just simply blatantly disgusting.
JX3: Chivalrous Hero Shen Jianxin
Alright, we have another interesting Chinese anime here and it's a funny combination of parody and cultivation story in an almost isekai setup. Just like any other cultivation anime, JX3: Chivalrous Hero Shen Jianxin's main hero learns a secret technique accidentally (this cliché is very common in Chinese anime though), and as he strives to become a legendary hero, he embarked on a journey and experience life in the pugilistic world during the Tang Dynasty (sounds like an isekai, right?) – from there, his journey to becoming a legendary hero began.
When I first saw that trailer of JX3: Chivalrous Hero Shen Jianxin, I thought I have heading into another experience of Everlasting Immortal Firmament but such is not the case as this anime offered a different type of tea than the other.
Are You Okay?
You Yao – If there's a hilarious way to make a parody out of an isekai anime, then Are You Okay? is definitely that show. It's funny, obnoxious, and used all the familiar isekai cliche that makes the fans go crazy laughing as they feel the sense of deja vu in it.
All Saints Street
It's more of an adorable series than a hilarious one but still can be considered a comedy. It follows the story of supernatural creatures such as demons, angels, vampires, mummies, and werewolves in their daily life under one roof.
Related Post: Top Similar Donghua to All Saints Street
The Furious Yama
Now here's another obnoxious Chinese anime that didn't fail to make me laugh. It's funny, it's cute, it's adorable, and with some sort of weird action scenes. At the end of the day, it is still an amusing parody story of the Queen of the Underworld who's particularly faking everything as she, herself still has a weakness that she must overcome.
The Daily Life of the Immortal King
Here, we have One Punch Man meet The Disastrous Life of Saiki K. This donghua has many similarities with The Disastrous Life of Saiki K. and it's just obnoxious how effective the comedic relief is here despite seeing it a couple of times from other series. If you're up for something funny without being critical, The Daily Life of the Immortal King is a donghua that you shouldn't miss it.
Related Post: 10 Chinese Anime Like The Daily Life of the Immortal King
Further Recommendations
Another comedy donghua that you might find interesting is as follows:
Hitori no Shita (the 2nd season was a pure blast of parody and a good laugh)
My Senior Martial Brother Has a Pit on His Brain
God Troubles Me
It Starts with a Mountain
Flowers Bloom Beautifully
Busted! Darklord.
Spare Me, Great God!
No Doubt In Us
Non-Human
The Pinnacle
Salted Fish
I Might Be A Fake Cultivator
Well, that ends my list of best Chinese comedy anime and I do hope that you'll enjoy watching it the same way I did. There might be some rough times with it especially those with an absurd and shameless plot, but it's definitely worth it to see it through to the end. If you're a sucker for comedy anime, then this list is definitely for you. Are you still wanting more? Why not check our list of recommendations here: My Top Recommended Chinese Anime List.
In case you have watched any of this anime, can you tell me your thoughts about it? I'll be happy to learn about your experience while watching it, you may leave your comment below to share your thoughts.
Last Updated on November 5, 2022 by Yu Alexius