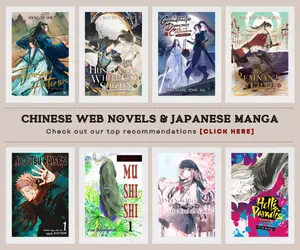 Wan Sheng Jie or All Saints Street is one of 2020's most adorable Chinese anime ever and I can't just have enough of it. Despite having aired 2 seasons this year, it seems that those were not enough to satiate my craving for more All Saints Street vibes as Neil Bowman aka Nini, and the rest of the gang just keeps on giving us a hell of a fun and hilarious experience.
All Saints Street first aired on April 1 as part of Tencent Video's Chinese anime lineup for 2020. It runs for 12 episodes and returned for its second season in October. The first season of All Saints Street had given us a glimpse at the daily life of these cute supernatural creatures in the human world. We have a cute demon, a cool vampire, a mummy, and a strict angel as their landlord. Later on, another angel joined them, and the hilarious and clueless werewolf makes the whole experience a fun one. Yes, All Saints Street characters sure are fun to be with, and its 2nd season further adds more to spice up the experience and that is Neil's older half-brother Nick.
As we're craving for more of All Saints Street, I have listed here some more Chinese anime that you may want to check. It has similar vibes and at some point, similar elements and plot with All Saints Street. Without further ado, let's start our list as follows:
Non-Human (Fei Ren Zai)
On top of our list is Non-Human, it's animated by the same studio that gave us the All Saints Street. What's even more amazing and interesting is that it has a similar story to it. All Saints Street have foreign supernatural characters, Non-Human have Chinese supernatural creatures in its story. If you're simply looking for any Chinese anime like All Saints Street, then this is the best one that you should start with.
The Furious Yama (Dawang Bu Gaoxing)
Here's another short Chinese anime on our list, it's The Furious Yama which was produced by bilibili. It follows the story of the young leader of the Underworld and her funny encounters as she served her role. She's a scaredy-cat despite having enormous power and influence, what's even worse is that she's afraid of ghosts. Good thing, there's the supporting characters that served as her bodyguards, assistance, and gag partners. This is the anime where we see some of our favorite gods and deities from Chinese mythology doing something funny. Check our review of The Furious Yama Season 1 here.
My Senior Martial Brother Has a Pit on His Brain
Imagine getting yourself transmigrated or reincarnated as the villain or a minor characters in a story, that sure is a terrible life to be reborn, isn't it? However, such is the case with this Chinese anime titled My Senior Martial Brother Has a Pit on His Brain or also known as Our Big Brother's Brain Has a Pit which was adapted from the manhua titled Wo Jia Dashi Xiong Naozi You Keng. Upon reading its plot and watching it, you'll its similarities to HameFura (My Next Life as a Villainess: All Routes Leads to Doom!) and the Scumbag System. They all focus on one central element – the reincarnated main character have to avoid their death from the hands of the true hero or heroine from the world they had been reborn. This is a fun and hilarious donghua to follow and just like All Saints Street, it has all the good vibes that you wish you can get with its Chinese humor.
The Legend of Hei / The Legend of Luo Xiao Hei
Next on our list is The Legend of Luo Xiao Hei, a heartwarming and cute Chinese anime that many locals from China have come to love. It follows the story of a forest spirit and all the creatures he had encountered along the way. It's a bit of comedy and pure good vibes, one that suitable for children to watch too and has plenty of moral lessons to teach to its viewers. Its prequel movie The Legend of Hei which was released in 2019 also showcases spectacular animation and fight scenes and a heartwarming story. According to Sweet Animated Films' blog, The Legend of Hei is a worth checking out anime movies.
Mo Dao Zu Shi Q
Who wouldn't fall in love and speak how adorable Mo Dao Zu Shi Q is? This short-chibi donghua is a spin-off of Mo Dao Zu Shi (Grandmaster of Demonic Cultivation) which was the best Chinese anime of 2018 and I still think that it's one of the most amazing animated series that China has produced so far. Now, just like All Saints Street, Mo Dao Zu Shi Q is up to catch your heart through its funny and cute antics, which revolves around the hilarious interactions of the characters.
Please Take My Brother Away
A funny sitcom that people who love straight in the face humor will enjoy while also having some serious puns at some point. Please Take My Brother Away is follows the story of siblings where the younger sister is annoyed with the presence of her older brother. Despite having a shorter length of episodes, this is a great Chinese anime to binge-watch especially if you want to smile and relax, it has a total of 4 seasons available so far.
This is where I shall end this list, albeit there might be some more donghua out there with similar plot or characteristics with All Saints Street. I will update this list once more for further recommendations.
Last Updated on November 10, 2022 by Yu Alexius