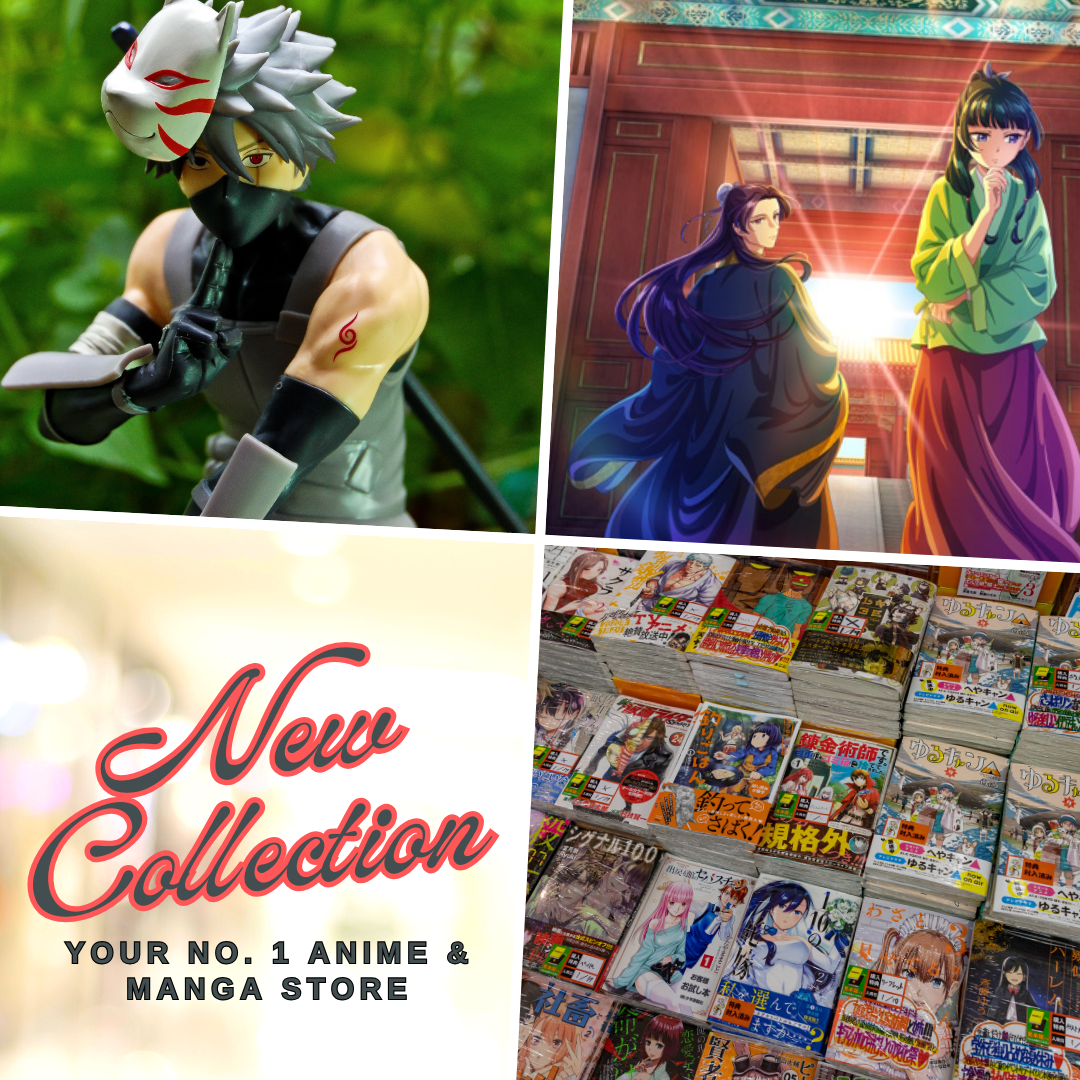 Hey guys, I am back to discuss one of the most surprisingly beautiful and fun Chinese anime of 2020 and that is All Saints Street which was released last April 1 as part. Throughout the whole run of All Saints Street anime adaptation, it was able to give us an adorable experience and tons of great dosage of humor.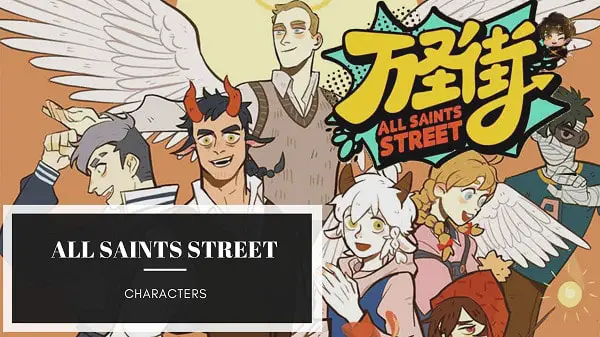 While it may look like our average American cartoon, the animation quality of All Saints Street is pretty good and the comic relief in it is purely genuine. What's even more amazing about it aside from its fantastic animation, are the adorable characters that caught our hearts. Yes, All Saints Street characters are among the biggest factor why the anime had been effective. And we are getting more of them in the upcoming All Saints Street Season 2 as some ore characters are joining them.
If you're wondering who are the characters from All Saints Street, you shouldn't worry as we will introduce them to you one by one. In this post, I would like you guys to meet the characters of All Saints Street that appeared in the anime adaptation so far. A short overview of All Saints Street anime – it was based on a popular Chinese webcomic titled All Saints Street: 1031 or 1031 All Saints Street by author Lingzi. It is about a group of foreign monsters (vampire, demons, mummies, angels, etc) living their life in modern-day China, and adjusting to the environment and society around them. All Saints Street shares the same universe as Fei Ren Zai or Non-Human, another work of Lingzi. The anime adaptation was streamed on Tencent's official site and an English subtitles at Percy's YouTube channel. The Nerdy Girl also shared her review of the donghua here: The Cutest Cast for the Spookiest Season: Wan Sheng Jie Review
Now, let's meet the characters of All Saints Street that made the whole experience of watching the anime an amazing one despite its short duration of runtime.
All Saints Street Opening Theme
First, I would like to share the opening theme of All Saints Street here. It has all the characters that I'll introduce in the next section too. This opening theme is possibly one of the most adorable and cutest I'd seen from any anime series so far.
All Saints Street Characters 
Neil Bowman
Also known as Nini, Neil Bowman is the main protagonist of All Saints Street. Neil is part of the Demon species and was listed with Australian nationality. The anime was shown following his journey when he first set foot on 1031 All Saints Street and his daily encounter with his supernatural roommates. Neil is a young demon with wavy white hair and brown, short horns. His ears resemble those of a goat, since it is his true form. Despite having the appearance of a teenager, Neil is actually an adult. He has a half-brother whose name is Nick Hoult.
Nini was quite the naive type but I believed that further adds more charm to the character. Unfortunately, this has been among the source of comic relief in the anime as his roommates usually fooling around with him adorably. Nini also loves animals as seen when he is working on a pet shop filled with supernatural creatures.
Ira Blood
Here we have a video content creator who came from the Vampire race. Yes, as affiliated with his surname Blood, Ira is a vampire and someone whom any one of us could relate ourselves with. He is British and he enjoyed creating video content with topics about beauty and gaming, yeah just like any other Vlogger out there nowadays. Furthermore, he's an otaku whose graphic t-shirts are related to gaming and pop culture, which was seriously cool. Oh wait, he also knows how to apply make up and even did a presentation in one of his shows.
Ira is from a high ranked family of vampires and was the first individual that Nini met when he arrived at 1031 All Saints Street. He even made a prank on Nini's first day in the house. In fact, it's not only Nini who had experienced his blackmailing side, but even our adorable werewolf Damao also did so, and I'm sure even the other characters in the story too.
Damao
Next in our list is the somewhat hot yet clueless werewolf in All Saints Street story and it's Damao. If there's any signatures that we can link with Damao, it's seriously being always shirtless most of the time, and clueless all of the time. He had been the main source of comic relief in the anime but this only makes his presence even more adorable and fun to watch, especially when Ira is making fun of him, or when his werewolf side is taking over.
Damao is from Russia and he was sent to China to spy on the newly born Demon King who happens to be Neil Bowman. In an unfortunate series of events, he ended up to 1031 All Saints Street when Ira brought him in. There, he was caught surprised to learn that he'll be living under the same roof with the same person that he's spying on. This leads to a hilarious relationship between Damao and Neil.
Lynn Angel
Here we have the strict landlord at 1031 All Saints Street. He is an Angel and a Canadian who's working as a Chinese Teacher. He is quite the clean-freak too and he can easily get mad at those who don't do their chores. His involvement with Neil is few compared to Ira and Damao, however, he seems likes to be the older brother figure in the group. Fun fact, Lynn is floating while sleeping. His age is estimated to be around 450 years old. According to All Saints Street fandom page, Lynn has a total of 107 PhDs and he has an irrational fear of aliens.
Lily Angel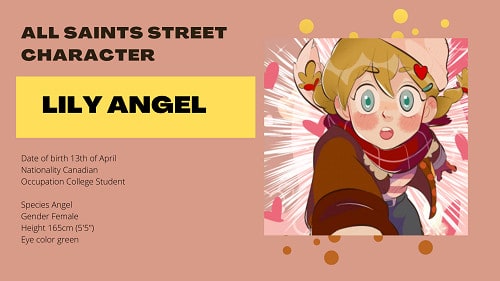 We have Lynn's younger sister here, and that is Lily Angel. This cute yet quite rebellious angel seems to be the love interest of Neil Bowman. Her personality is far different from her brother, she's quite the laid-back type and cheerful who always smile.
Abu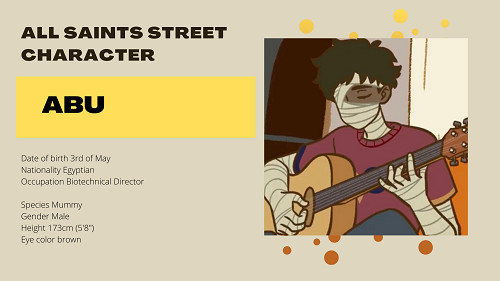 Our Egyptian mummy is here whose presence accounted for 1% only throughout the run of All Saints Street anime series. Nonetheless, it is enough for us viewers to remember this awesome and cool guy. As a mummy, Abu is the oldest in the entire apartment and seems like to be royalty. He was only seen in the background most of the time throughout the whole season but it seems he'll play some big role in the highly speculated All Saints Street Season 2.
Nick Hoult
Yes, we might have All Saints Street Season 2 since this guy wasn't introduced in the anime yet but he appeared in the effing cute opening theme of the series. Nick Hoult is the half-brother of Neil Bowman and it seems that we will see him soon in case season 2 will officially come.
Nick is among the main characters of All Saints Street in the webcomic, and we can assume that he'll big an important character in the anime's season 2. Fans of the webcomic seem to think that Nick is the sexiest character in the series, and whether that's true or not, we will find that out soon. Just like Neil, Nick could also transform into his true form which is a black-furred goat.
Where to Watch All Saints Street Anime?
Now that we had met the characters from anime, it's about time for people who hadn't seen it yet to watch All Saints Street immediately. It's available at Tencent Video's official website and selected channels on YouTube:
There were only few of the characters from All Saints Street anime series that we loved. There'll be some more characters coming soon when All Saints Street Season 2 will be officially confirmed. If you hadn't seen All Saints Street yet, I am telling you to check it out because it is golden and a furball of sunshine and positivity. Wanting for more Chinese anime shows? You may check our list of recommended Chinese anime series through the years here:
References:
Last Updated on March 5, 2022 by Yu Alexius