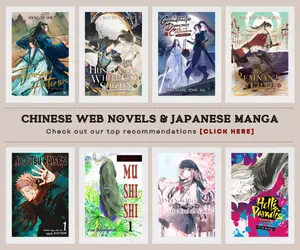 The journey into Chinese animation or what we called donghua had opened the path for me to a bigger adventure and that includes learning more about Chinese web novels which had been one of the source materials for some of my favorite donghua. For example, The King's Avatar is one of my gateway series into donghua and it was adapted from a web novel series that also inspired a manhua adaptation.
The King's Avatar is only one of those donghua that has been adapted from a web novel and such is the case too for tons of Chinese anime out there. In line with this, I will be sharing 33 of the best Chinese web novel that every donghua fan of the shounen or xianxia genre out there should give a try. The majority of these Chinese web novels are xianxia or cultivation; a genre that is unique only to Chinese culture in the sense that the rich history of China and its people are reflected in a fictionalized fantasy setting.
However, we also have various Chinese web novels from other genre and includes interesting key elements such as transmigration and reincarnation, Japanese anime and manga fans are more familiar with this in term of isekai. The classic genre of romance, adventure, action, are also present together with the unique humor that is only present in Chinese culture. So, let's start our list as follows:
Top Chinese Web Novel Recommendations
Author: Mo Xiang Tong Xiu
Synopsis
As the grandmaster who founded the Demonic Sect, Wei WuXian roamed the world in his wanton ways, hated by millions for the chaos he created. In the end, he was back-stabbed by his dearest shidi and killed by powerful clans that combined to overpower him. He incarnates into the body of a lunatic who was abandoned by his clan and is later, unwillingly, taken away by a famous cultivator among the clans—Lan WangJi, his archenemy.

Source: NU
Related Post: Top Anime and Donghua Similar to Mo Dao Zu Shi (Grandmaster of Demonic Cultivation)
Monster Pet Evolution
Author: Wine Pool Inebriation
Synopsis
Three years ago, the animals and plants on Earth underwent crazy and unexplainable changes that included transformations, reversions, and the addition of otherworldly species. And it was the start of a brand-new type of profession in the new generation of humanity – Monster Trainers, people who specialized in taming monsters. On his 18th birthday, the protagonist of the story, Gao Peng, suddenly received the ability of being able to see the attribute data frame of monsters. With his ability, he aspired to become the strongest monster trainer that ever lived while looking for a method to revive his parents!

Source: Qidian
The Anarchic Consort
Author: Warring Young Seven
Synopsis
She, a 21st century mercenary queen, had crossed over into a tragically betrayed body of a waste. Waste? She will show them what it means to be a waste! Betrayed? With the Ancient Manual in her hands, she will astonish all the despicable men and cheap women! Wait! Didn't everyone say that she was an evil woman which everyone feared? Why is his Third Highness, full of mystery and charisma, so interested in her?

Source: Qidian
Related Post: Top Chinese Isekai Anime That You Should Watch
Author: Meatbun Doesn't Eat Meat
Synopsis
Mo Ran felt that taking Chu Wanning as his master was a mistake. His Shizun was just so similar to a cat, while he was like a silly dog. He originally thought that dogs should be with dogs, like his senior brother, who was beautiful and docile, like a cute Japanese Spitz. They would look so good together. But after dying and coming back to life, the one he'd brought back to his den both times was that snow-white kitty Shizun that he didn't even have his eye on at first.

Source: NU
Author: Mad Snail
Synopsis
Nie Li, the strongest Demon Spiritist in his past life standing at the pinnacle of the martial world. However, he lost his life during the battle with Sage Emperor and the six deity ranked beast, his soul was then reborn back in time back to when he is still 13. Although he's the weakest in his class with the lowest talent at only Red soul realm, but with the aid of the vast knowledge which he accumulated from his previous life, he trained faster then anyone. Trying to protect the city which in the coming future was being assaulted by beast and ended up being destroyed as well as protecting his lover, friends and family who died by the beast assault. And to destroy the Sacred family whom abandon their duty and betrayed city in his past life.

Source: MU
Related Post: 10 of the Best Chinese Anime Like Tales of Demons and Gods
Immortal and Martial Dual Cultivation
Author: Yue Ru Huo
Synopsis
Reach the peak of immortal cultivation and become able to run amok without fear! Use the power of martial arts to rule the world and defeat heroes! The weather changes at the whim and wave of a palm. He who cultivates both immortal techniques and martial arts, who could possibly defeat him!? Xiao Chen is a shut-in who purchased a 'Compendium of Cultivation'. Soon after, he crossed over into the Tianwu World, a world ruled by martial arts. He then refined pills, drew talismans, practiced formations, crafted weapons and cultivated the Azure Dragon Martial Soul that had not been seen for thousands of years.

Source: NU
Martial World
Author: Cocooned Cow
Synopsis
In the Divine Realm, countless legends fought over a mysterious cube. After the battle it disappeared into the void. A young man stumbles upon this mystery object, opening a whole new world to him. His name is Lin Ming, and this is his road of martial arts.

Source: Wuxiaworld
The King's Avatar
Author: Butterfly Blue
Synopsis
In the online game Glory, Ye Xiu is regarded as a textbook and a top-tier pro-player. However, due to a myriad reasons, he is kicked from the team. After leaving the professional scene, he finds work in an Internet Cafe as a manager. When Glory launches its tenth server, he who possesses ten years of gaming experience once again throws himself into the game. Bringing with him the memories of his past and an incomplete, self-made weapon, his return along the road to the summit begins!

Source: MU
Related Post: The King's Avatar Anime vs Live-Action – Which Adaptation Did Better?
Author: Gu Zhen Re
Synopsis
A story of a villain, Fang Yuan who was reborn 500 years into the past with the ChunQiu Cicada he painstakingly refined. With his profound wisdom, battle and life experiences, he seeks to overcome his foes with skill and wit! Ruthless and amoral, he has no need to hold back as he pursues his ultimate goals. In a world of cruelty where one cultivates using Gu – magical creatures of the world – Fang Yuan must rise up above all with his own power.

Source: Qidian
Author: Heng Sao Tian Ya
Synopsis
Traversing into another world, Zhang Xuan finds himself becoming an honorable teacher. Along with his transcension, a mysterious library appears in his mind. As long as it is something he has seen, regardless of whether it is a human or an object, a book on its weaknesses will be automatically compiled in the library. Thus, he becomes formidable.

"Emperor Zhuoyang, why do you detest wearing your underwear so much? As an emperor, can't you pay a little more attention to your image?" "Fairy Linglong, you can always look for me if you find yourself unable to sleep at night. I am skilled in lullabies!" "And you, Demon Lord Qiankun! Can you cut down on the garlic? Are you trying to kill me with that stench?"

Source: NU
Heaven Official's Blessing
Author: Mo Xiang Tong Xiu
Synopsis
Eight hundred years ago, Xie Lian was the Crown Prince of the Xian Le kingdom; one who was beloved by his citizens and the darling of the world. Unsurprisingly, he ascended to the Heavens at a very young age. Now, eight hundred years later, Xie Lian ascends to the Heavens for the third time as the laughing stock of all three realms. On his first task as a god, he meets a mysterious demon who rules the ghosts and terrifies the Heavens……yet unbeknownst to Xie Lian, this demon king has been paying attention to him for a very, very long time. Source: NU
Related Post: Top 10 Anime and Donghua Like Heaven Official's Blessing
Dragon Prince Yuan
Author: Tian Can Tu Dou
Synopsis
Destiny stolen at birth, the prince of the once mighty Great Zhou Empire, Zhou Yuan, has been plagued by a fatal poison till fate draws him to mysterious domain where he meets a beautiful girl in green, a bizarre dog-like creature an unfathomable old man in black. Join Zhou Yuan as he is thrust into the whirlpool of destiny while he seeks the pinnacle of cultivation. [Source: Wuxiaworld]
Related Post: Dragon Prince Yuan Novel Receives Anime Adaptation
Author: I Eat Tomatoes (Wo Chi Xi Hong Shi)
Synopsis
Empires rise and fall on the Yulan Continent. Saints, immortal beings of unimaginable power, battle using spells and swords, leaving swathes of destruction in their wake. Magical beasts rule the mountains, where the brave – or the foolish – go to test their strength. Even the mighty can fall, feasted on by those stronger. The strong live like royalty; the weak strive to survive another day. This is the world which Linley is born into. Raised in the small town of Wushan, Linley is a scion of the Baruch clan, the clan of the once-legendary Dragonblood Warriors.

Their fame once shook the world, but the clan is now so decrepit that even the heirlooms of the clan have been sold off. Tasked with reclaiming the lost glory of his clan, Linley will go through countless trials and tribulations, making powerful friends but also deadly enemies. Come witness a new legend in the making. The legend of Linley Baruch. [Source: Wuxiaworld]
Forty Millenniums of Cultivation
Author: The Enlightened Master Crouching Cow
Synopsis
"Even if this universe is truly nothing more than a brutal, bloody, shadowy forest, we Cultivators will burn all that we have just to give off a single weak flickering spark in the darkness! "No matter how weak each spark is, how short-lived, how small… As long as the sparks flow unabated, then one day one of those sparks will light some tinder, and that tinder shall light some fallen branches, and those branches shall set ablaze each and every last tree of the forest! "In the end, even the smallest sparks will eventually set the shadowy forest ablaze and illuminate the whole world!"

Source: Qidian
Reincarnation of the Strongest Sword God
Author: Lucky Old Cat
Synopsis
Starting over once more, he has entered this "living game" again in order to control his own fate. This time, he will not be controlled by others. Previously the Level 200 Sword King, he will rise to a higher peak in this life. Methods to earn money! Dungeon conquering strategies! Legendary Quests! Equipment drop locations! Undiscovered battle techniques! Even the secrets Beta Testers were unknowledgeable of, he knows of them all. Massive wars, life advancement, entering Godhood, sword reaching to the peak; a legend of a man becoming a Sword God has begun. [Source: NU]
True Martial World
Author: Cocooned Cow
Synopsis
With the strongest experts from the 33 Skies the Human Emperor, Lin Ming, and his opponent, the Abyssal Demon King, were embroiled in a final battle. In the end, the Human Emperor destroyed the Abyssal World and killed the Abyssal Demon King. By then, a godly artifact, the mysterious purple card that had previously sealed the Abyssal Demon King, had long since disappeared into the space-time vortex, tunneling through infinite spacetime together with one of Lin Ming's loved ones.

In the vast wilderness, where martial arts was still slowly growing in its infancy, several peerless masters tried to find their path in the world of martial arts. [Source: Qidian]
Monster Paradise
Author: Nuclear Warhead Cooked in Wine
Synopsis
Lin Huang was a 15-year old boy from Earth, on a path to live his life in a world full of monsters. With his younger sister in his care, and given only 91 days to live, the odds were not in his favor at all… That is until, he killed a vicious vampire, purely by accident. With a twist in his tale, his life was changed completely. As he fought his way through this world with the help of his troops made of men and monsters, the boy sets his sights on a much larger ambition of becoming the greatest monster hunter in the world! [Source: Qidian]
I Shall Seal the Heavens
Author: Er Gen
Synopsis
The story of the young scholar Meng Hao, who gets forcibly recruited into a sect of immortal cultivators. In the cultivation world, the strong prey on the weak, and the law of the jungle prevails. Meng Hao must adapt to survive. What does it mean to "Seal the Heavens?" This is a secret that you will have to uncover along with Meng Hao! [Source: Wuxiaworld]
Versatile Mage
Author: Chaos
Synopsis
He woke up in a familiar world that had vastly changed. His familiar school had become a mystical school that teaches magic, encouraging everyone to become a mighty magician. Outside the city, many wandering magical beasts and monsters attacked and preyed on humans. His world of advanced science changed into one that praised magic. Despite this, his ambition in life, and his social status remained the same; one of the dregs of society with a struggling father and a disabled step-sister that couldn't walk. However, Mo Fan found that when most people could only practice a single major element of magic, he was a Versatile Mage! [Source: Qidian]
Related Post: 10 Chinese Anime like Quanzhi Fashi (Full-Time Magister)
Quickly Wear the Face of the Devil
Author: Feng Liu Shu Dai (author), Casanovanic Bookworm (artist)
Synopsis
A top hacker was chosen by the Lord God to be reborn into countless worlds, always as an expendable villain. With no free will, every world became a dead end. Every one of his lives ended tragically. Finally, after wresting control of the Villain System, this ace hacker decided to enact revenge. Even if his very bones were rotten, he'd choose to occupy the very heights of morality, if only on the surface. Thus, he would change his fate as an abused slag. [Source: MU]
Game Loading
Author: Long Qi
Synopsis
Xie Xi was someone with luck off the charts! The advantage was that any game could be easily cleared. The disadvantage was that all games were boring! Then one day, the words 'Game loading' appeared in front of his eyes and he began to clear real games! The emperor of luck ran into a bottleneck in the first game. [Source: NU]
Every Day the Protagonist Wants to Capture Me
Author: Qing Duan
Synopsis
Transmigrated into the body of a cannon fodder villain, Chu Yu has three major worries: How can he help the protagonist turn into a real harem master, how can he develop a good relationship with the protagonist, and how can he live properly without holding on to the protagonist's thigh? The protagonist has three major worries: Eldest disciple brother has changed, eldest disciple brother has really changed, and how can he marry eldest disciple brother? System: Congratulations! ~ Sprinkle Flowers ~ Grow Old Together Happily! [Source: NU]
The Good for Nothing Seventh Young Lady
Author: North Night
Synopsis
She was the godly thief of the 24th century, yet she was reincarnated as a good-for-nothing idiot with no parents. Not only that, she had to bend her will according to her relatives' mood. Idiot? Trash? Very well, sooner or later, she will show these group of silly earthlings what it means to be too late for regrets! Battle-qi? Magic? Her talent on both magic and martial arts will mortify every genius in existence. The position of the clan chief? The mythological Vermilion Bird? Want them? So sorry~ She already took them! [Source: NU]
Soul Land 2: The Unrivaled Tang-Clan
Author: Jia San Shao Tang
Synopsis
A strange continent in another world. No magic, no battle qi, no martial arts, only martial spirits. Ten thousand years after the Tang clan was founded on the Douluo continent, the Tang clan has declined. A whole new generation of proud talents has been born. Will the new generation of the Seven monsters of Shrek be able to reestablish the Tang Clan and compose a tale of greatness for the unrivaled Tang Clan? [Source: MU]
Related Post: Soul Land 2: The Unrivaled Tang Sect Donghua Adaptation Had Been Announced
Mesmerizing Ghost Doctor
Author: Feng Jiong
Synopsis
She, a modern hidden ghost leader of an organization which gathered insane prodigies proficient in the various differing skill-sets. Highly skilled in medicine and poison, executes covert assassinations, viewed as insane and demonic in the eyes of people of the world. Killed in an accident, and reborn into the body of a disfigured young girl.

Her identity can be given up, her family can be forgone, but as for the one who harmed her predecessor who inhabited this same body, if she didn't at least make them scream in unimaginable agony and throw them into a state of wretchedness, how could she live up to her demonic reputation? Endless turmoil ensues and it's a battle to dominate over all! [Source: Qidian]
Soul Land
Author: Jia San Shao Tang
Synopsis
Tang Sect, the most famous martial arts sect of all. By stealing its most secret teachings to fulfill his dreams, Tang San committed an unforgivable crime. With his ambition attained, he hands his legacy to the sect and throws himself from the fearsome "Hell's Peak." But he could have never imagined that this would reincarnate him in another world, one without magic, martial arts, and grudges. A land where only the mystical souls of battle lay. The continent of Douluo. How will Tang San survive in this unknown environment? With a new road to follow, a new legend begins… [Source: MU]
King of Gods
Author: Fast Food Restaurant
Synopsis
His will is tough and he is unwilling to be normal. However, his pathway was destined to be that way, being born in a small sect's branch. However, one day, his left eye merges with the eye of an Ancient God in an accident. From that moment on, he turns from a fish into a dragon. He rises up like a star, walking the path of a legendary cultivator. From being a tiny, small ant at the bottom of the world, he rises step by step, into a place full of powerful sects, strong ancient clans and countless geniuses. This is an era of legends. Source: NU
Against the Gods
Author: Mars Gravity
Synopsis
Hunted for possessing a heaven-defying object, Yun Che is a young man in both that life and the next. Throwing himself off a cliff to spite his pursuers, Yun Che is reincarnated as Xiao Che, a recently poisoned teen in another realm. Just as hated in this life as the previous one, Che must overcome his own hostile clan, his own inability to cultivate, and his own frosty fiancée. [Source: Wuxiaworld]
Rebirth of the Thief Who Roamed the World
Author: Mad Snail
Synopsis
The world's largest VRMMO, Conviction, was almost like a second world for humanity. It had integrated itself into the real world's economy, with both corporations and individuals seeking their fortunes through the game. In this game, Nie Yan prided himself in his Level 180 Thief. He could barely be considered among the top experts in the game. Though, that was the only thing he could take pride in. He was penniless and unable to advance in life; a situation he was forced into by the enemy of his father.

If it weren't for the little money he made by selling off items in Conviction, he would've barely been able to eat. In the end, he chose to settle his matters once and for all. He assassinated his father's enemy. He lay dying shortly after being shot in the pursuit. However, that wasn't the end of his story. Instead, he awoke moments later to find that he had reincarnated into his past self. Armed with his experience and knowledge of future events, he sets out to live his life anew. [Source: Wuxiaworld]
Battle Through the Heavens
Author: Tian Can Tu Dou
Synopsis
In a land where no magic is present. A land where the strong makes the rules and weak has to obey. A land filled with alluring treasures and beauty yet also filled with unforeseen danger. Xiao Yan, who has shown talents none had seen in decades, suddenly three years ago lost everything, his powers, his reputation, and his promise to his mother. What sorcery has caused him to lose all of his powers? And why has his fiancee suddenly shown up? [Source: Wuxiaworld]
Related Post: What's Next After Battle Through the Heavens: 3-Year Agreement Donghua?
The Legend of the Sun Knight
Author: Yu Wo (author), Ya Sha (illustrator)
Synopsis
The Sun Knight is a man who has shining golden hair, sky blue eyes, a compassionate nature, and a brilliant smile. He is the spokesperson for the God of Light, the captain of the Twelve Holy Knights, and (some say) the man closest to perfection. Beneath the veneer of the Sun Knight, however, lies a very different sort of character… Source: MU
Release That Witch
Author: Er Mu
Synopsis
A modern-day engineer is transmigrated to a different world… where he becomes a prince. His surroundings remind him of medieval Europe, but it's not quite the same. In this world, witches actually exist, and they have real magic powers! Magic powers… that can be used as a productive force! The witches must be saved. Their powers must be liberated! We must open our map, fight off demons, solve the conspiracy, and climb the tree of technology! [Source: Tapas]
Related Post: Release That Witch Chinese Anime Adaptation Had Been Confirmed After Initial Cancellation
A Will Eternal
Author: Er Gen
Synopsis
One will to create oceans. One will to summon the mulberry fields. One will to slaughter countless devils. One will to eradicate innumerable immortals. Only my will… is eternal. A Will Eternal tells the tale of Bai Xiaochun, an endearing but exasperating young man who is driven primarily by his fear of death and desire to live forever, but who deeply values friendship and family. [Source: Wuxiaworld]
And that ends our list of 33 top Chinese web novel recommendations and I believed there are still many hidden gems that we haven't tackled yet. I am planning to share those stuff in an upcoming post as I am trying to start publishing manhua recommendations here in the blog aside from donghua and anime. Nevertheless, please let us know which of the novels we had mentioned above caught your attention and make you want to read it right away?
Related Post: Top Recommended Fantasy and Cultivation Manhua
References:
Last Updated on December 3, 2022 by Yu Alexius