If you think that only Japanese animation could produce something crazy and surpassed everyone's expectation, then why not take a peek at the rising Chinese animation industry. Aside from its rich cultivation and xianxia story, Chinese anime also had some of the most hilarious and obviously crazy anime set up I had seen so far. For one, in particular, is the
2020 Chinese anime from bilibili
,
The Furious Yama
or also known as Da Wang Bu Gaoxing which follows the journey of the new crown Queen of the Underworld.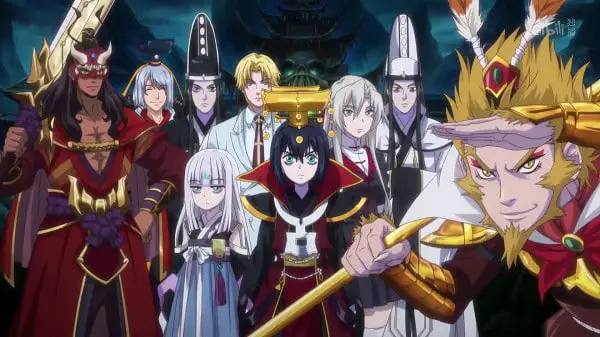 In the
story of The Furious Yama
, we had the new Queen of the Underworld in her daily routine as a ruler of her realm. She met other supernatural beings including ghosts, demons, angels, and even gods from Chinese mythology. As part of Eastern mythology, she has to face challenges and assault from the supernatural creatures from the Western hemisphere.
The Furious Yama Synopsis
We follow the daily life of Xiao Luo, a young yama (god and judge of the dead) who is afraid of ghosts. In order to properly reign in the undeworld, she will have to face her fears.
The whole experience of watching it was filled with fun as the comedic relief provided by every character in the story was quite genuine, bizarre, and unique. From the Queen of the Underworld's cowardly and pathetic nature but she also has to bear with the fact that she needs to put an act for the sake of her job as the ruler of Underworld. Imagine her acting big and tough in the face of adversity but eventually cower in fear when her nemesis isn't around and act like a normal child. Even her sidekicks and allies have the special appeal of their own, and we even have Sun Wukong in it with his usual boastful act. The characters in the story sure are fun and it's funny the entire series could sometimes turn out to be a beautiful mess and obnoxious set of a coincidence that eventually, lead to a convincing ending.
Overall, the story is nothing spectacular or special aside from the fact that it was able to give us a satisfying comedic experience. The Furious Yama did give us genuine fun and laughter throughout its run. It thrives in its parodic style of storytelling that reminds me of other other
Chinese comedy anime
like The Chivalrous Hero Sword Chen Jian. It's the hilarious and fast-paced story that was even emphasized with its short runtime.
The animation quality is actually pretty decent. I know there's still a lot of room for improvement when it comes to Chinese animation but there are rare cases when a Chinese anime could actually stand on the same league as with the best of anime from Japan such as our
best donghua of 2018
: Mo Dao Zu Shi, The King's Avatar, and the highly anticipated upcoming series
Fog Hill of Five Elements
. When it comes to The Furious Yama, the animation is something that I could compare with most of the Japanese anime series. The quality inclined more on a Japanese side of animation. Of course, Chinese anime or donghua also have their own signature footing in animation style but there are some
Chinese anime studios
that are inclined to follow the Japanese style such as Haoliners Animation League, it is noticeable on their works like
The Manual of Hundred Demons
, Fox Spirit Matchmaker, and Spiritpact to name a few.
Now here we come with one that I did enjoy a lot, I really had fun with the voice acting for almost every character and that even intensified the humorous aspect of the anime. The opening and ending themes were also decent. I am seriously addicted with its ending theme song and the characters in their chibi version is dancing, it's cute and adorable, also resembles the ending theme from its contemporary Planting Manual.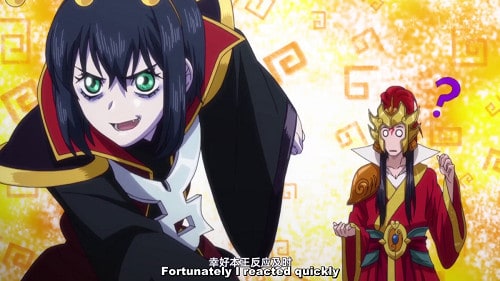 In general, The Furious Yama is a fun series to follow and obviously one of the
best Chinese anime of 2020
so far. I am surprised that it was able to satisfy me, maybe because I didn't expect too much from it when I first check it. Nonetheless, the humor and voice acting are pure genius ideas. If you're asking Is Furious Yama worth watching? The answer is YES, it is short and it won't really consume that much of your time. You can finish it in one sitting and on my end, it was such a great stress reliever.
The Furious Yama
is a short anime with every episode runs for an approximate length of 6-7 minutes at most. It premiered last January 1, 2020 until March 11 at bilibili and had been one of my favorite donghua of the year so far alongside
AllSaints Street
,
White Cat Legend
, The Manual of Hundred Demons, and Planting Manual. The Furious Yama was animated by Haoliners Animation League and was based from a popular web manga which also inspired an RPG game of the same title. The Furious Yama is also confirmed for 2
nd
season which will premiered on July 20 at part of
summer 2020 Chinese anime lineup
alongside
Martial Universe Season 2
, Fog Hill of Five Elements, The Legend of Exorcism, Yuan Long,
A Record of a Mortal's Journey to Immortality
, and Mo Dao Zu Shi Q.
Last Updated on March 29, 2021 by Yu Alexius