One of my biggest anime surprises this 2020 is Legend of Tang or also known as Tian Bao Fuyao Lu, a 3D Chinese anime series from Sparkly Key Animation and bilibili. The series premiered in July and had 13 episodes in total, that was a fantastic experience that goes beyond my expectations. It's also one of the few donghua that you can watch on Netflix, it was added on their listing in June 2021.
First of all, I started watching Legend of Tang without expecting too much, that has been my standard for almost every 3D donghua now since I am a believer of lesser expectations is equal to lesser disappointments and if it turns out good, then I must be lucky to discover a hidden gem. This has been the case with Legend of Tang, it's a rough diamond that still needs to be polished but it is definitely worth checking out.
There are various reasons that made Legend of Tang a good series, and for many viewers, especially the boys-love fans, it's the beautiful boys and their funny interactions. Yes, the series was based on a popular Chinese BL novel of the same title, albeit the donghua adaptation didn't do hardcore BL stuffs other than showing some cute moments between the characters, especially between our cinnamon roll captain Li Jinglong, and our little demon Hong Jun.
On my end, I also enjoyed the fight scenes from Legend of Tang, it has the typical 3D fight scenes that only Sparkly Key Animation could pull off. Now, it reminds me of other well-animated works of the studio including The Legend of Qin, Soul Land, and Nine Songs of the Moving Heavens. There's also the political intrigue and supernatural conspiracy that made the story interesting and move forward.
In this post, I would like to share some anime with similar stories to The Legend of Tang, whether it's the boys-love aspect, the entertaining and intricate relationships of the characters, and the politically-driven plot paired with supernatural aspects.
Top 5 Anime and Donghua Like The Legend of Tang (Tian Bao Fuyao Lu)
Nine Songs of the Moving Heavens
First on my list is another Chinese anime from Sparkly Key Animation, it's The Legend of Qin's spin-off prequel series Nine Songs of the Moving Heavens. With pretty boys and girls, political and court intrigue, assassins, and imperial stuff, this donghua is a perfect match for fans of The Legend of Tang. It follows the journey of Han Li, the 9th prince of the Han Kingdom during the warring era of Ancient China, and the group he founded, Quicksand as they unravel conspiracy in the royal court and bring to light the corruption of people from the shadows of the empire. There's a total of 90 episodes available for Nine Songs of the Moving Heavens, thus fans can have a lengthy time for an enjoyable ride.
Soul Hunter (2018)
Hoshin Engi, this anime was first released in 1999 and a new version was made in 2018. It was loosely based on the Chinese classic literary work, Investiture of the Gods. It's fun, action-packed, and interesting as the main character and his friends must fight an empire whose Emperor was controlled and manipulated by a Fox Demon. Well, this obviously rings a bell for The Legend of Tang viewers as it has a similar plot in that aspect.
White Cat Legend
Here's one of my favorite Chinese anime of 2020 from Nice Boat Animation. A hilarious ride I must say. White Cat Legend gives us a cute main character who's quite mysterious at face value. His minions are also funny just like your typical supporting characters from any shounen anime out there. Here's the tea, it's plot is both political and supernatural. It's like watching a crime-thriller anime unfold but with so many dosages of comic relief. Nonetheless, White Cat Legend is a hell of fun entertainment from comedy to action and the mystery accompanying it.
Moribito: Guardian of the Forest
While supernatural creatures do exist in this story, the main characters are fighting people instead of demons but for a political reason. This has been one of the best journey-themed anime with supernatural flakes in its story. It follows our main character Balsa as she travels protecting the prince whom the entire empire wants to sacrifice to satiate a fearsome beast.
The Vision of Escaflowne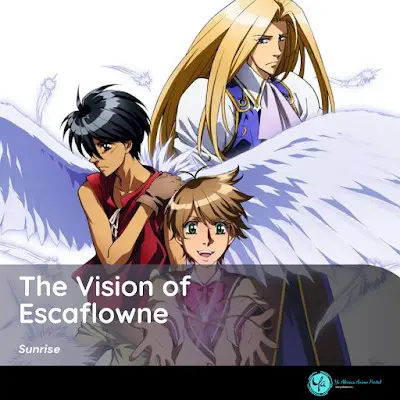 Another exciting anime to watch and a real classic from the 90s. The Vision of Escaflowne is an isekai story with a great narrative and lots of actions accompanying it. There's mecha, dragons, floating fortress, and so many things that viewers can enjoy. It's a beautiful combination of ancient stuff and futuristic sci-fi cliche involving a political struggle between an insatiable empire and those people it tries to devour.
Further Recommendations
Here are some more titles that shares similar story and plot to Legend of Exorcism as follows:
Grandmaster of Demonic Cultivation
Epic Light of Divinity (Dinghai Fusheng Records)
Hitori no Shita: The Outcast
Wings of the World
Mirror: Twin Cities
Legend of Sho
Drowning Sorrows in Raging Fire
The Defective
Silent Reading
Related Post: Legend of Exorcism Season 3 Had been Announced
Alright, so there are the 5 anime recommendations for The Legend of Tang fans that I come up with. I'll gladly update this post in the future once I found more stories suited to be listed here. I know that fans are craving to see the return of The Legend of Tang and knowing how it ends, we seriously need to have a sequel albeit no official statement yet has been announced by the production team.
Last Updated on September 30, 2022 by Yu Alexius