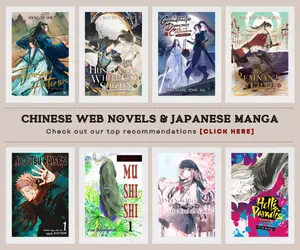 Hey guys, Wandering Witch: The Journey of Elaina had been an instant fav of mine from the fall 2020 anime lineup for so many reasons. I didn't expect too much from it when I first set my eyes on its first episode and I am glad that it didn't disappoint at all, in fact, it became the anime with the strongest start for me this season as even surpassed the astounding opening of Jujutsu Kaisen and Haikyuu!! To The Top Part 2 for me.
Now, I know we are all craving to see more from the anime about a traveling witch that shares her journey with the viewers. However, we're still at episode 3 as of writing and to satiate our craving for similar stories, I have listed here 10 anime with a similar atmosphere to Wandering Witch: The Journey of Elaina and if you have to love Elaina's story, you'll definitely enjoy some of these titles in one way or another, but first, we have here the synopsis of Wandering Witch: The Journey of Elaina as follows:
Inspired by her favorite book, Elaina ventures out to see the world she's read so much about. Like a leaf on the wind, she travels from one country to another, looking to sate her inquisitiveness and searching for new experiences. She's confronted by humanity in all its forms, whether strange, bizarre, or emotional. Exploration and curiosity drive her journey. Where to next, Elaina?
Now, to begin our list, I'll have one of my best anime 2017 to start it.
Kino's Journey -the Beautiful World- the Animated Series
This is the best anime about travel and journey for me, with a similar tone to The Journey of Elaina, Kino's Journey tells us the experience of the titular character Kino albeit it has a more serious tone. In my own honest opinion, Kino's Journey is simply not sharing Kino's experience to the viewers but unveiling a side of humanity that we usually ignore – fragility, vulnerability, greed, and many more. To me, its story reminds us to re-evaluate ourselves, our morals and standards, our perspective in life by showing us different facades of men, their values, and how easily they can be corrupted. It teaches lessons to the viewers, to appreciate life itself and the world, while also showing vigilance.
Kiki's Delivery Service
Craving for more witches' stuff, then the classic Kiki's Delivery Service from Studio Ghibli is an anime that you should watch. Known as one of the best anime about a witch, it follows the journey of Kiki as she leaves her home and went on a journey to experience the world and became a full-pledge witch. In fact, it almost has the same start as The Journey of Elaina and I believed that many viewers will enjoy it.
Little Witch Academia
Our shounen-type witch story is next on our list. Little Witch Academia is an inspiring and fun anime to follow with light drama and an enticing fantasy plot to savor. The story is quite similar to My Hero Academia, but with witches everywhere and its dazzling array of a slice-of-life witch story, Little Witch Academia is a must to watch for fans who are enjoying Wandering Witch: The Journey of Elaina.
Spice and Wolf
The traveling merchant Lawrence and the god of harvest Holo have enticing journeys to tell in the anime adaptation of Spice and Wolf. Just like Kino's Journey, this anime tells us the journey of our main characters and how they do their business as merchants. It's a perfect combo of drama, comedy, action, and some mysticism. I actually enjoyed the similarities of Elaina and Holo's personalities too.
Flying Witch
Here's an adorable slice of life anime about a witch. It's relaxing and fun, it's like watching the teenage version of our young Kiki from Kiki's Delivery Service. We follow the day-to-day life of Makoto as she adapts to her new environment as she lives with her relatives and meets new friends while learning new things about witchcraft and more.
Witchcraft Works
Another witch story to enjoy is Witchcraft Works but this time, it has a dosage of romance that shoujo fans will love. It's about Honoka, an ordinary guy, and the popular Ayaka who is a beautiful idol and treated as the princess of their school. They are seeming unrelated at all but everything changed when Ayaka saved Honoka one day.
Mushishi
My second favorite anime of all time Mushishi is next on our list. It's the best travel anime for me after Kino's Journey. It has the same vibes as Kino's Journey albeit more on the supernatural side of the coin. Just like The Journey of Elaina, Mushishi also tells the adventure of its main character Ginko, his interactions with various people as he travels on his journey which is usually loaded with many life lessons in every episode.
Granblue Fantasy – the Animation
Here's another adventure anime that fans of fantasy stories will enjoy. While we don't have flying witches in their broom here, we do have flying ships as the main character Gran and his crew embark on a journey, traveling through various cities floating in the sky.
Tweeny Witches
If you love Harry Potter, Tweeny Witches is a must-watch for you. While The Journey of Elaina is a light-hearted witch story, Tweeny Witches went a bit darker and showcase an exploration of the human heart. It follows our main character who loves and believes in magic but got transported to a foreign and mystic land where magic is used for oppression. How will she deal to cope up with this reality is an exciting and fantastic adventure that people will enjoy.
Moribito: Guardian of the Spirit
Here's a fantastic adventure anime where we have a strong female lead. With a plot involving magic, and supernatural creatures, and with politics, Moribito is an exciting anime about traveling in search of the truth, and for the survival of humanity.
And that's it for my list of similar anime to Wandering Witch: The Journey of Elaina. If you haven't watched The Journey of Elaina yet, you can still check it on its official pages on Funimation, Anilab, Hulu, and YouTube. Is there any other anime that you'd like to suggest to be listed here? Please let us know by leaving your comments below as well as your thoughts about the ongoing fall 2020 anime Wandering Witch: The Journey of Elaina.
Last Updated on October 7, 2022 by Yu Alexius