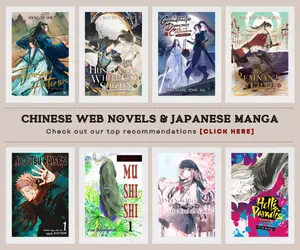 The autumn lineup is officially here which give us so many surprises last month, however, the fun is far from over and it only gets even better as November 2022 donghua lineup promises to bring more excitement.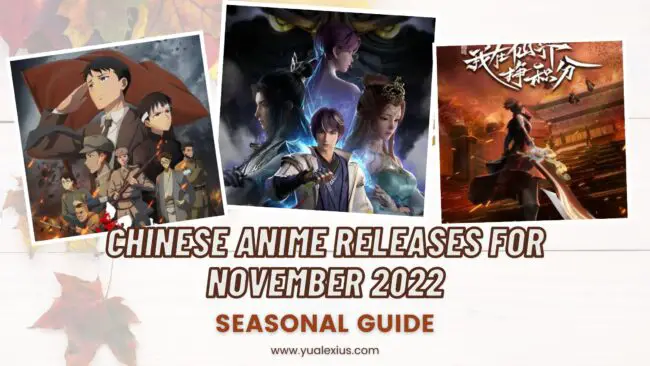 Last month, having some of our favorites coming back had been a huge surprise, especially The Daily Life of the Immortal King Season 3, No Doubt In Us Season 2, and Legendary Twins donghua adaptation had already set the vibe for the fall season to be amazing. Now, this November, we will be having more donghua releases and that's what we will discuss in this post.
In the past, the month of November had to bear witness to the premiere of some of the most beloved and popular donghua such as Psychic Princess in 2018, A Record of a Mortal's Journey to Immortality in 2020; and in some cases, it is the period of time to build up the fever for the much bigger lineup in December.
Such is the case this time around, we only have a few donghua releases this November 2022 but since we're only a few days into it, various donghua platforms may further unveil other shows that are scheduled for release this month. That is why we had prepare this seasonal guide for you as we prepared a list of all the confirmed donghua releases this November 2022 as follows:
Xue Yu Xin | After its initial postponement in July, the Blood and Heart release date has been rescheduled on November 2, 2022. This is one of the donghua from Bilibili that I am quite excited to see this year because it was inspired by a true-to-life story.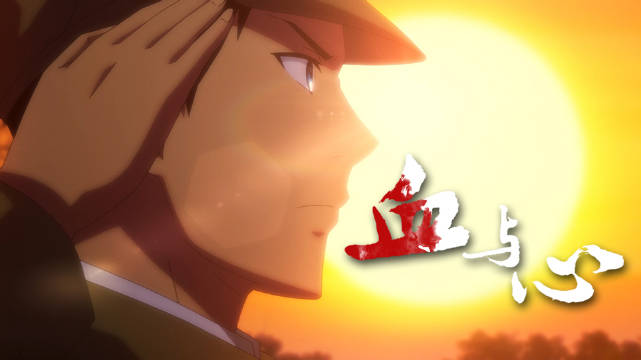 Blood and Heart is the chronicle of a Japanese man who lived his life in China with historical and dramatic narration. Dubbed with the lengthy title of Blood and Heart: The Legendary Life of a Japanese Youth in China is a story of patriotism of a Japanese boy who went to China and never come back home, who joined the People's Liberation Army and even participated in the Korean War.
The new donghua is adapted from a manhua called Xue Yu Xin by Yun Li which was published in 2019 and inspired by the story of Megumi Sabara.
Bai Lian Cheng Shen | Here comes another favorite of mine which was adapted from a novel of the same title by Enci Jietuo. Apotheosis is known by many names such as The Endless Road to Divinity, The Elevation to the Status of a God, Principles of Heavens: Zen's Cultivation of Immortality, or Forged Success, just like what its title may suggest, Apotheosis is the journey of our MC into godhood.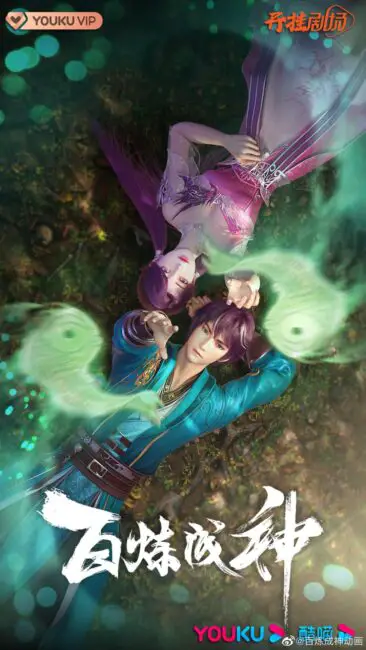 Apotheosis shares a lot of similarities to many cultivation donghua out there but it also has its own unique story to offer. If you like the Tales of Demons and Gods, then Apotheosis is the new series that you should add to your watchlist.
The donghua is slated for release on November 4, 2022. It is one of Youku's donghua releases this November and it is scheduled to get 52 episodes in total, airing until October 2023.
Leveling Up in a Fantasy World
Wo Zai Xianjie Zheng Jifen | Here comes another donghua from YOUKU and it is scheduled for release on November 5, 2022. The title itself feels similar to those isekai anime from Japan where the MC was transmigrated into a fantasy world and have to get stronger by accumulating experience or points (just like in a game).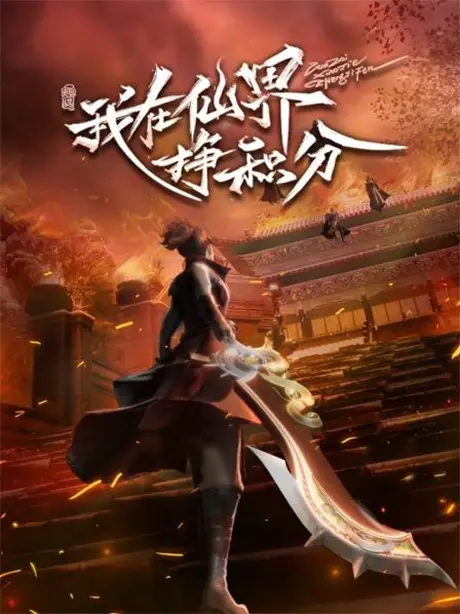 So, what's with this new donghua? Well, it is an isekai, a transmigration donghua where the MC was awakened in a different world from his own, now that reminds me of other isekai donghua too especially YOUKU's Tomb of Fallen Gods and Tencent's It Started with a Mountain.
Throne of Seal Season 2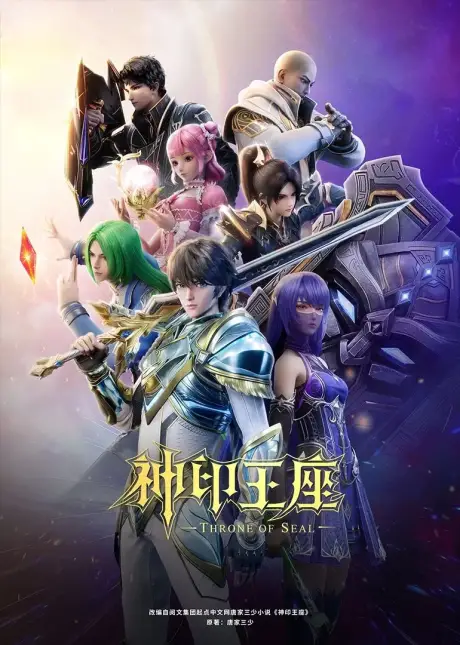 The highly anticipated return of Hao Chen is finally here, it is great to learn that fans do not need to wait that long for the Throne of Seal Season 2 release, especially since the 1st season just ended a few weeks ago. Now, Throne of Seal Season 2 is scheduled for release on November 10, 2022.
Wan Jie Zhizun
iQIYI's new fantasy-adventure donghua had been slated for release on November 24, 2022. This new donghua is animated by Ruo Hong Culture and will have 50 episodes in total.
Carp Reborn Season 3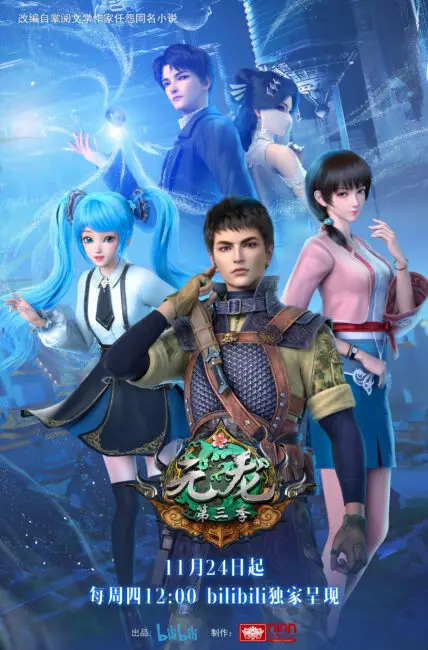 Another donghua from Bilibili that has been revealed to air this November is Carp Reborn Season 3 (Yuan Long) which had been one of the popular isekai stories we had out there. The series is slated to return on November 24, 2022.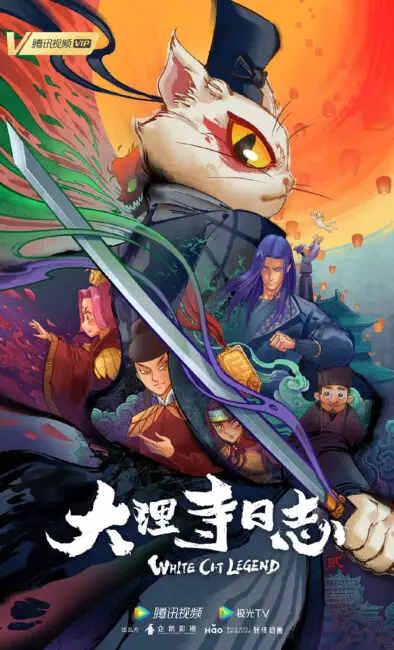 Dali Ri Zhi 2 | Meow, meow! Our favorite white cat in the Chinese court with such powerful fighting skills and smarter than everybody else is coming back this year. White Cat Legend Season 2 release date is scheduled on November 26, 2022; that is according to the latest announcement from its production committee.
The donghua had been a passion project of Nice Boat Animation and had been adapted from the manhua, Dali Temple Log, which was set in the Ancient Tang Dynasty period and follows how an official with the appearance of a cat rises and dares to protect the empire from an opponent that corrodes it deep within its core.
The Infinitors
Wuxian Shijie | A production of Bilibili, Mopi, He Zhou Culture, and Wonder Cat Animation, this action and horror donghua is a must-watch for those who enjoy darker themes in the story. The Infinitors is the new donghua that will challenge your sanity and perspective in life from a different point of view. It is scheduled for release on November 25, 2022.
Alright, these are only the available donghua with confirmed releases this November 2022 so far. We will update this post whenever a new announcement had been made. Nevertheless, are there particular donghua that you're looking forward to watching this fall? Let us know about them by dropping a comment below.
Last Updated on November 24, 2022 by Yu Alexius