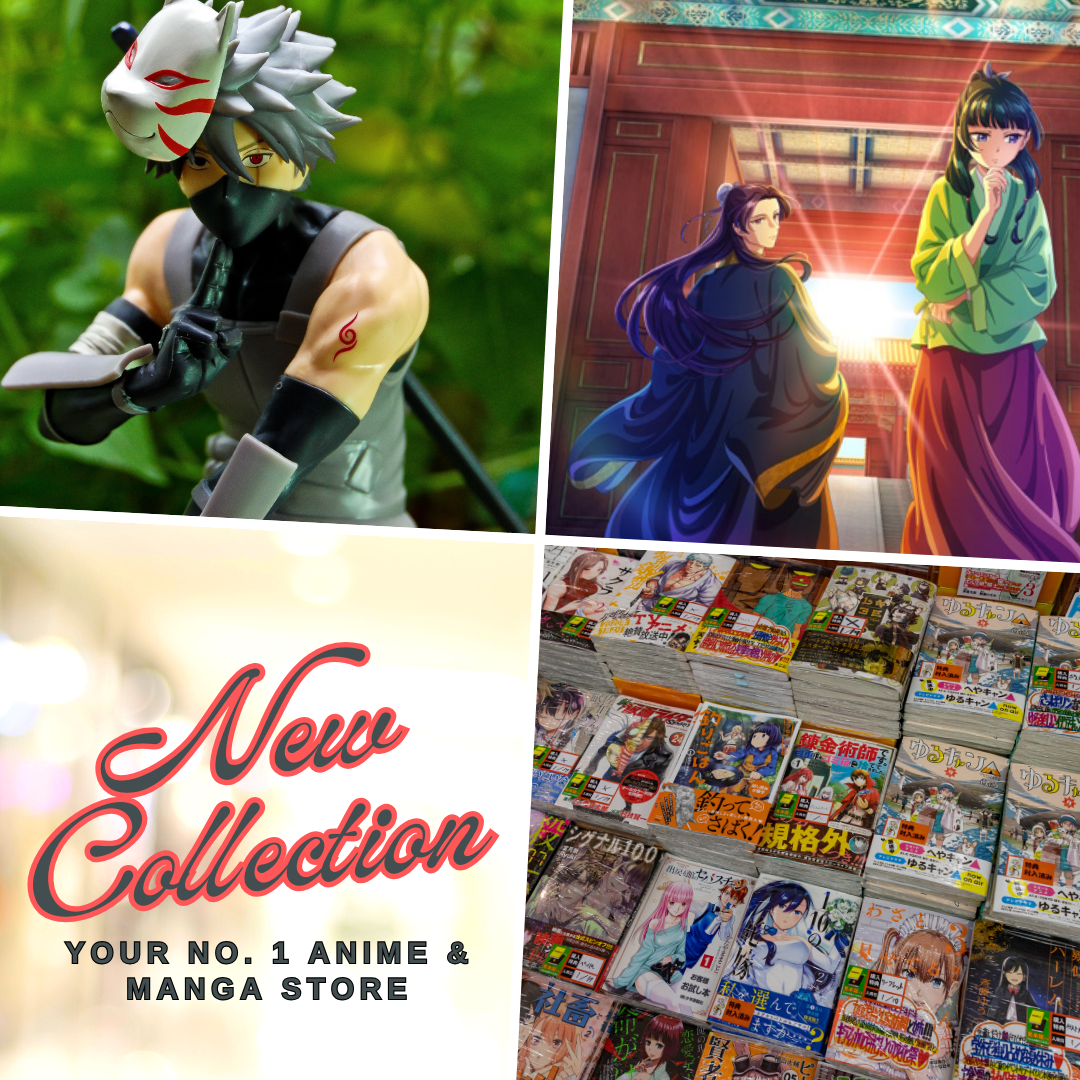 Hold my tea, my gay heart might explode but not before sharing this list of boys-love webtoon that BL fans out there should check. It's your Yu-senpai again and after publishing a post about my top Chinese BL manhua recommendations, I am back for another BL list and this time we shall touch the webtoon universe.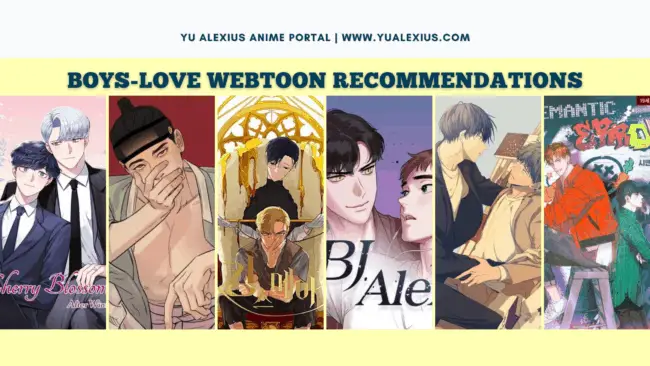 I know a lot of you are fans of reading webtoons and I have to admit that the medium has been gaining popularity through the years and I am quite late for this. I only started reading webtoons when I discovered the Noblesse OVA several years ago and it leads me to read some of the popular titles such as Solo Levelling, Tower of God, Semantic Error, and God of High School to name a few.
However, in this post, I will share my list of top boys-love webtoon that could satiate the craving of many fujoshi out there and even for those who are still in denial that they like bl story. Surprisingly, the boys-love genre in webtoons is quite different if I have to compare it to Japanese and Chinese BL. There's quite a refreshing cliche that is generic but delivered uniquely in webtoons. As someone who is a piece of a lunatic, I sincerely enjoyed some of the titles in this list.
Now, without further ado, let's start the list as follows:
Top Boys-Love Webtoon List
Related Post: 25 of the Best Yaoi and BL Anime That You Should Check
Heesu in Class 2
Creator: Lily
Genre: Boys-Love, Drama, Romance
Synopsis
Heesu's world revolves around Chanyoung, his best friend and secret crush. He doesn't mind cheering Chanyoung from the sidelines or listening to all his girl problems. He doesn't care if people only know him as "Chanyoung's friend." Then one day, Heesu starts hearing his name everywhere. On the bus, in the halls, during lunch… Turns out, there's a rumor going around the school (Got a love problem? Find Heesu in Class 2 and he'll tell you what to do!) and with that, Heesu suddenly finds himself the center of attention. But how could he give anyone advice? He doesn't even know what to do about his own crush!

Source: Lezhin
You Might Like: [LEZHIN] [SET] Heesu in Class 2 (Vol. 1~4) with Epilogue Book
Creator: Jeosuri (author), Angy (artist)
Genre: Boys-Love, Comedy, Romance
Synopsis
Computer science major Chu Sangwoo is the epitome of an inflexible and strict rule-abiding person. While working on a liberal arts group project with freeloaders who don't put in any effort, Sangwoo reasonably decides to remove their names from the final presentation. But he didn't imagine how involved he would become with the person whose study-abroad plans were messed up because of that project. The involved person: the campus star who everyone knows, Department of Design's Jang Jaeyoung. He has everything from skills, looks, family background, and good relationships except for 1 big problem: Chu Sangwoo. What happens when an engineer and an artist whose personalities are like oil and water have to work together? Jang Jaeyoung is like a semantic error in the perfect world of Chu Sangwoo. Will Sangwoo be able to debug this?

Source: Manga Updates
Creator: Haga (author), Ji-young Kang (artist)
Genre: Boys-Love, Fantasy, Romance, Political, Royalty
Synopsis
Wolfgang Goldenleonard, the 4th Prince of the kingdom, returns to the palace after years of living in hiding. He rejects everything about his new royal life but is intrigued by the mysterious and dutiful Shin Soohyuk, a catamite of the King. As Wolfgang slowly opens up and learns the ways of the palace, Soohyuk begins to see something special about the wild, unkempt, and stubborn young prince. He might just be the one Soohyuk has been waiting for… the one who could light the flame of rebellion.

Source: Lezhin Comics
BJ Alex
Creator: Mingwa
Genre: Boys-Love, Comedy, Drama, Romance, Yaoi
Synopsis
Every night at 10, Dong-gyun locks himself up in his room, grabs a box of tissues, and watches a live cam boy show hosted by Alex, a BJ (broadcast jockey). Timid Dong-gyun admires not only Alex's ripped body but his candor in sharing his s*x**l experiences with viewers. One night, Dong-gyun downs too many drinks at a school networking event and passes out. When he wakes up, he's in bed staring up at a shirtless hunk. A hunk who looks an awful lot like… Alex.

Source: Lezhin Comics
Get Your Copy Now: [LEZHIN] [SET] [NOT 1st Edition] BJ Alex English version (Vol. 1~2) Paperback
Sign
Creator: Ker
Genre: Boys-Love, Comedy, Romance, Slice of Life, Yaoi
Synopsis
There are a few unusual things about Cafe Goyo. Number one, their coffee sucks. Number two, their customer never order off the menu. And number three, Yohan, the cafe manager, is deaf. So, when Soohwa joins as a part-timer, though he is not expected to learn how to make good coffee, he is asked to expand his sign language vocabulary beyond the words, "higher," "pay," and "please." But when Yohan offers to give him private lessons, Soohwa is reluctant. Not because he doesn't want to study, but because he has a "hard" time around Yohan. Like, literally. He gets hard. Whenever he hears Yohan's deep, s*xy voice.

Source: Lezhin Comics
Love Shuttle
Creator: Aeju LIM
Genre: Boys-Love, Romance
Synopsis
There's a late bloomer, and then there's a *late bloomer.*  Doyun may be half Omega, but he certainly doesn't look it: he's tall, chiseled… But the worst of it all is that he's a full-grown adult male who has yet to go into heat. He doesn't see the problem, and everyone assumes he's an Alpha, anyway. But when his body finally decides it's "time," it just happens to be at the most inopportune moment. He has no-one to turn to but his work rival, Taehan – but thankfully, Taehan is more than man enough to help him out.

Source: Lezhin Comics
Castle Swimmer
Creator: Wendy Lian MARTIN
Genre: Boys-Love, Fantasy, Adventure, Romance, Royalty
Synopsis
What happens when your entire life is ruled by a prophecy – your future foretold by people you've never met, who died long before you were born. Such is the story of two young sea creatures. One believed to be a guiding light for his people, a Beacon who will lead them to a bright, prosperous future. The other is a teenage prince for whose destiny is to KILL the Beacon so that HIS own people might thrive. When both reject the course set for them, it leads to a raucous adventure as big and unpredictable as the ocean itself – and a romance that nobody could have predicted.

Source: Webtoon
On or Off
Creator: A1
Genre: Boys-Love, Romance
Synopsis
Yiyoung is building a startup with his college friends. They get a chance to present their proposal to SJ Corporation, one of the leading companies in the country. But in the meeting room, he sees Kang Daehyung, the extremely handsome company big shot that's so very much his type, and Yiyoung's heart starts to race…! Can pretty-faced Yiyoung win both in love and his career?

Source: Tappy Toon
Killing Stalking
Creator: koogi
Genre: Boys-Love, Horror, Drama, Psychological, Thriller
Synopsis
Yoon Bum is a scrawny, awkward man who suffers from mental illness and has an unhealthy romantic fixation with popular college student Oh Sangwoo. He's taken to stalking the object of his obsession, even going so far as to break into Sangwoo's home; but the horrors he discovers in the young man's basement are beyond his darkest nightmares. His would-be prince charming is actually a serial killer, and when Bum is caught trespassing, he soon learns that breaking into a psychopath's house is a lot easier than getting out…
Get Your Copy Here: Killing Stalking: Deluxe Edition Vol. 1 Paperback
Summer Snow
Creator: OMOON
Genre: Boys-Love, Drama
Synopsis
One day, in the middle of summer, it suddenly starts to snow. What sort of changes will the snow bring?

Source: Toomics]
Cherry Blossoms After Winter
Creator: Bamwoo
Genre: Boys-Love, Drama, Romance
Synopsis
Once young friends, Haebom and Taesung have grown distant after tragedy brought them under one roof as a family almost 10 years ago. Things get more complicated in their last year of high school as now they're… classmates too?!

Source: Tappy Toon
Momentum
Creator: Ji-Yeon PARK
Genre: Boys-Love
Synopsis
"Momentum" is a series of beautifully drawn vignettes that glimpse into the life-altering moments of several couples as they fall in and out of love. This BL features a series of characters learning how to love, understand, and forgive one another – and in some cases, the world – at different moments in their lives.

Source: Lezhin Comics
Painter of the Night
Creator: ByeonDuck
Genre: Boys-Love, Historical, Yaoi
Synopsis
Na-kyum is a young painter with an exceptional talent: creating er**tic images of men. Though he has published a few collections under a pseudonym, he has decided to quit painting. Then Seungho, a young nobleman, barges into his life. A hell-raiser notorious for his insatiable l*st, Seungho forces Na-kyum to become his private painter. However, the nights that await Na-kyum are beyond anything he could have imagined.

Source: Lezhin Comics
Where the Wind Stays
Creator: Yusa
Genre: Boys-Love, Historical, Fantasy, Drama, Romance
Synopsis
To break an ancient curse that plagues the royal bloodline, young Prince Tasara is destined to be sacrificed in death. Nara is enlisted as a palace servant to carry out the prince's execution when the time comes. But he develops a soft spot for the cursed prince, and after committing an atrocious and unforgivable act against Tasara, Nara is desperate to right his wrongs. Soon, their lascivious relationship that had been kept under wraps tests his resolve. Will Nara be tempted away from his original mission? There's no telling how far he would go to earn Tasara's forgiveness.

Source: Tappy Toon
Form of Sympathy
Creator: Nodeok Park
Genre: Boys-Love, Yaoi, Drama
Synopsis
Two unrequited loves ended because of a marriage. Kwon Yuri met Lee Sunwoo, his homeroom teacher, while he was still in high school at the wedding ceremony of his cousin – whom he's had a crush on for years. He found a little comfort in the fact that he was not the only one who was not happy about the wedding. Yuri thought Sunwoo's tears were for his cousin, but he soon found out that it was his brother-in-law that Sunwoo had a crush on for a long time.

Source: MU
Out of Control
Creator: Bbong
Genre: Boys-Love, Comedy, Drama, Slice of Life
Synopsis
Yuri, one of the school's most handsome guys, and Jaerim, one of the school's ugliest, collide!… or don't they… Can't understand what's going on between these two! It's Out of Control!!

Source: Lezhin Comics
For Your Love (The Shape of Your Love)
Creator: Nodeok Park
Genre: Boys-Love, Romance
Synopsis
Yohan Jung has already seen the misery of unrequited love through his brother. He wants to save a senior club member from experiencing the same misery, but his effort of becoming a cupid isn't a smooth one.

Source: Pocket Comics
Mr. A and Mr. B
Creator: Migab
Genre: Boys-Love, Comedy, Slice of Life
Synopsis
Mr. A is a mild-mannered salary worker. Mr. B is a lazy college student slouch. When a night out drinking ends with Mr. B passed out on Mr. A's doorstep, the two somehow get along. Friends or more? They may be opposites but, like opposites, they attract.

Source: TAPAS
Teach Me!
Creator: Newra
Genre: Boys-Love
Synopsis
In his third year of preparing for the college entrance exam, Jaehong hopes to get into college by studying with a new tutor. But it turns out that the guy who showed up at his door (Eunseong) isn't his real tutor – it's his neighbor who got confused. Despite the coincidental encounter, Jaehong realizes he needs Eunseong's help and asks him to become his teacher.

Source: Lezhin Comics
Legs that Won't Walk
Creator: Heuksalgu
Genre: Boys-Love, Romance
Synopsis
Retired boxer Soo-young discovers he has to pay off his father's debt when Tae-seung hunts him down. Fascinated by Soo-young's persistence, Tae-seung offers him an alternative – to learn the ropes and start from rock bottom. Will this dangerous relationship work, or will this be another living hell for Soo-young?

Source: Lezhin Comics
The Wilting Light
Creator: PHOCA
Genre: Boys-Love, Fantasy, Romance, Yaoi
Synopsis
What lies in worlds beyond our own? Is it bright light and then… nothingness? Or is it another land populated with gorgeous beauty and eldritch horror beyond our recognition? General Hwee-un falls in battle, leaving behind his unspoken love and a life unlived and awakens in a… forest? Malevolent spirits and demons vie for his life until a handsome goblin whisks him away to the Goblin Village and into the court of the Goblin King. Whatever life may exist in the beyond, death is only the beginning.

Source: Lezhin Comics
The Sound of Your Voice
Creator: Hana
Genre: Boys-Love, Drama, Romance
Synopsis
Ethan Hyun is a huge fan of a voice actor by the name of Jimmy Kwak. When he's given an opportunity to work with him, he can't believe his luck. But a series of unfortunate events force them to live together…

Source: Toomics
Walk on Water
Creator: Mokdan JANG (Author), JAXX (Artist)
Genre: Boys-Love
Synopsis
Ed, a broke bodyguard in search of some fast cash, enters the world of p**n by applying to the ad*lt film company McQueen Entertainment under the alias 'Tommy.' He originally planned to just perform as a top. But one day when his partner couldn't make it on time for the shoot, Ed ends up playing bottom to the charismatic owner of the company himself, Glenn McQueen!

Source: TappyToon
Fools
Creator: Yeongha, Dam Park
Genre: Boys-Love, Romance
Synopsis
For college senior Edward, friends and relationships have always been a bit of a nuisance until he meets Justin, the peppy new freshman eager to be his friend…or more?

Source: Tapas
Path to You
Creator: Sinran
Genre: Boys-Love, Drama, Romance
Synopsis
When almost college dropout Jensen attempts to drink away his problems, unemployed Nathaniel suddenly pukes on him and ruins his night. As an apology, Nathaniel offers to help Jensen with his studies. Despite Jensen's difficulties in getting along with people, the two become friends and something deeper begins to grow between them…

Source: Tapas
Pond Snail Robber
Creator: Pengki
Genre: Boys-Love, Romance
Synopsis
The delightful and brutal life of living with a robber! Ji Ho ends up missing the deadline to apply for a dorm due to a slip of carelessness but luckily a sunbae from his major helps him get a room nearby. Unfortunately, not even half a day after moving in he gets attacked by a robber. After managing to get away, Ji Ho later comes back home to see the robber shedding tears over the novel he wrote in high school…But this robber, with the reason of wanting to continue reading his unfinished novel, asks to live with him in exchange for taking care of the house?! The sweet and fierce life of these two has started!

Source: MU
Go Jin and Gam Rae
Creator: PingPu
Genre: Boys-Love, Fantasy, Romance, Supernatural
Synopsis
After only one day's performance in this new village, someone has destroyed Go Jin and his musical troupe's instruments. His search for the culprit leads him to Gam-rae, the Taoist master of the village. Endowed with supernatural gifts, suspicion often falls on him. But Go Jin soon finds that there is much more to this man than his gifts, as he becomes caught in the middle of Gam-rae's own supernatural battle.

Source: Lezhin Comics
A Man of Virtue
Creator: GGang-E (author), Wook (artist)
Genre: Boys-Love
Synopsis
What's it like spending your whole life coming in second place? Ask Nam Jinwoo, he's been living in the shadow of his rival, Ma Sangtae, his whole life. From high school to college, and now in the office. But passion is strange, it can start as envy or hate and turn into something… er**ic. Now Jinwoo's head is filled with the dirtiest and most er**ic thoughts, none of which are in his control. More than anything, he wants them to stop. But the only way to stop them might just be the last thing he wants to do…

Source: Lezhin Comics
Escape into Oblivion
Creator: Gawee
Genre: Boys-Love, Drama
Synopsis
Woojin wants nothing more than to escape reality. Hwon wants nothing more than to be with Woojin. Baffled by the intensity of Hwon's love, Woojin makes a series of absurd demands to push him away. But no matter how cruel the demands are, Hwon never gives up.

Source: Lezhin Comics
Prince Bari
Creator: Solanine (author), Maki (artist)
Genre: Boys-Love, Romance, Supernatural
Synopsis
Known as the "Prince Among Shamans," Yohan is famous for his supernatural second sight. But in reality, he uses social media to collect info on his clients as his personal spirit, Donga, is too lazy to help! One day, the CEO of a successful IT venture firm visits Yohan's shop, trailed by a powerful spirit! An unlikely romance takes flight, as Yohan tries to help this CEO come to terms with his otherworldly friend.

Source: Tappy Toon
Why Is it You?
Creator: Nansae
Genre: Boys-Love
Synopsis
After getting a divorce, Jordyn slowly starts getting involved in the gay community with the help of Owen, his first gay friend.

Source: Toomics
Related Post: Top BL Webtoons on Lezhin Comics That You Must Check
I hope you guys had discovered a new webtoon series to read from this list. If you wish to discover more, then I would like to suggest that you check our post: The Best Boys-Love Chinese Anime for Yaoi Fans, and 13 of the Best LGBT-themed Anime Out There.
Before I end this post, please let me know which one is your favorite boys-love webtoon and what are other series that are not included in this list would you love to recommend? Let us know by leaving a comment below.
References:
Last Updated on March 9, 2023 by Yu Alexius