It seems like time had passed by so fast and now we are already in the last month of 2022, hence, for donghua fans, this only means one thing – new month, and it is about time our watchlist based on the most updated donghua releases we had so far.
My memories of Link Click having been my best Chinese donghua of 2021 is still fresh and now, 2022 is almost over and this only means that I also have to prepare another list of my top donghua of the year which the last time I remember, the spot solely belongs to Immortality (Yong Sheng) but it's been months since I published that mid-season review and we had been treated to some more interesting donghua releases this year.
That is why I'm here to give you guys another list of all the upcoming donghua releases this December 2022 from all the major production and distribution companies in China. So far, we only had a few but this list will simply expand as we go through since, unlike Japanese animation, Chinese animation usually dropped major surprises just a few days before its scheduled release. That is why I felt like I'm always having a heart attack whenever my favorite donghua made an announcement just a day or two before its scheduled premiere.
The Outcast Season 5
Yi Ren Zhi Xia 5 | Coming first in the list is one of the most highly anticipated donghua of the year, it is the 5th season of The Outcast which is also known by other names such as Hitori no Shita or Under One Person. Hitori no Shita: The Outcast Season 5 release date is scheduled on December 2, 2022. Unfortunately, according to the latest update from its production team, the donghua's release was rescheduled on December 9, 2022 instead.
The gang will return to continue where the previous season left us all and it only gets better since if the 4th season is the foundation of the story, the 5th season is the execution as we'll get to see them in action, finally.
Magic Chef of Fire and Ice Season 2
Bing Huo Mo Chu 2 | From the author of Soul Land, Tang Jia San Shao, The Magic Chef of Fire and Ice is also connected to the most-watched donghua in China as this is set in a distant future of the Soul Land timeline.
The Magic Chef of Fire and Ice donghua adaptation was released by Youku last year and had been a fun ride. Now, Joicy Studio is returning as its animation studio along with Youku and Xuanshi Tangmen as producers. The Magic Chef of Fire and Ice Season 2 will premiere on December 3, 2022.
The Three-Body Problem
San Ti | Next is definitely the most ambitious sci-fi donghua in years and that is the adaptation of Liu Cixin's novel – The Three-Body Problem which features advanced alien species, imminent catastrophe, and human evolution emerged once again as innovative technology came to the surface in an upcoming battle against a powerful alien race.
The Three-Body Problem donghua release date is slated on December 3, 2022. Here's a bit of trivia, the novel was also adapted into a live-action series with Netflix handling its production. The studio behind Ling Long: Incarnation, one of the best sci-fi donghua so far is handling its production. Just like The Outcast, The Three-Body Problem release had been postponed too and got rescheduled for release on December 10.
Get a copy of the novel: The Three-Body Problem by Liu Cixen
The Young Brewmaster's Adventure Part 2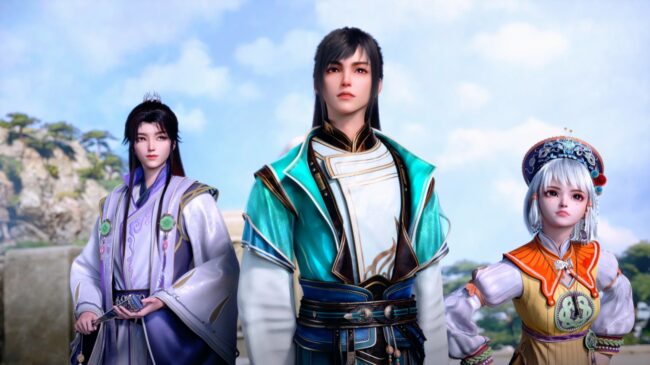 Shaonian Bai Ma Zui Chun Feng Part 2 | Oh, it's one of my favorite donghua this 2022 with mild BL elements and tons of martial arts fights. The Young Brewmaster's Adventure will return for 10 more episodes after its 1st part left us in such a huge cliffhanger a few months ago. The Young Brewmaster's Adventure Part 2 will air on December 14, 2022.
Love Between Fairy and Devil Part 2
Qingcang Dongfan and Xiao Lanhua are coming back to continue the hilarious yet romantic story of Cang Lan Jue for the 2nd part of the donghua's adaptation of the beloved Chinese novel of the same name. The donghua is scheduled for release on December 23, 2022 on iQiYI and is slated to get 12 episodes.
Stellar Transformations Season 5
Xingchen Bian: An Xing Jie Pian | An early treat from Tencent right after Christmas. One of my top 5 Chinese cultivation donghua is coming back for its 5th season this year and that is Stellar Transformations.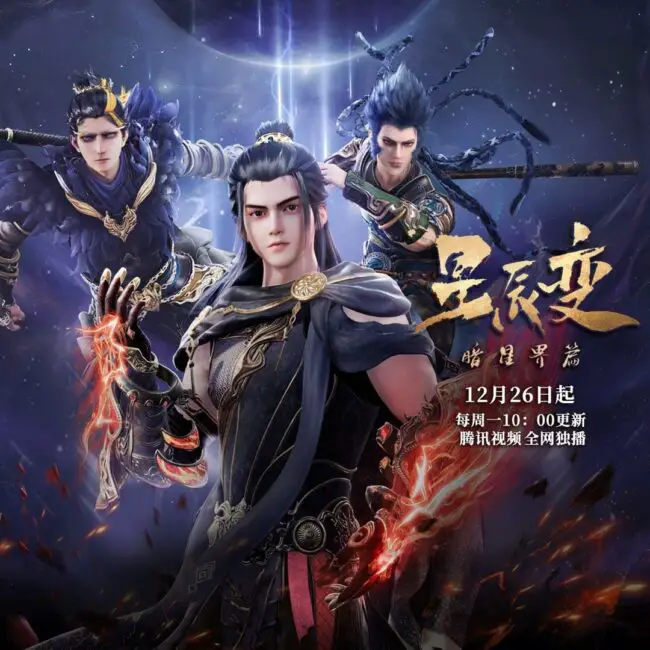 The donghua aired its 4th season last January and it showcases Qin Yu's effort to ascend to the higher realm. Hence, the new season will be set in which various characters are far stronger than anyone that Qin Yu had faced before.
Stellar Transformations Season 5 is scheduled for release on December 26, 2022.
The Flame Imperial Guards
It's not too late yet to make a big blast in the December 2022 donghua releases with The Flame Imperial Guards which is scheduled for release on December 31, 2022; just right before the year ends. After all the delays, it is finally here and fans should keep an eye for it on iQIYI.
Last Updated on December 27, 2022 by Yu Alexius