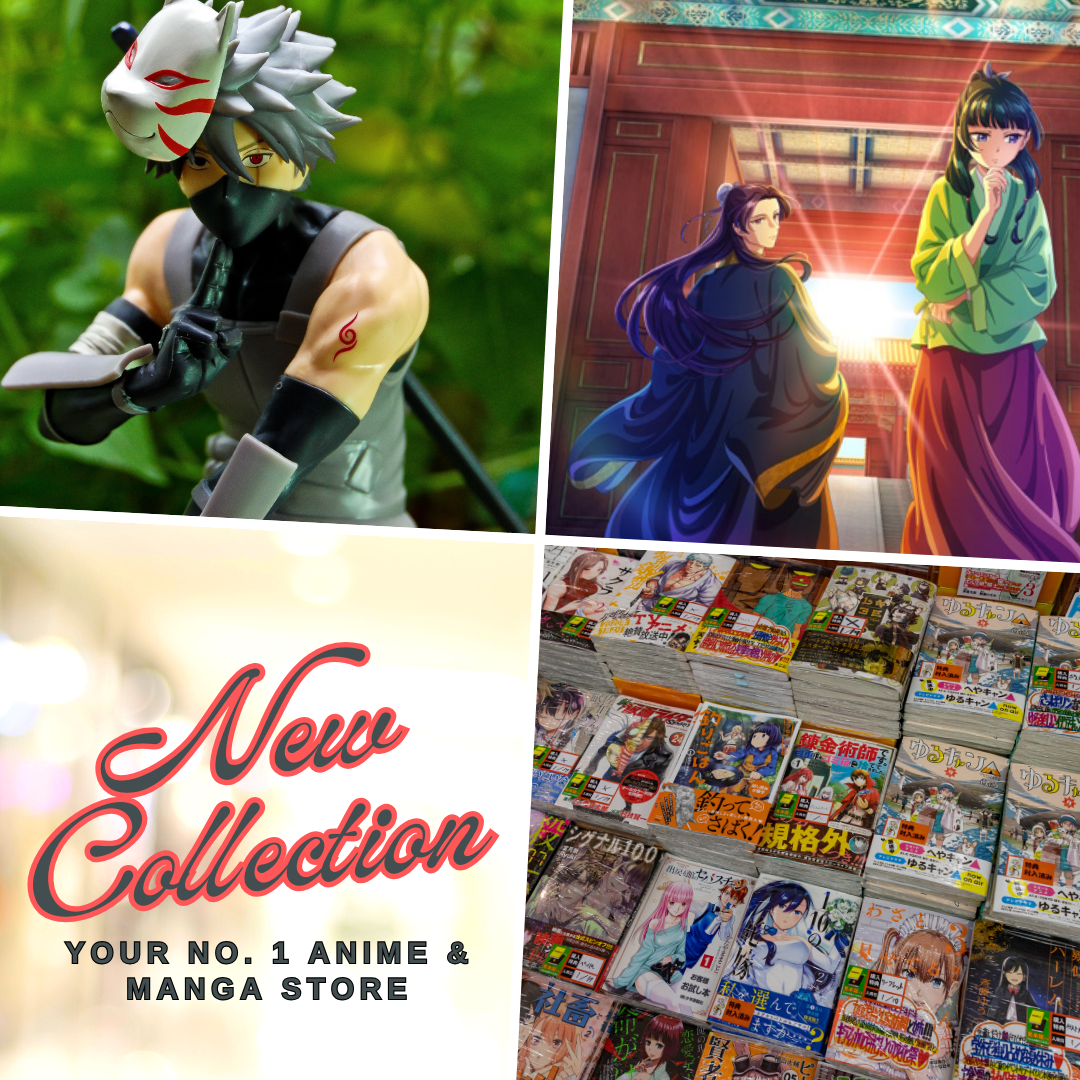 The mild bromance might have captured your attention but there's more to Drowning Sorrows in Raging Fire than its label as a BL donghua adapted from a danmei novel by Priest. The story that revolves around a young fiend and an old demon, the pact they made with each other, and the hilarious yet exciting moments they shared together just gives so much fun and feels to every donghua fan out there.
Drowning Sorrows in Raging Fire donghua has premiered last October 7, 2021 on bilibili and is one of the 4 Chinese anime that had been adapted from Priest's danmei novels – the other three are The Defective (which aired last July), and the upcoming Silent Reading, and Liu Yao: The Revitalization of the Fuyao Sect.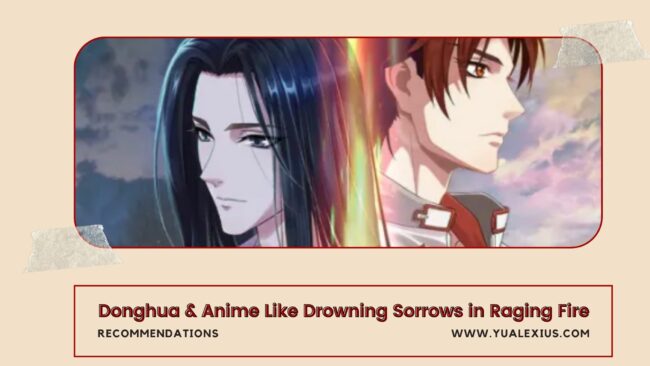 Synopsis
In the current era, a small percentage of people called "Special Abilities" have skills and powers normal humans do not possess. An autonomous organization, the Deviant Control Office, keeps these Special Abilities in check. Though some wish to maintain this order and peace, some wish to take advantage of their abilities and obtain more power in this world. Source: Anilist
The series is still ongoing right now, and it is the 4th Chinese anime to be added on Funimation after Heaven Official's Blessing, LINK CLICK, and The Defective. If you're also among the fans who are craving for a similar story or anime like Drowning Sorrows in Raging Fire, you're definitely not alone, there's plenty of us out there and I am glad to share my list of 11 titles that you may want to check. These are a combination of Japanese and Chinese anime like Drowning Sorrows in Raging Fire and had been around for quite some time, while some are directly associated with the series itself.
11 Anime like Drowning Sorrows in Raging Fire
Without further ado, let's start our list as follows:
Bureau of Paranormal Investigation
Mindiao Ju Yi Wen Lu | This is the very first thing that comes into my mind after watching the first episode of Drowning Sorrows in Raging Fire. Bureau of Paranormal Investigation shares a lot of similarities to this donghua, it may have the same bromance elements too. They both shared having the main characters working for an agency that deals with supernatural occurrences, both MC were entangled with unknown and mysterious entities that seem to be omnipotent in any sense.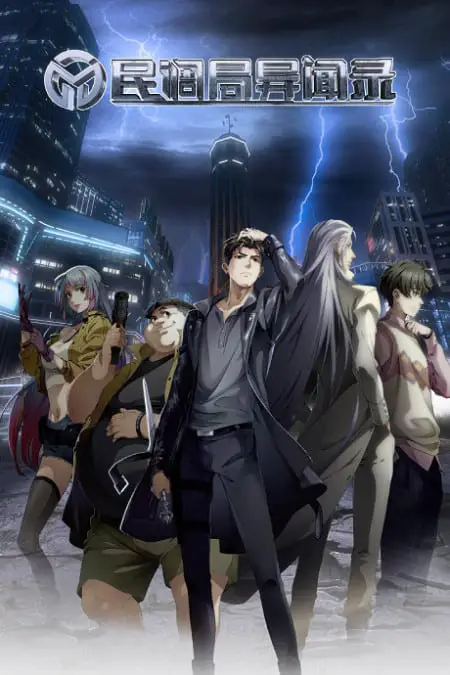 In the task of catching drug lords in the Yunnan border, a special forces team accidentally enters the ancient caves of the ancient Shu, and intruded on ancient rituals. The squad was almost completely annihilated. Only Shen Shuang and the anti-drug police Sun Desheng survived, as they were rescued by a mysterious white-haired man named Wu Hao. After this incident, the two men accidentally entered the "Civil Affairs Investigation and Research Bureau" and gradually became entangled in more supernatural events, revealing the veil of another world.

Source: Anilist
LINK CLICK
Shiguang Daili Ren | Here's probably one of the candidates running for best Chinese anime of 2021. LINK CLICK shares a riveting story of drama with plenty of life lessons to reflect on through a narrative that transcends space and time, as our main characters have to deal with the conspiracy and consequences of messing up with time itself. In both donghua, we have handsome characters that share a rather peculiar relationship. You just can't stop yourself from shipping them, but as a whole, LINK CLICK and Drowning Sorrows in Raging Fire both deal with supernatural occurrences, and try their best to come up with the best possible outcome to given circumstances.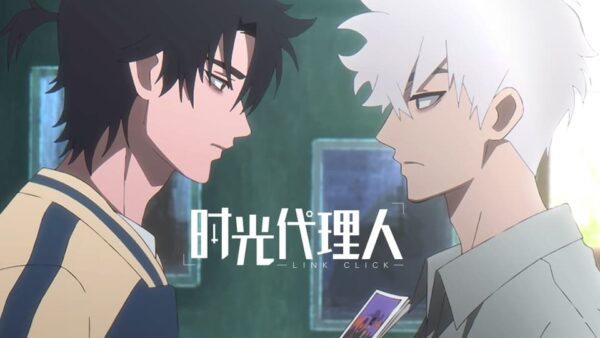 In a corner of a bustling city, there is a small shop called "Time Photo Studio" operating as usual. Although the entrance looks abandoned, it's actually run by two men with special abilities: Cheng Xiaoshi and Lu Guang. In order to fulfill customers' requests, Lu Guang and Cheng Xiaoshi work together and use their special abilities to enter photos. However, things don't go as planned…

Source: bilibili, translated
Heaven Official's Blessing
Tian Guan Ci Fu | Next in our list of donghua like Drowning Sorrows in Raging Fire is the most intimate of all the boys-love donghua we have out there. Heaven Official's Blessing follows the danmei Romeo and Juliet plot of Xie Lian and Hua Cheng, and their adventure as they both unravel the conspiracy of heaven, just like how Xuan Ji and Sheng Lingyuan deals with the mystery that engulfs the worlds of the supernatural.
Xie Lian, the crown prince of Xian Le Kingdom, successfully ascends to Heaven during his third trial in spite of successive demotions. However, he accidentally breaks the Gold Palace of heavenly officials. With no human worshiping him, Xie Lian has to descend to the secular world to exorcise ghosts, which may help him sustain his divinity.

Source: Funimation
The Defective
Can Ci Pin: Fangzhu Xingkong | This is a donghua that had been adapted from a danmei novel by Priest. Similar to Drowning Sorrows in Raging Fire that had been set in the contemporary world, The Defective goes a bit ahead and went to a futuristic setting. Both donghua even revolve around an agency, that solves some cases, well in the case of The Defective, it feels like they are a secret special detective and operative agency.
The series follows Lu Bixing and Lin Jingheng, two very different men caught up in a futuristic dystopia where mind-link tech known as Eden controls society. One out of every hundred people can't interface with Eden and are deemed "defective" as outcasts. These two will work together to fight against this unjust world.

Source: Funimation
Silent Reading
Mo Duzhe | Here comes another donghua from a novel written by Priest. This had been one of the most anticipated Chinese anime in recent years but it seems like its production had been delayed a lot of times. Nonetheless, Tencent had once again listed the series as part of their 2021-2022 donghua lineup. I think this one shares almost the same cliches with Drowning Sorrows in Raging Fire but it goes a bit more philosophical and psychological but still deals with mystery and crime-solving cliches.
Childhood, upbringing, family background, social relations, traumatic experiences… We keep reviewing and seeking out the motives of criminals, exploring the subtlest emotions driving them. It's not to put ourselves in their shoes and sympathize, or even forgive them; it's not to find some reasons to exculpate their crimes; it's not to kneel down before the so-called "complexity of human nature"; nor to introspect social conflicts, much less to alienate ourselves into monsters. We just want to have a fair trial – for ourselves and for those who still have hope for the world.
Related Post: Chinese Webnovel Silent Reading (Mo Duzhe) By Priests Get Anime adaptation
Mirage of Blaze
A shounen-ai, yaoi or BL, can be a bit cringy at times but Mirage of Blaze had all the drama and machismo mixed together beautifully in this adventure of supernaturals and exorcism.
In the present, there exists a spiritual world unseen to the average human being — the Feudal Underworld, a place where the spirits of ancient samurai warlords battle for supremacy, while influencing the land of the living. Ougi Takaya thought he was a normal high school student until a man named Naoe Nobutsuna informed him that he is the reincarnation of Uesugi Kagetora, one of a clan that is dedicated to exorcising these spirits. With the help of old friends and the spurn of new enemies, can Takaya come to admit the truth behind his existence?
Lesson XX
Is it attraction or what? Let's delve deeper into something intimate yet innocent. Lesson XX is a beautiful shounen-ai anime that looks appealing and enthralling throughout its short stint.
High school life is good for Morifuji Shizuka. With good grades, popularity, and a fair share of friends, he is not to be left wanting — except for one thing. Although the all-important finals are around the corner, the one thing on Shizuka's mind is his classmate, Ichitaro Sakura. But is this attraction real love, or simply something physical? And what will the innocent-minded Sakura think of another boy having feelings for him?
AWM Jixian Juji
If you want e-sports cliche but a bit of a BL stuff, AWM Jixian Juji is another Chinese anime like Drowning Sorrows in Raging Fire, albeit you'll also come to compare it with The King's Avatar at some point. It's not an obvious BL, but you'll certainly enjoy a decent amount of bromance and any hints it may bring, plus all the youthful feel that will remind you of Xuan Ji's energetic vibe.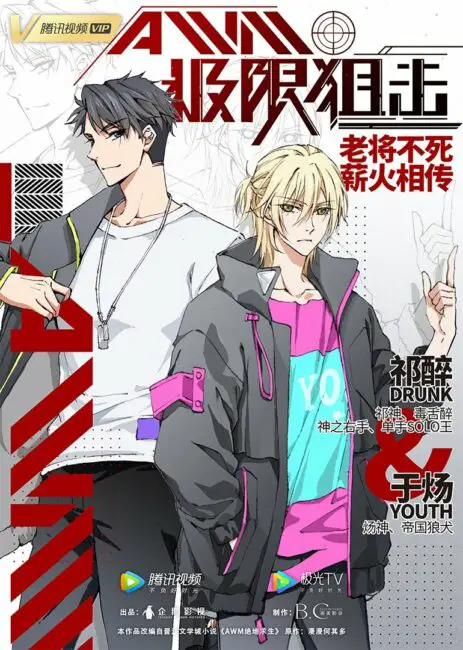 AWM: PUBG's highest damage dealing and most difficult to acquire, monstrous sniper rifle within the game. The ultimate air-drop dream, with ample power doing large harm, one shot to the head is enough for one to fall to the ground, regardless of the headgear one may be wearing. Its only disadvantage: The odds of it dropping make it extremely difficult to obtain, in which it all relies on luck. You are my AWM, meaning: You are the one who I can only come across serendipitously.
Related Post: AWM: PUBG Mobile e-sports & BL novel gets a Chinese anime adaptation
Spiritpact
Alright, so here we have another donghua that deals with supernaturals. We have exorcists and a whole lot more, and on the surface, the main characters will simply remind you of Xuan Ji and Sheng Lingyuan, and how their hilarious yet dramatic story had all begun.
You Keika, the heir of an old famous family of Exorcists, is stricken with poverty after losing his parents and struggles as a street fortune teller and a part-time computer tech. One night at a junkyard, he meets a mysterious and charismatic Exorcist, Tanmoku Ki, who is fighting an evil spirit. To compound his misfortunes, he gets hit by a car and becomes a ghost. Tanmoku Ki appears and asks You Keika to make a "pact" with him to fight Evil Spirits together. Here starts the friendship of our heroes!
Warm Sun / SAYE
Nuan Yang | Adapted from another BL novel by Wu Zhe, this is a Chinese boys-love anime that I am eagerly waiting to see. It is adapted from the novel SAYE, but it will be animated with the title Nuan Yang or Warm Sun. Unlike the other danmei story from Priest in this list, Warm Sun is a full-bloody drama and romance. It follows the story of two youthful hearts that finds solace in the presence of one another despite all the troublesome circumstances that surround their respective lives.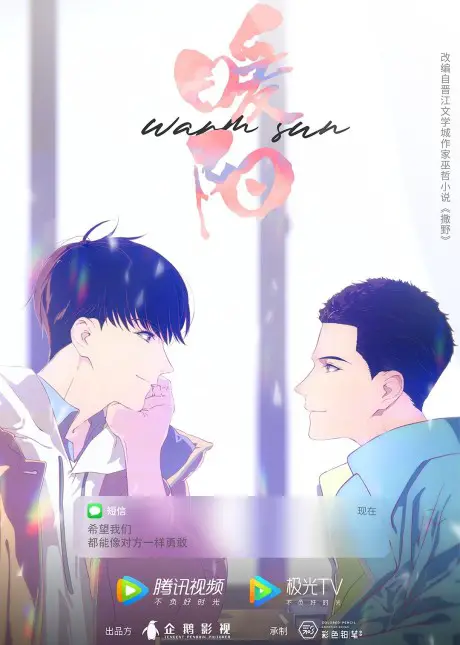 When Jiang Cheng was told to return to a family that he never knew or had a relationship with, he had never expected to end up meeting a young girl, and eventually, her seemingly roguish brother Gu Fei, as a first encounter in the new city.
Monochrome Factor
With almost exactly the same premise, Monochrome Factor is another anime like Drowning Sorrows in Raging Fire that fans should consider watching if they're looking for more similar stories.
Though the world may seem to be a normal place, in the midst of shadows lies the supernatural and terrifying. Beings from the shadow world known as Kokuchi have begun to invade the human world, and it's up to certain people to defeat them; Akira Nikaido is one such person. Though his life used to be ordinary, one day, the bishounen and affectionate Shirogane asked Akira to form a pact with him; and consequently, Akira became Shirogane's shadow partner. Together, the two hunts down stray Kokuchi – but more importantly, Akira must fend off Shirogane's advances and try to make his classes!
Alright, these are all our top recommend anime with a similar story to Drowning Sorrows in Raging Fire. If you haven't watched the donghua yet, you better not miss watching it. You can watch it now on its official outlets on bilibili, Anime Made by Bilibili YouTube channel, and on Funimation.
Last Updated on October 7, 2022 by Yu Alexius