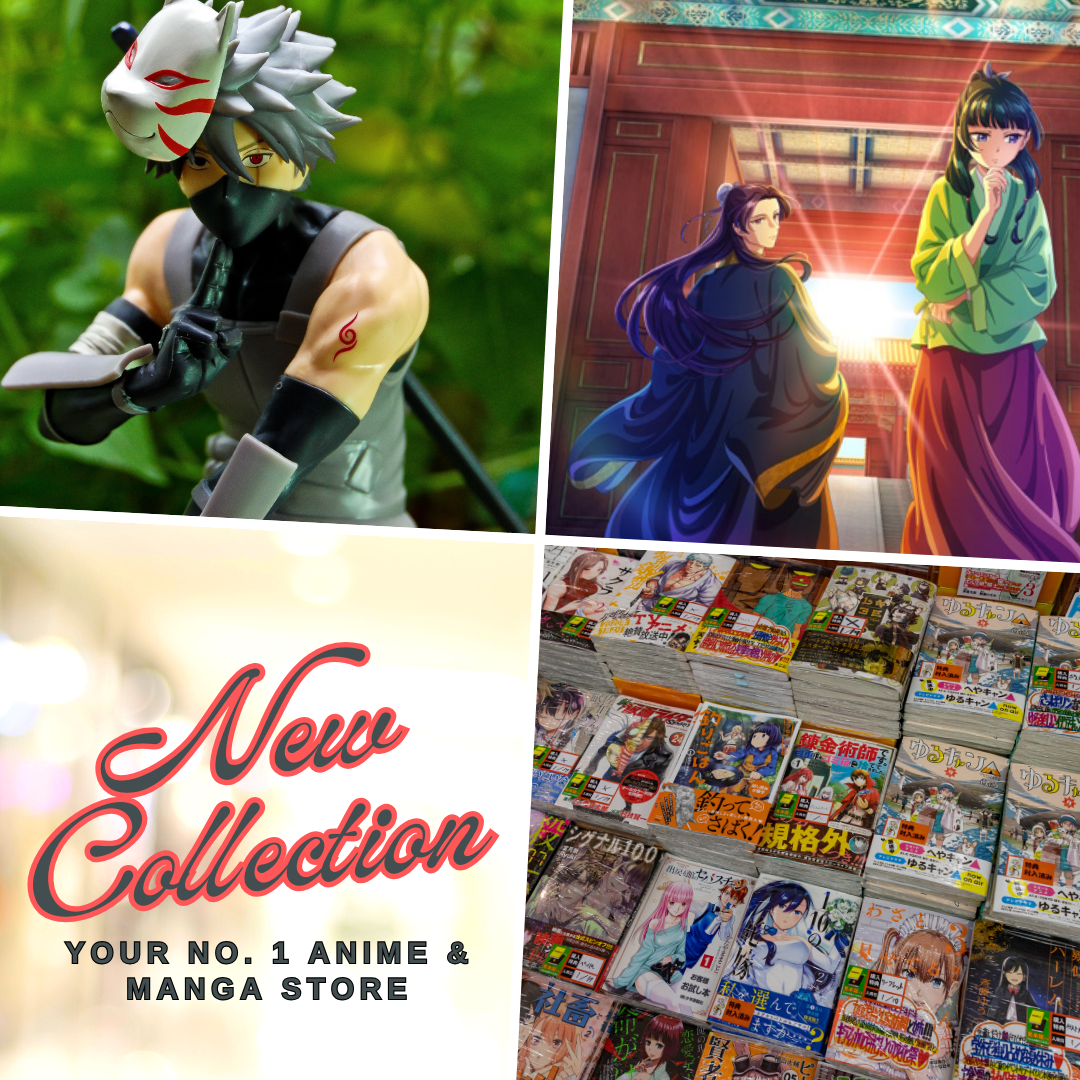 Let's talk about one of the titles from bilibili's 2021 Chinese anime lineup that got me hyped a little bit than usual. The popular web novel Lie Huo Jiao Chou or Drowning Sorrows in Raging Fire by author Priest gets an anime adaptation in 2021 from Shenying Animation. This is one of the 11 adapted works by bilibili for next year and has been sitting atop of my list ever since I set my eyes on its trailer and key poster.
Now, I would like to share an overview of Drowning Sorrows in Raging Fire. Let us check its animation studio, the original web novel, its story and cliche, and what it has to offer to many of us.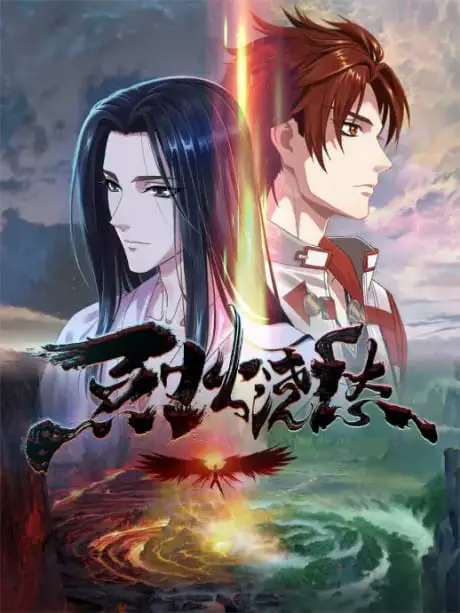 Drowning Sorrows in Raging Fire Overview
The upcoming Chinese anime is adapted from the web novel of the same title. Its author is Priest who has also written some of the most popular Chinese web novels such as The Defective, her longest work to date. Along with Drowning Sorrows in Raging Fire, they are getting an animation adaption in 2021, all to be distributed on bilibili's platform. She's also the author of Silent Reading, another upcoming Chinese anime in 2021 from the Tencent Video Animation lineup.
For fans of Chinese web novels and drama, Priest wrote The Ultimate Blue Seal, The Way of the Evil, Legend of Fei, B*stial Blade, Faraway Wanderers, Lord Seventh, Sha Po Lang, and many more.
Synopsis
In the current era, people are either normal or are with special abilities. Cases related to the latter are managed by the National Anomaly Prevention and Control and Special Species Management Office. Qi Zheng Emperor Sheng Lingyuan was reawakened a thousand years later after he jumped off the fiery red lake. Xuan Ji, a newly transferred staff to the Reparations Division of the Deviant Control Office, finds himself having to clean up the mess of a revived tyrannical monarch. The two seemed to share something from the past, but unbeknownst to them, a big conspiracy is stirring right underneath their noses that could destroy the balance of the world.
The novel is known as a boys-love (danmei) story in nature, thus, fans of Chinese anime boys-love or shounen-ai genre should add this donghua to their plan-to-watch list.
Drowning Sorrows in Raging Fire revolves around the two characters – Xuan Ji and Sheng Lingyuan. It will have various themes including transmigration, reincarnation, time-skip, magical formations, and just like any other mystery-solving investigative story. Therefore, we can also expect the same vibes from this donghua in the same way as the Bureau of Paranormal Investigations and Rakshasa Street. Now, this is an urban fantasy with a flavor of Chinese mythology put altogether which makes this an exciting adventure filled with conspiracy and surprises.
What's more? We have handsome characters and the character designs look good actually. So, we have confident and cunning protagonists that will make the story even more exciting, and even from now, I could feel that a possible clash may happen that would remind us of Wei Wuxian and Lan Wangji from Grandmaster of Demonic Cultivation.
Animation Studio and Release Date
Now, the biggest question that we all share – when is the release of Drowning Sorrows in Raging Fire? According to its official page on Weibo, Drowning Sorrows in Raging Fire (Lie Hou Jia Chou) release is scheduled for October 7, 2021 on bilibili at 11:00 AM timeslot. The announcement was accompanied by a new PV and a teaser visual as shown below. Drowning Sorrows in Raging Fire will also have an early release on October 6, 2021 in Funimation; this is the 4th donghua to be added on the popular Western streaming platform after Heaven Official's Blessing, LINK CLICK, and The Defective. [Source: Funimation, Twitter]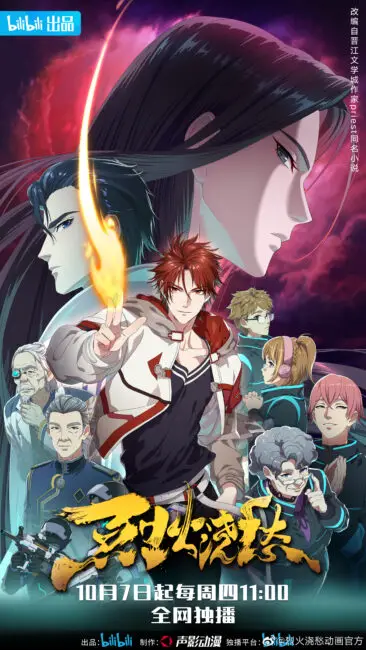 The upcoming donghua is animated by Shenying Animation, a relatively new studio in China. Aside from Drowning Sorrows in Raging Fire, their sole other works so far are You Yao (Are You Okay?) which was well-received by Chinese anime fans from the summer 2020 donghua lineup.
The cast for Drowning Sorrows in Raging Fire donghua adaptation includes the following voice actors:
Slayerboom as Xuan Ji
Jiang Guangtao as Sheng Lingyuan
Guo Haoran as Xiao Zheng
Chen Jinwen as Aluojin
Lin Maomao as Luo Cuicui
Ye Zhiqiu as Gu Yuexi
Gao Feng as Wang Boshi
Lin Qiang as Shan Yanghu
Liu Mingyue as Xiaoli
Shen Nianru as Ping Qianru
Chang Rongshan as Bi Chunsheng
Yajie as Ji Qingchen
Li Qingyang as Yang Chao
Xing Kaixin as Yue Degong
Wu Fengchun as Popo Yu
Trailers & PVs
Here are all the available trailers and promotional videos that we have had for the series so far.
To give you a glimpse of the animation quality, the character designs, and its world-setting, here's the first trailer of Drowning Sorrows in Raging Fire as unveiled by bilibili during their November 21 event.
bilibili has once again unveiled the first character PV for Drowning Sorrows in Raging Fire and the first one features Xuan Ji as shown below.
Shenying Animation and bilibili have unveiled the latest character PV for Drowning Sorrows in Raging Fire donghua adaptation and this time, it's Sheng Lingyuan. Drowning Sorrows in Raging Fire is an upcoming donghua that is based on Priest's BL novel, Lie Hou Jiao Chou. His voice actor is Jiang Guangtao, who previously voiced the character of Xie Lian from Heaven Official's Blessing.
On September 23, 2021; Shenying Animation and bilibili has unveiled the latest PV for the series which revealed its release date.
Below is the official theme song for the donghua titled RED FIRE:
Related Post: 11 Anime and Donghua Like Drowning Sorrows in Raging Fire
Where to watch Drowning Sorrows in Raging Fire?
This is our next question once we got its release date. Obviously, bilibili as the official distributor will have it available on their platform. They may also add it on their YouTube channel – Anime Made by bilibili. Its official streaming page on bilibili is 烈火浇愁 and you may also check its Weibo page of new updates: 烈火浇愁动画官方
Other places that might provide it are the unofficial fansubs like izfanmade, animexin, and kurinaofficial. Mundo Donghua might also add it to their archives for Spanish-speaking donghua fans.
References:
Last Updated on November 16, 2022 by Yu Alexius