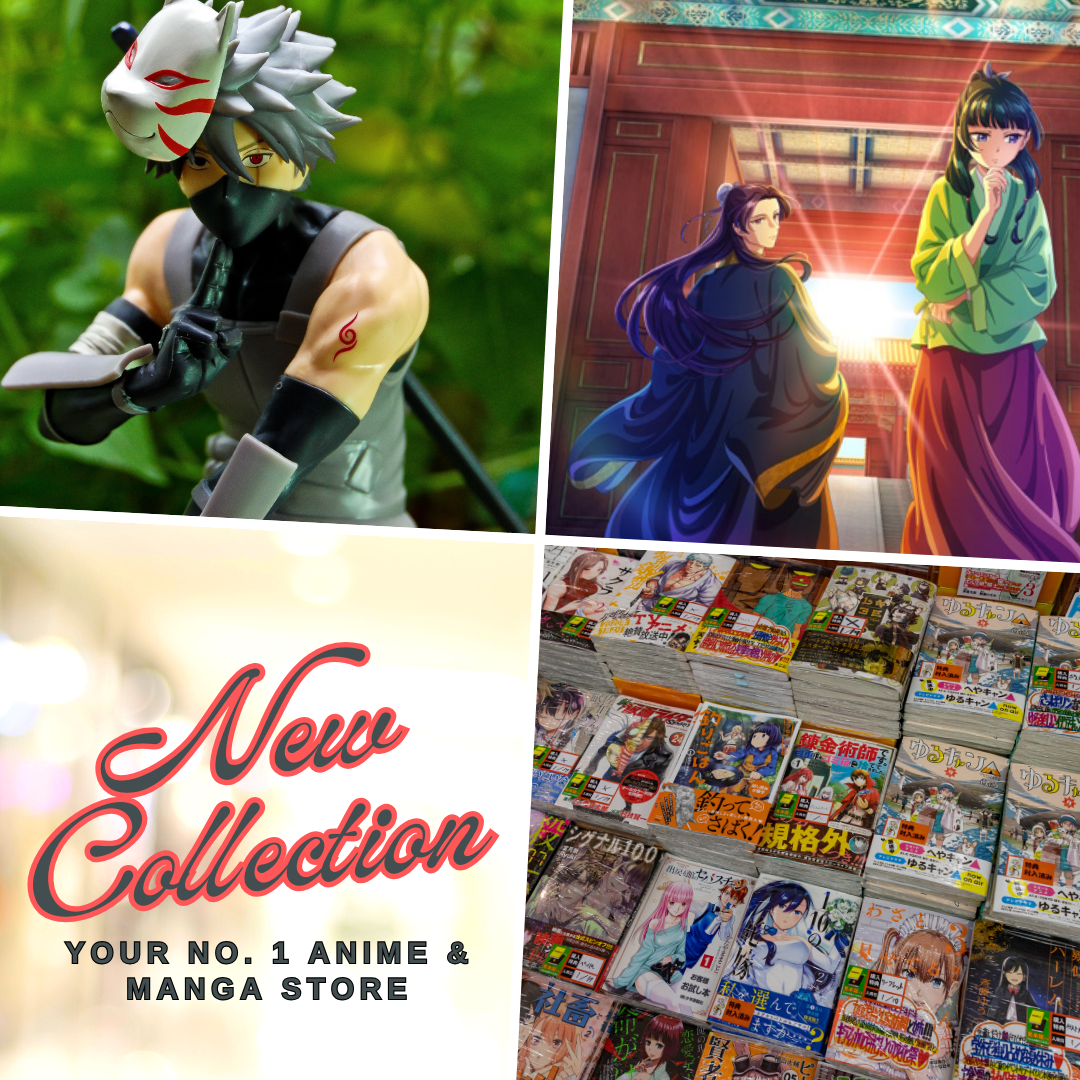 What are the most-watched Chinese anime? That's a question that always comes into my head and many donghua fans might be in the same situation. As someone who loves analyzing data and facts, the thought of checking out which donghua is the most popular through the years comes into my mind. Are my favorite donghua are also well-received by the crowd or am I the only one in this world who loves this specific series? And so many things have made my brain cells worked up and I came up with this topic: The Top 10 Most-Watched Donghua of 2020.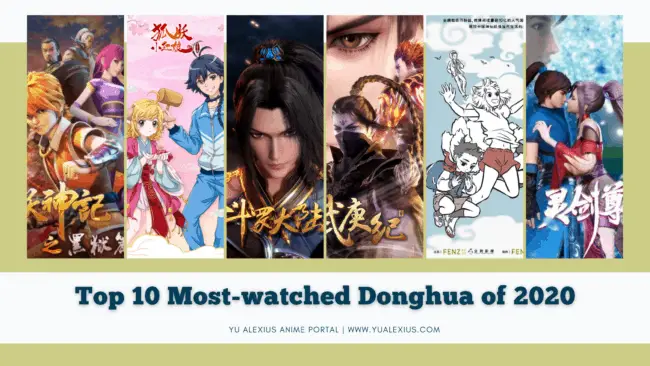 Yes, you've read it right. 2020 might be over but that doesn't that we can't look back at it. So, I want to know which Chinese had captured the hearts of many viewers. We have so many donghua that aired last year but which one stands out when it comes to popularity? I am quite surprised with the result that I've got, I have previously listed my best Chinese anime of 2020 in a post published several weeks ago but it seems only a few of them managed to squeeze their way to the top of the popularity chart. I think it is always a matter of personal preferences after all.
So let's take a look at the taste of Chinese viewers in donghua. Statistically speaking, this ranking will only cover the play volumes measured on various streaming platforms in China and international audiences are not counted. After all, official outlets of donghua outside of China are quite scarce so let's simply settle with the established data from the local viewers.
Top 10 Most-Watched Chinese Anime by Play Volumes
Here's the top 10 most-watched donghua of 2020 and I still felt a bit of a novice here because although I did watch plenty of series last year, I only managed to watch 5 out of 10 in this list. Without further ado, let's start our list now.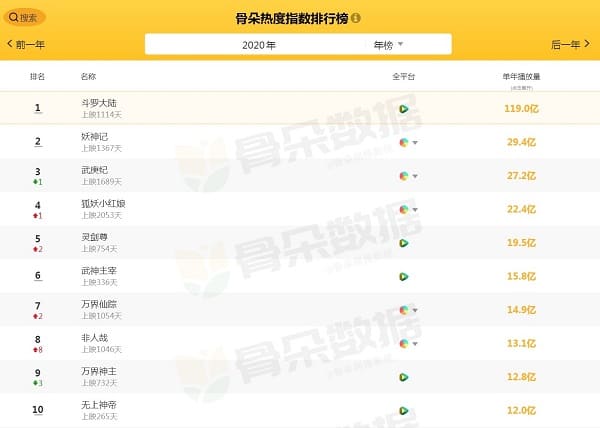 Soul Land (11.9 billion playbacks)
Douluo Dalu or Soul Land from Tencent and Sparkly Key Animation dominated the year with so much popularity as it topped the ranking with a huge margin against the 2nd place with its 11.9 billion playbacks throughout the year. There's no doubt that Soul Land is the most popular and most-streamed donghua in China right now. At its peak, it was able to gather over 200 million playbacks just for a single episode and that speaks a lot about how well-received the series was by Chinese viewers.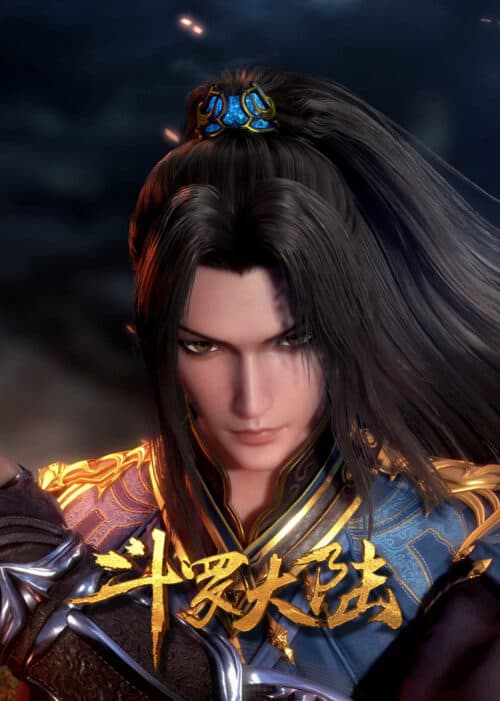 Unlike most of the titles in this list, Soul Land's playback volumes for each episode is sufficient enough to prove its popularity. Therefore, even with only 12 or 24 episodes, it will still be included in this list. In the case of other series here, most of them have episodes that are beyond 12 or 24 runs, so the more episodes they have, the higher the value would be of their total accumulated playbacks. Nevertheless, most of the series in this list are here because their single episode can still gather playbacks beyond 10 or 20 million at its worst.
Tales of Demons and Gods (2.94 billion playbacks)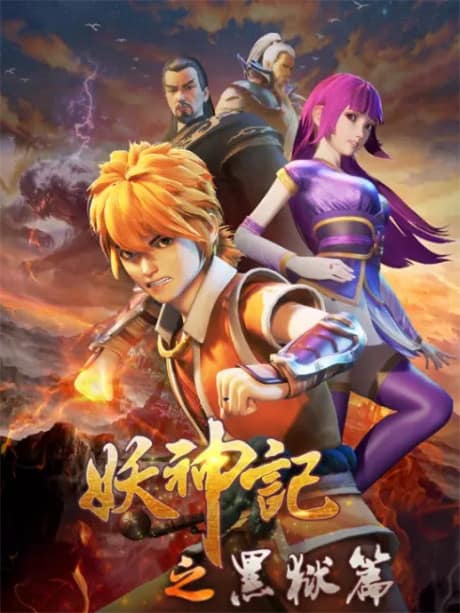 Coming in second place is Tales of Demons and Gods, one of the popular cultivation donghua in recent years as well as among the longest-running series with over a hundred episodes out there. In 2020, Tales of Demons and Gods Season 4 premiered as part of the spring lineup and had been airing continuously since then. Unlike Soul Land which aired exclusively on Tencent, Tales of Demons and Gods aired on various platforms such as bilibili, Youku, and Tencent.
The Legend and the Hero (2.72 billion playbacks)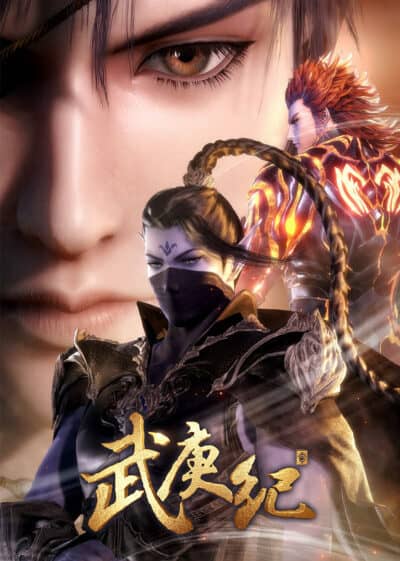 Wu Geng Ji gets the 3rd spot in our list of most-watched Chinese anime of 2020 and this is the second entry in the list from Sparkly Key Animation with 2.72 billion playbacks. It seems that Sparkly Key had mastered the recipe to catch the attention and love of the Chinese viewers, even their other works such as The Legend of Qin are a masterpiece and it also released its 6th season last year.
Fox Spirit Matchmaker (2.24 billion playbacks)
Alright, in the fourth place is a Chinese anime that even fans of Japanese animation might be quite familiar with because this donghua was dubbed in Japanese before. It is Fox Spirit Matchmaker from Haoliners Animation League, and probably their signature works to date until Heaven Official's Blessing premiered last year. Furthermore, Fox Spirit Matchmaker is the first of the only two (2) 2D animation in this list, which means how well-received it was by Chinese viewers even though the audience prefers the 3D animation type of donghua.
Spirit Sword Sovereign (1.95 billion playbacks)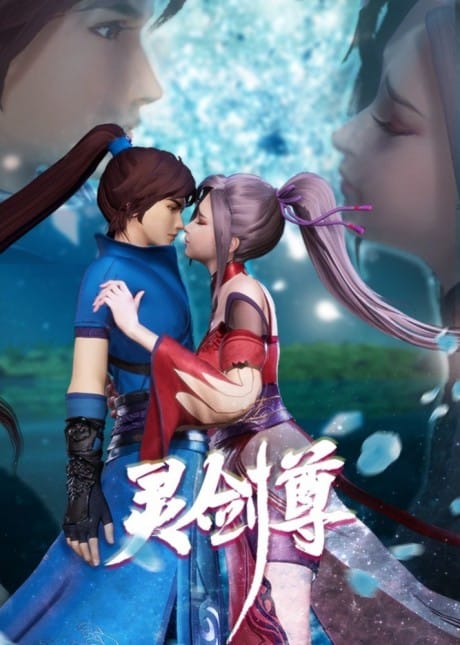 Ling Jian Zun – We have another 3D donghua on our list as one of the most-watched Chinese anime from last year. To be honest, I am not familiar that this donghua is such a hit to its local audience. But yes, Spirit Sword Sovereign finished at 5th place with 1.95 billion playbacks. If I remember correctly, around September last year, it was following behind Soul Land in the weekly chart's popularity that time with 50-60 million playbacks per episode.
Martial Master (1.58 billion playbacks)
Coming next on our list is Martial Master with 1.58 billion playbacks which is another long-running donghua of 2020. It is a fantasy action donghua from animation studio Ruo Hong Culture which is known for producing popular 3D Chinese anime.
Wonderland (1.49 billion playbacks)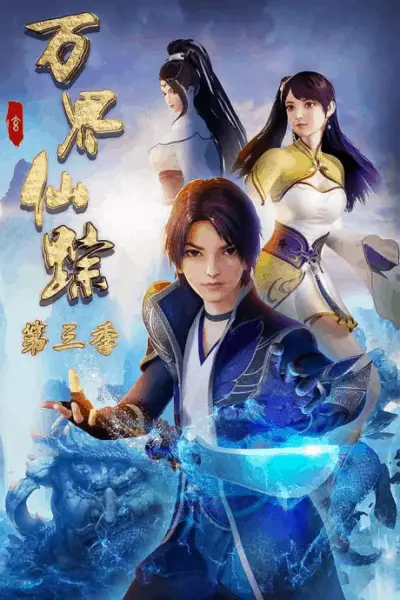 For fans of donghua, Wonderland is another series that you might be all familiar with. It aired during the days when Chinese animation is slowly rising in popularity and had been one of my earliest 3D donghua along with Soul Land, Battle Through the Heavens, and Spirit Sword Sovereign. In 2020, Wonderland released its 3rd season and was able to gather total views of 1.49 billion playbacks from last year.
Non-Human (1.31 billion playbacks)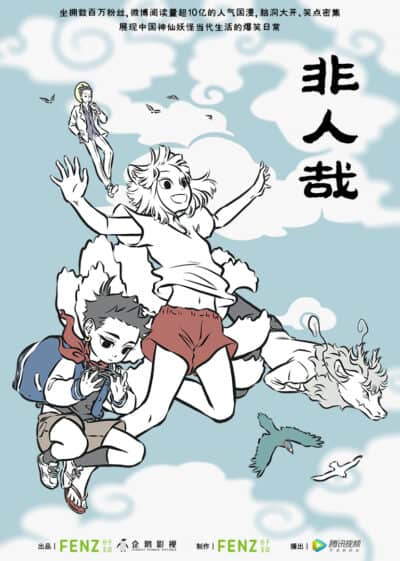 Fei Ren Zai – With a total of 1.31 billion playbacks in 2020, Non-Human finished at the 8th spot of the most-watched Chinese anime from last year. This adorable supernatural Chinese anime is a furball of sunshine filled with good vibes and a slice of life cliche.
Lord of the Universe (1.28 billion playbacks)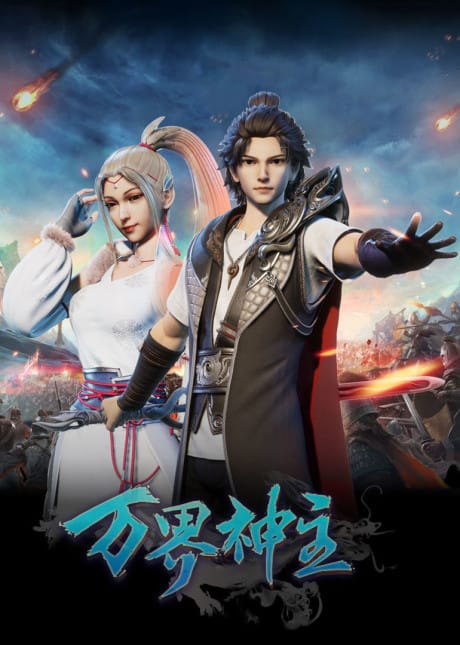 Wanjie Shenzhu – Another cultivation and fantasy donghua also secured a spot in this list and that is Lord of the Universe that accumulated a total of 1.28 billion playbacks in 2020. Now that we are in 9th place, you guys can finally conclude that xianxia and martial arts donghua are dominating the Chinese animation industry when it comes to popularity to its local audiences. That's another reason why every year, we get plenty of cultivation donghua which had been adapted from various sources whether it is manhua or web novel.
Supreme God Emperor (1.2 billion playbacks)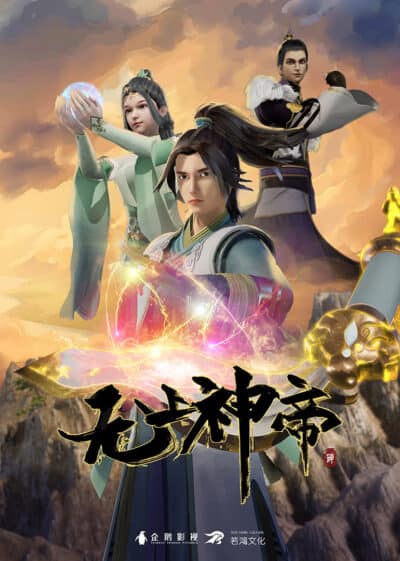 I bet you had predicted it but yeah, sitting in the final place of our list is Supreme God Emperor, another fantasy, and xianxia or cultivation donghua.
With all that, I am wrapping up this post about the 10 most-watched Chinese anime of 2020. I felt a bit disappointed that some of my favorites weren't up there but popularity always depends on the numbers and their respective preferences. Nevertheless, I am glad that my favorites like The King's Avatar 2 did quite well last year too. If you have noticed, we don't have any donghua from the bilibili lineup here is because their reach among Chinese viewers is quite limited compared to the vast coverage and number of subscribers from the giants Tencent and YOUKU. However, 2020 had shown us some successful projects from bilibili and their top 3 most-watched donghua that year are The Daily Life of the Immortal King, Carp Reborn, and Heaven Official's Blessing.
Alright, so let me ask you guys which of the donghua in this list are your favorites and which of the series that didn't make it to the top 10 do you think deserves to be there? Please drop your thoughts in the comment section below. Furthermore, I might as well list down the most-watched Chinese anime from various streaming platforms by year or by months but that would be a section that I'll think about for the next few days.
Related Post: Top 10 Most-Watched Donghua in China from 2021
Last Updated on September 28, 2022 by Yu Alexius