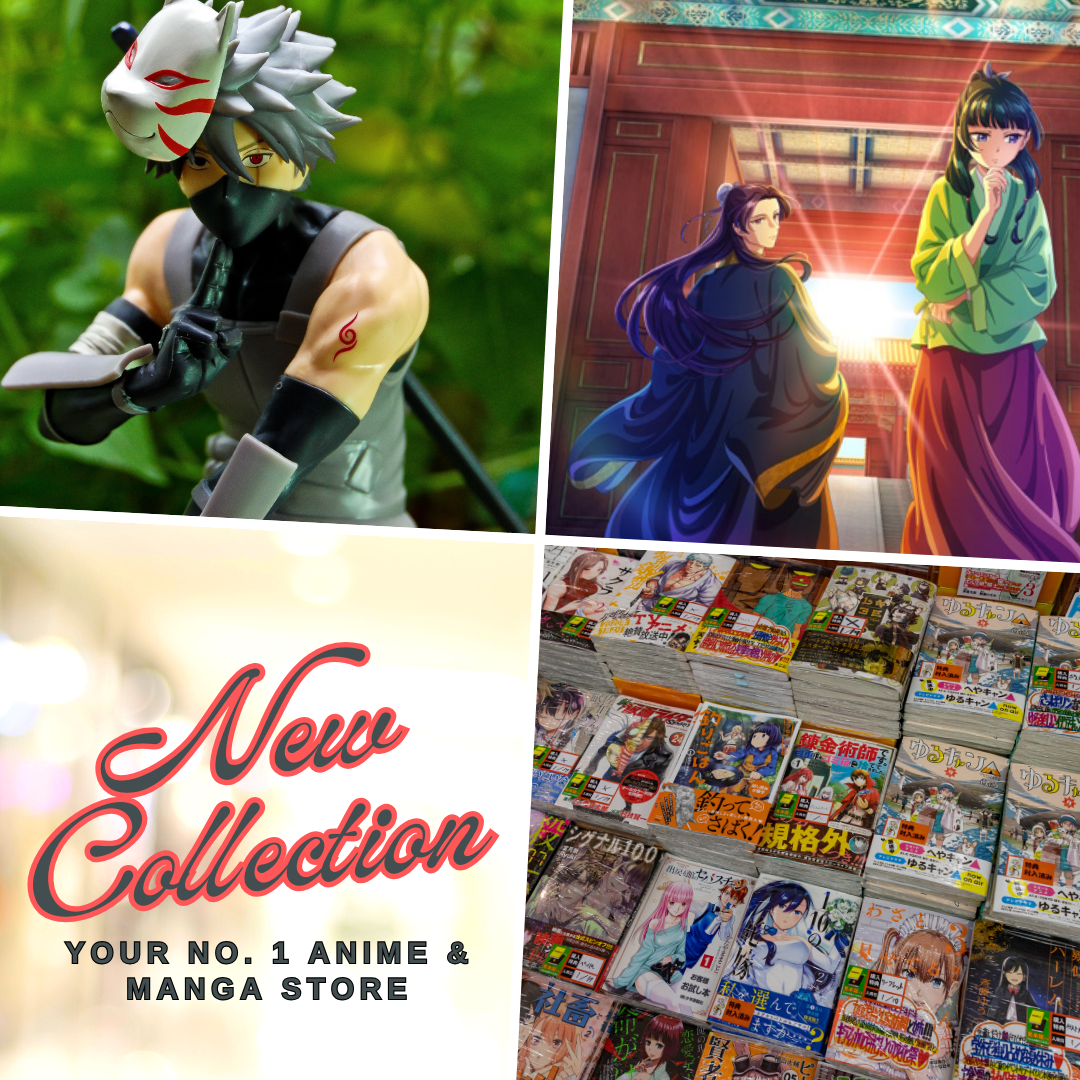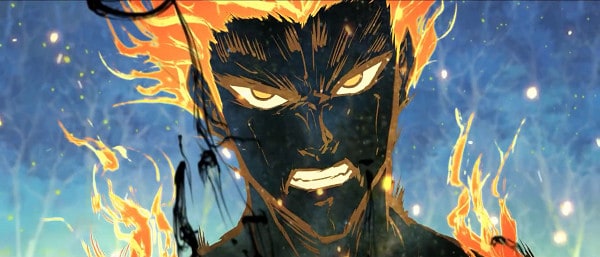 Wu Shan Wu Xing (雾山五行) or popularly known as Fog Hill of Five Elements is definitely the most anticipated Chinese anime of the year. The upcoming donghua had been in the making for the last four years and fans are eagerly waiting for its release which is speculated to be this 2020 after the delayed of its original premiere which supposed to be last September 2019.
In this post, I will share some important details that viewers should know about Fog Hill of Five Elements anime series including its production and its release date as well as a short introduction to its world-setting, story, and its available trailers & posters.
Fog Hill of Five Elements is an original Chinese anime from Samsara Animation Studio, in a co-production with Nice Boat Animation. The story of the anime is set in ancient China in an alternate world where humans have supernatural powers – specifically they are called the Five Elements. In regards to this concept, we could simply assume that the donghua could be similar to The Avatar series to a certain degree especially with its plot, and the animation style quite differ but some aspects really looks familiar.
Fog Hill of Five Elements Background
The Five Elements are possessed by a group of five warriors. They are the major characters in Fog Hill of Five Elements. The user of Fire is seemingly shown as the main protagonist of the series based on the available trailers and teasers for the anime.
In the first trailer which was released several years ago, the Fire user and the Water user were shown battling each other. It was shown that they could take on a transformation related to their respective elements and the Fire user comes out as the winner from that battle.
Wu Shan Wuxing aka Fog Hill of Five Elements is also known with other titles such as Wushan Wuxing, Fog Hill of the Five Elements, and Five Elements in the Misty Mountain.
Fog Hill of Five Elements Plot
A legend tells that a long time ago, monsters could give the ability to certain elected officials to master the five elements. But for that, you have to go through the dangerous foggy mountains… We follow the adventures of one of these elected officials.

Source: Nautiljon
Fog Hill of Five Elements Characters
The story revolves around five (5) characters that were elected to possessed the five elements: Fire, Water, Earth, Wood, and Metal. These "Fog Hill of Five Elements" characters were named as follows:
Fire (Character)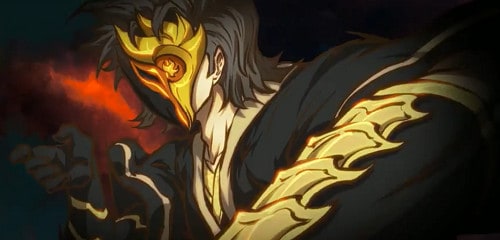 The yellow motif covers the characters mask, some sections of the clothing over and lighter yellow undershirt that matches the pale yellow scale like gauntlets on their left arm. The mask itself resembles a sideways reptile head with a black top and orange markings surrounding the eye section. The character has medium length dark hair almost as black as the clothes. [Fog Hill of Five Elements Wiki]
Water (Character)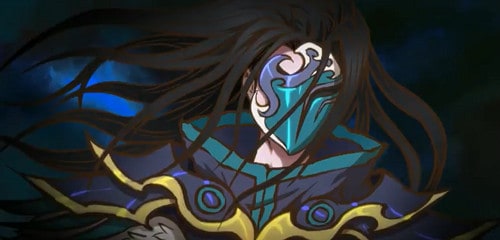 A teal colored mask with a purple shaded section on the top right when worn covers this characters face though not fully with parts of their face visible. The same teal color adorns the top of the raised collar clothing they wear which extends across the shoulders. The character has long wavy black hair. [Fog Hill of Five Elements Wiki]
Earth (Character)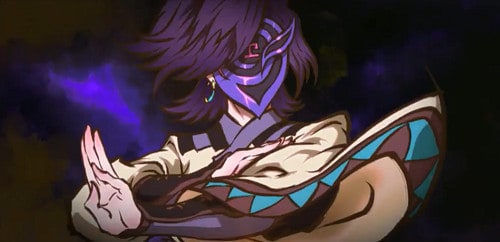 The purple motif extends to the characters long wavy purple hair where the back and sides are styled to appear outwards. The artificially appearing lavender colored mask is flat and shaped as an upside down tear drop. There is a black pattern around a pink symbol adorning the mask. The character wears a half hoop gold with cyan color in the middle in their right ear. [Fog Hill of Five Elements Wiki]
Wood (Character)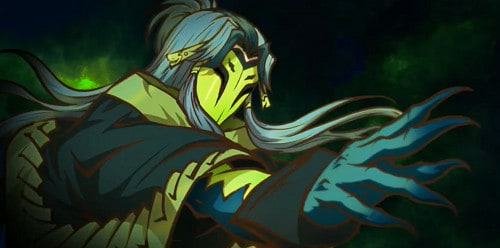 A lime green colored mask with curved black openings for the eye sections covers this characters face leaving their long light blue hair visible. The fringe is parted showing their forehead at the top, ribbons tied sections of hair on either side of their face. The back of the hair is long reaching down near their back and an area of hair is tied atop the back of their head. A dark and light green colored poncho is worn and physically this characters hand can appear spectrally blue with elongated nails. [Fog Hill of Five Elements Wiki]
Metal (Character)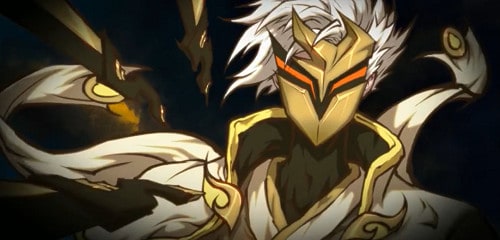 Clad in materials, the character's wavy white hair and ears are visible behind a dark golden colored mask with thin orange eye sections between dark ones with the mask tapered at the bottom. A raised rigid collared white jacket is worn with yellow colors adorning the top of the collar. [Fog Hill of Five Elements Wiki]
You may check all the characters of Fog Hill of Five Elements anime here: Meet the Characters of Fog Hill of Five Elements: The Envoy, The Humans, and Demons
Fog Hill of Five Elements Release Date & Production Staff
Fog Hill of Five Elements release date is scheduled on July 26, 2020 as a new trailer for the anime had been unveiled as shown below:
The ONA was originally slated for release on September 2019 but was delayed and scheduled for 2020 release. Now that Fog Hill of Five Elements release is slated on July 26, we should save the date and prepare for an amazing sakuga experience from the 5 elements. According to previously revealed information, Fog Hill of Five Elements will have a total of 8 episodes. Guodong Subs is also working for the the English subtitles of the anime, although it will be release a bit later than the raw version.
You can watch the first episode at bilibili here: https://www.bilibili.com/bangumi/play/ep331423
Nice Boat Animation (co-producing the donghua) had also released this most anticipated Chinese anime of 2020 – White Cat Legend last April 10. In regards to this, fans could speculate that it'll only be matter of time until donghua's will premiere. Furthermore, the anime had a joint test-screening with White Cat Legend last November 2018: Fog Hill of Five Elements & White Cat Legend aka Dali Temple Log Joint Screening Test. We could expect for some correlation between them which includes its imminent release.
Fog Hill of Five Elements is directed by Hun Lin (who is also the creator of Sui Cheng Li Xin: Gui Yu Zhou Yuan Pian) at Samsara studio. In fact, Hun Lin had made Kuiyu Chouyuan by himself as well as the action designs for Fog Hill of Five Elements. 
Due to the small-size of the studio (around 5-10 personnel only), the series had been slow in production but this also serve as a proof that the production team is in no rushed to finish the project, thus ensuring that the quality will be consistent. If we will take a look at the trailers and teasers of Fog Hill of Five Elements, we could see how much attention is given to the details and its quality is absurdly amazing.


Fog Hill of Five Elements Anime Opening Theme
Few more days before the release date of the anime, Samsara Animation's unveiled the music video for their opening theme song and it looks beautiful and enchanting. What's even more amazing is that the song was performed by the anime's director himself, Lin Hun. Check it out below.
Fog Hill of Five Elements Trailers & Teasers
Here we have compiled all the previously released trailers and teasers of Fog Hill of Five Elements. While we could barely get any specific details yet about its story, this is a consistent proof of the upcoming donghua's animation quality and its world-setting which really looks beautiful and fascinating.

Fog Hill of Five Elements Posters, Image Stills, & Drafts
We also have here selected visual tears and draft images from Fog Hill of Five Elements anime series as follows: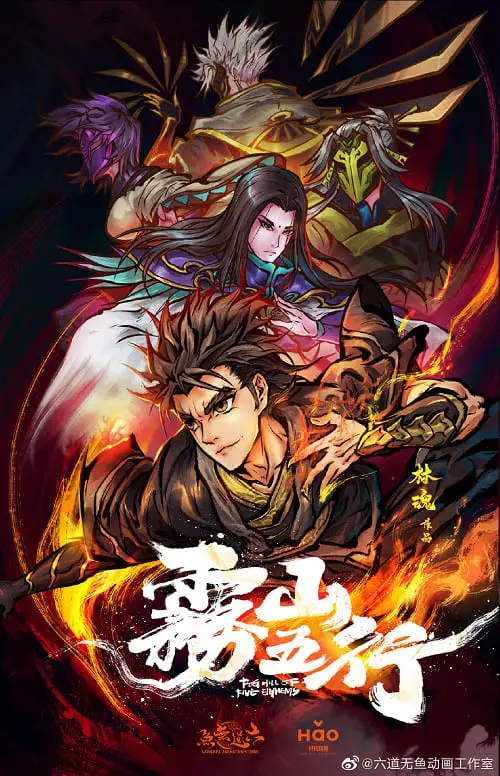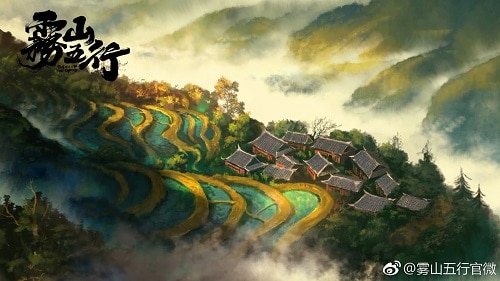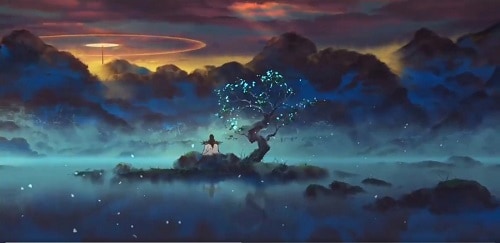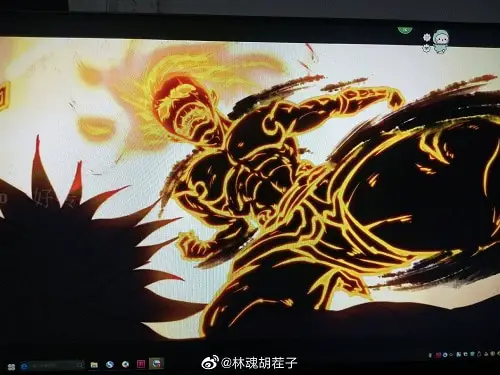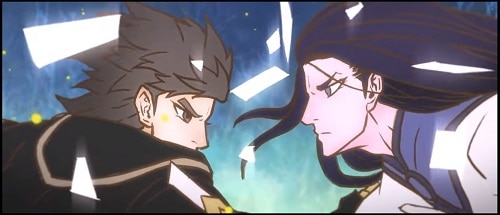 Where to Watch Fog Hill of Five Elements?
Obviously, this one is what really matters if Fog Hill of Five Elements finally revealed its release date. Most of us definitely have the same questions of where to watch Fog Hill of Five Elementsonce it will be released? On my end, I am expecting that it will be released on bilibili too just like what Nice Boat Animation did with White Cat Legend anime release. Upon the confirmation of its release date, it was also unveiled that the anime will be stream on bilibili.
Streaming Links:
Furthermore, we can also hope the Chinese anime subbing groups will include Fog Hill of Five Elements in their archives. To see the full list of these subbing groups, you may visit this website: [donghua.jimdofree.com] where Chinese anime directory is listed and where you can watch or download them online.
Last option but also effective is YouTube, with the sudden rise of Chinese animation's popularity, many people are now uploading various donghua on YouTube and Fog Hill of the Five Elements is no exception.
Alright, while Fog Hill of Five Elements release date is not confirmed yet, I would like to recommend add the anime on their Chinese anime watchlist for 2020 as well as followed the producer's Twitter profile @liudaowuyu for updates. You may also subscribe to our newsletter to get the latest updates about Fog Hill of Five Elements as we give you the latest news about it once further announcement had been made. If you're looking for other Chinese anime airing this 2020, you may check our post on: Top Recommended Chinese Anime of 2020 and the bilibili Chinese anime lineup for 2020.
Please let us know too about your thoughts on Fog Hill of Five Elements, especially that fans had been waiting since 2016 for its release. Furthermore, we are all looking forward on this one after its predecessor Kuiyu Chouyuan (another work of Fog Hill of Five Elementscreator) had been cancelled few years ago.
References:
Media  © Samsara Animation Studio
Last Updated on November 11, 2022 by Yu Alexius