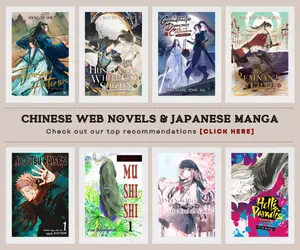 Christmas season is finally here and for some people, it simply means vacation and what's great to do with vacation is spend it with the whole family, travel with friends or by oneself, or for otakus – more time to drown ourselves to anime. Just like everyone else, we anime fans always take this opportunity to check anime series or movies that we hadn't seen yet, well that is one of the ways to enjoy the Christmas vacation after all. Unfortunately, such is not the case on my end since I don't have a Christmas vacation due to work-related stuff. Nonetheless, I am sure to have plenty of anime to catch up from my watchlist before the year ends.
Since it is Christmas, you might be wondering what anime to watch during Christmas day or during the whole span of your vacation? And that's what we will cover for today as I have prepared a list of anime series and movies that you can watch this Christmas. You can watch it by yourself alone, or by your friends and family. Our list covers several genres and does not simply revolve around Christmas-theme story but also includes anime with great stories for family, friends, and some important life lessons to learn from.
Ho Ho Ho! That is not Santa or anyone; it's just me laughing a little bit to call forth some Christmas vibes as we start our list as follows:
20 Anime to Watch during Christmas Season
Now, let's discuss each of these anime and what makes it appropriate to watch for the holiday season. First of all, you might have noticed that I didn't include some anime titles which is listed for best Christmas-themed anime to watch for the holiday from other sites, it is because I would like to offer a fresh recommendations, something new that people could actually enjoy aside from those shows that other people always suggest. Alright, let's start with the first on our list.
Tokyo Godfathers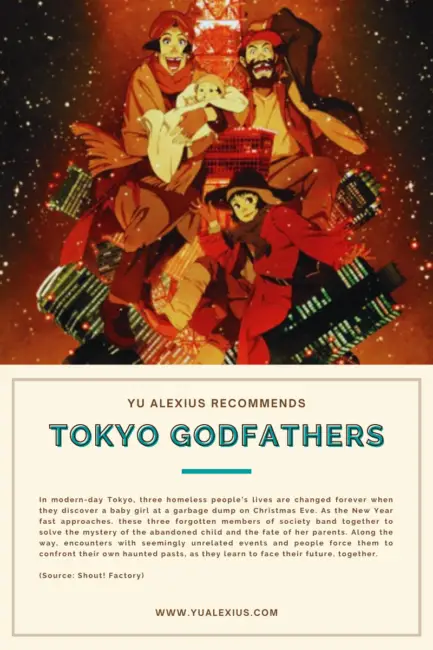 Whenever I think about Christmas anime, Tokyo Godfathers is the first anime title that comes into my mind. The reason is that Tokyo Godfathers' story took place during Christmas Eve and it turned out to be an insanely hilarious ride filled with drama, humor, and an obnoxious series of coincidence that led to a great finale. Yes, Tokyo Godfathers is both fun and inspiring. It only shows that despite how tragic or unfortunate things could be, there is still the light, there's still hope, and that is what this anime had shown us – very befitting for the Christmas season isn't it? The film also have that splendid Studio Ghibli like anime vibe that many fans might be able to easily connect the similarities in its ambiance and storytelling.
Related Merchandise: Tokyo Godfathers Blu-Ray
My Neighbor Totoro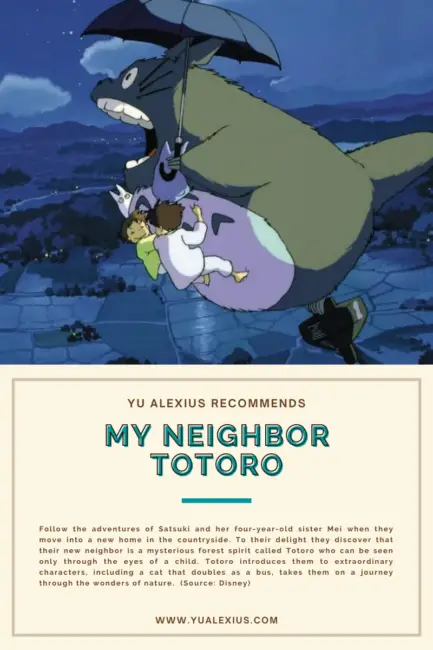 This is one of my favorite anime from Studio Ghibli and is a story for the whole family to enjoy. I could actually watch this with my whole family and just enjoy it as a bonding session for us. That is what Christmas is all about, spending time with the people that truly matter to our heart and celebrates Christ's birthday.
Kimi to Boku.
An anime that tells us the daily life of high school boys and it's an amazing story to follow. Many of us can seriously relate ourselves with them, and it could even bring back some nostalgic scenes from our high school days (which actually happened t me). This anime has 2 seasons, for the Christmas special episodes, I will recommend heading straight to Kimi to Boku Season 2 Episode 1 until 5. However, it won't hurt to watch the entire series as the fun and story really worth your time.
My Daddy Long Legs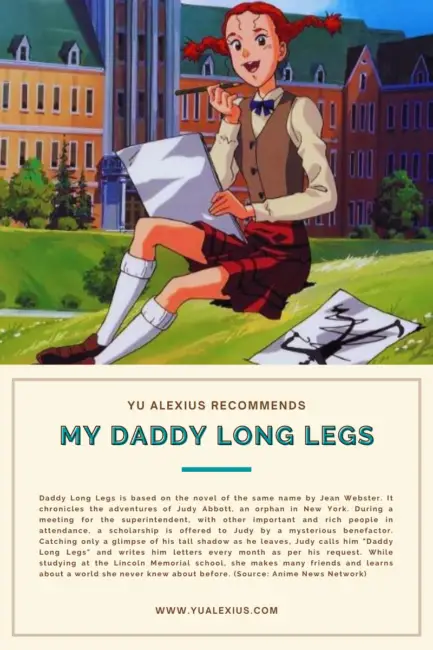 Locally known as Judy Abbott in my home country and it is part of the World Masterpiece Theaters anime projects, I did watch this anime during my childhood days and I truly enjoyed it even though I am not familiar with the romance genre that much yet. I have watched it for a 2ndtime during the Christmas season in 2015 (coz I am actually jobless at that time) and it makes me appreciate the story even more now, possibly it's because I am more mature to understand it. Among my favorite scenes from the anime is the vacation of our main character, and the Christmas holiday that she had throughout the entire course of the story. This is a great romance anime, and perfect for lovers and friends to watch during the holiday.
Itsudatte My Santa!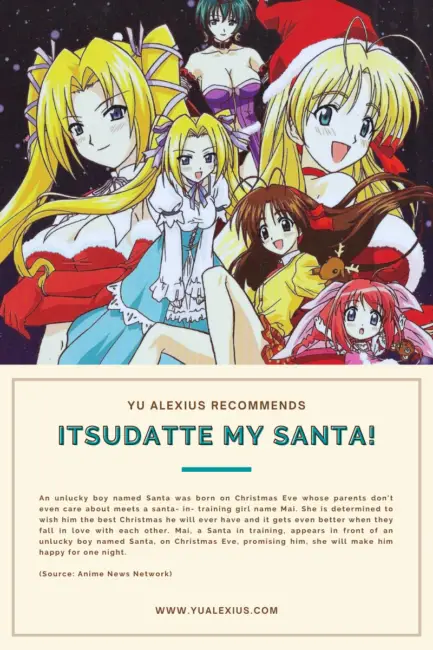 Always My Santa. This one is a special episode of the Love Hina anime series. Itsdatte My Santa! is an anime that really brings Christmas vibes as it gives us the essence of it – the spirit of giving, and more importantly, changing people's lives for the better. Itsudatte My Santa! tell us a girl who meets a boy who hates Christmas – and she makes everything she could in order to help him improve his luck and change his views about Christmas and life in general. If you like romantic comedy anime, then this one is a must-watch for you. It will be more awesome to watch it along with your girlfriend or boyfriend; it will be an awesome Christmas date I swear.
Love Hina Christmas Special: Silent Eve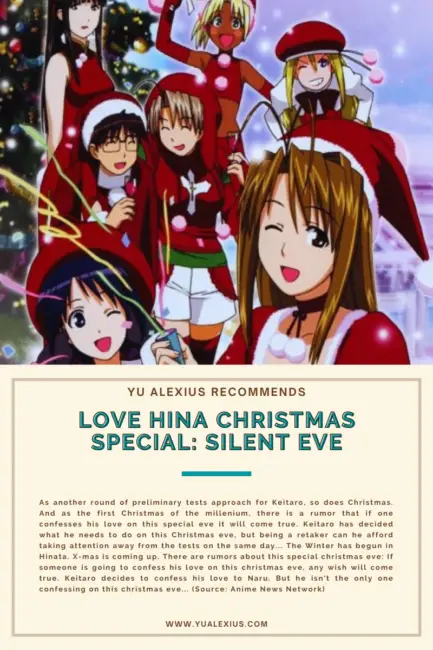 A Christmas special episode from one of the most popular harem romance anime prior to 2000 era –  Love Hina did give us a romantic story through this OVA where Keichiro tries to confess his love for Naru.
Spice & Wolf
One of my all-time favorite anime series, Spice & Wolf is a story about a Wolf in disguised as a young lady (a harvest goddess) and a traveling merchant which shows the story of how everyone could live a mutual relationship – a symbiosis in scientific terms. Far from the action-packed light novel inspired anime, Spice & Wolf is on the economic side which tells a lot about the adventure of a merchant, and the challenges and wonders that they meet along the way. Furthermore, Holo is such an interesting wolf and a powerful one.
Winter Sonata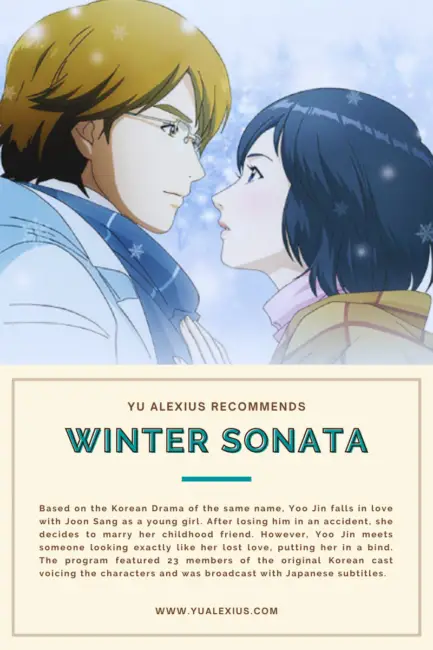 Fuyu no Sonata. If you're familiar with the Korean drama Winter Sonata, then you'll definitely want to check this anime. It's an anime adaptation of the actual K-drama and aired as part of the 2009 anime lineup. A drama romance story that could awaken the cold atmosphere in the Christmas season – what a befitting mood though, Winter Sonata tells us a story of love, moving forward and coping up with our loses, and face what the future may in store for us no matter what it is.
Natsume's Book of Friends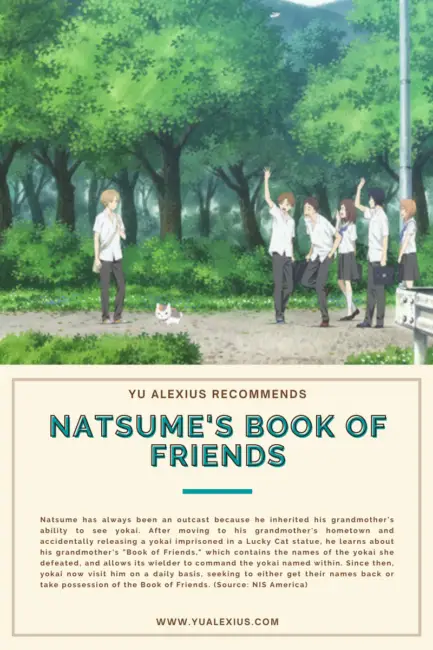 Natsume Yuujinchou. I am sincerely excited to recommend this one because it is my no. 1 favorite anime of all-time. Though the anime runs for a total of 6 seasons with roughly over 60 episodes in total, this is a great experience to follow during the holiday break. It is an inspiring story with so much warmth and perfect match for the cold ambiance of the Christmas season. There are so many life lessons to ponder from watching Natsume Yuujinchou and until now, I still think that it's the King of Slice of Life anime genre.
Winter Garden
Also known as DiGi Charat: Winter Garden, this anime is a good slice of life, romance anime that every shoujo fans may enjoy. A little bit heartbreaking, a little bit dramatic, just perfect to spice up the holiday for some drama and romance.
The Disappearance of Haruhi Suzumiya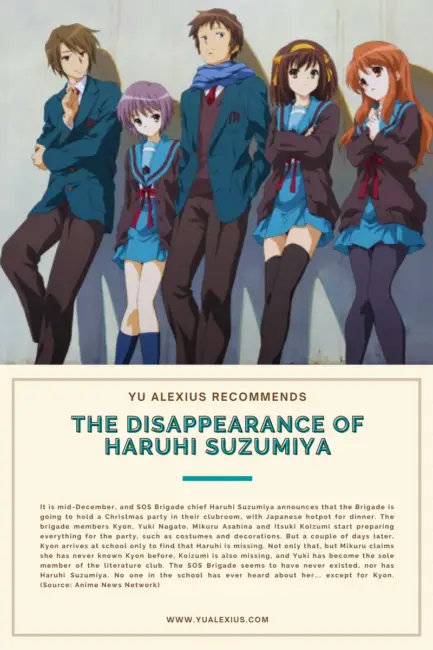 A movie from the franchise of The Melancholy of Haruhi Suzumiya – this anime had been an obnoxious ride for me and there's just so much drama going on in here. We had to see our Haruhi Suzumiya in a different light in this movie, and it really feels great to see the whole gang as they're preparing for the holiday season in the movie. I think the narrative of the film is interesting and ambiguous at some point and that's what makes the story even more appalling.
Honey & Clover
An anime that I have always treasure the most due to many life lessons embedded in its story. Honey and Clover are among the most inspiring anime that I have had seen and the fact that its story is relatable and hit right in our senses because of the lessons that we could get from it. During the yuletide season, watching Honey & Clover is a great way to reflect our lives in this energetic yet sentimental Josie anime.
Related Post: Inspiring Anime with Many Life Lessons to Learn
TORADORA
One of the biggest romance anime of 2008 – Toradora is an exciting way to have a Christmas date with your special someone. There's just too much love in the air when watching this anime and it was blended with a great amount of humor and feels in a slice of life school set up.
White Album 2
A complex romance story with exhilarating music and drama, that's what we should expect from White Album 2 and if you want to have kinda emotional Christmas season, then watching this anime is the right choice for you as it will give you the right feels you may want to have. In the end, White Album 2 will make you fall in love with multi-level degrees and sets apart from the majority of visual novel-inspired anime series.
Marcelino Pan y Vino
Oh my, this brings back memories from my childhood days. The 2001 anime adaptation of the popular novel Marcelino Pan Y Vino is a great ride and perfect for the whole family to enjoy especially this Christmas season as it is not only fun to watch but also inspiring. Marcelino is an orphaned who was raised by priars and he has the ability to communicate with animals, and eventually being able to help them in various ways. This anime is both heart-warming and spreading good vibes and the message of kindness towards everyone.
Spirited Away
Now, we have here one of the most popular anime movies of all time, the Academy Awards winner Spirited Away from Studio Ghibli. It's a family-oriented anime with good moral lessons to learn from and simply perfect to watch during Christmas day together with the rest of the family. While I am not a big fan of the film, I can't deny the fact that it's a well-written film with a strong message to deliver partnered with fascinating visuals and animation. Oh, it truly is a magical experience to enjoy this holiday season.
Nausicaä of the Valley of the Wind
Yeah, we have one of the anime movies with a very powerful message next in our list and it's Nausicaa of the Valley of the Wind. If your spirit anime is craving for anime story with great moral lessons then this one is highly recommended. Set in a post-apocalyptic world in the future where humanity is in decline. Mother Earth is angry because of people's abuse of the environment, how one single human could change the tide is truly an amazing adventure to follow. I personally have this in my Top 20 Anime Movies of all Time.
Wolf Children
Family-oriented and overwhelmingly dramatic, Wolf Children is an anime story that will make you realized how precious it is to have a doting mother. If Christmas is the season to show love and kindness, then it's definitely the time to appreciate our parents – both our father and especially our mother, and Wolf Children will further intensify that feels.
Related Merchandise: Wolf Children: Ame & Yuki (light novel)
Hyouka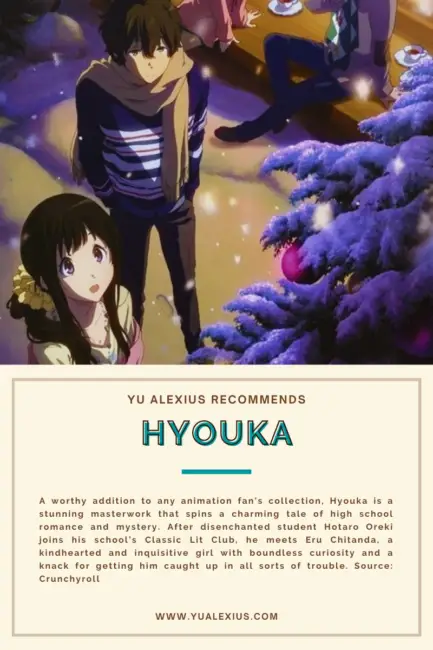 A little hint of romance, a little bit of drama, a heavy emphasis on mystery and a heavy dosage of fun – that is what Hyouka will give us. Christmas season is not the time for an I SCREAM but definitely for an ICE CREAM, and having Hyouka in our watchlist will make the holiday even more magical and fun.
Colorful ~ The Motion Picture
If you're feeling sad, pathetic, depressed, anxious or bad about yourself, I highly advise you to watch Colorful – a 2010 anime film which will make you realize how beautiful life is. It's a great anime tackling issues like bullying, suicide, prostitution, and social acceptance. Family issues are also a central theme in this anime and it has been an amazing ride with so much drama beautifully wrapped together to produce an acceptable and inspiring conclusion.
Related Review: Colorful (2010) might not be the perfect anime movie, but it tackles some intriguing matters, and show how life can really be worth living.
These are only few of the anime that everyone could definitely enjoy this Christmas season no matter what their genre preferences are. Nonetheless, it always depends on our own self what kind of story we would like to enjoy during the Christmas holiday, and I do hope that we are able to give you a good recommendation for your next watchlist.
Are you familiar with some of the titles that we had recommended to watch? If yes, please let us know which one and how do you find it? What are the other anime titles that you would like to be added to this list and what is your anime watchlist during the Christmas season? Please let us know by leaving your comment below.
I would also like to take this opportunity to greet our readers a MERRY CHRISTMAS. Have a great celebration everyone!
Last Updated on December 22, 2022 by Yu Alexius