Studio Ghibli have been sitting in the pinnacle of success when it comes to anime film industry and it has been a legend on its own right. A studio that bring unforgettable, heartwarming and truly epical anime films that fans from all over the world will always remember. It had become a force to reckon with for almost 3 decades and penetrated the western world's box office in many ways possible.
The theme of Studio Ghibli are ranging from childhood adventure, self-discovery, coming-of-age romance, environmental awareness, the grief of losing someone and moving forward, and indulging action-fantasy story. What really make
Studio Ghibli films
separate and top notch from others is the deep yet simplicity of its theme that makes the viewers wonder about their own actions, reminisce their past and relate the real-life scenarios with the story depicted in the film.
As an avid fan of Studio Ghibli, I would like to share my
Top 15 anime films from Studio Ghibli
. This list isn't an expert's choice; in fact it is too far from typical standard and cliché listing post about Studio Ghibli films from professional writers and popular websites. The ranking is purely based on my own standard and how each film satisfied my views of an ideal story, animation, visuals, and ending. Nonetheless, I hope that each and everyone reading this post will enjoy my list.
My Top 15 Studio Ghibli Films
WHISPER OF THE HEART (10/10)
Story wise, Whisper of the Heart is the only anime film that satisfied my craving for a romantic yet nostalgic plot. It shines on every aspect of the story, the animation was superb and the characters are all adorable. The visuals were so typical like any other anime you can find in the 90s but it simply amplifies and gives the focus on the story and how it was delivered. The naïve main character and her funny scenes were very relatable and I am sure, I'm not the only one who fell in love with Shizuku and Seiji's love story.
FROM UP ON POPPY HILL (9.4/10)
Another enticing and romantic story from Studio Ghibli with interesting plot and nostalgic atmosphere. It lacks the deep or any serious conflict that is necessary for a story's progress; anyway it was able to stand with those cliché teenage romances, astounding musical scores, decent visuals and animation.
HOWL'S MOVING CASTLE (9.2/10)
This could be the most magical film that Studio Ghibli had ever released. Witchcrafts, magic and curses, those things only prove that love conquers all no matter what the hindrances are. In my own opinion, Howl and Sophie's love story is one of the most intriguing, romantic and magical among the works of Studio Ghibli. The fun and excitement while watching their adventure were truly unforgettable experiences.

ONLY YESTERDAY (9.1/10)
Only Yesterday is one of the most underrated films from Studio Ghibli. Story wise, it was simply one of the best in my own opinion and simply authentic. The plot is not your typical romance story but also explore the stage of life where you are asking yourself what you seriously want to do. It's about embracing what you love, reminiscing important stages of your life whether it's good or bad and showcasing what you'd learn from it.
THE SECRET WORLD OF ARRIETTY (8.8/10)
I really find this film as charming, cute, and fun to watch. The animation is decent with stunning visuals and lovable characters. The atmosphere is simply calm and it gives you the desire to live within its universe. In addition, what I really love about this film is the undeniable chemistry between Shu and Arrietty, their friendship is really one of a kind.
LAPUTA: CASTLE IN THE SKY (8.8/10)
This may be the oldest film from Studio Ghibli yet its story isn't really something that is original. In fact, so many elements of the story were adapted from other popular story; nonetheless, the animation, plot, visuals, character developments and entertainment factor were properly assembled making the film one hell of an action-adventure anime legend.
Recommended: 12 Anime Movies Similar to Studio Ghibli Films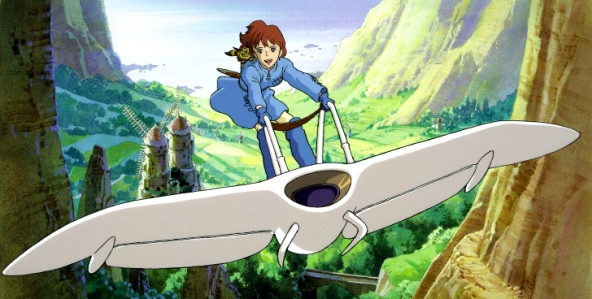 NAUSICAA OF THE VALLEY OF THE WIND (8.7/10)
Nausicaa of the Valley of the Wind is a truly revolutionary anime depicting a post-apocalyptic world where pollutions were rampant and shows how humanity's greed destroyed the environment. It is one of those Studio Ghibli films that shows us the value of something and teaches us an important lesson in life and that is to protect the nature and despise humanity's greed and hunger for power.
WHEN MARNIE WAS THERE (8.6/10)
Studio Ghibli's last project before going on hiatus. When Marnie was There is an indulging treat for every anime fans that will give you an exciting and nostalgic ride which will make you shed some tears as the story concludes.
SPIRITED AWAY (8.5/10)
This may be a surprise for everyone as Spirited Away is the most successful and usually the number 1 film from Studio Ghibli in other people's list. However, it's not the case in my list, I love Spirited Away and it seriously amazed me and delivers that fantastic amusement that fans will expect. But, it didn't capture my attention and keep my breath away for a longer period of time. Nonetheless, the film is seriously a pretty decent one.
THE TALE OF PRINCESS KAGUYA (8.5/10)
Based on the classic Japanese literature "The Tale of a Bamboo Cutter," this is really one of the most beautifully made films from the studio. The story itself is top notch but the animation simply exceeds excellent and graciously astounding and magical.
OCEAN WAVES (8.4/10)
Ocean Waves is not your typical romance story. It's not even romantic to begin with but there's just something special in its plot that keeps my attention during the entire duration I am watching it. The characters are quite annoying but in the end, you'll realize that it was too realistic and also gives off that nostalgic emotion.
PRINCESS MONONOKE (8.4/10)
An action-filled epic story, Princess Mononoke tells us an important story about human tendency to do evil in order to survive. This might be a selfish nature that we humans possessed but at the same time a necessity. Princess Mononoke delivered a wonderful narration and enlightenment to the viewers and raise awareness about environment issues that the modern world is actually facing right now.
KIKI'S DELIVERY SERVICE (8.1/10)
A coming-of-age story about a witch on training, Kiki's Delivery Service is a relaxing and adorable story to follow. It doesn't have that much deep but somehow never fail to amaze and deliver an entertaining atmosphere during the entire duration of its run.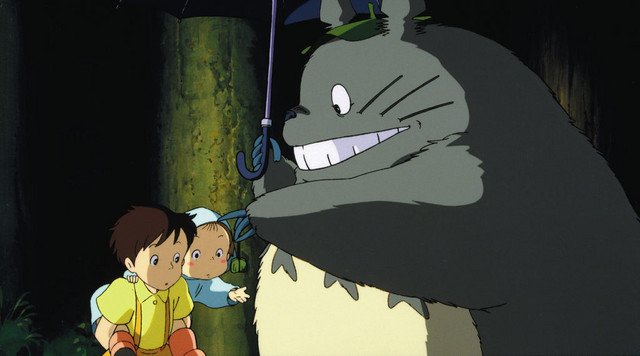 MY NEIGHBOR TOTORO (8/10)
This film is simply fantastic and light to the heart. A fun and exciting tale of adventure, My Neighbor Totoro is that film that wants you to return to your childhood days and enjoy life as we know it. It was too simple but truly entertaining and will leave genuine smiles in your heart.
GRAVE OF THE FIREFLIES (8/10)
This might be one of the most tragic and sorrowful anime ever. A realistic portrayal of post-war Japan, it tells us the story of grief, abandonment, poverty, sadness and the negative impact of war in people's lives. No matter what, it also gives us a sense of realization losing someone is the most painful challenges a man could face and it is up to us whether we succumb to it or defeat it.
I think I might update this list after few years as my sense of maturity and outlook towards different anime shows and its story somehow varies. Maybe what I think is good this time (upon writing) could be surpassed by other movies when I reached a certain period of time of my life in the future.
Last Updated on November 1, 2021 by Yu Alexius