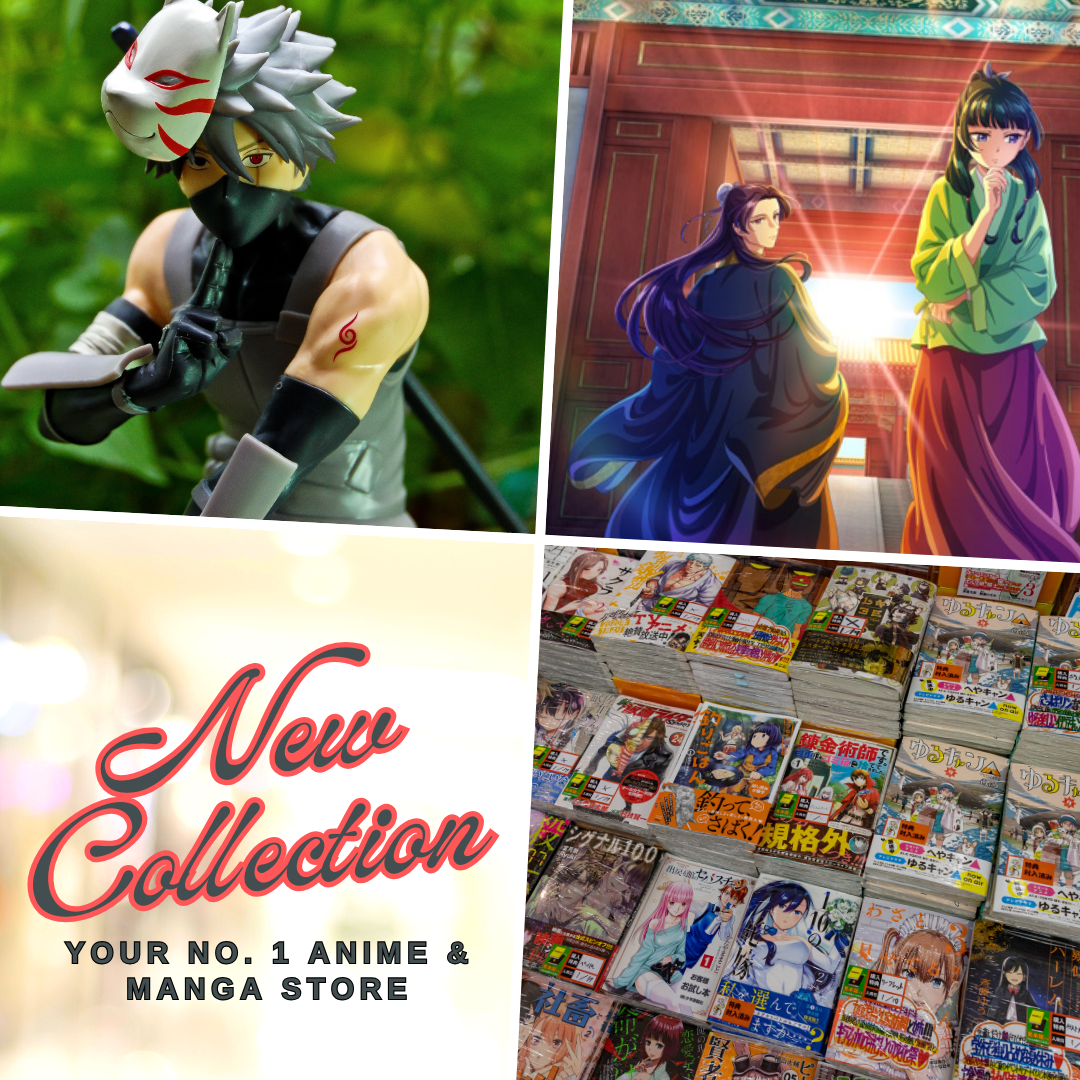 Everybody can agree that Studio Ghibli films had set the bar so high for the standard of anime movies all these years. From its Oscar-winner Spirited Away in 2001, as well as the classics My Neighbor Totoro, Graveyard of the Fireflies, Princess Mononoke, Howl's Moving Castle, and Ponyo; almost every anime fan had seen their works. Ghibli films had always been an introduction to many anime fans all over the world and their works had influenced fans from many generations over the last 30 years.
Their films come in different forms and genre, it can be heartwarming as My Neighbor Totoro, fun as Kiki's Delivery Service, romantic as Howl's Moving Castle, relatable as Whisper of the Hearts, retrospective as Only Yesterday, magical as The Tale of Princess Kaguya, inspiring as The Wind Rises, tearjerker as When Marnie Was There, revolutionary as Spirited Away, and educating as Princess Mononoke. Many anime fans including me had always been looking for some more anime films that have the same vibes as the Ghibli films but to no avail, only Studio Ghibli could produce such quality. However, there are considerable anime movies out there that Ghibli fans can enjoy and that is what I will discuss in this post today.
We have listed here some of the anime movies that are similar to Ghibli films in one way or another. And if you'd run out of Ghibli films to binge-watch, then I advised you to prepare your notepad as we'll give you some of the best anime recommendations for your Ghibli craving.
Anime Movies Similar to Studio Ghibli Films
Wolf Children (2012)
Ookami Kodomo no Ame to Yuki | Director: Mamoru Hosoda | Studio: Chizu
From Mamoru Hosoda, Wolf Children was one of the most dramatic anime films I'd seen so far and the Ghibli like feels from it is truly mesmerizing and heartfelt. Filled with fantasy and family drama, Wolf Children is a fantastic anime movie that will make you cry and teach you lessons about family and life. It's a story of a young mother who raised her two children on her own, and they had a wolf-blood running on their veins, making her task even more extraordinary. It's a heartwarming story from the perspective of a mother and the ambiguous yet realistic story of raising children and seeing them leave the nest as they grow older and many more.
Mary and the Witch's Flower (2017)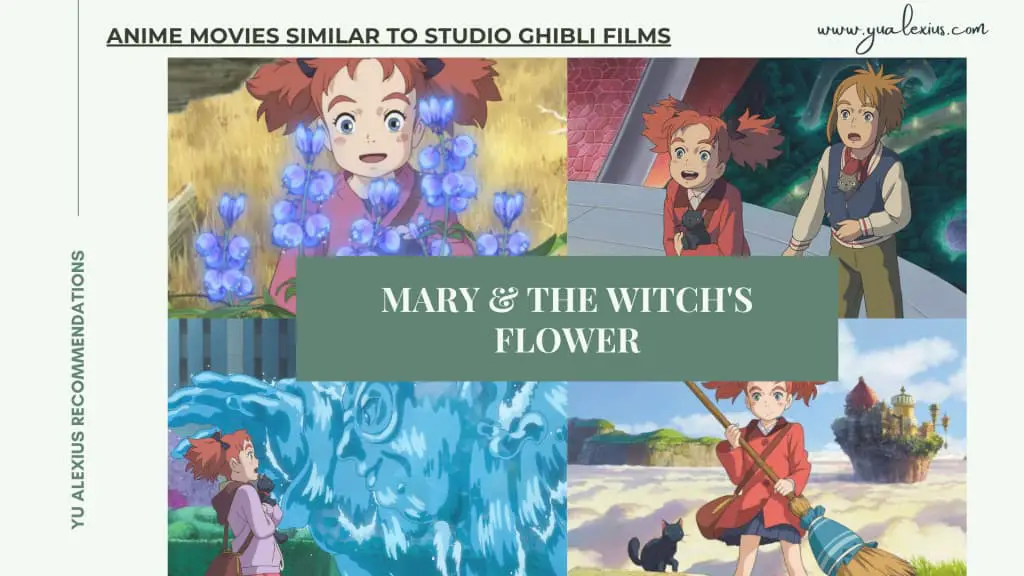 Meari to Majo no Hana | Director: Hiromasa Yonebayashi | Studio: Ponoc
One of the anime films that kids can enjoy, Mary and the Witch Flower is animated by people who previously worked for Studi Ghibli. Therefore, viewers can expect that ride will feel like a Studio Ghibli film from start till the end. Witches, magic, and fantasy; this anime film reminds me of Spirited Away and Kiki's Delivery Service merged and producing a delicate new story. It can be fragile as one wrong move on the narration can make it a copycat of a studio Ghibli film. New by means that it feels refreshing despite having the same formula as any other anime movie out there.   Mary and the Witch's Flower follows the story of a young girl who embarks on a journey of discovering her lineage and the magic that's hidden deep inside of her, as her journey had become a life-changing experience where she had learned a lot of lessons and affected her outlook in life.
Children Who Chase Lost Voices (2011)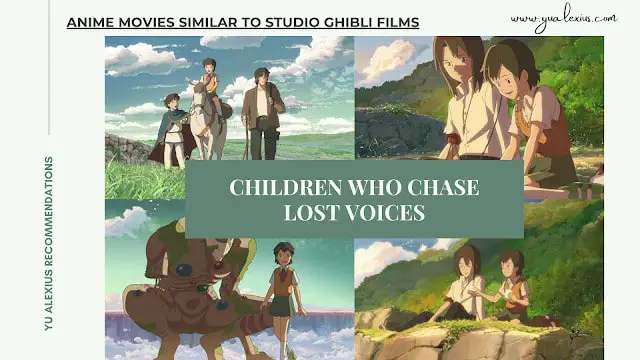 Hoshi wo Ou Kodomo | Director: Makoto Shinkai | Studio: CoMix Wave Films
One of my personal favorites from Makoto Shinkai, Children Who Chase Lost Voiceswas quite different from the rest of his films. It thrives in its fantasy and rich world-setting compared to the typical romance genre that we got from him. However, the major drawback of this adventure-fantasy anime film is there are so many plot holes and loose ends of its narration that it felt hollow at its core. Nevertheless, the feels were there, in fact, this is one of the anime movies that made me cry so much. The graphics and animation quality are the same as any other works of Makoto Shinkai, however, it has been highlighted vividly due to its fantasy setup, thus we get to see more of Shinkai's wild and creative imagination as we follow the journey of the main heroine to Agartha (the Underworld).
Lu Over the Wall (2017)
Yoaketsugeru Ruu no Uta | Director: Masaaki Yuasa | Studio: Science Saru
If you're getting Ponyo vibes from this film, I can't blame you guys as this anime movie brings us a watery journey with music, drama, and a unique animation sequence paired with beautiful visuals just like the popular 2008 Ghibli film. From Masaaki Yuasa, Lu Over the Wall is a masterpiece that I'll always love over and over again. It was a visually stunning anime experience, and just like any Ghibli film, this movie highlighted the connection of humans and supernatural beings; this time, it's the music that bridged the two races. One thing that I love about this film is the music, it's both upbeat while can also make the viewers cry.
Mirai of the Future (2018)
Mirai no Mirai | Director: Mamoru Hosoda | Studio: Chizu
Here's another anime film from Mamoru Hosoda, it's a touching family story that revolved around two siblings and how life-changing their journey had become. Simply known as Mirai, the film follows the story of a young boy and his encounter with the older version of his baby sister; together they embark on a journey filled with magic, and family drama which will change his outlook in life. I have previously listed Mirai as one of the best anime movies of 2018.
The Boy and the Beast (2015)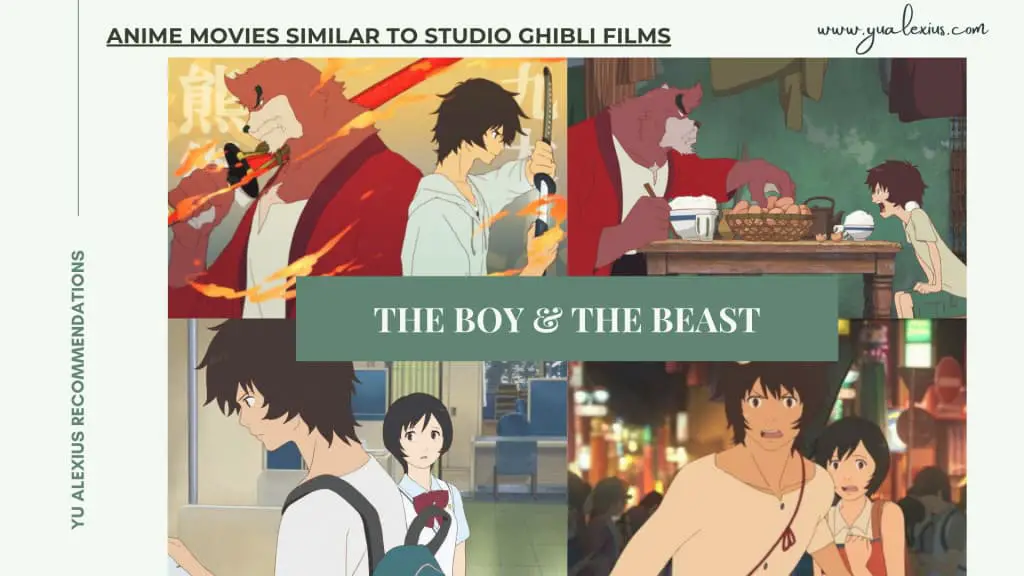 Bakemono no Ko | Director: Mamoru Hosoda | Studio: Chizu
Another entry from Mamoru Hosoda is another touching and action-packed anime film that explores the relationship between humans and monsters. It revolved around the relationship of two individuals from a different race, it's a story of accepting their differences while also seeing what lies beyond their connection. The Boy and the Beast offers a story of affection between a father and son from a different race, and how did their differences help each other to conquer their respective demons. This kind of cliches had been quite common in some of Ghibli's works, thus making The Boy and the Beast have Ghibli like characters and story development.
Napping Princess (2017)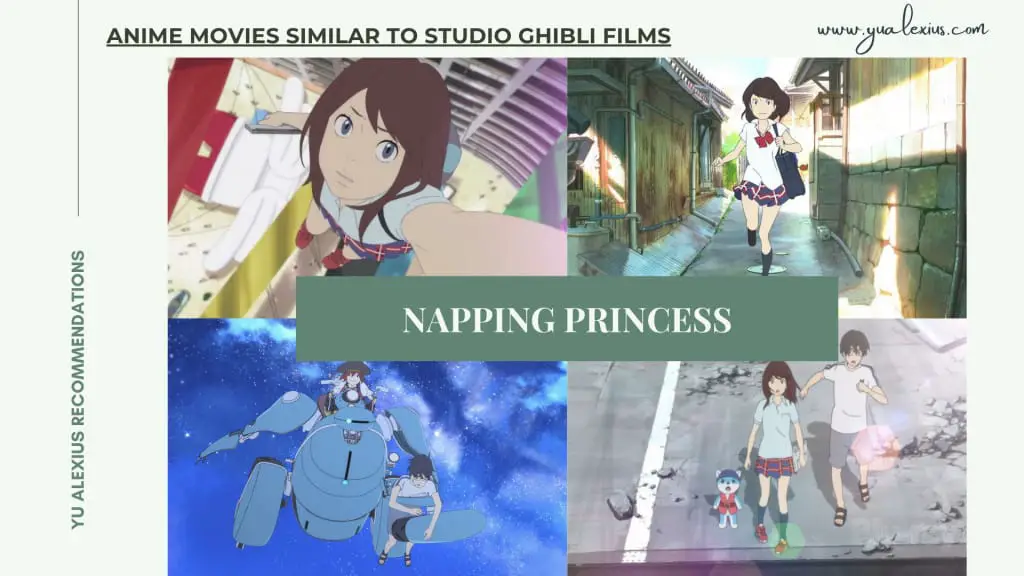 Hirune Hime | Director: Kenji Kamiyama | Studio: Signal.MD
A family drama with fantasy vibes is what Napping Princess could offer. This has been a hilarious ride with a lively main character on top of this generic story. While it's nothing spectacular at best, Napping Princess can give us the entertainment we crave for.
Mai Mai Miracle (2009)
Director: Sunao Katabuchi | Studio: Madhouse
Next in our list of studio Ghibli like anime movies is fun, simple, and refreshing, that's how I could describe Mai Mai Miracle. Far from being the best, but I really had a satisfactory time with this anime film and it gives off a lot of studio Ghibli vibes such as those from My Neighbor Totoro with its lighthearted narration.
Miyori's Forest (2007)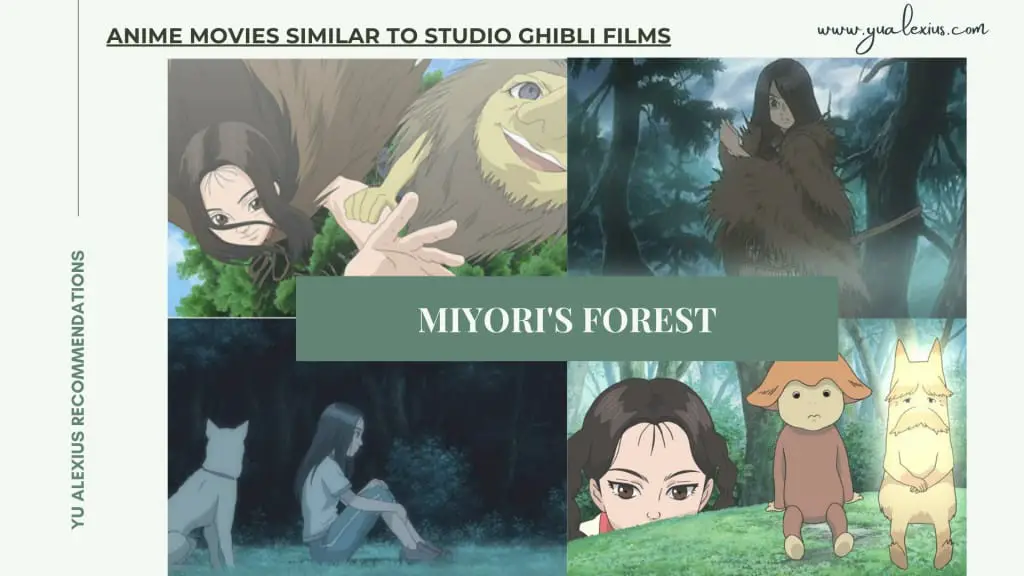 Miyori no Mori | Director: Nizo Yamamoto | Studio: Nippon Animation
Having some similarities with Princess Mononoke, Miyori no Mori is a refreshing story to follow about a city girl who had to live with her grandmother in the countryside, there she slowly changed and embraced her role as the new guardian of the forest and make connections with people around her despite her introverted nature. If you're looking for a relaxing anime about nature and people's connection to it, Miyori no Mori is a must in your watchlist.
The Princess and the Pilot (2011)
To Aru Hikoushi e no Tsuioku | Director: Jun Shishido | Studio: Madhouse
If you love Studio Ghibli films like Porco Rosso and aerial adventure, Princess and the Pilot is a fantastic anime film to add to your watchlist. The intimate chemistry between the main characters is just enticing despite the odds between them. It's exciting enough to keep you on your seat and will let you crave more. You may also want to watch another Studio Ghibli like anime series, The Pilot's Love Song which is set in the same world as this film with Fana herself getting mentioned and Charles appeared as an unnamed pilot.
Tokyo Godfathers (2003)
Director: Satoshi Kon | Studio: Madhouse
From the late Satoshi Kon, a heartwarming masterpiece like Tokyo Godfathers is all we need during the yuletide season. As opposed to his edgy psychological-thriller anime films such as Perfect Blue, Millennium Actress, and Paprika; Tokyo Godfathers went on the same path as most of studio Ghibli films producing a harmonious blend of comedy, drama, and well-written story. This is also one of my top recommended anime to watch on Christmas Day.
Colorful (2010)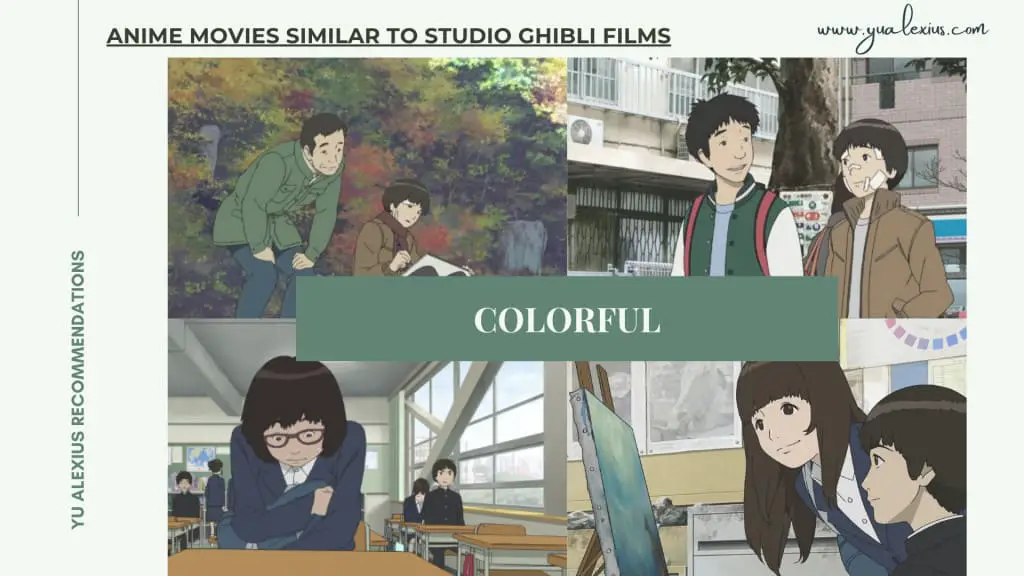 Karafuru | Director: Keiichi Hara | Studio: Ascension
A family drama with a more mature yet fragile take on major societal issues such as suicides, bullying, and many more; Colorful offers a fun but dramatic ride for Ghibli fans. It raises concerns about various issues and teaches so many life lessons along with it.
Further Recommendations
Here is some more Studio Ghibli like anime that you guys might want to add to your watchlist aside from the spectacular titles that we had mentioned above as follows:
Birthday Wonderland
The Girl Who Leapt Through Time
Belle
Miss Hokusai
Heike Monogatari
Josee, the Tiger and the Fish
A Letter to Momo
Summer Days with Coo
The Legend of Hei
Where to Watch or Get a Copy of these Anime Films?
If you're wondering where you can legally watch these anime movies online? There are major streaming services such as Netflix, Crunchyroll, Funimation, and many more. Meanwhile, you can also get a DVD copy of these films at Alibris where Studio Ghibli movies and the following films are available:
These are only some of the anime films with similarities to Ghibli movies. Each film delivers its own story with strong messages either in deep educating tone or in light-hearted narratives.
Last Updated on August 27, 2022 by Yu Alexius