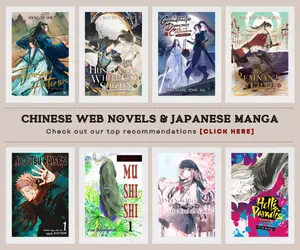 Are you excited about the upcoming premiere of the Biao Ren: Blades of the Guardians donghua adaptation? Set to air on June 1, 2023, this action-packed series is animated by Colored Pencil Animation Group and produced by Tencent Penguin Pictures.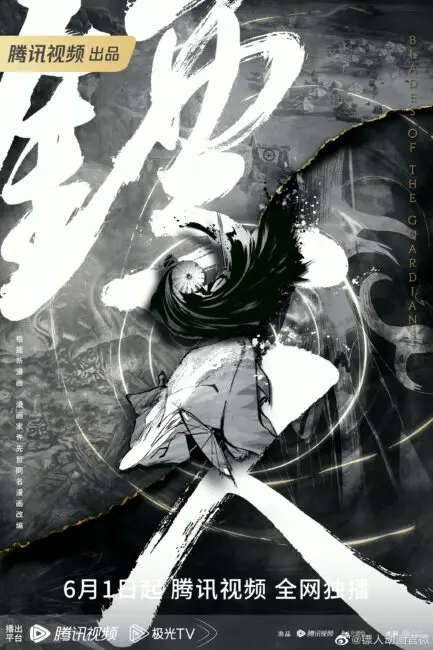 If you're a fan of historical fantasy and martial arts, then this show is one to keep an eye on. The story is set in the last years of the Sui dynasty and follows the journey of Dao Ma, a traveling warrior who owes a debt of gratitude to a man named Mo. Along with his child, Xiao Qi, Dao Ma sets out to repay his debt but encounters a victim of the rakshasa, man-eating demons that plague the country. As the rakshasa threat grows, Dao Ma finds himself caught up in a web of bloodshed, slavery, and ruthless warriors.
In this blog post, we'll introduce you to the main characters of Biao Ren: Blades of the Guardians that you should keep an eye on. Get ready to meet Zhi Shi Lang, Shu, Ayuya, Dao Ma, and more as we explore the world of Biao Ren and the warriors who inhabit it. With its compelling plot, intriguing characters, and stunning animation, Biao Ren: Blades of the Guardians is sure to captivate viewers and leave them wanting more.
Meet the Characters of Biao Ren: Blades of the Guardians
Dao Ma
As the main character of Blades of the Guardians, Dao Ma takes center stage in the donghua's action-packed story. He's a wandering warrior, reminiscent of the samurai characters found in Japanese anime, and we follow his adventures across ancient China. Despite his itinerant lifestyle, Dao Ma possesses a sharp wit and a talent for seeing the big picture in every situation.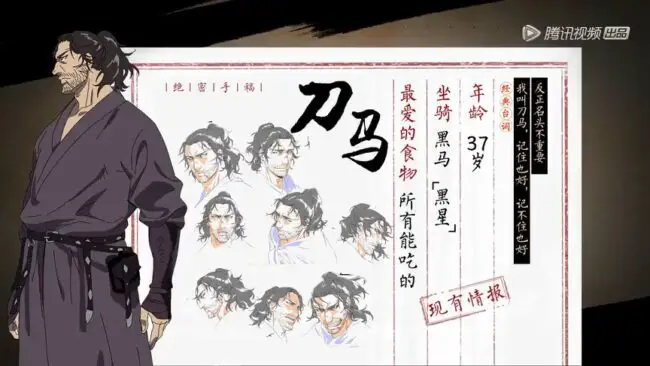 Dao Ma does have the image of a pipe smoker, which may remind us of all of those evil characters from various Japanese anime. To me, he reminds me of Shunsui Kyōraku from Bleach, and Smoker-san from One Piece.
If you've seen any of the promotional material for Biao Ren, you'll recognize Dao Ma as a prominent figure, often shown alongside his young son, Xiao Qi. Like many anime characters, Dao Ma's personality can evoke comparisons to other fan favorites. For example, he shares some similarities with Satoru Gojo from Jujutsu Kaisen, Osamu Dazai from Bungo Stray Dogs, and Hisoka Morow from Hunter x Hunter. With his energetic and mysterious persona, Dao Ma is a character you won't want to miss in Biao Ren: Blades of the Guardians.
Xiao Qi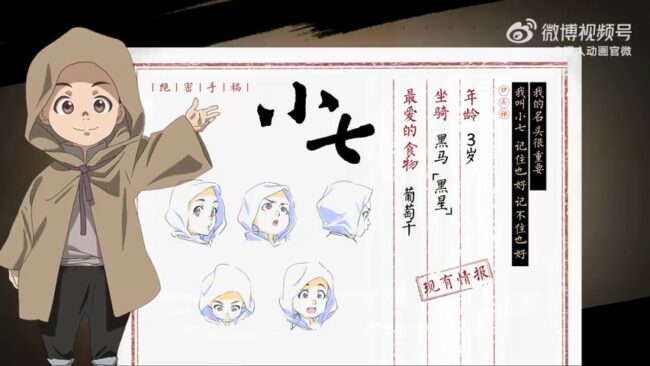 Xiao Qi is the energetic and mischievous son of Dao Ma, who often accompanies his father on his travels. Despite his young age, he is witty and sarcastic, often adding a touch of humor to the story. His playful nature and adorable demeanor make him an endearing character to viewers, and his presence adds a humanizing element to Dao Ma's journey.
Shu
Meet Shu, one of the enigmatic swordsmen and significant characters in Biao Ren: Blades of the Guardians. With a distinctive scar on the right side of his face and his striking silky white hair, Shu is a skilled swordsman who is featured prominently in the trailers for the series.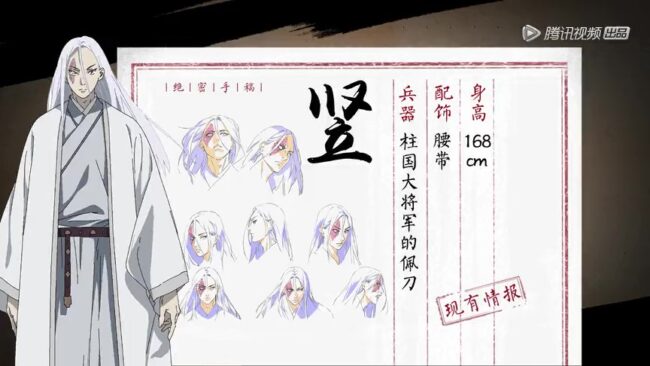 He seems to be a mercenary from the south who returns to the capital of the Sui Dynasty. For some reason, his peculiar behavior reminds me of Uchiha Sasuke, taciturn but logical. His first meeting with Dao Ma featured some of the most exciting and epic fight scenes from the manga and it's gonna be one of the best in the upcoming donghua adaptation of Blades of the Guardians.
Despite his cold and detached demeanor, Shu's true personality is that of a curious logician who carefully observes his surroundings and people. Fans of anime characters like L, Killua Zoldyck, Hatake Kakashi, and Manjirou Sano may find similarities with Shu's personality.
Ayuya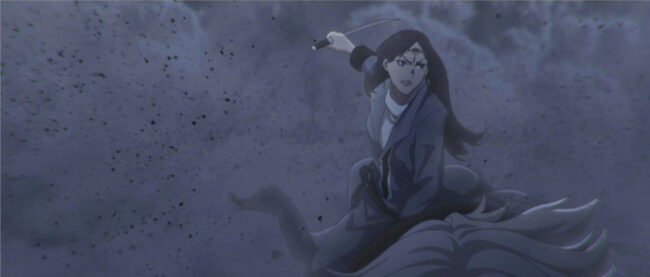 Ayuya is one of the main characters of Blades of the Guardians, a skilled warrior, and a daughter of Old Man Mo. Her unique appearance and friendly relationship with Dao Ma make her an intriguing character in the story. She is a skilled archer and a formidable opponent in hand-to-hand combat. Her youth and beauty are also noteworthy, and like Old Man Mo, she appears to be of non-Chinese origin, with a possible Persian or Turkish heritage. Her bickering with Dao Ma at times suggests a close or even intimate relationship, adding to the complex dynamics between the characters.
Zhi Shi Lang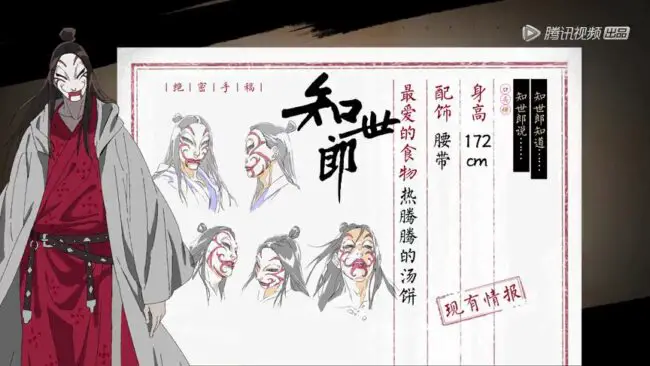 Zhi Shi Lang is undoubtedly one of the most enigmatic and questionable characters in Blades of the Guardians. He is known to be Dao Ma's employer and has a vast knowledge of Dao Ma being a former commandant of the cavalry. In the manga, he was called the Chief of Hua Yan Tuan, a defector from the Sui Dynasty.
Although Zhi Shi Lang seems to be familiar with Dao Ma, he keeps his identity under wraps. During a crisis when Dao Ma is being hunted, Zhi Shi Lang offers his assistance to Dao Ma and pretends to be a client that Dao Ma must protect as they journey to Chang An.
As the story develops, it becomes evident that Zhi Shi Lang is not an ordinary individual. His characteristics resemble those of an astute politician, a potential future emperor, or possibly a descendant of the previous dynasty. Perhaps, a messiah!
Old Man Mo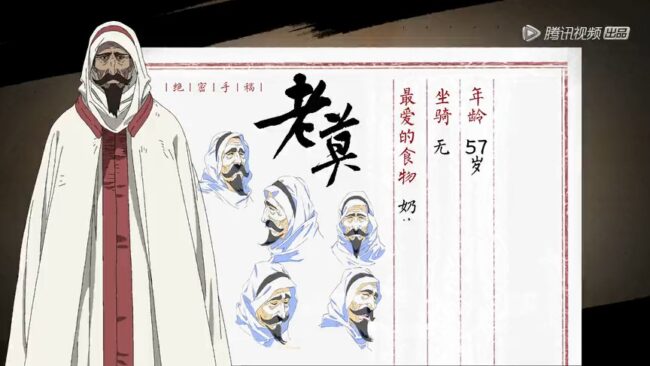 Old Man Mo is one of the most intriguing figures in Biao Ren: Blades of the Guardians. With his enigmatic presence and the unknown language he chants, he gives off an aura of mystique and magical powers (although it could be tied to Zoroastrianism). As the person to whom Dao Ma owes a debt, Old Man Mo holds significant influence in the city of Zhang Ye.
He has a unique appearance, resembling a Persian or Arab merchant, and based on his interactions with Ayuya, he may have Turkish origins. Despite his mysterious nature, Old Man Mo is generally portrayed as a kind character, and Dao Ma holds him in high esteem. It's fascinating to see how this enigmatic figure will impact the story in the future.
Yan Zi Niang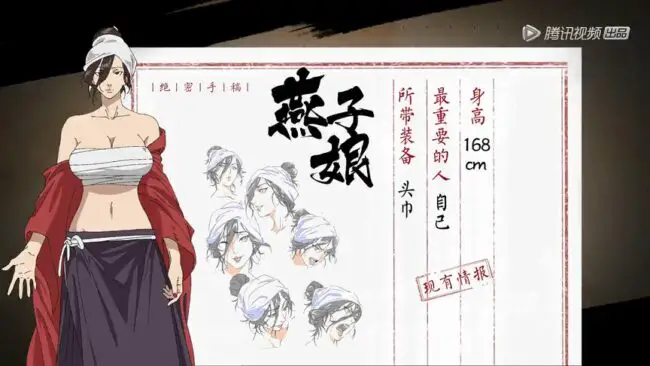 Yan Zi Niang is a captivating character in Blades of the Guardians. At first glance, she may remind viewers of Akeginu from Hell's Paradise: Jigokuraku due to her striking beauty, but Yan Zi Niang is much more than that. She was captured by Shu early in the story, only to be ambushed by Rakshasa worshippers.
Despite the danger surrounding her, Yan Zi Niang remains playful and flirtatious, often attempting to seduce Shu, although he seems immune to her charms. She was a former prostitute who fled from her former master. Despite her troubled past, she's a quick-witted and charming woman who often teases Dao Ma, sparking a bit of a rivalry with Ayuya.
Pei Shi Ju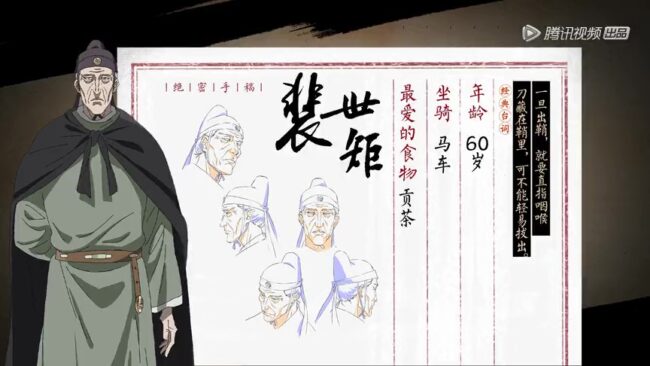 Pei Shi Ju is a scheming government official working as an Assistant Minister in the Ministry of Official Personnel Affairs, responsible for Zhangye trade. He serves under the Sui Dynasty emperor and is known for reporting Zhi Shi Lang's existence to the emperor. As a result, Pei Shi Ju will likely become one of Dao Ma's early enemies in the series.
He Yi Xuan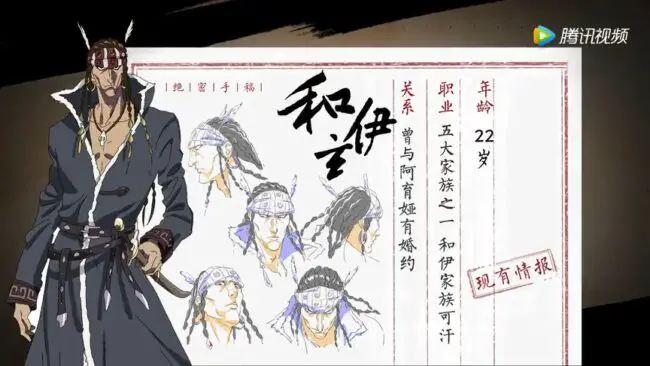 He Yi Xuan is the firstborn of the prominent He Yi household of the Five Great Families. He was originally engaged to Ayuya, but their betrothal was canceled by Old Man Mo. He will have a significant role in the shift of influence among the 5 Great Families of Zhang Ye.
Zhong Ji Niu Luo
Zhong Ji Niu Luo (Yu Ji Niu Luo in some translations) is the second son of the prestigious Yu Ji family, which is one of Hu Trading's five great families. He was one of Ayuya's childhood peers and is now a collaborator of He Yi Xuan in their pursuit of Ayuya and Dao Ma's group.
Pei Xing Yan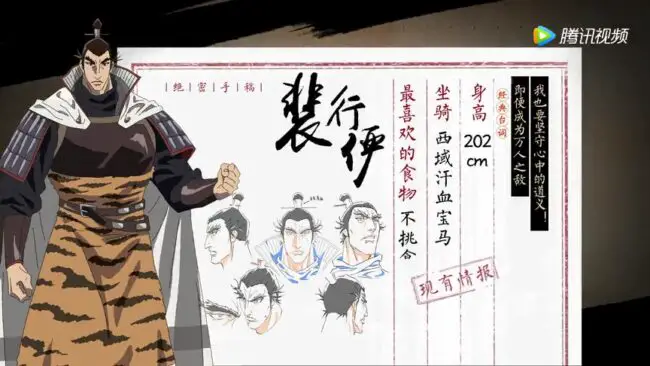 Pei Xing Yan is a trainee government official and a general mentored by Pei Shi Ju. While he may seem like a typical official, he does have a compassionate side to him and seems to be a man of dignity. This was demonstrated when he spoke out against the unfair treatment of Old Man Mo and insisted that he should be respected.
Pei Ung Mi Er & Pei Ung Uglulu
Pei Ung Uglulu and Pei Ung Mi Er are the offspring of the Pei Ung family, who belongs to the Five Great Families of Zhang Ye. Both of them are part of the party that pursues Ayuya, along with He Yi Xuan.
Yu Wen Hua Ji
Yu Wen Hua Ji is a prominent member of the Imperial Court and a member of the influential Yu Wen family. He holds disdain for Pei Shi Ju's approach and his shrewd and merciless personality makes him a significant hindrance for Zhi Shi Lang. Yu Wen Hua Ji has a twin brother who is also known as the Godfather.
Yu Wen Zhi Ji
Yu Wen Zhi Ji, also known as the Godfather, holds great power and influence over the night of Chang An, rivaling even that of the Emperor. He is a member of the esteemed Yu Wen family and holds a high position within the Imperial court.
The Emperor
A man who is consumed by an unquenchable thirst for power and glory, both for his empire and himself. He disregards the counsel of his trusted advisors, instead clinging to absolute control over every aspect of his domain. His rule is marked by a ruthless, unyielding nature that brooks no dissent, making him a formidable and feared leader.
Yu Wen Shu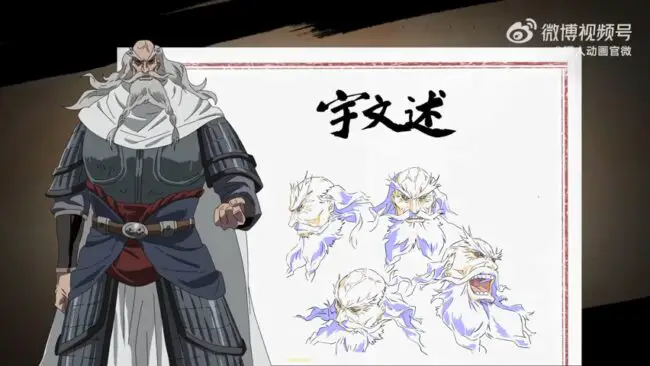 Great General Yu Wen Shu is the father of both Yu Wen Zhi Ji and Yu Wen Hua Ji. Like Dao Ma, he is a seasoned warrior and takes great pride in his military accomplishments. He is a staunch supporter of the Yu Wen family's pursuit of power and will do whatever it takes to eliminate Pei Shi Ju.
Shu Bao
Shu Bao is a seemingly loyal and kind-hearted youth who is a member of the Ma Kuai group. Despite his good nature, he may have some connection to the enigmatic swordsman known as Shu. He shows promising strength, capable of holding his own against Shu, and even fought Di Ting.
Di Ting
Di Ting is a hulking figure with a heavily scarred face. Like Dao Ma, he was once a member of the cavalry guards, but now he works as a hired mercenary. When Dao Ma became a wanted man after killing a government official, Di Ting was among those sent to capture him. He wields a pair of swords and is a formidable opponent in battle. He used to be a comrade of Dao Ma and seems to be a monk as he had those beads around his neck and often recite sutras in seclusion.
Kui Zhi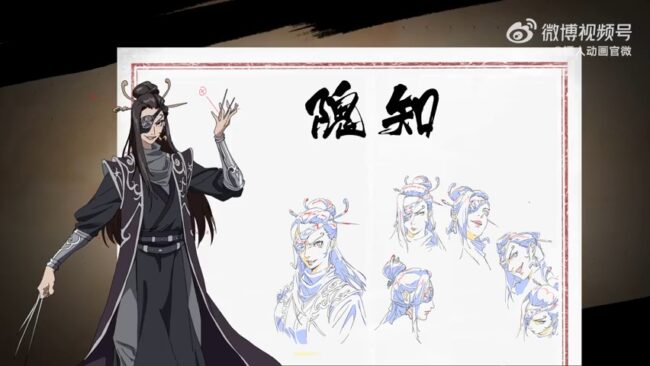 Kui Zhi is a female mercenary who works under the senior mercenary Di Ting. She is part of the group that pursues Dao Ma and his companions. She's rather playful and arrogant, highlighting to other members of Ma Kuai they encountered that she and Di Ting are far superior to them.
The production committee has already revealed some additional characters on the official Weibo page of the donghua. However, these aforementioned characters are the major ones who will make the early parts of the story intriguing enough.
As the story progresses, more characters will be introduced, including the other members of the 5 Great Families who are chasing after Ayuya and Dao Ma's group, as well as the government-paid mercenaries tasked to hunt down Dao Ma.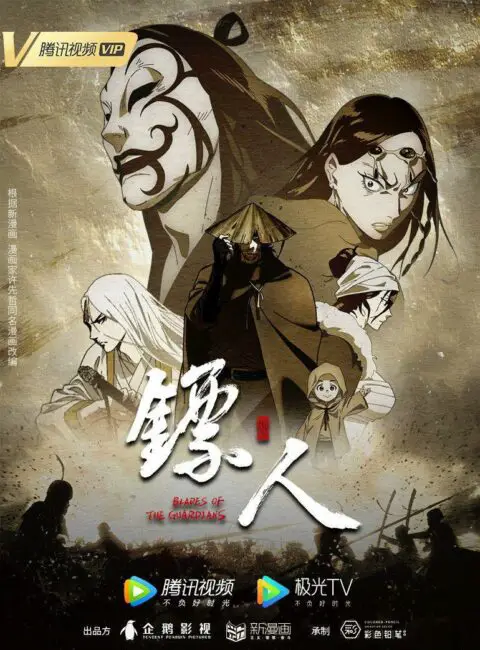 With the introduction of Dao Ma, Ayuya, Shu, Zhi Shi Lang, Xiao Qi, and Yan Zi Niang, a diverse group sets off on a journey from the West to the city of Chang An. As they travel together, they will face unexpected challenges and their personal stories will become increasingly intertwined.
Despite their differences, the group is united in their common interest to reach the same destination regardless of their reasons. Blades of the Guardians promises to be a thrilling adventure filled with action, bloodshed, and a dash of romance. Follow this cast of intriguing characters as they navigate the dangerous landscape of ancient China.
Related Post: Top 10 Manga Similar to Biao Ren: Blades of the Guardians
Last Updated on May 6, 2023 by Yu Alexius