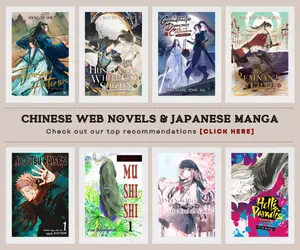 Hey guys, the spring 2019 anime season is over and now we are heading towards a very exciting summer with tons of amazing new anime shows to look forward next season. However, before we officially bid farewell to spring, it is our great pleasure to share our final impression review of spring 2019 anime lineup especially now that we started our weekly seasonal anime chart on our Facebook page on which we post our Top 10 anime on a weekly basis starting last April.
In fact, Yu Alexius Anime Portal will have our first ever Anime Seasonal Awards on Sunday – July 7 to show which shows from Spring 2019 deserves some recognition. Watch out for that, however, I would also like to remind everyone that our Summer 2019 season weekly chart shall start next week too, and I am excited to see and share which anime shows will have an amazing opening for this season. If you're unsure yet which anime to add in your watchlist this season, we've got your back with our recommended titles:
Read: Top Anime Shows to Watch from Summer 2019 Lineup 
Alright, so for our final impression review post for Spring 2019, let's start the list with the one that opened the season with a bang last April, it's no other than Demon Slayer: Kimetsu no Yaiba although I have to remind everyone that the order of this list is random in order not to spoil our upcoming Spring 2019 Anime Seasonal Awards.
My Top 10 Shows from Spring 2019 Anime Season
Demon Slayer: Kimetsu no Yaiba
This adventure-supernatural drama anime had been a fantastic ride for everybody. The drama is simply tearjerking and amazing while the occasional comedy at some points was a breathe of fresh air to the heavily action-packed anime. The animation quality is so overwhelming, something that we all expect from ufotable and they seriously didn't disappoint us in that aspect.
On my end, I fell in love with Demon Slayer due to the voice acting behind the main character Tanjirou who happened to be the same voice that gave life to Kaneki Ken, Arima Kouse, and Kal-El Albus. This fact alone made me a big time fan and the anime didn't disappoint as the drama could be felt in every word that Tanjirou speaks whenever the chances call for a hardcore dramatic scene. Furthermore, the fight scenes from Demon Slayer is one of the best that we had seen this 2019 and it's amazing how much attention to details had been invested in every scene.
In our weekly chart, Demon Slayer had been a consistent player in the top spot until the latter part of the season where some anime titles eventually caught up to it. Nonetheless, Demon Slayer held the title of the most 1st place in our ranking for Spring 2019 anime chart which is a pretty awesome feat already. In the end, Demon Slayer delivered an outstanding animation quality and heartfelt drama with notorious storytelling in our plate last season which made it one of the best anime of 2019 so far.
Fruits Basket (2019)
The remake of the hit and heartful Fruits Basket anime truly captivated our hearts and soul last season to the point that we couldn't agree which installment is better, is it the original or the reboot? One thing is sure though, Fruits Basket gave us a fantastic ride of drama, high school romance (though the romance part wasn't literally unveiled yet), peculiar yet interesting story of the Chinese zodiacs, and how amazing it is to live and find reasons in every simple way. I always admire how Fruits Basket is able to bring out the best story even from a random dialogue concerning simple stuff. It shows us a different perspective to look in life and I have to say this but the handsome boys of the anime were truly a plus factor and Tohru Honda herself, our main heroine is such a girl whose smile is what we ought to protect.
In our weekly chart, Fruits Basket actually did fare very well being able to win 1st spot multiple times and a dominant title within the Top 5 of our list in most of the time.
Bungou Stray Dogs Season 3
What else I could say about Bungou Stray Dogs other than giving us a quality season that thrives on its amazing storytelling and narration while giving us a pretty decent and acceptable animation in the sideline. In fact, I am truly happy because some of the questions that we had from the previous two seasons had been answered while it also makes some more questions to rise from the ashes and make us crave for more.
Bungou Stray Dogs Season 3 had given us too many highlights including a glimpse to Dazai and Chuuya's past, as well as the companionship between Ougai Mori and Yukichi Fukuzawa. Furthermore, we get to know Akutagawa even more and his devotion towards Dazai, and get to meet another member of the Armed Detective Agency. We get to sympathize with the remnants of The Guild and even let ourselves enjoy the presence of Fitzgerald and how he returns to the top. Above everything else, we had been introduced to a new villain whom everyone seriously loves and mystified, that's Fyodor and his House of the Dead Rats. Due to series of flashbacks shown this season, Bungou Stray Dogs had given us a new flavor and views towards the characters in the series and we get to know more about their past and their reasons for fighting, and I think that's pretty amazing and sincere.
The anime is among the only 3 shows that didn't drop outside of our Top 10 Anime of the Week chart for Spring 2019. In the end, Bungou Stray Dogs 3rd season really did gave us a pretty good fight and exciting ride this time around.
Carole & Tuesday
Oh! What an amazing ride I could say about Carole & Tuesday. The drama and music are always fresh and it's amazing to see them give us viral and trending real life stuffs shown in the anime. Well, I actually followed the girl duo's Instagram in real life and it's amazing because it's like you're interacting with the anime itself and they gave their fans that chance which sounds great. The music is really enticing and heartfelt and it makes this anime a unique one among its contemporaries. It's really awesome how the production staff could make those music although some of those songs really sound absurd or ridiculous especially the mermaid ones but they definitely delivered some serious gems in our plate especially The Loneliest Girl.
The drama is quite a pretty cliché but with unique storytelling and great voice acting, Carole & Tuesday thrives in its simplicity and melody. Who wouldn't fall in love with the two ladies and their outrageous team consist of Gus and Roddy.
Carole & Tuesday never topped our chart but it did manage to get a second place during our Top 10 Anime for Spring 2019 – 2nd Week and that is due to their Guerilla performance of The Loneliest Girl.
Sarazanmai
My first impression with Sarazanmai is that it is definitely bizarre and I couldn't take it any longer, I have to stop watching it midway. I felt bad so I watch it again the next day and eventually finished it and give it another chance so I dared to watch its 2nd episode regardless of how absurd it is. The animation quality and visuals are beyond beautiful, if not for these redeeming factor, I wouldn't even dare to watch Sarazanmai once again. I am thankful that I didn't drop it because I finally realized that such anime is a gem. The anime work its way hard to the top of our weekly anime chart eventually getting the first spot on its final episode. Overall, Sarazanmai thrives in its fluid drama and amazing voice acting. The drama is so intense and the plot of connecting to people is just so real as it shows how trivial and crucial things could severe people's connection no matter how hard we try to keep it. In the end, it teaches us the lesson to give our best and prioritize what's important in order to keep those people that we love around us, to treasure people who are always there for us.
Sarazanmai is a story of relationships and how thin and fragile are the things that connect us to other people but that doesn't mean that we have to give up instead we have to strengthen it.
Kono Oto Tomare! (Sounds of Life!)
I have here my personal favorite of all, Kono Oto Tomare! had been a very special anime for me from Spring 2019 and it's amazing how it reminds me of Ao Haru Ride, Orange, and other teenage school anime that I had watched in the past. There are so many special things about this anime and that includes its characters whom I believed each of them resembles someone that we know or we ourselves in them. They are characters on whom we could relate ourselves and our struggles and that actually hits on me on a personal level. Story-wise, Kono Oto Tomare! is well-written with interesting characters, deep backstory, heartfelt drama, enchanting music, a decent amount of comedy, fluid animation, beautiful visuals, and great character development.
On a personal level, I have this huge crush to Tetsuki Takaoka and he's definitely running on top speed for a best male supporting character in our Yu Alexius Spring 2019 Anime Seasonal Awards. Other characters that gave us an astounding experience in the anime include Hozoki Satowa, our Hiro senpai, our main boy Chika Kudo, and their handsome ruggedly looking Koto club adviser Suzuka Takinami.
Together with Attack on Titan and Bungou Stray Dogs, Kono Oto Tomare! had been a consistent name in our Top 10 anime of the week chart while keeping its rank from not dropping the list during the whole run of spring 2019.
One Punch Man Season 2
First of all, I have to admit that One Punch Man 2nd season fall short with everyone expectation when it comes to its animation quality compared to its first season. However, J.C. Staff delivered a decent one and thanks to anime's amazing story, it was saved from becoming a huge disappointment this season. So, I won't really delve deeper into its animation quality other than saying that it's acceptable and actually good.
We had been introduced to many new characters in the story this season both heroes and monsters alike. It's amazing the One Punch Man story could revolve around so many characters beautifully without the presence of Saitama in most cases. Yes, this season we did have plenty of scenes focus on other characters and Saitama-sensei simply gets smaller scenes this time compared to the previous season and the story still stood out that way. The Monster Association sure is a powerful foe for the Heroes Association though I felt it's quite stupid of them not to recruit those previous villains like the Sea King and they even not take the opportunity that Boros attacked the Heroes Association from season one. Nonetheless, their existence this time and assault had revealed the flaws in Heroes Association and all thanks for Garo – the hero hunter we finally see who the heroes worth praising are and who the garbage one is. In the end, I truly admire Metal Bat this season, even Tank Top. Bang and Bomb team up is surely terrifying and Genos just keeps on getting so overwhelming in every fight but how unfortunate that the plot armor of the story needs him to be always beaten. Nonetheless, he did put up a good fight against Centichoro. I think the biggest winner this season is no other than Garou on which fans surely sympathize with and show us the danger of admiring heroes at some point and how complicated the society is towards those people that save us. Even in real life scenarios, it shows how complex the job of a policeman, firefighters, and other life-saving profession is dealing with as whether they succeed or not in their task – the society has something to say about it.
Attack on Titan Season 3 Part 2
Probably the biggest anime title of the season – Attack on Titan continues on giving us too much quality both in animation and story, it's quite hard to ignore its existence as one of the best anime of 2019 and so far, one of my personal candidate for anime of the year along The Rising Shield Hero. Well, answering too many questions in just 9 episodes is truly amazing and it has been an action-packed season filled with drama and revelation. In the end, the answer simply lead us to question more, especially on what stand will the main characters took, are they on the right this time finally knowing the truth? Somehow, it feels like the truth gives more mystery and questions to everyone and it became a question of morality and where to stand in such a complex situation.
In our weekly anime chart, Attack on Titan had been a consistent name on Top 5 taking the top spot twice. As of now, it's our strongest contender for Anime of the Season for Spring 2019 though that will be answered on Sunday during our Spring 2019 Anime Seasonal Award.
We Never Learn: Bokuben
This school-comedy anime is probably one of the funniest this season and I have no problem with that. It is just so damn funny and amazing how a series of coincidence could turn into a comedic ride filled with genius high school girls and their male tutor. I love how all the girls have their own special trait and they stand out equally though the romance matter is something that I surely give to (swimming girl) and our protagonist Nariyuki. Some scenes were quite exaggerated but it is tolerable and you just can't just hate Bokuben despite the ecchi stuff sometimes. What's even more exciting is the fact that Nariyuki influenced the girls to be better on their own circumstances although it's very minimal.
If we're talking about comedy and full entertainment this season, We Never Learn is definitely racing its way to the top.
Bocchi Hitori's ____ Life
Another anime of Spring 2019 which made the season funny and hilarious as ever is Hitori Bocchi which is something that I could relate myself with. As an introvert, I saw myself in the main heroine who's shy and absurdly afraid of talking with people but dedicated make friends with everyone in her classroom. It's a story of friendship showing us that everything begins with a single step, we have to take our task in a one step at a time scenario just like Bocchi had made. She made friends one by one with her class due as of now, she's still too far from befriending everyone in her but she's doing her best and that's enough to earn our respect. Though at the end of the day, Hitori Bocchi still thrives in the comedic affair in its story and Bocchi's group of friends while showing us simple but important life lessons as every episode ends.
MIX: Meisei Story
At first, I only dared to watch this anime because Sumika sang the opening theme and I have a huge crush to one of its characters which s Souchiro Tachibana. However, the story simply captivated me by its simplicity and fun nature. I sure love to have the Tachibana brothers and their sister as my friends as well as the rest of the characters in MIX because they radiated a fun atmosphere. The animation quality is pretty decent and the visuals were very lucid and dreamy which I love big time. What's even more amazing is telling a story about sports anime, baseball to be specific but in a carefree atmosphere which seems really simple and fascinating to watch. I am seriously mystified with this anime and I felt bad at first since I didn't include it as one of our most recommend anime to watch for Spring 2019 when the season began.
Magi's Grandson
Overwhelming! That is the only word I could describe with the Magi's Grandson. I am referring Shin Wolford alone though and not the actual anime show. There's just too much to capitalize on this anime but I felt like they had failed to use its full potential as I believe Magi's Grandson could be the next That Time I Got Reincarnated as Slime but it falls short of everyone's expectation or it's just me. I heard that the novel is great but it seems like the anime adaptation didn't justify it. However, Magi's Grandson is a fun ride especially for people who are looking for a decent amount of action and cliché romance in the story. The animation quality is not excellent but tolerable and the overwhelming power of Shin definitely saved this anime from becoming trash I guess. Nonetheless, the anime is a fun ride with beautiful magic circles, humanoid demons, and sexy girls as well as two aged people who are always up for fun and excitement in their grandson's adventure.
The Helpful Fox Senko
A rather dreamy anime and I wish I could have a fox spirit too in life that's always there to help me with my stuff and cooked for me. Maybe I'm just jealous of Nakano but The Helpful Fox Senko is very simple yet relaxing anime to follow. There's nothing spectacular in its story or any deep other than the fact that it's animated in a decent way and has a very adorable song in it. The anime is funny and relaxing showing us how Senko relieved Nakano of his stressful and exhausting atmosphere from works and comfort him in any possible way and writing stuffs like this makes me jealous of Nakano once again. Nonetheless, if you hadn't watched The Helpful Fox Senko yet, I highly advice you to check it out. It's amazing.
Fairy Gone
I have here one of my biggest disappointment of the season however it finally caught up later on and somehow I felt satisfied with its small improvement. Though the anime is scheduled to return for its 2nd season and I felt like the promising stuff are still there so I still have Fairy Gone in my watchlist. The animation quality is quite bad in the beginning but I get used to it and finally appreciate it too. The character designs are beautiful though and I really like Free and Marlya though I am really not happy that their enemy always gets the best of them and defeated them on so many occasions. Nonetheless, the story finally getting interesting and it makes me more exciting to see Fairy Gone 2nd cour. If there is one thing on which Fairy Gone edged out most of its contemporary shows is its music which is pretty awesome and epic to listen to.
Alright, so these are the anime that really give me an amazing ride this spring 2019 anime season and I hope that you guys had also enjoyed it. If you hadn't watched some of them yet, I highly advice you to check them out.
Last Updated on December 19, 2022 by Yu Alexius