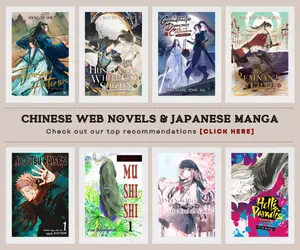 A raging war is coming in the second season of the Chinese anime – Wo Shi Jiang Xiaobai, popularly known as I'm Joybo and it is filled with heavy emotional outbursts and musical exhibitions. This anime always show that we have to be mindful of our actions as there's always an implication that could affect ourselves and those people around us. And yes, this kind of plot had made I'm Joybo one of the best Chinese anime of 2018.
I'm Joybo season 2 officially kicked off on November 9 and simply reminds me of the reasons why I love it. The arts are visually stunning and aesthetic where I felt like I am watching a scene from a Makoto Shinkai film. The landscape and the city scenery are even more vibrant compared to the graphics from the show's first season which concluded in May 2018. Aside from the graphics, the animation got better though the CG is far from perfect with some cheap tricks and even hilarious scenes. However, those were tolerable to a certain extent and I don't mind it.
I'm Joybo Season 2 Opening
The music, bruh the music of I'm Joybo had always been so catchy and heart-eroding at the same time. The first season had given us a decent amount of good pop Chinese music to listen to. I did have a last-song syndrome with the opening theme and even cried a river with its ending theme song. Now, I'm Joybo season 2 doesn't show any sign of stopping as they give us a catchy opening theme song as soon as the season began.
What's even more exciting this time around is that Joybo's getting entangled with another band and it smells like a musically entangled romance is going to be the main plot of this season. After all, I'm Joybo season 2 has the subtitle of -Words from my heart-; does this mean that heavy emotional scenes could only be expressed by him through singing?
Based on I'm Joybo season 2 opening sequence and its first episode, new characters were introduced. These characters will make the rather complicated story of Joybo and Tory's budding romance even more conflicted. Joybo and Tory may or may not have moved on yet with Raine's death and their complex relationships from the past. Yet, a new challenge comes their way in the form of this American guy who seems to have a significant spot in Tory's heart when she's in the USA.
Furthermore, the arrival of this rather cute female vocalist of a certain band seems to play a vital part in Joybo's journey this time around. Not to mention that she also carries a guitar, that's a style that actually reminds me of our angel, Raine.
Can we also take note of the fact that Joybo's friends actually gets married and had a family? Well, it's no surprise but I would like to inform everyone that I'm Joybo season 2 takes place 2 years after the event from season 1.
Anyway, I don't want to spread some speculations yet especially since I'm Joybo season 2 had just started and there's only one episode out so far. All this time, I always told myself to be rather careful with any remarks on I'm Joybo because its plot is filled with so many abysmal holes of plot twists that could break your heart at any moment. I had witnessed those unexpected turns of events from the first season, thus I don't really want to jump to any conclusions or hypotheses as of now. But it is quite exciting to have some ideas on where this road is leading, am I right?
What about you? What are your thoughts about I'm Joybo? Have you seen it yet? If not, I would like to recommend the Guodong Subs channel as their team is the official English translator of I'm Joybo. If you love the first season of I'm Joybo, I am pretty sure that you'll definitely fall even deeper for season 2.
Related Post: Top Recommended Chinese Romance Anime
Last Updated on November 24, 2021 by Yu Alexius