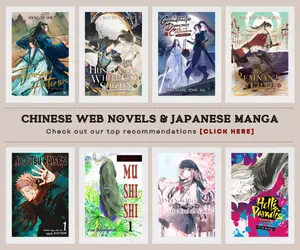 Are you a fan of Chinese anime looking for the latest updates on upcoming releases? Look no further than our ultimate guide to the April 2023 Donghua schedule! From action-packed adventures to heartwarming dramas, we've got you covered with all the must-watch series set to debut next month.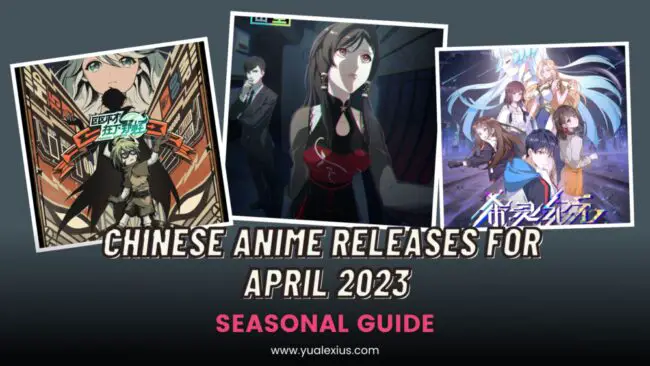 Here's a rundown of the Chinese anime titles that are set to premiere in April 2023:
War Against Heaven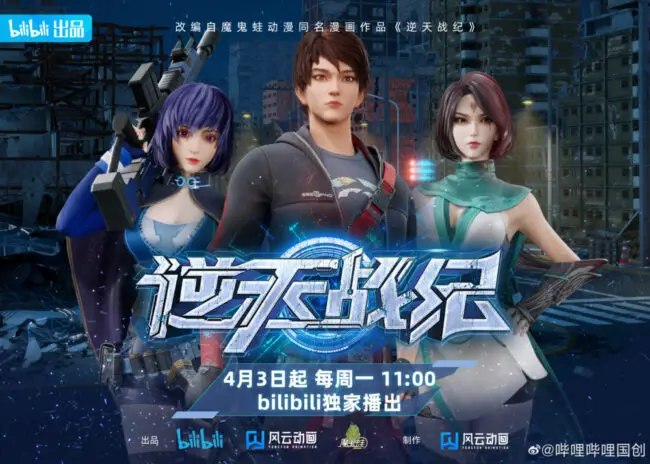 War Against Heaven, also known as Ni Tian Zhan Ji (The Super Dice System), is an upcoming Chinese anime scheduled to air on Bilibili on April 3, 2023. Animated by Fengyun Animation and adapted from a manga with the same title, the anime tells the story of Wu Ran, a young man who nearly dies trying to save a goddess. In a twist of fate, he awakens the strange dice system, which could hold the key to his survival.
Monster But Wild is an upcoming donghua series by Kungfu Frog Animation and Bilibili, set to air on April 16, 2023. The series is known as Ququ Bucai, Zaixia Ye Guai in Chinese, and is adapted from the popular isekai manga What To Do! I Have Become The Weakest Little Monster by Shan Hui and COIN. The story revolves around a veteran player of the popular online game "Azure," who, after winning a grand prize, is transmigrated into the game as the weakest little monster.
Fans of adventure, comedy, and fantasy genres are eagerly anticipating Monster But Wild. The series promises to offer a unique twist on the isekai genre, with the protagonist finding themselves in the game world in a different form than they expected. The trailer for the series showcases the visually stunning animation style and hints at the fun and exciting adventures that await the protagonist in the game world. Viewers can look forward to a thrilling journey full of action, humor, and unexpected twists and turns.
Xyin Empire, also known as Xiling Jiyuan, is an upcoming Chinese anime series set to air on April 7 as part of Bilibili's spring 2023 donghua lineup. The sci-fi and comedy show is animated by Wawayu Animation and is adapted from a web novel of the same title by Yuan Tong.
The trailer for Xyin Empire gives viewers a sneak peek into the world of the show, where advanced technology and mysterious creatures collide. The animation style is visually striking, showcasing a blend of 2D and 3D animation that brings the world of the Xyin Empire to life. With a mix of action, comedy, and sci-fi elements, Xyin Empire promises to be an exciting addition to the upcoming donghua lineup.
Aiyou's Secret Room (Aiyou De Mishi) is a highly anticipated Chinese anime that fans are looking forward to watching. Produced by Bilibili and animated by Lingsanwu Animation, this mystery and thriller donghua was originally scheduled to air on January 31, 2023, but was delayed until April 12, 2023. Based on the manga of the same name, the anime promises to be as exciting as Link Click and Twin Spirit Detectives, with a similar vibe that will keep viewers on the edge of their seats.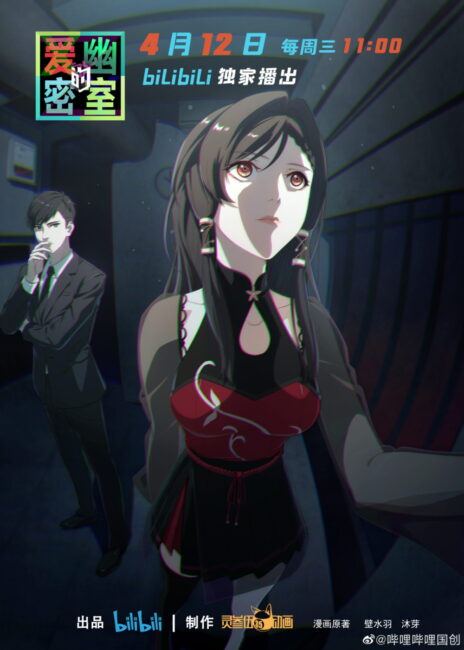 Despite the delay, fans of the genre are still eagerly waiting for its release. With a compelling storyline and impressive animation, Aiyou's Secret Room is expected to be a hit among both new and longtime fans of Chinese anime. So mark your calendars and get ready to dive into this thrilling world on April 12, 2023.
Wu Lin Fuji Weekly, also known as Wulin Buer Zhoukan, is an upcoming original Chinese anime series from Bilibili, slated to air on April 10, 2023. The show is animated by Wenzhou Mengbu Anime Design and Origin Chasing and falls under the comedy and fantasy genre.
The trailer for Wu Lin Fuji Weekly promises a hilarious adventure filled with wacky characters, vibrant colors, and hilarious gags. Set in a world where martial arts and journalism collide, the show follows the misadventures of a group of reporters as they uncover the truth behind the mysterious Wu Lin Fuji Weekly newspaper.
Electric Girl
Dian Qi Shao Nu, also known as Electric Girl, is an upcoming original Chinese anime from Sheng Guang Qishi Studio and Bilibili, set to premiere on April 11, 2023. The story follows Liang Xian Qua, a struggling young man living in the city, who unexpectedly discovers that his old fridge has come to life. Despite their initial rivalry for food, Liang and the Living Fridge embark on a journey full of funny and heartwarming situations, discovering a magical and exciting world in the process.
Oh! My Goddess! is an upcoming Chinese anime series that is set to air on April 24, 2023. The show, animated by Visual Persistence and produced by Bilibili, is based on a webtoon titled Oh! Juyesuyeo by A-Hyeon. The anime is a romantic and supernatural story that features a full CGI animation style. It is known in Chinese as Nüshen You Dian Ling.
The story of Oh! My Goddess! centers around Jamie Oh, a reserved and introverted high school student who prefers to remain in the background. Jamie's life takes an unexpected turn when he realizes that he can see and talk to ghosts, and he becomes friends with them. Despite his unique ability, Jamie keeps his paranormal life a secret and only confides in his ghostly friends. However, when the most popular girl in school takes an interest in him, his life takes an unexpected turn, and he must navigate the challenges that come with newfound attention.
A Sheep in Wolf's Clothing, also known as Pi Zhe Lang Pi De Yang, is an upcoming donghua series scheduled to premiere on April 18, 2023. The series is animated by Gen Long Culture and Bilibili, and it is adapted from a manga of the same title by Bai Dian and Hei Quan.
The series promises to offer a unique twist on the virtual reality genre, with Lan Pi venturing into a world of novels where her experiences become a part of the stories. The trailer for the series showcases the visually stunning full CGI animation style and hints at the humorous and romantic adventures that await the characters.
The Girl Downstairs
The Girl Downstairs (Aishang Ta De Liyou) is an upcoming Chinese anime series adapted from the Korean webtoon 'Lee Du-Na.' Scheduled to release on April 20, 2023, the series will air every Thursday at 12:00 noon on Bilibili.
Follow the story of Won-Jun, a college student who unexpectedly meets Du-Na, an ex-celebrity living downstairs in his apartment complex. Despite his initial avoidance of her, Won-Jun finds himself drawn into Du-Na's mysterious world, unaware of the secrets that lie beneath.
The Ravages of Time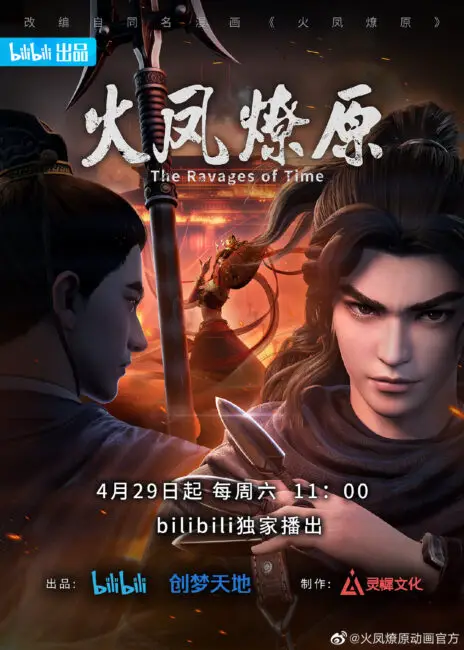 The Ravages of Time (Huo Feng Liao Yuan), a Chinese manga set in the Three Kingdoms period, is getting a new donghua adaptation. Produced by bilibili and iDreamSky, the 26-episode series is animated by LX Animation Studio and is set to be released on April 29, 2023. The donghua promises to feature military warfare, swordplay fights, martial arts, and political struggles that are common elements in full CGI donghua adaptations.
There Are Beasts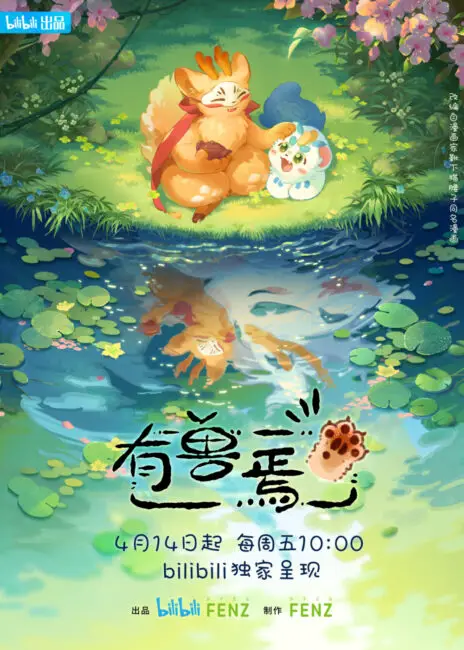 The upcoming Chinese donghua "There are beasts (You Shou Yan)" or "Fabulous Beasts" is based on the manhua by Xue Xia Mao Yao Zi. Produced by Bilibili and animated by Studio FENZ, the show explores a world where mythological creatures struggle to survive in a time of scientific advancement. Sibuxiang, a mythological animal, descends to the mortal world to help his colleagues, encountering various characters like Pixiu, Tuye, and the Jue brothers. The series promises to be a fascinating blend of mythology and modernity, filled with exciting stories and characters.
Cat's Tea Season 2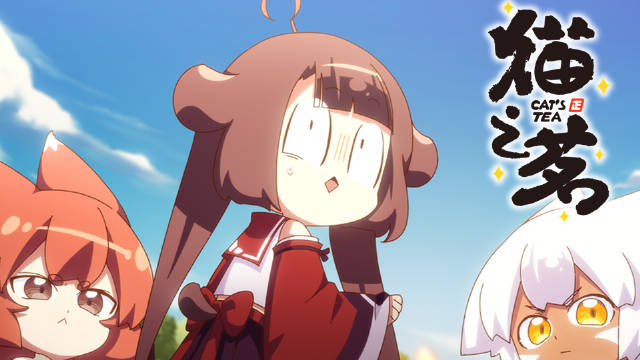 The second season of Mao Zhi Ming, or Cat's Tea, is set to air on bilibili starting April 8, 2023. Produced by TRCartoon, this action-comedy donghua is based on a manga by Hou Chun Liang. The story follows Moli, who, after being struck by lightning, finds herself transmigrated to a chibi world filled with cute boys with beast ears. As she navigates this new world, she discovers that there may be more to it than meets the eye.
Long Sword Season 2
Chang Jian Fengyun 2, the second season of the Chinese 3D donghua Long Sword, is finally set to release on April 26, 2023, after being postponed from its original January 2023 release date. The Xuni Pictures and Bilibili project was initially slated to air alongside other highly anticipated donghua releases such as Aiyou's Secret Room and Cat's Season 2. This 10-episode season continues the original story of Long Sword, which follows a young man named Ye Chang Feng who embarks on a journey to find his missing father while uncovering a dark conspiracy that threatens their martial arts world.
My Heroic Husband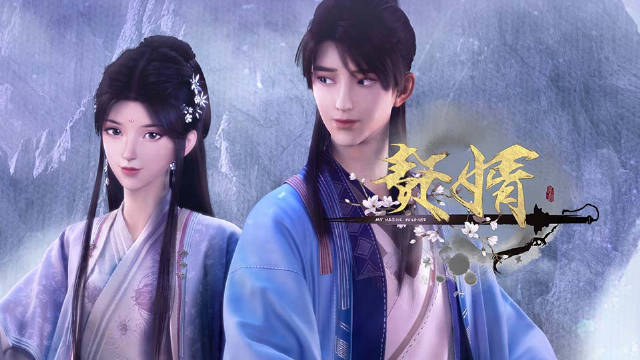 If you're a fan of Chinese anime, then you won't want to miss My Heroic Husband (船先动画), an upcoming series from Bilibili and Oriental Creative Color. The show is set to premiere on April 23, 2023, and promises to deliver an exciting storyline and stunning animation. Be sure to mark your calendars and tune in for what is sure to be an epic adventure.
Since I Wasn't The Heroine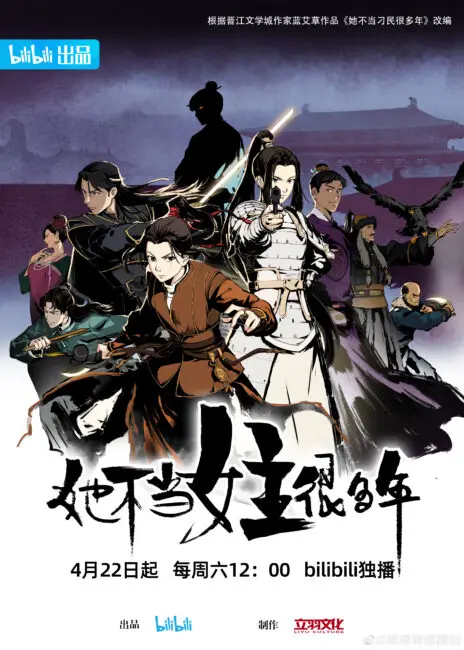 "Since I Wasn't the Heroine" is an upcoming Chinese animation produced by Bilibili and animated by Liyu Culture, set to release on April 22, 2023. Adapted from a web novel by Lan Aicao, the action-packed series follows the story of Tang Ying, the only survivor of an attack on an important town on the northern border of Daqi Kingdom. Tang Ying sets out to the capital to take her father's place after he was charged with collaborating with the enemy, only to uncover a web of mysteries and secrets surrounding her past and the kingdom's history.
Whether you're a longtime fan of Chinese anime or a newcomer to the genre, there's something for everyone in this exciting lineup of new donghua releases. From thrilling battles to heartwarming romances, there's no shortage of high-quality storytelling to enjoy.
To make sure you don't miss out on any of these exciting new series, be sure to mark your calendars for their premiere dates and stay tuned for more information on the series with no release date yet as we keep on giving you updates about the April 2023 donghua releases.
Last Updated on March 31, 2023 by Yu Alexius