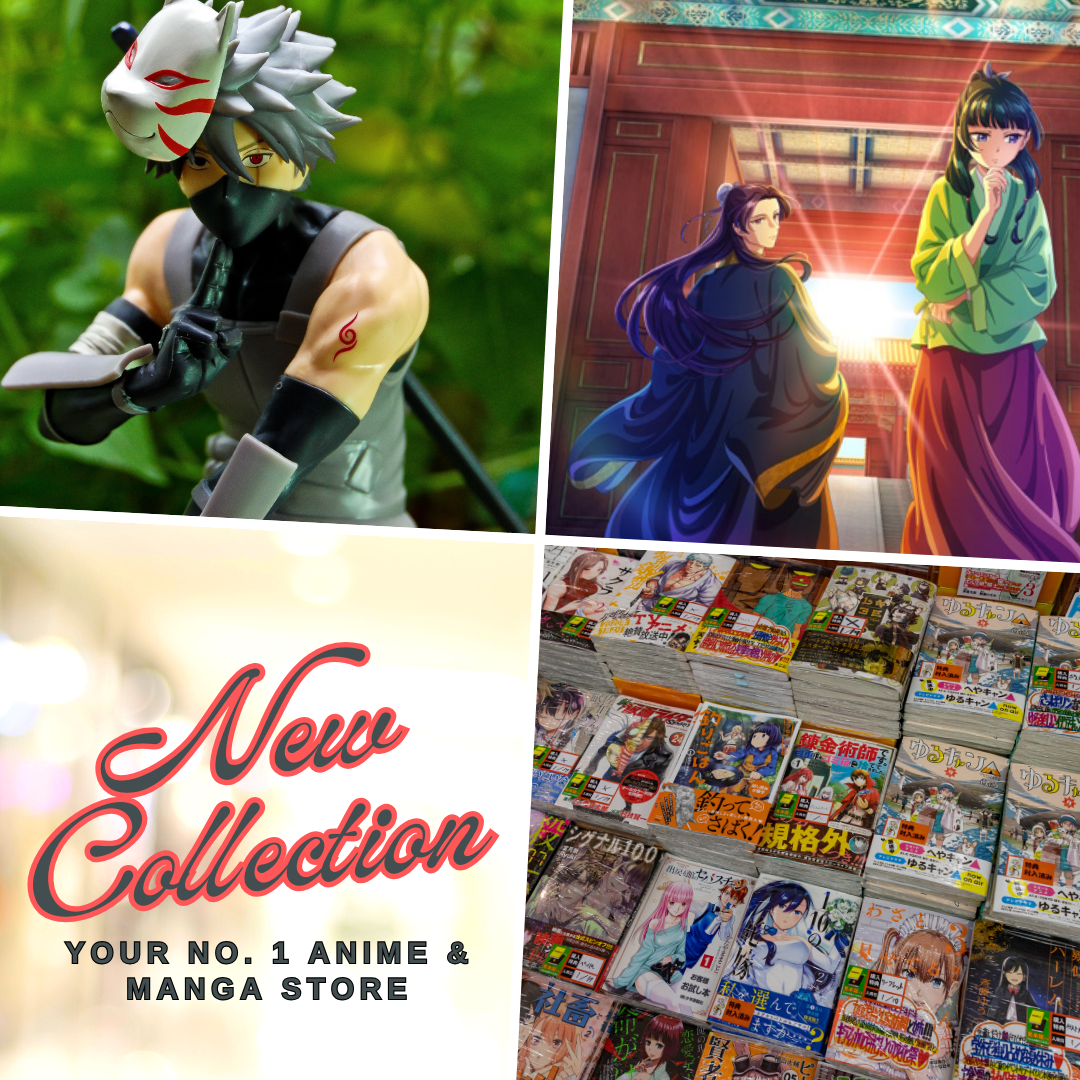 Waving to all the fangirls out there, and everybody who's a girl at heart. Grab your cup of coffee or tea as today, we shall discuss hot anime boys! To all my fujoshi friends and readers out there, I have to apologize, first coz I haven't included BL stuff here, but some anime that we will discuss are just as good are our precious boys-love cliches, and some of these are even sending us some mixed signals.
So today, I will be suggesting 10 series with absolutely hot anime boys, yes they are not just the tall-dark and handsome characters that we often get from movies or any anime. My gay heart had been pretty stuck with this topic for so long and I'd been wondering if I'll make a post about it but voila, we're here. Probably, some of the titles that I had watched recently finally motivated me to publish a bit differently from what you often see on the blog.
There's plenty of anime with hot or handsome characters that caught our heart through the years, some are even from ages ago, and generations of anime fans had different preferences so what I have listed here are what I think had been quite relevant to many anime fangirls (and my gay heart had some biases too). Nevertheless, I'll also share some more titles aside from the top 10 that I had mentioned as follows:
10 Series with Hot Anime Boys
Free!
The first thing that comes into my mind whenever fans or even my friends talk about hot anime guys is Free! The anime series is based on the light novel High Speed! and one filled not just only with young and handsome male characters but an inspiring story that revolves around chasing one's dreams and cherishing the meetings that you'll have along the journey.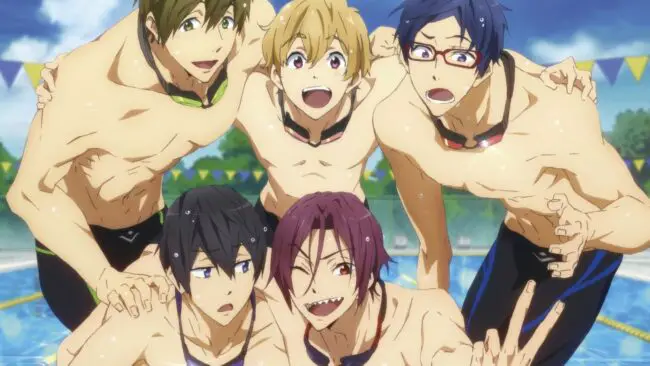 The sports anime series about swimming has so many hot scenes to offer but still, it's wholesome, something that we can always expect from Kyoto Animation. If you have watched this anime already, who do you think is the hottest of them all? Though I know a lot of people fangirling over Haruka Nanase and Makoto Tachibana, they're not just hot and handsome, but they're also inspiring and our cinnamon rolls from the series.
Re-Main
From one sports anime to another, and one that also involves swimming in the water. Re-Main is a sports anime about water polo but more than that, it is a story about a neverending effort towards one's passion and dream. So, what's even more exciting is that Re-Main also boasts a lineup of hot handsome anime guys in their swimming trunks.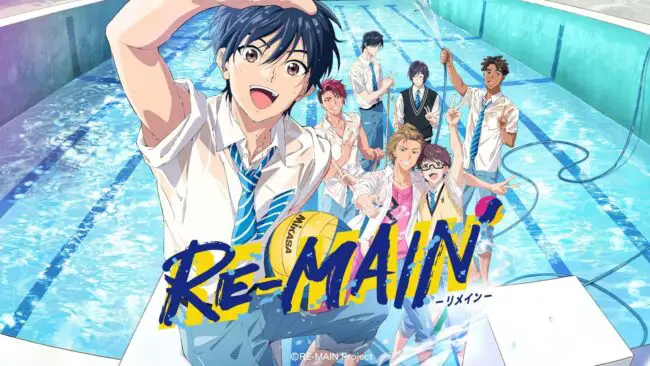 Obviously, having adorable, lively, and relatable characters are given – but Re-Main has proven that it can be an exciting journey, a fantastic story despite how predictable it may be. Sports anime are often about underdog story and Re-Main follows the same trope. However, there's more to this story than what meets the eye, the internal and external conflict that Minato had experienced and his development as a character is interesting. If you haven't watched Re-Main yet, it's still showing on TrueID anime shelf.
Jujutsu Kaisen
Let's take a break from sports anime and go straight to the shounen route. Who would ever ignore how hot and handsome the characters are from Jujutsu Kaisen, one of the biggest anime in recent years. Gojo Satoru alone can top any list of hot anime characters but Jujutsu Kaisen also has other trump cards aside from him. There's our thousand-year-old curse, Ryomen Sukuna, the flagged emo boy of the group Megumi, and a whole lot more.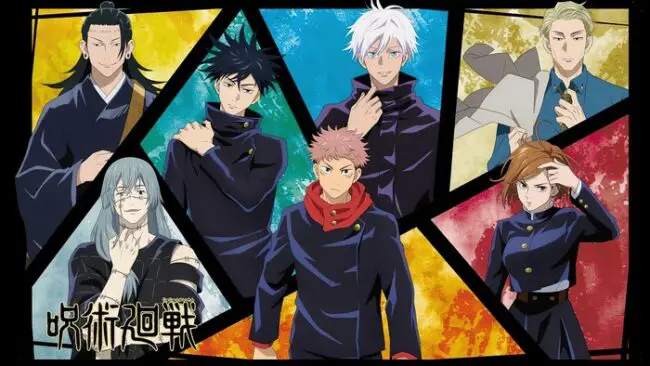 Jujutsu Kaisen is one of the most popular shounen anime today and definitely, one of the reasons is that the series has plenty of interesting characters with complex personalities which many fans can relate to and sometimes also adore. While one of the features of Jujutsu Kaisen is the undeniable charisma of its characters, it's not just Gojo but almost every character can capture the hearts of many fans. Even the villains such as Mahito can ignite that small sparks of excitement, there's just really something on how appealing the characters can be. Many are fangirling over them, some are simply enjoying their existence in many memes too.
Fushigi Yuugi
The original heartthrobs of the 90s are from this anime series, Fushigi Yuugi. I remembered many anime fans from my childhood or even teenage years have crushes or infatuation over Tamahome, Hotohori, Tasuki, oven the villain Nakago. This is one of the earliest isekai anime that brings the viewers back inside the Ancient times inside a book and there are just plenty of things to enjoy from this series aside from its handsomely drawn characters. It's the original reverse-harem anime series getting many fans gets a bit jealous of our girl Miaka.
Slam Dunk
Are you one of the viewers who slam the door whenever the hot anime guys from this series appear on your TV screen before? This is another old but gold sports anime. There's always that kind of impression or mentality among young viewers or fans that Basketball players are supposed to be hot and appealing. I think that has been a reality with Slam Dunk. We have a hilarious main character and despite his rough behavior, Hanamichi Sakuragi is such a hot guy, isn't he?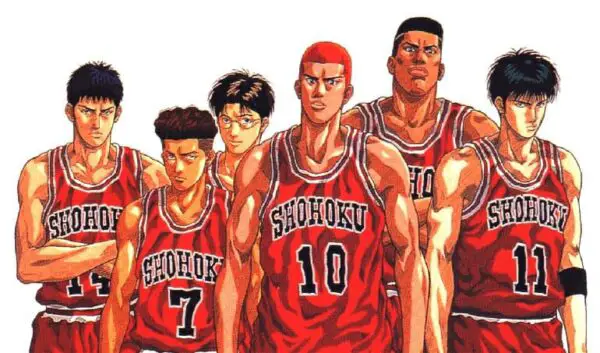 However, the cream of the crop of this series whenever fans are talking about handsome anime characters are Kaede Rukawa and Akira Sendoh. However, if you'll joining their fans club, you're definitely up against a lot of rather aggressive followers. Though, my gay heart can definitely settle with the bad boy, Mitsui Hisashi.
Tokyo Revengers
Here's another shounen anime that had been popular this year. Who would ever expect that gangsters can be as handsome and hot as the characters that from Tokyo Revengers? The series had been one of the biggest surprises this year, just like Jujutsu Kaisen, its popularity is highly attributed to its handsome characters that drive many fangirls crazy, but most of all, its story is just as powerful as all the drama that comes with it. It looks like a gangster anime on the surface but there's a lot of things to enjoy from it including the tearjerking drama and pretty decent character development.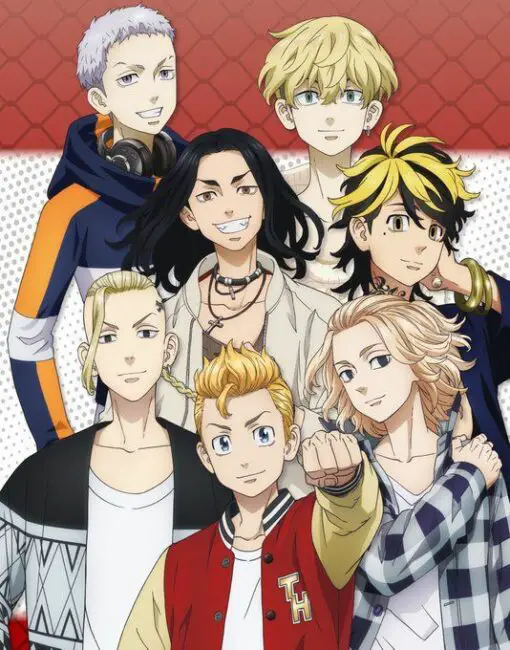 Have you guys watched Tokyo Revengers already? Who are your favorite handsome guys from the series? Mikey-kun (Manjiro Sano), Baji-kun, and Chifuyu are eye-candy for the fans. Well, I love them, but I've already fallen for Draken-kun and Mitsuya right from the start. What about you?
Haikyuu!!
A list about hot anime boys is not complete without the best sports anime in recent years and that is Haikyuu!! I've never fallen in love with volleyball until I've started watching this anime.
Haikyuu!! has more than to offer to its fans aside from the characters that we enjoyed following in the story. The anime itself is inspiring and presented volleyball as a sport from a different perspective. Haikyuu!! had a combined set of interesting elements that makes the anime an appealing ride for fans of many genres.
Fire Force
Now, this anime is literally on fire with absolutely handsome and hot anime boys as well as girls. Fire Force is a shounen anime about fire-wielding individuals who could use flames to put transformed humans into demons to rest. So, it's quite similar to many zombie stories we had out there.
So, how hot and handsome the characters are? They're literally burning and you can all see that. The characters are drawn beautifully and everyone has a rather unique feature in them. Oh dear, heated moments with these anime guys are sure a tale to tell. God forbid, let's hope we won't get burned. Latom!
Kuroko's Basketball
After Slam Dunk, this is probably the biggest sports anime about basketball that we had recently. Kuroko's Basketball has all the antics that we can get from a shounen anime but also all the feels and cliches from a sports anime. It's inspiring and at the same time never comes short with all the adrenaline rush.
So, what's the catch with Kuroko's Basketball? The series has made basketball a bit of insanely crazy sports with players of godlike abilities. However, the anime also captured attention from many fans, particularly female viewers due to its abundance of hot anime boys, I mean hot anime lads.
Psycho-Pass
Let's go a little bit mature this time and not revolve around young and handsome anime characters. Psycho-Pass is one of the best sci-fi anime that I've watched. There's plenty of action and mystery-crime drama thriller that we can always ask for. Plus, the psychological effect of the anime as it dares to raise questions about human's moral standards had been greatly presented too.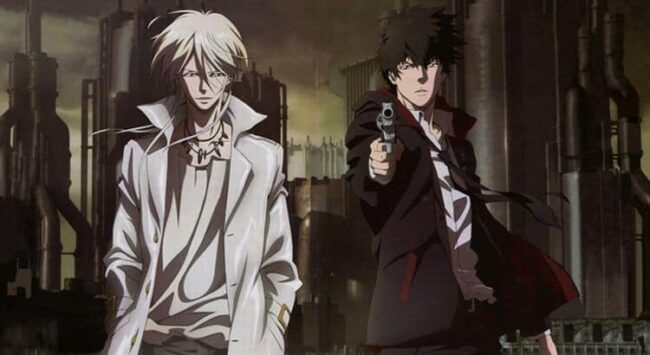 However, I think that one of its rather underrated and unappreciated elements is the existence of mature, crazy, and insanely hot anime guys in the story. While people often regarded Shougo Makishima as one of the most handsome evil existence in anime, many characters are worth checking out in the anime, more than just their already astounding physical appearance, but the stories that they can share.
I have quite a bit of hatred towards Psycho-Pass though for what they did to my favorite boy, Shuusei Kagari. Nevertheless, I am also a big fan of Kogami Shinya, Kei Mikhail Ignatov, and Teppei Sugo. What about you, which characters from Psycho-Pass caught your attention?
Further Recommendations
Meanwhile, I also have here some more anime that I think fans will enjoy if they want to discover interesting stories and have fun with the presence of cute characters, or just one that can make fangirls go crazy over them.
Code Geass
Vampire Knight
Hunter x Hunter
Dear Boys
Tokyo Ghoul
Golden Kamuy (my weird biases xD)
Bleach
Naruto
Snow White with the Red Hair
Maid-sama
Fairy Tail
Fruits Basket
Baki (for fans who prefers beefcakes & muscular men)
So, these are all my top recommended anime series with hot male characters that every fangirl out there should check. Are there some more titles that you would like to be added to this list? Let us know about it by leaving a comment below.
Last Updated on September 29, 2022 by Yu Alexius