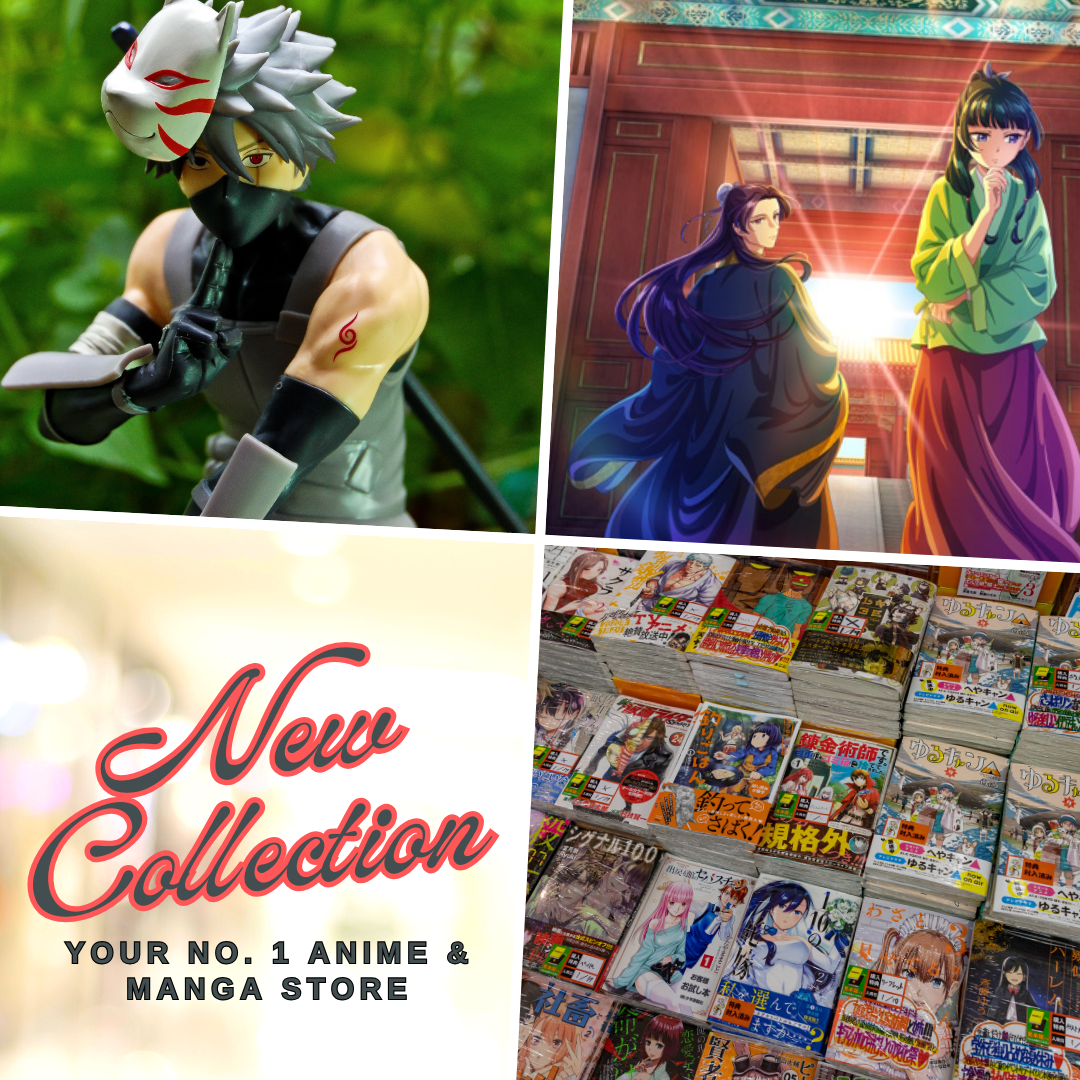 Anime fans often think that the BIG 3 era of shounen anime had been over and when we talked about BIG 3, they are arguably One Piece, Naruto, and Bleach. These 3 anime series had been influential in the popular culture in the anime community, for long-time anime viewers, especially Gen Z; these had been a part of our childhood until we grew to adulthood. At one point, you'll just discover that these anime had been part of your system as you grow up.
Nevertheless, its era may have been faded; only One Piece is left airing today, with Naruto becoming a prequel story to a rather major disaster sequel called Boruto (though I think this one is suited for new generations of anime lovers), and Bleach also getting a new anime adaptation in 2022 (albeit we don't have any specifics yet about it). Nonetheless, the anime community had been graced upon by various shounen anime in recent years, some had been huge hits, others had been a flop, while there are titles that seem to be getting the larger piece of the pie when it comes to hype and popularity.
In line with this, I will be sharing 5 shounen anime that I am pretty sure will dominate our community in the next few years some of them had been released already, and some had just been green-lit. However, it is undeniable that these popular shounen anime will captivate the hearts of many fans, especially since its source materials – mangas had been among the best-selling in recent years. Without further ado, let's take a glance at these shounen titles and find out why they are the anime series that you shouldn't miss watching.
5 Popular Shounen Anime to Dominate the Community
Alright, I will order this list based on their schedule of releases. Three (3) of these series had been adapted into anime already upon writing this post, therefore, you guys might have heard or seen them already. The other two (2) had been previously announced to get an anime adaptation but it hasn't been released yet, so they're series that we should all watch out for in the future.
Demon Slayer: Kimetsu no Yaiba
The breakthrough anime of 2019, Demon Slayer: Kimetsu no Yaiba is first on our list. When we talked about dominating the anime community, Demon Slayer had already done this in many cases. The series had been the talked about anime of 2019, winning the Crunchyroll Anime Awards Festival 2020, it also became the biggest shounen hit that year, catapulting the success of its manga which pushed it to become one of the best-selling series of all time.
In 2020, it is the best-selling manga by volume, and all of this success can be attributed to the splendidly done animated adaptation of the manga by studio Ufotable. What's even more amazing is the sequel of the 1st season, the Demon Slayer: Mugen Train movie which was released in 2020 had become the highest-grossing anime film of all time with over 500,000USD income in the box office. Due to the Covid-19 pandemic which affected major movie productions and markets, the Demon Slayer movie had become the highest-grossing movie of 2020 worldwide.
Jujutsu Kaisen
Next on our list is the anime series that took 2020 and 2021 by surprise. For many, it has been the successor of Demon Slayer's popularity a year after the anime has ended. Jujutsu Kaisen shares a lot of similar cliches to Demon Slayer but what made it a unique experience on its own are the characters that truly captured the hearts of many fans. Both Jujutsude Kaisen and Demon Slayer have the best animation quality a series could ever have, while the latter thrives in all the drama and heartfelt narrative, Jujutsu Kaisen purely captivated us with all the cool antics and cliches aside from its great fight scenes.
The presence of a single omnipotent character such as Gojo Satoru is enough to carry the entire series. But wait, there's more from Jujutsu Kaisen. You may be wondering, why Jujutsu Kaisen is so effing popular? There's a lot of explanations to these, but the series simply embodies all the tropes of what a shounen anime should be.
Yes, it is not just the action that we often love about it. There are all the funny antics, the exceptionally attractive characters, especially the male characters who had captured the hearts of many anime fans. The characters' interactions alone are enough to make Jujutsu Kaisen a furball of entertainment.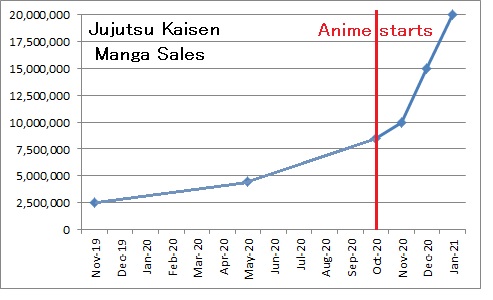 The anime had also won the Crunchyroll Anime Awards of 2021, so it feels like it has been the direct successor of Demon Slayer. In terms of its source material, the majority of the first quarter of 2021 had been dominated by Jujutsu Kaisen manga sales. The anime adaptation by MAPPA had made Jujutsu Kaisen manga sales increase by almost 600%. The manga had been a consistent leader in terms of sales during the entire run of the anime adaptation and in the first half of 2021, the series was one of the Top-Selling Manga in Japan by Volume. If you haven't watched the anime yet, you can still check it for free and legally on its TrueID anime shelf.
Tokyo Revengers
Here we go again fangirling over hot handsome men, my gay heart just can't ignore this fact but Tokyo Revengers had been more than just about their handsome characters, but it delves deeper into the psychology of a heartbreaking story, a desperate story to change the outcome of a tragic past.
Tokyo Revengers follows a different take as a shounen story, it has the fantasy time-travel cliche, but aside from that, there are no other superpowers involved. Oh, if there's some more superpower in the story, I must say it's that obnoxious tenacity of various characters to stand still and move after being punched or hit big times that I felt like real people can die receiving those damages.
But what makes Tokyo Revengers a shounen anime that can dominate our community in the years to come? I think it already started its domination, it became the biggest shounen series just right after Jujutsu Kaisen has ended its 1st season. Evident of that is its manga becoming the best-selling series during its stint as an anime adaptation which leads to additional sales of over 40 million copies of the manga sold since the anime started.
As a matter of fact, Tokyo Revengers has surpassed the records previously held by Attack on Titan at their home publisher – Kodansha as the best-selling manga series.
Chainsaw Man
Now, let's take a look at the first of the upcoming anime we had on this list and that's the highly anticipated Chainsaw Man which many shounen fans had claimed to be even more exciting and action-packed than Jujutsu Kaisen. Though animation quality does still matter I think fans shouldn't worry because the Chainsaw Man anime adaptation is in the safe hands of studio MAPPA. Yes, the same studio that gave us the exceptionally exciting anime adaptation of Jujutsu Kaisen.
The announcement that Chainsaw Man is getting an anime adaptation was unveiled on December 14, 2020 and the hype eventually started when MAPPA had released its first trailer during their 10th Anniversary last June 27, 2021.
The manga series is known for its dark and bizarre story, so much for the excitement and satisfaction of anime fans who love gore. The upcoming anime is expected to be action-packed and will fill all the cravings of every shounen fan. Furthermore, we can expect that it'll influence the manga sales too, so, we can simply all get excited and prepare for what's this new shounen anime has to offer to us next year.
Spy x Family
One of the most popular and acclaimed manga series in recent years, Spy x Family is finally getting an anime adaptation by studio CloverWorks in 2022. This is one of the manga series that fans often cited to be a must for every reader and many fans had been anxiously waiting for it to be finally received an anime adaptation. So yes, wish granted and we are all excited for it next year.
So, what makes Spy x Family an anime that we shouldn't just be excited for, it is more than that, there's already a huge fandom behind the series and the manga itself had been among the best-selling series in recent years that does not have an anime adaptation. Well, that volume of sales speaks a lot especially if you can compete in the sales volume of many mangas that had been adapted into anime.
The story itself is thought-provoking and stimulating, it was the awardee of Grand Prize for the 4th Tsutaya Comic Taishou Awards in 2020, and won the Best Web Manga in 2019 at Next Manga Awards.
Just like Chainsaw Man, many readers of Spy x Family are expecting for the series to get a boost on manga sales with the anime adaptation, and I think it is alright for a manga to receive an anime series despite many claims that anime are usually there just to serve as marketing promotions for manga. Well, that's actually true but there's no doubt that it gives pleasure to anime-only viewers and helps us discover new precious gems that need more attention from the manga community.
Alright, these are our top 5 popular shounen anime that we believe will dominate the community in the next 2-3 years. The anime adaptation of the first three (3) – Demon Slayer, Jujutsu Kaisen, and Tokyo Revengers has proven that and we firmly believed that Chainsaw Man, as well as Spy x Family, might also achieve the same. Though we also have to consider the animation studio behind them, so far all of these 5 series are under the good hands of well-known studios that produced numerous popular and well-loved anime series.
Furthermore, some of these titles are expecting to produce their sequels soon. In fact, Demon Slayer had already aired its 2nd season during the Fall 2021 anime lineup and we can always expect that the entire manga might be adapted into anime knowing how popular and well-received both the manga and anime series are. Meanwhile, Jujutsu Kaisen is slated to release its prequel movie this December 2021 and from there, we can simply expect that we'll get definite news about its sequels, the same thing that we can wish for Tokyo Revengers.
Last Updated on November 8, 2022 by Yu Alexius