The popular and probably the best Chinese anime of 2021 gets a Japanese dub, yes, LINK CLICK Japanese dub had been revealed and it is slated for release in 2022. To many donghua fans out there, this is the opportunity that we are all waiting for, this is the chance for LINK CLICK to finally get the attention that it deserves outside of China, for the standard anime fans to witness how amazing and outstanding this Chinese animation is.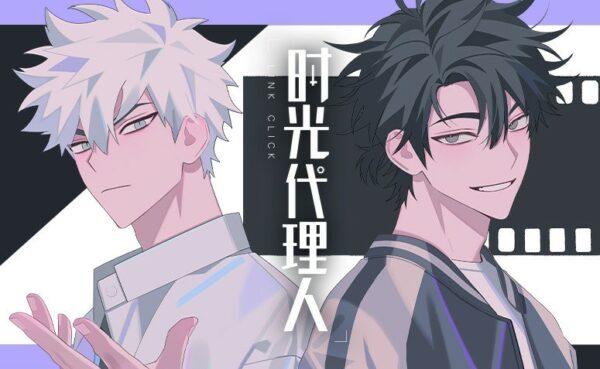 LINK CLICK Japanese Dub Announcement
It was announced on the night of November 12 that the LINK CLICK Japanese dub is scheduled for release on January 9, 2022 and it will be broadcast in Japan on Tokyo MX and BS11. This is not the first time a Chinese animation has received a Japanese dub version, in the past, several titles, especially the works of Haoliners Animation have received Japanese dub releases. However, the most popular of these donghua might have been Mo Dao Zu Shi (released as Madou Soushi) and Tian Guan Ci Fu (released as Tenkan Gifuku) – both are among the top-rated Chinese boys-love anime and are adapted from danmei novels by Mo Xiang Tong Xiu.
Now, LINK CLICK is joining the ranks of Chinese anime with Japanese dub, and this only opens the path for the series to be exposed to anime viewers who had been reluctant with donghua because of the language barrier or the unfamiliarity of listening to Chinese. Nonetheless, if such is the case that holds them to discover some interesting finds, this is a perfect opportunity to explore something new and learn that the Chinese animation industry can also offer something special and amazing such as LINK CLICK.
LINK CLICK or Shiguang Daili Ren is an original donghua from Studio LAN and Haoliners Animation League, and it was animated in collaboration with companies like BeDream, Pb Animation, Painted Edge, Aniplex, and Sony Music Solutions. The series was directed by Li Haoling, the founder of Haoliners Animation League, and it premiered on April 30, 2021 as part of the spring lineup from bilibili this year.
Synopsis
In a corner of a bustling city, there is a small shop called "Time Photo Studio" operating as usual. Although the entrance looks abandoned, it's actually run by two men with special abilities: Cheng Xiaoshi and Lu Guang. In order to fulfill customers' requests, Lu Guang and Cheng Xiaoshi work together and use their special abilities to enter photos. However, things don't go as planned…

Source: bilibili, translated
The drama and supernatural donghua had run for 11 episodes with several side stories, and its voice cast includes some known names in Chinese animation but it was led by Shanqing Su as Cheng Xiaoshi, Tianxiang Yang as Lu Guang, and Shimeng Li as Qiao Ling.
For its Japanese dub release, the cast includes the following:
Toshiyuki Toyona as Cheng Xiaoshi. He is known for portraying Ryou Amakusa from Koikimo).
Takahiro Sakurai as Lu Guang. Takahiro previously casted as Giyuu Tomioka from Kimetsu no Yaiba).
Aoi Koga as Qiao Ling. Koga is known for playing female lead such as Kaguya Shinomiya from Love is War).
The series had accumulated a total of views that exceeds 600 million on its official streaming platform bilibili. While it was also the 2nd donghua to be added on Funimation after Heaven Official's Blessing last year. LINK CLICK is currently the highest-rated Chinese anime on MAL.
Upon its 1st season finale, the production team has also unveiled that LINK CLICK Season 2 is already in production, and fans can only wait and be excited to its return after it ended with such a huge cliffhanger that will make you crave for more.
Last Updated on September 27, 2022 by Yu Alexius