Mo Dao Zu Shi or also known as the Grandmaster of Demonic Cultivation, or The Founder of Diabolism is scheduled to return for its 3rd season this 2021 as announced by Tencent Video Animation during their conference event last August 8, 2020; and fans including myself are anxiously waiting and excited for it, especially now that the official Weibo page of the series had been regularly teasing us with new updates which include promotional videos and posters.
We've got the new designs of the characters for Mo Dao Zu Shi Season 3, including Wei Wuxian's new appearance that suits the body and figure of Mo Xianyu, the original owner of the new body he's currently possessing. Meanwhile, the new character posters for Mo Dao Zu Shi Season 3 include the usual gang from the series as shown below.
However, what we should discuss in this post are the Mo Dao Zu Shi Season 3 new characters, the new individuals that will be joining the story as our favorite donghua finally touched the Yi City Arc. We'll have four (4) new characters to be introduced in Mo Dao Zu Shi Season 3. Without further ado, let's get to know them one by one and I would like to give a warning here, the following section may contain spoilers from the Mo Dao Zu Shi novel.
Mo Dao Zu Shi Season 3 New Characters Introduction
These four new characters in Mo Dao Zu Shi characters may appear through flashbacks or backstory narratives. While the last person on this list will be one of the main antagonists in the story.
Read: 8 Chinese Anime like Grandmaster of Demonic Cultivation (Mo Dao Zu Shi)
A Qing
This street-wise young maiden is first in the list of new characters to be given a promotional visual for Mo Dao Zu Shi Season 3 on the series' official Weibo page. She's known as Little Blind due to the fact that she's born with white eyes, this is something that she had used to her advantage as she pretends to be a blind beggar. Her relationships with the next three (3) characters in this list are quite interesting. With her good instinct, she deemed Xiao Xingchen and Song Lan as trustworthy while keeping her distance from Xue Yang even though they lived together for years.
Xiao Xingchen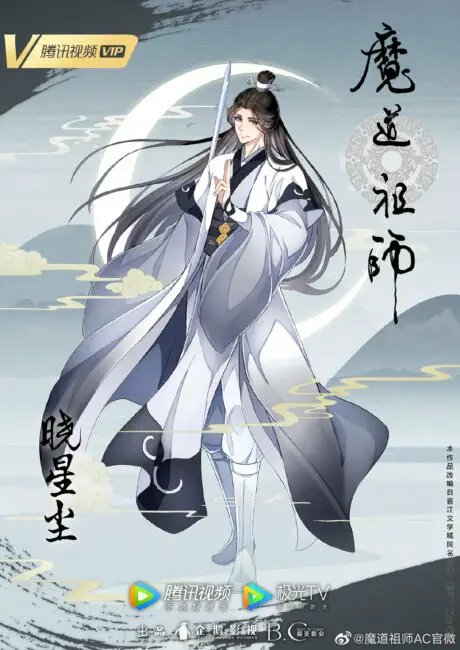 He was the junior of Wei Wuxian's mother and a student of Baoshan Sanren. He decided to leave the mountain and venture to the mortal world despite the dangers that loom. He lived with A Qing and Xue Yang together in Yi City. I think I can compare him to Shen Qiao from Thousand Autumns, he is dignified with a soft and gentle personality paired with a determined and kind heart.
Song Lan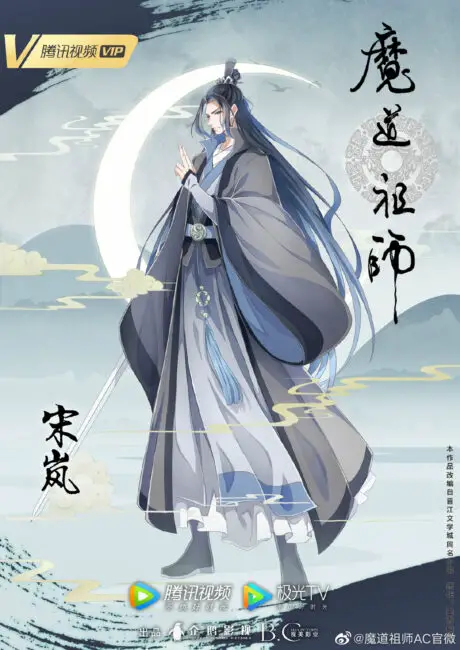 He was the best friend of Xiao Xingchen and a cultivator from Baixue Temple. He shares a lot of similarities with Xiao Xingchen when it comes to their ideals. If you loved Jiang Cheng, you may also fall in love with Song Lan due to their similarity on the surface, especially in personality. He was a righteous and determined person, he and Xiao Xingchen were part of a tragic story that took place in Yi City.
Xue Yang
A former guest disciple from the Lanling Jin Clan sect. Just like Wei Wuxian, he was a demonic cultivator, and the caused of many mischiefs and tragedy in Yi City. He'll live together with Xiao Xingchen and A Qing for years and took advantage of Xingcheng's blindness. He stayed at Lanling Jin Clan shortly after the Sunshot Campaign and did an experiment on Fierce Corpses and was the conspirator to several evil deeds which was approved by Jiang Guangyao. From here on, he had taken the demonic path of cultivation, with evil and cold heart than Wei Wuxian has ever done.
Alright, these four new characters will play vital roles in the Yi City Arc albeit Xiao Xingchen, Song Lan, and Xue Yang had before that the events there.
Now, let's wait for new updates about Mo Dao Zu Shi Season 3 release date which is slated for release this summer on August 7, just like the first two seasons of the donghua. Furthermore, we should look forward to Wei Wuxian and Lan Wangjie's journey to the Yi City to investigate the conspiracy of the Fiery Corpses which will lead them to the real culprits for many tragic events that took place in the story.
References: Mo Dao Zu Shi Weibo Page
Last Updated on November 9, 2022 by Yu Alexius