All the danmei (BL) fans from Japan must be excited as Tian Guan Ci Fu Japanese dub version (Tenkan Gifuku) had been announced and is slated for release in July this year. What's even more amazing is that the voice actor of Levi Ackerman from Attack on Titan – Hiroshi Kamiya was cast Xie Lian, and Jun Fukuyama who is famous for voicing Lelouch from Code Geass is cast Saburo (San Ran) – which is Hua Cheng (San Lang) from the original version.
Tian Guan Ci Fu Japanese dub Overview
Here are some of the details that we had so far about the Tenkan Gifuku – Tian Guan Ci Fu Japanese dub version.
Synopsis
The prince of Senrakukoku, Xie Lian, had a natural talent, practiced to save people, and jumped up to become a warrior god. However, he is banished from heaven twice. And 800 years. Xie made the third ascent. However, no one now prays to him, who is said to be the "laughter of the three worlds." To collect merit, Xie went down to the lower world where people lived and steadily collected junk while returning as a priest. One day, on the way back from collecting junk, Xie meets a mysterious boy who calls himself Sanran.
Release
Tian Guan Ci Fu Japanese dub will be released in July 2021 and will be broadcast TOKYO MX and BS11. The announcement was accompanied by a Japanese visual for the series. Furthermore, there will be a pre-broadcast of the donghua in Japanese subtitles on June 26, 2021.
Key Visual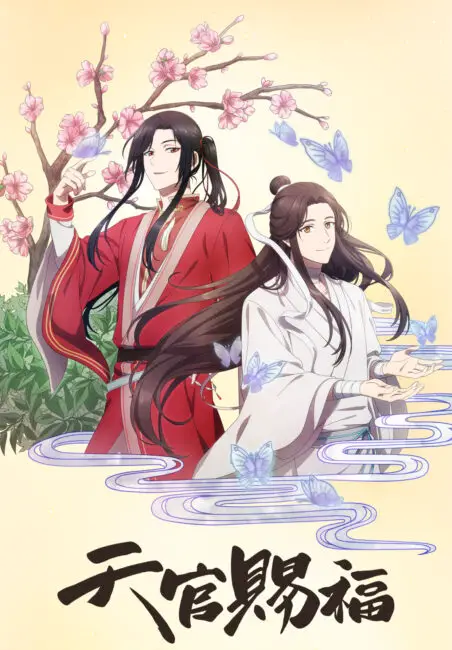 PV1
Furthermore, the first PV for Tian Guan Ci Fu Japanese dub was also revealed as shown below:
Main Cast
Hiroshi Kamiya as Xie Lian
Jun Fukuyama as Saburo (Sanran) / Hua Cheng (San Lang)
Yoko Hikasa as Reibun (Linwen)
Makoto Furukawa as Nanfeng
Chiaki Kobayashi as Fuyao
We also have some popular Japanese voice actors cast for the Tenkan Gifuku which includes Hiroshi Kamiya who is famous for giving voice to Levi Ackerman (Attack on Titan), Takashi Natsumi (Natsume's Book of Friends), Trafalgar Law (One Piece), Yato (Noragami), and Izaya Orihara (Durarara!). There's also Jun Fukuyama who is known for voicing Lelouch Lamperouge (Code Geass), Koro-sensei (Assassination Classroom), Misaki Yata (K), Yukio Okumura (Blue Exorcist), King (The Seven Deadly Sins), and Kraft Lawrence (Spice and Wolf). Other cast includes Yoko Hikasa who voiced the characters of Irene Adler (Moriarty the Patriot), and  Alicetelia February (Re:Creators).
An official site and Twitter account for the anime was also created:
Tian Guan Ci Fu (Heaven Official's Blessing) Overview
Tian Guan Ci Fu is also known as Heaven Official's Blessing, and La bendición del Oficial del Cielo in Spanish was one of the most popular Chinese anime (donghua) that aired in 2020. It was released by bilibili last October, it was also the first donghua to be streamed in Funimation. The series was animated by Haoliners Animation League and directed by its founder Haoling Li.
Synopsis
Xie Lian, the crown prince of Xian Le Kingdom, successfully ascends to Heaven during his third trial despite successive demotions. However, he accidentally breaks the Gold Palace of heavenly officials. With no human worshiping him, Xie Lian has to descend to the secular world to exorcise ghosts, which may help him sustain his divinity.

Source: Funimation
Trailer
The donghua was adapted from the danmei (boys-love) novel by Mo Xiang Tong Xu who also wrote other popular danmei novels such as Mo Dao Zu Shi (Grandmaster of Demonic Cultivation), and The Scumbag System. Her other works were also adapted into donghua especially Mo Dao Zu Shi which has been considered as one of the best Chinese anime in recent years where it was also adapted into the Japanese dub version as Madou Soshi which was released last January 2021.
In our year-end review here at Yu Alexius blog, I have listed Tian Guan Ci Fu as one of the best Chinese anime to watch from 2020 along with Fog Hill of Five Elements, and A Will Eternal.
Where to Watch Tian Guan Ci Fu Legally?
If you wish to watch the original Tian Guan Ci Fuy donghua, you may check it in the following official streaming outlets:
You may also read our other blog posts related to Tian Guan Ci Fuy which includes the following:
(C) bilibili
Source: https://prtimes.jp/main/html/rd/p/000002959.000016356.html
Last Updated on November 9, 2022 by Yu Alexius