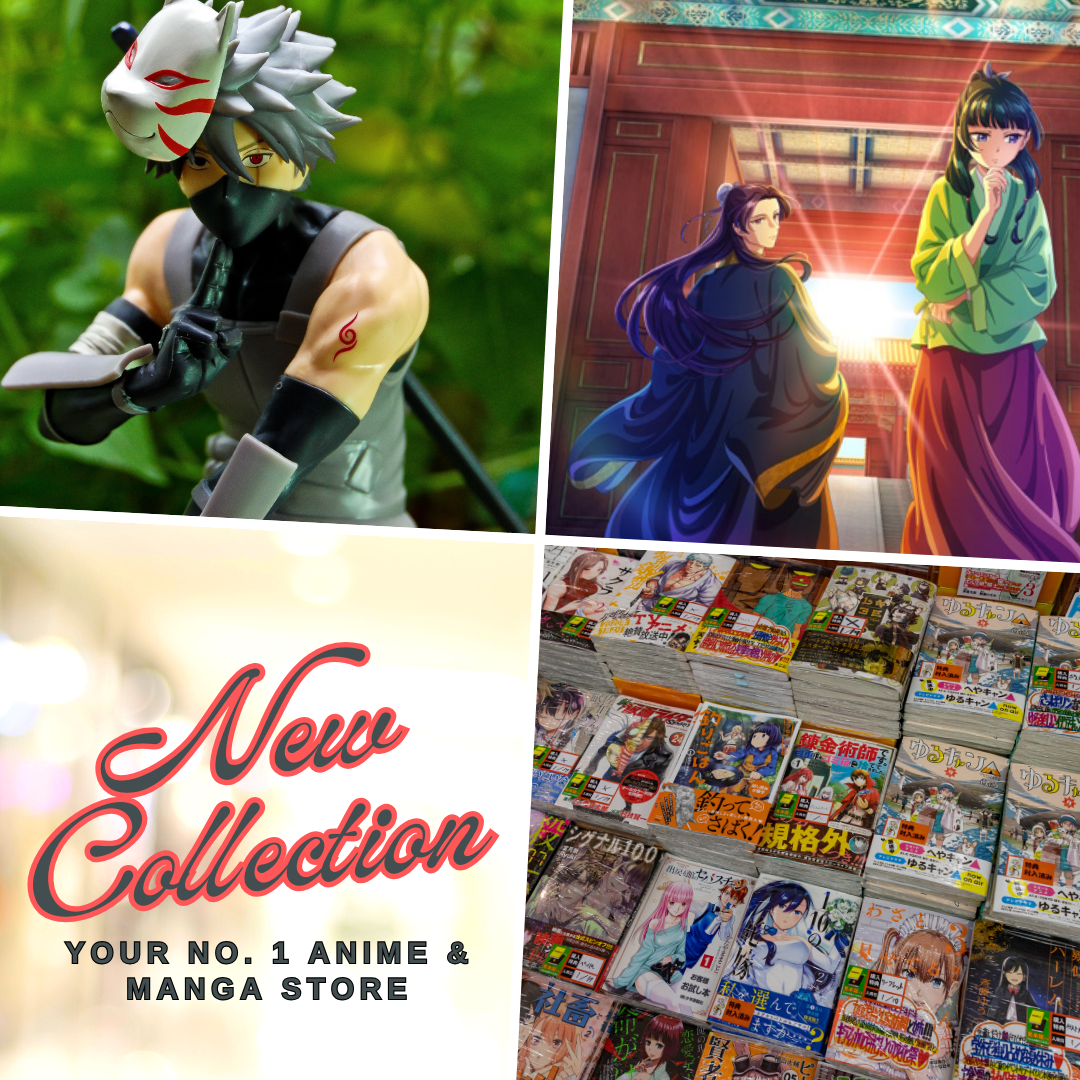 The year that was 2020 had been an exhilarating moment in human history, albeit in quite a terrible way. We had the global pandemic put the world at standstill and after several months, things are not back to normal yet. For the anime community, for the people who love anime, it may have been a year filled with challenges yet, we are thankful for having anime as our refuge, as a medium to keep our sanity intact.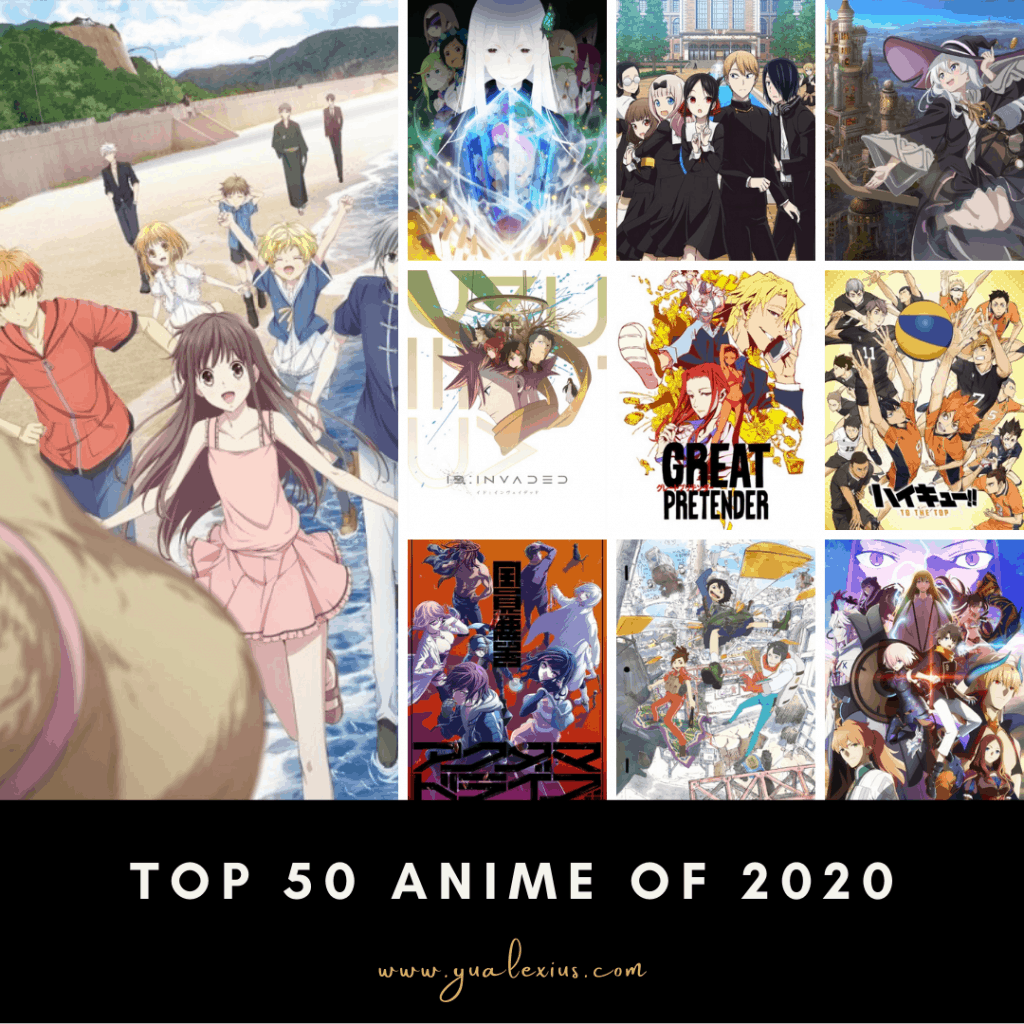 On a personal note, I am thankful for all the anime that aired this year. It was able to help me survived depression and anxiety during these trying times. In fact, I was able to finish over a hundred anime from the seasonal lineup. It has been an amazing ride and there are so many titles that deserve to be called the best anime of 2020, unfortunately, I can only give the title of the best to the anime in the top spot.
I am quite surprised though that after doing a re-evaluation of all the anime I have watched this year, some titles did leave an even better impression on me several months after its finale. Probably, those are the anime series with lasting and enduring charisma.
To honor my best anime of 2020, I have listed here the top 50 of them all in this list. I shall give short comments on several of the titles in the top 10, while simply enumerate the rest of the list. Nonetheless, you may read my full review of every anime that I had seen from the seasonal lineups as follows:
Top 1-10 List
To start our list of the best anime of 2020, let me introduced my top 10 anime of the year starting with our number one.
Fruits Basket
Studio: TMS Entertainment
It's my best drama anime of 2020 and all the emotions we had felt from this series are as genuine as its well-written story. Fruits Basket elevated its emotional storytelling even more and surpassed its already superior first season from 2019. This has been an emotional roller-coaster filled with drama, comedy, romance, and great character development. It doesn't revolve around Tohru anymore, albeit she's at the center of the story, we were given a chance to learn more and discover the past of almost every member of the Zodiacs and where they came from. Overall, this is the drama anime that could melt the heart of even the toughest guy in the classroom. Well done Fruits Basket team, well done TMS Entertainment. Meanwhile, if you haven't watch the 2001 version of Fruits Basket, you can get yourself a DVD copy of it from Alibris.
ID:Invaded
Studio: NAZ
The real dark horse from the winter 2020 anime lineup had forced its way into the top of our list of best anime of the year. I am actually surprised but when I take a look at it and remember all the things that took place from it, I always get captivated and amazed. It's the anime that literally had me at the edge of my seat and leave me no choice but to finish it from start to end. Every development in the story is exciting, every turn of events are exhilarating. This is the type of crime-mystery drama anime that I will always remember due to how awesome and interesting the plot is.
Keep Your Hands Off Eizouken!
Studio: Science SARU
Next on our list is a real masterpiece by all means. Keep Your Hands Off Eizouken had brought us to a new level of visual aesthetics and an ecstatic ride of watching an anime showing the science of animation. Yes, Keep Your Hands Off Eizouken!! is an anime about making anime, and our otaku hearts can easily relate to the excitement of our main characters here. It's unique, it's beautiful, it's education, it's entertaining; almost every aspect of this anime plus the characters are adding so much value to its already superior plot. Now, this is how you should make an anime, one of the best anime to be specific.
For a terrific read about Keep You Hands Off Eizouken, why not try checking out Irina's review on her blog I Drink and Watch Anime.
Akudama Drive
Studio: Pierrot
The most surprising and probably biggest winner from the fall 2020 anime lineup. While it only finished at the 4th place of my seasonal review, it definitely proves to be superior if we will look at it from its core and see it to the end. Akudama Drive had one of the best anime finales of 2020 and it couldn't be more epic than that. The action and drama are authentic and well-animated. The characters embody their own sins, their ideals, and they are an existence that defies the system and they successfully changed it, if I have to be bold, they destroyed it.
Great Pretender
Studio: WIT Studio
An original anime is next on our list and it is animated by no other than the visual-master WIT Studio. This is one of the most badass, hilarious, and entertaining anime of the year. There's no doubt it surpassed Re:Zero, Oregairu, and Sword Art Online during the summer 2020 lineup on my end. The four story-arc that they have shown and how interconnected those stories are had me thinking that Great Pretender is surprising its viewers in many ways. As one of the best anime of 2020, I urge you guys to check it out and give it some love, it's available on Netflix.
Kaguya-sama: Love is War Season 2
Studio: A-1 Pictures
My best comedy anime of 2020 and definitely one of the best in the romance genre too is in 6th place on our list. We get to learn more about some of the characters especially Ishigami, and we also witnessed some progress in the relationship of Kaguya and Miyuki albeit, they both won't let their guard off. Chika had always been the bringer of joy and laughter in the series, while we also met a new member of the student council which makes the story even more interesting. This anime is the perfect fusion of romance and comedy for the shoujo hearts of anime fans.
Fate/Grand Order: Absolute Demonic Front – Babylonia
Studio: CloverWorks
A leftover from the 2019's anime lineup, FGO – Babylonia truly bared its fang in its second cour that aired during the winter. It has one of the best fight scenes of the year and among our best action anime of 2020. Those fights where we see Quetzalcoatl are scenes to behold, and the battle for the survival of humanity was a splendid adventure where we see a human heart along with goddess and kings fought against the Beast II, an enemy of mankind.
Haikyuu!! To The Top
Studio: Production I.G.
Here, we have the best sports anime of 2020 in 8th place. During the whole run of Haikyuu!! Season 4, all the hype had built up that further intensifies the excitement that I had experienced. I am not a huge fan of a sports anime, yet the fact that Haikyuu!! captivated me so much this year speaks a lot to how amazing it is. We had seen major character development among our main characters. It's like every episode is a climax on its own; each serves, every spike, every hit on the ball impacted our emotions. It makes us yell for excitement and a whole lot more.
Wandering Witch: The Journey of Elaina
Studio: C2C
Who is this young and beautiful witch soaring high in our list of best anime of 2020? It's Elaina people, it's our dear Elaina, the wandering witch. Probably, one of the most controversial yet well-loved anime from the fall 2020 seasonal lineup, Wandering Witch: The Journey of Elaina had given us more than just a fair share of fun and adventure. In fact, the anime has given us some real drama, a real tragedy, but it's nothing short when it comes to comedy and magic. It helps us see the world from the viewpoint of a young witch, a youthful heart – innocent, pure, and someone who can be naïve at some point.
If you wish to read more about Wandering Witch: The Journey of Elaina, you may check this episode guide from Crow's World of Anime site.
Re:Zero Season 2 Part 1
Studio: White Fox
Tragic, heartbreaking, melancholic, and psychologically-exhausting, Re:Zero Season 2 had given us too much on our plate yet never left without showing us some magic trick. Just when we thought that all the pains and heartbreak was over after the first season ended, but it's just the start. We had seen Subaru almost broke and reach his limit this time, we had seen him died a whole lot of times.
This is anime that appeal directly to our heart and soul, how long can you defy destiny? How much can you endure? Subaru had been in so much pain this year, yet this anime also shows that hope is not lost yet. Now, we should have look forward to its return this January for the second cour of its 2nd season.
Top 11-20 List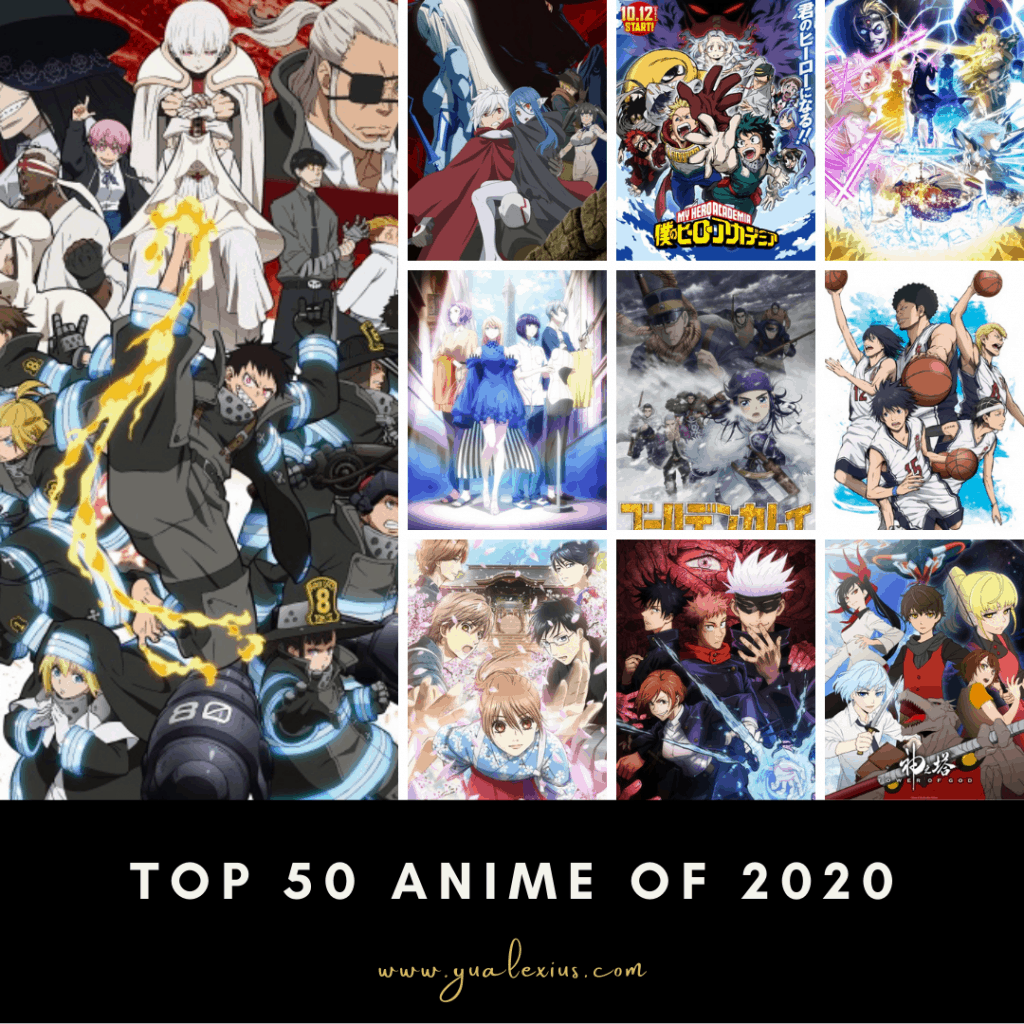 Alright, that ends my top 10 anime of 2020. However, the list is not ever yet. Below are the rest of the list from 11th place to 20th place as follows:
Fire Force Season 2
Smile Down the Runway
Sword Art Online III: War of the Underworld Part 2
My Hero Academia Season 4
Jujutsu Kaisen
Golden Kamuy Season 3
Tower of God
Chihayafuru 3
Ahiru no Sora
Danmachi Season 3
Top 21-30 List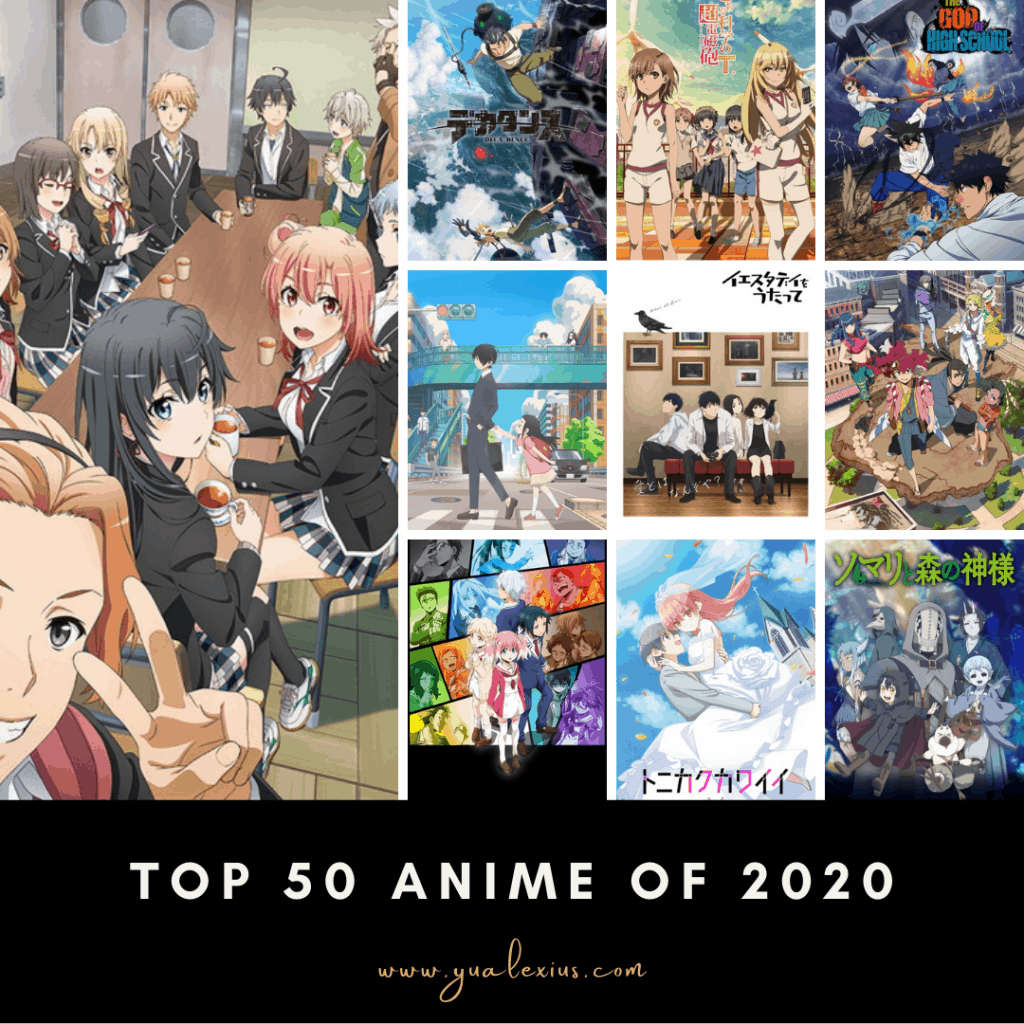 Here, we have our list of best anime of 2020 from the 21st-30th place:
My Teen Romantic Comedy SNAFU Season 3
God of High School
Somali and the Forest Spirit
Appare-Ranman!
Decadence
Sing "Yesterday for Me"
Kakushigoto
Talentless Nana
TONIKAWA: Over the Moon For You
A Certain Scientific Railgun T
Top 31-40 List
In our 31st – 40th place is dominated by titles from the spring lineup:
Ascendance of a Bookworm
My Next Life as a Villainess: All Routes Leads to Doom!
The Millionaire Detective: Balance: Unlimited
Moriarty the Patriot
Dorohedoro
Sleepy Princess in the Demon Castle
Food Wars Season 5: The Fifth Plate
Toilet-bound Hanaku-kun
In/Spectre
Gymnastic Samurai
Top 41-50 List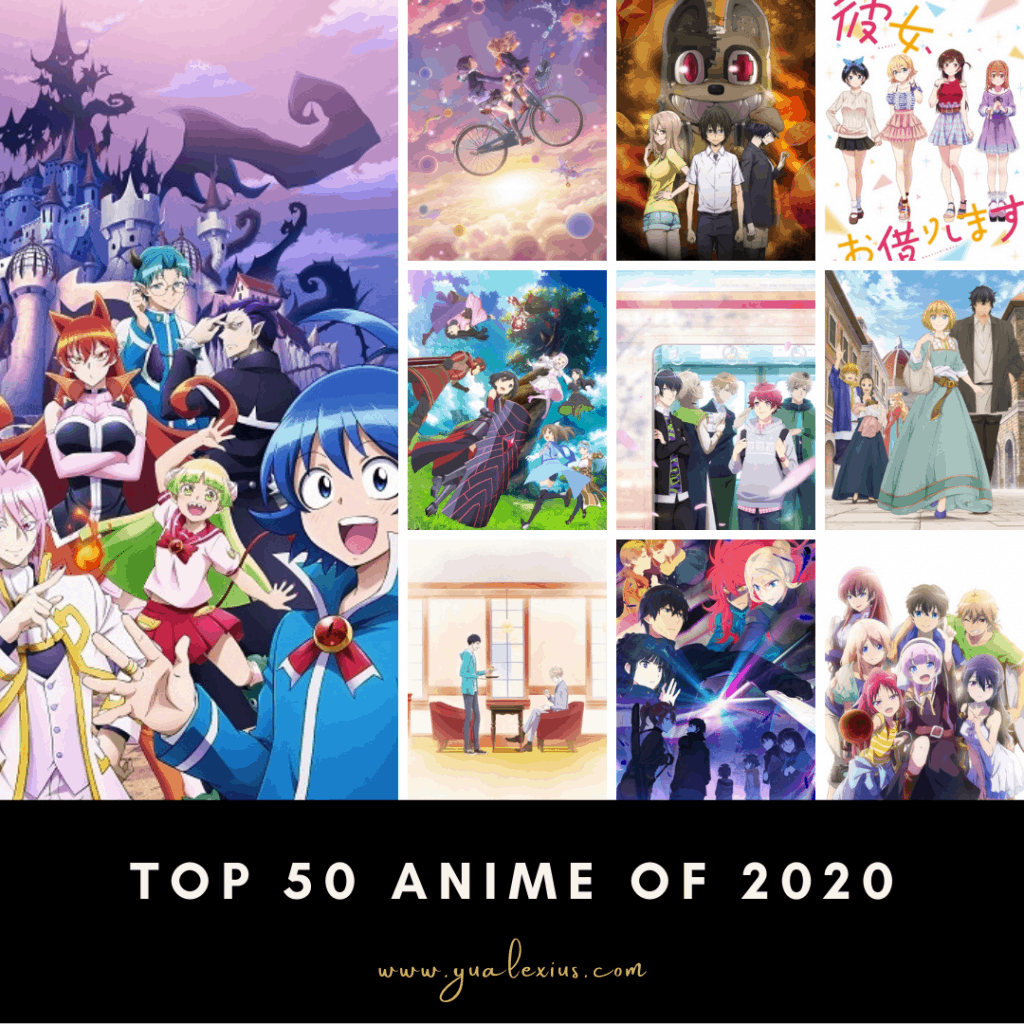 Welcome to Demon School: Iruma-kun!!
Rent-a-Girlfriend
The Day I Became a God
The Case Files of Jeweler Richard
Adachi and Shimamura
The Irregular at Magic High School Season 2
Arte
A3 Season Spring, Summer, Autumn and Winter
BOFURI: I Don't Wanna Get Hurt, so I'll Max Out My Defense.
Gleipnir
And that is my top 50 anime of 2020. I didn't include the movies that came out from last year since I haven't seen them all yet. So, I might publish my top anime movies of 2020 at a later date. Nonetheless, what's your thought about my list of best anime of 2020? Please let me know your thoughts as well as your best anime of the year in the comment section below.
Related Post: My Top 50 Anime Series of 2021 (Year-end Review)
Last Updated on September 25, 2022 by Yu Alexius