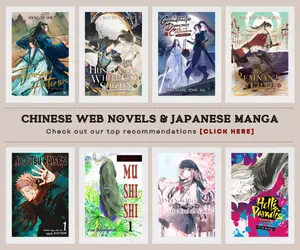 Ye Xiu's in-game character Lord Grim as shown in The King's Avatar Anime Season 2 trailer
In just a few more weeks, The King's Avatar will finally return for its 2nd season, though based on my observation in the online world and query about our favorite donghua, people are thinking that it's The King's Avatar season 3. I think that's pretty understandable knowing that many people thought that The King's Avatar 3-episode OVA last year is the second season of the anime when the truth is, it was just a special episode and the real The King's Avatar season 2 will be release this year, though no specific date yet had been unveiled, aren't you guys excited? On my end, I am literally excited because The King's Avatar had always been my favorite Chinese anime and it's the only show that dared me to binge-read the novel despite my unstable schedule.
A few weeks ago, the
trailer for The King's Avatar season 2
had been unveiled featuring a glimpse of what we shall expect from the anime. The trailer had shown us a promising water battle which means that it'll cover one of the exciting parts of The King's Avatar novel and that includes the part of the story where Ye Xiu is preparing his team while creating ruckus in the in-game world of Glory. Furthermore, we will finally meet the rest of the future Team Happy and how their first encounter with Ye Xiu happened.
This may actually sound trouble or spoiler but I'll share some of the things or 
events to look forward in The King's Avatar Season 2
based on the story from the original novel. I'll keep myself from spilling too many beans and I'll try my best to avoid any hints of spoilers but I have to share some necessary details especially for the new characters which will appear in the story. One thing is sure though,
The King's Avatar
definitely will give us a great gaming experience like most of isekai or game-related anime like Overlord, Log Horizon, Sword Art Online, and The Rising of the Shield Hero.
So, let's start our list of things that we must be prepared and excited to see in
The King's Avatar 2nd season
 which is scheduled to air soon.
Meeting between two old generals – one if the Glory's textbook and the other is the most shameless in-game player in Glory.
Massive fight scenes on the water between Ye Xiu's Lord Grim and the 3 biggest in-game guilds in Glory (Tyrannical Ambition, Blue Brook Guild, & Herb Garden).
Ye Xiu played a knight and infiltrate the Blue Brook Guild.
Happy Guild founded by Chen Gou as per the advice of Ye Xiu.
Ye Xiu's Lord Grim enter the Heavenly Domain and create ruckus on his very first day.
A great showdown between Ye Xiu and Zhang Jiale in Glory's in-game world.
The appearance of the Heavenly Sword team.
Exciting stealing of boss and chasing between the bigger guilds and Ye Xiu's group.
The notorious scrap picker and Ye Xiu's encounter is also my personal favorite.
Team Excellent Era relegated at Glory's Season 8.
Team SAMSARA's first championship.
You shall meet the best knight "Unrivaled Super Hottie".
The gathering of the old generals on Team Tyranny.
The growing household of Happy Internet Café
The real owner of Dancing Rain unveiled and his relationship with Su Mucheng.
Future members of Team Happy will be introduced including Tang Rou (Soft Mist – Battle Mage) Luo Ji (Concealed Light – Summoner), An Wenyi (Little Cold Hands – Cleric), Bao Rongxing (Steamed Bun Invasion – Brawler), Wei Chen (Windward Formation – Warlock), Qiao YiFan (One Inch Ash – Ghost Blade), and Mo Fan (Deception – Ninja).
That ends our list though there are still plenty of things that I could add, but I'll keep this list at a minimum in order to avoid spoilers. Nonetheless, we should all be ready for The King's Avatar anime season 2 release this year.
In fact, we've been treated by The King's Avatar this year since a prequel movie titled The King's Avatar: For the Glory had been announced and had been released last August 16.
The King's Avatar Prequel Movie "For the Glory" Poster
The King's Avatar live-action drama is also started to air last July 24, 2019 and is available for streaming at WeTV.vip app worldwide.
The King's Avatar Live-Action Drama
I'll say this is really a good treat to every one of us, isn't it? So, let's all ready for Ye Xiu's return together with his new team in The King's Avatar Season 2.
Don't forget to subscribe to our newsletter and leave your comment below about your thoughts on this matter.
Last Updated on April 6, 2021 by Yu Alexius